85 Year Old Swinger off the Victoria Falls Bridge
by Tony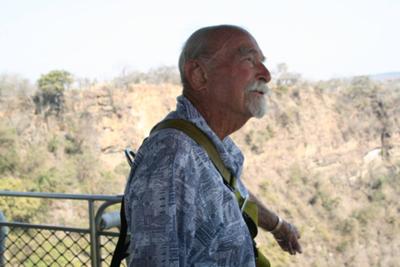 Mr Banks
On 11th June 2011 Mr Kevin Banks made some inquiries with us regarding various activities in Victoria Falls for himself, his family and parents. We proceeded as usual to assist him with these bookings and his itinerary was arranged for a whole variety of activities, but as the correspondence flowed back and forth Boo Peel (Victoria Falls Guide) found out that this wasn't just your average family... below are a few snippets from the various emails.

Boo:- "Just also thought I would ask if everyone is over 11yrs – as some activities do offer Half price for under 11yrs."
Kevin:- "Everyone in our party is over 11 yrs and Dennis and Lesley are both over 75. Is there a pensioners discount for any of the activities?"
Boo:- "I'm afraid we don't have any pensioners discounts – I would politely ask if Dennis is a fit pensioner – just thinking about the bridge swing – quite hectic."
Kevin:- "In answer to your question, yes Dennis is a fit pensioner. Spent most of his working life climbing up and down rope ladders hanging over the side of ships anchored out at sea."
Boo:- "That is great – we would love to put a feature up on the site of Dennis bridge swinging – not many people of that age are fit enough to do it."
Kevin:- "In your email below this one you mentioned putting up a feature for Dennis on the swing. What did you mean by that? By the way he is 85!!"

Well on the 29th June, Dennis Banks aged 85 years old braved what many people half his age just would not have the courage to do. He did the Bridge swing jumping off the Victoria Falls bridge with nothing but a rope between him and the Zambezi river 111 meters below. It's the ultimate adrenaline rush!
You can see the photos as well this this report from the Victoria Falls Bridge company below...


The Victoria Falls Bride Company is proud to announce that in June 2011, 85 year old Dennis Banks is the new record holder for the oldest person to do the Bridge Swing off the famous Victoria Falls Bridge! What a day.

Dennis started off with a Zipline across the top of the Batoka Gorge, to get the adrenaline flowing, but once he started he didn't want to stop! Having watched his son Kevin and daughter in-law do the Gorge Swing, he decided to take the plunge (literally) and took the leap of faith resulting in freefalling for over 70 metres before flying out over the raging rapids of the Zambezi River with the mighty waterfalls rumbling by his side… what a thrill!

His was quoted saying that it "was fantastic, exhilarating & thoroughly enjoyable and being 85yrs old wouldn't stop me doing it again"!

---
If you think this story was useful and informative and you would like to receive similar updates on everything that happens in the Victoria Falls area - why not sign up for our FREE newsletter, for full details and back issues
Click Here.
You can also join us on
Facebook
and receive all the latest information.


Click here to return to Victoria Falls News.