Home | Victoria Falls Activities | Chobe Riverfront accommodation | Chobe Camping Safari
Chobe Camping Safari
Take a journey to one of the best safari regions in the Africa - Chobe National Park in Botswana. Experience the wonder of the wild just an hour away from Victoria Falls.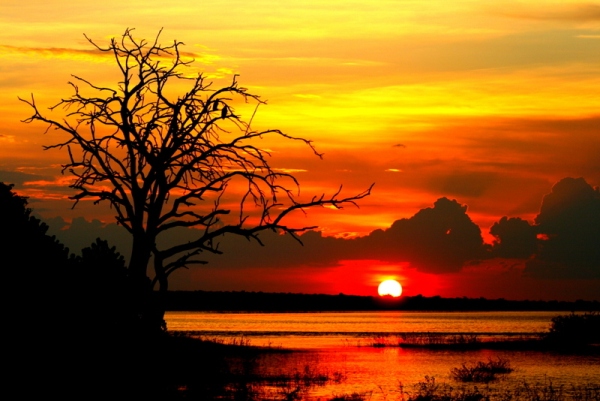 Sunset over the Chobe River (photo from Kalahari Tours)
Chobe National Park is located in the far north of Botswana where the four countries of Namibia, Zambia, Botswana and Zimbabwe meet. This area is also where the Zambezi and Chobe rivers converge and during high rainfall the Zambezi River actually pushes the Chobe River back and as a result a vast marshland is created which gives it a unique African ecosystem with immense biodiversity compared to anywhere else on the continent. Chobe is famous for its large concentrations of big game and hence has become a very popular safari destination. Animals you are likely see on a Chobe camping safari include elephant, buffalo, crocodile, hippo, giraffe, kudu, zebra, lions, leopard and many others. Chobe National park also has a large variety of bird species.
Under the Chobe starlight (photo from Kalahari Tours)
Most accommodation in this area of the Chobe National Park (Chobe Riverfront) is situated in the town of Kasane, details of which you can read here Chobe Riverfront Accommodation with only one expensive luxury lodge inside the park itself - Chobe Game Lodge.
This lack of accommodation within the park makes the Chobe camping safaris such a popular option. These camping safaris are by no means luxurious but they are perfectly comfortable - if it's game viewing and an authentic safari experience at a reasonable price that you are seeking then these camping safaris are just for you.
The mobile safari operators have privately designated campsites inside the park that are not accessible by the normal public allowing you a more private an exclusive safari.
The camps are often deep within the National Park meaning you get to see parts of the park that guest staying in Kasane and doing day trips don't get to see.
Staying overnight inside the Chobe National Park, on a camping safari without doubt gives you the opportunity to experience it in the best possible way.
Read more about Chobe National Park
Detailed below is the itinerary for the one to three day Chobe Camping Safaris, depending the trip you choose you will do all or part of these activities.
(If you are already in Botswana ignore the first paragraph and if you are coming from Livingstone the pick-up time would be the same)
Day one:
Chobe camping safaris start with a 7:30am pick-up from your hotel in Victoria Falls and transfer to the Kazungula Border (the border between Zimbabwe and Botswana). This drive on tar road is 80km through the Zambezi National Park and takes about an hour, with sightings of elephant and wild dog being fairly common.
After completing immigration formalities you arrive in Kasane, where you can do a bit of shopping (if necessary) as there are no shops inside the national park. Then it's a short pre-safari briefing with some tea, coffee and muffins. Eager to get on safari, your first activity is a 3 hr boat cruise on the Chobe River, starting at about 9:30am. This scenic game cruise takes you along the Chobe River where you most certainly will see tons of birds and animals as they come to the river to quench their thirst, not to mention countless hippos and crocodile.
The cruise ends around 12:30pm in time for lunch at a local restaurant in Kasane. After lunch it's time for a game drive into Chobe National Park, exploring the Chobe River waterfront which is famous for its dense concentrations of all forms of wildlife. The game drive takes you to the overnight camping spot where you will be served drinks around the camp fire and then dinner.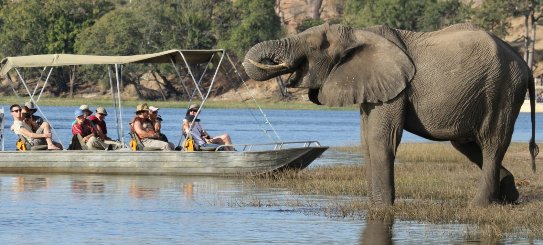 Game cruise over the Chobe River (photo from Kalahari Tours)
Day Two:
Safaris generally entail early morning starts and this safari is no exception - mornings are often when predators like lion are at their most active. This is the advantage of staying inside the park; that you can be up and out there well ahead of those guests staying in Kasane. After a quick splash down with warm water in a basin, and a light breakfast you head out on your morning game drive.
After the game drive, you will return to camp for a tasty brunch in the bush, a rest (or siesta if you like), and a refreshing shower. An afternoon game drive will take you to unseen areas of Chobe National Park and once again the opportunity to see and savour the magnificent wildlife that Chobe has to offer. The game drive ends around sundown and you return to camp for sundowners around the camp fire. Dinner will be served as you listen to the unforgettable night sounds of the African bush.
Camping in the Chobe bush (photo from Kalahari Tours)
Day Three:
On the third day, another dawn start with a warm water basin, tea or coffee and a light breakfast. You will go on another early morning game drive, then return to camp for the delicious "bush brunch". You can take your time and relax then prepare to leave camp in the early afternoon for your final activity (which sometimes is another boat cruise on the Chobe River) after which you will be dropped off in Kasane if you are staying in Botswana or transferred to your hotel in Victoria Falls or Livingstone.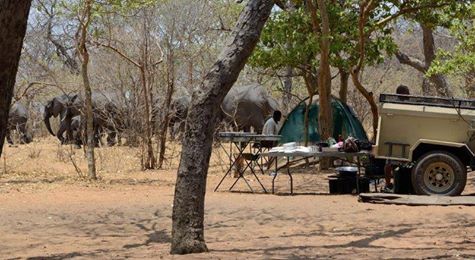 Visitors to the campsite (photo from Kalahari Tours)
Chobe Camping Safari Options
Option one - 1 Night / 1 Day Chobe Camping Safari
Day one activities described above. On the second morning, you will have an early morning wake up call and breakfast before packing up. Then you will be taken out of Chobe National Park via a game drive to either Kasane if you are staying in Botswana or transferred to your hotel in Victoria Falls or Livingstone.
Option two - 1 Night / 2 Day Chobe Camping Safari
Day one activities as detailed above. Day two activities as detailed above but instead of returning to camp that evening you will be dropped off in Kasane if you are staying in Botswana or transferred to your hotel in Victoria Falls or Livingstone.
Option three - 2 Night / 2 Day Chobe Camping Safari
Day one and Day two activities as detailed above. On the third morning, you will be woken up for the usual breakfast and head out of Chobe National Park via one last early morning game drive and dropped off in Kasane if you are staying in Botswana or transferred to your hotel in Victoria Falls or Livingstone.
Option four- 2 Night / 3 Day Chobe Camping Safari
Day one, two and three activities as detailed in the above itinerary
Option Five - Chobe Day Trip
This is a one day safari from Victoria Falls or Livingstone and does not include any overnight accommodation, click on the link for full details on the Chobe Day Trips.
Included in the rates are:
• Transfers from Victoria Falls Town to Chobe and back;
• National park entrance fees;
• Meals, snacks and drinks served during the safari;
• All game activities on land and on the river
• Use of all camping equipment (that is if you are staying for at least one night).
You will, however, need to take care of your own visa requirements and fees (if applicable). Read more about visa's here.
What you will need to bring
• Passport(s) (for visa information click here)
• Comfortable clothing in neutral colours will be most suitable. Thin, long sleeved shirts may be necessary when you go out into the sun;
• Shoes ideal for sandy bush;
• Khakis or jeans and fleece sweater for the evenings and early morning game drives;
• Sunglasses, t-shirt(s), sun-block and insect repellent;
• Fully charged and ready to load cameras and binoculars;
• Any additional soft drinks, beer, liqueur that you would like to take with you;
• Torch or headlamp;
• Towel, toiletries and any medication that you might need (please remember that there are no shops in the bush for emergencies);
• During the winter months of June, July and August, you will need to wear layers as it gets very cold in the night and early mornings;
• In the wet months of November to January, you may want to bring along a raincoat.

Children
Please note that it is not advisable to take young children on a Chobe trip - this trip is more suited for older children accompanied by their parents (4 years and older).


Share with others!
Can't find what you are looking for? Use Google Search to search this site for any term you are looking for..


The Vic Falls Bush Telegraph
our Free Quarterly E-Newsletter

Each quarter there's loads of information about conservation and wildlife, a destination update, specials offers and discount packages, traveller tips and stories, book reviews, African folktales, environmental reports, bush recipes, best photo competitions and tons more....

"Your newsletter keeps me informed about new and old and is the best I've seen in a long while - informative, not commercial, just plain perfect!" I.Skliros

This Quarter we are also giving away a Free Screensaver to Every New Subscriber.
---
Return from Chobe Camping Safaris to our Victoria Falls home page