Home | Kariba Houseboats | Lady Jacqueline Houseboat
Lady Jacqueline
Known as the Lady of the Lake, this 65ft cruiser moored in Binga is simply luxurious. Ideal for groups of 4 to 10 people.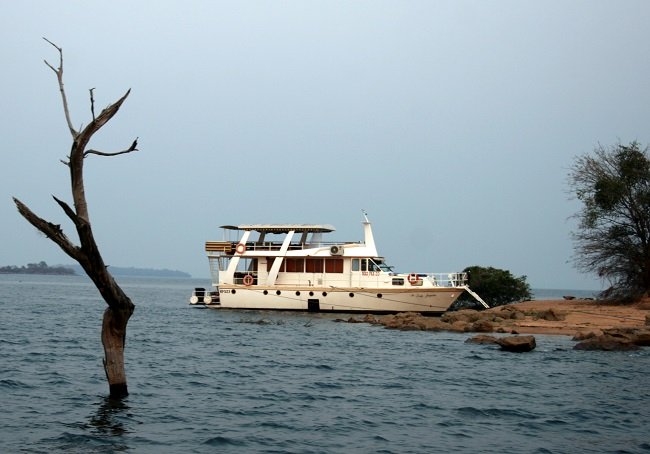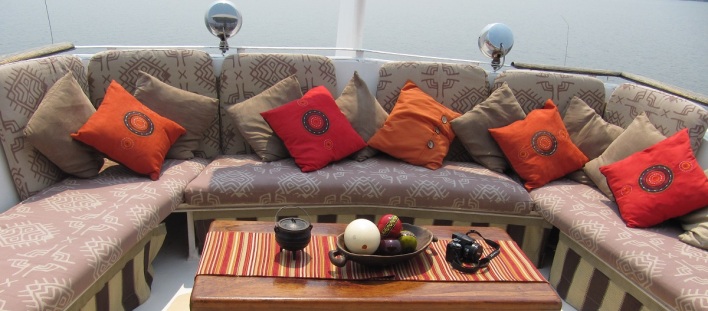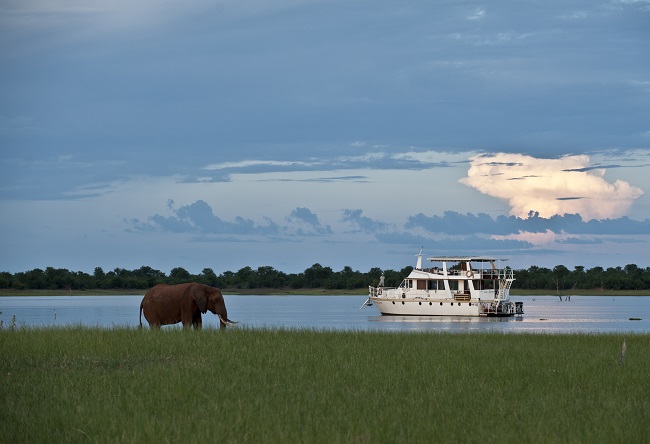 OUR OVERVIEW

This is one of our favourite houseboats in Binga, comfortable, luxurious and moored in an excellent location.
---
PRICE before special offers
Approximate price per charter per night
From
ZAR 15196 (Self Catering)
ZAR 9398 (Fully Inclusive)

Introduction
As always on this website we try as best as we can to give honest and useful information, not sales pitches written by operators or owners to sell their products.
In this case though it might sound like a sales pitch because I really do like this houseboat. The Lady Jacqueline is beautiful and fits into the luxury houseboat category. She is fully equipped and furnished superbly and is ideal for groups of 4 to 10 people. Beyond that, it would get a little overcrowded and I would suggest the considerably larger Catalina.
The advantage of hiring a houseboat from Binga on the western side of Lake Kariba is that it is easily accessible if you are including Victoria Falls and Hwange in your holiday. This is sometimes called the golden triangle all within easy driving distance of each other on good tar roads. Combined is a natural wonder of the world, Victoria Falls, pristine big five game viewing in Hwange and ultimate relaxation, good fishing and game viewing aboard a luxury floating hotel.
The disadvantage is that the choice of houseboats in Binga is limited, unlike Kariba town on the eastern side where there are many boats to choose from. However the Lady Jacqueline is a perfect choice and you need look no further. Her advantage, being a mono hull cruiser is that she is faster and more manoeuvrable than the pontoon houseboats, the disadvantage is that she is not as wide as them with the huge decks that they have.
The Lady Jacqueline can be hired on a self catering or fully inclusive basis see rates below. She is moored at Masumu lodge in Binga. Masumu lodge by the way is perched on a hill overlooking Lake Kariba and is a great location to spend a night on either side of your houseboat trip, prices are very reasonable.
Read more about Kariba and a Houseboat holiday
Accommodation
• 2 x Air Conditioned en-suite Double Cabins with toilet, shower and wash basin (4 people)
• 1 x Twin Bunk Cabins (2 people)
• 1 x Bunk Cabin with 2 sets of Bunk Beds (4 people)
• 1 x Separate Bathroom (toilet, shower and wash basin)
• For anyone wanting to sleep on the upper deck there is a limited number of mattresses and Mosquito nets. (5 people)
Lady Jacqueline Specifications
• 65ft steel mono hull cruiser
• Equipment: Navman GPS, depth finders and fuel flow metres.
• Licensed to carry max 15 people
• Twin Volvo Penta turbo diesel inter-cooled engines
• Silent 17Kva generator. Limited to running 6 hrs / day; so please ensure you order plenty of ice to keep your food and drinks cold.
• Only the Captain is allowed to drive the houseboat. However you can tow your boat behind the Lady Jacqueline - only two tenders can be towed at a time and it's entirely at your own risk.
• Three crew are onboard for each charter; the captain, the chef and a deckhand. The crew sleep in their own quarters with separate ablutions to the main boat.
The Upper Deck
• Comfortable seating and lounging for sunbathing, complete relaxation and enjoyment.
• Dining tables and chairs
• Drop down blinds in case of harsh winds and rain
• Two chest freezers and a triple bar fridge
• Approximately 80% of the deck is under cover
• Mattresses and mosquito nets for extra guests or anyone wanting to sleep under the stars rather than in their cabin
The Middle Deck (Saloon)
• On the front portion of the middle deck is the Jacuzzi and a generous sunbathing deck
• The spacious, enclosed and air-conditioned saloon has comfortable lounge suits and a bar area as well as a DVD home theatre, colour TV & video and CD player, 2 icemakers and a bar fridge.
• Available for your use is a selection of books both reference and novels , CDs, videos and games.
• Captains wheelhouse
The Lower deck (inside the hull)
• Cabins and bathrooms as detailed above in accommodation section
Tender Boats:
• 1 x 18 ft 90hp Tender boat (10 pax) perfect for Fishing, Game Viewing and Sunset Cruises.
• At an additional cost a second tender boat can be arranged or you can bring your own.
The very comfortable air-conditioned saloon, complete with TV and DVD home theatre system
Information
• Specialised Fishing equipment is not supplied, please bring your own rods, tackle and bait. Bait such as Kapenta can be organized, please just advise your needs in advance.
• A limited amount of basic tackle can be hired from the crew, nominal rates will apply.
• A water purification system is on board and the water is "okay". However, we still recommend bottled water for drinking.
• Board at 13h00 - Disembark 10h00 at Masumu Lodge in Binga

Lady Jacqueline Charter Prices 2017
This fantastic houseboat can be hired on either a fully inclusive or a self catered option - see below for details
FULLY INCLUSIVE RATE
One to Four Guests R3 799 per person per day (minimum hire charge 4 pax)
Per person thereafter (maximum 10) R1 530 per day
For example:
group of 2 people - R15 196 total per day, fully inclusive
group of 4 people - R15 196 total per day, fully inclusive
group of 6 people - R18 256 total per day, fully inclusive
group of 8 people - R21 316 total per day, fully inclusive

Children under 12 pay 50%
Children under 5 stay free of charge
Includes: Exclusive use of boat and crew, food and drink, all activities (including game viewing by boat, fishing, bird watching), limited fuel enough to do sample 3 night itinerary below, dedicated tender boat and guides.
For full details on what is included and excluded go to:- Lady Jacqueline Fact Sheet
SELF CATERING RATE
Dry boat (no fuel, no food) 1 to 10 passengers R9 398.00 per boat per day
For full details on what is included and excluded go to:- Lady Jacqueline Fact Sheet

3 NIGHT SAMPLE ITINERARY: (Weather and time permitting)
Arrival Day: Cruise to Nyembra Island where a lovely sandy beach & braai awaits you
Second Day: Cruise to Senkwe, where tiger fishing is to die for!
Third Day: Cruise to Diamond fishing camp where brilliant bream and tiger are waiting and the game viewing is good.
Final Day: Make you way back to the harbour, enjoying game viewing & exploring by tender boat, fishing or just relaxing on deck.
For a trip to Senkwe it is about a 4,5 hours cruising one way. The Ruze is 7 hours one way. These are the two BEST spots to visit, as both are big river tributaries into the lake, which means good game viewing and excellent fishing.
Zimbabwe National Parks Fees 2017
These are not included in the Charter fee and are payable to the Parks representatives at the boat prior to embarkation. Parks officials may board the boat at any stage to check that payments are accurate and have been properly receipted. You may wish to let us know in advance exactly who is coming, relevant ages, residential status and how many people will be fishing, which we will pass on via the boat captain to save time before you embark.
| | | |
| --- | --- | --- |
| | Residents | International Visitors |
| Houseboat including tenders per person/day (covers 5 days) | US $5 | US $10 |
| Visiting speedboats per person/day | US $5 | US $10 |
| Children under 6 years | Free | Free |
| Children 6 to 12 years | US$2 | 50% Adult rate |
| Resident pensioners over 60 years | 50% Adult rate | N/A |
| Fishing fees per person/day | US $5 | US $10 |

Share with others!
Can't find what you are looking for? Use Google Search to search this site for any term you are looking for..


The Vic Falls Bush Telegraph
our Free Quarterly E-Newsletter

Each quarter there's loads of information about conservation and wildlife, a destination update, specials offers and discount packages, traveller tips and stories, book reviews, African folktales, environmental reports, bush recipes, best photo competitions and tons more....

"Your newsletter keeps me informed about new and old and is the best I've seen in a long while - informative, not commercial, just plain perfect!" I.Skliros

This Quarter we are also giving away a Free Screensaver to Every New Subscriber.
---
Return from Lady J Houseboat to our Victoria Falls home page