Record Floods Predicted - Victoria Falls
by Pete Roberts
(Victoria Falls)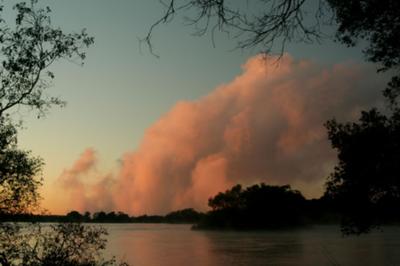 Huge Spray of the Falls at Sunrise
Earlier this year five countries in southern Africa issued flood warnings following heavy rains in the region. Botswana, Mozambique, Namibia, Zambia and Zimbabwe issued alerts predicting that serious flooding could affect tens of thousands of people, according to the UN Office for the Coordination of Humanitarian Affairs.

However predicting the nature of the Zambezi River is not easy, with a catchment basin of 1,390,000 km² (537,000 miles²), monitoring rainfall and modelling river flow is a difficult job. Locals with a knowledge of the river often predict high floods, confident that when they do come they can say "told you so"! But rarely do these major floods materialise here at the Falls. Some may still recall the floods of the late 1950's when the levels of the river in the gorge just below the Falls rose and partly submerged the recently built Power Station, threatening to wash it away into the rapids.. (A monument marking the flood level can be seen on the Zambian side of the river above the Falls on the way to Livingstone).

At the Victoria Falls records have been kept since 1906 of the level of the river at the measuring post, just over one mile above the Falls (close to the Big Tree). At this point the river is at its widest, inclusive of islands, a distance of over one and a quarter miles from bank to bank.

These records show that the Zambezi normally reaches its highest level here from about the end of March to the end of April in each year. However, the highest level has been reached as late in the year as 1st June and as early in the year as 7th March. This was the phenomenal flood of 1958 which reached a height of 2,907.75 feet above sea level at the measuring post.

At the beginning of March this year figures from the Victoria Falls Hydro-Station showed that the river was 30 cm higher than at the same time last year, with the river rising steadily by 3 cm a day. River levels then stabilized for a couple of weeks, with levels lower than last year, before rising again at the end of the month. Levels are still 10 cm off that recorded in 2009.

Could this indicate the beginning of the so-called 'second surge' with second wave of floodwater reaching the Falls from the upper catchment areas and the Barotse floodplains? Will the Victoria Falls flood to levels never previously recorded? Only old story tellers and time will give you an answer.



Click here to return to Victoria Falls News.