The Boys (Elephants) are Back in Town
by Pete Roberts
(Victoria Falls)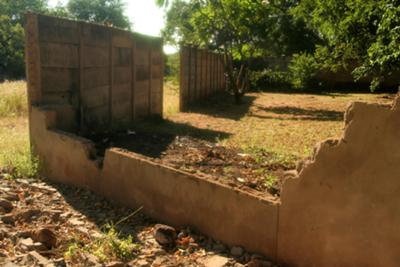 Broken down walls
Three o'clock in the morning and I'm awoken by the crashing and thumping of vegetation onto the roof of the backpackers room I'm staying in. After a few seconds of confusion as I try to identify the sounds, and after quickly dismissing drunk baboons falling out of trees, I realise it can only be one thing – the elephants are back in town.

The familiar sound of a wooden spoon on a tin cooking pot confirms my theory – the night-time security resorting to tried and tested methods of elephant deterrent. I'm soon up and out and peering into the darkness… I can hear but not see our giant visitors, who are just a few meters away on the property next door and feeding over the fence. This causes the night-time security some concern as last year thousands of dollars worth of damage was caused to fences and walls around Victoria Falls, with at least one elephant learning that a little pressure in the right direction could topple walls and open up well watered gardens for a tasty night-time munch. Even 8 foot high concrete block walls succumbed to the technique, and in some streets on the edge of town almost every property suffered. The elephants appeared almost to enjoy their new freedom of the town, breaking down the same walls in different places rather than using the already made gaps as they moved from garden to garden - and giving themselves a bit of a bad reputation at the same time.

I'm just beginning to wonder however if the banging of the cooking pot is loosing its edge as an effective tool in scarring elephants when a different technique is introduced. The firework. As red and green flashes of light zip into the shrubbery, and the familiar smell of firework smoke fills the air, our intruders begin to quietly retreat. Two in number, they, like most of our animal friends, are obviously not as appreciative of the joys of firework displays as us humans. I'm left with one of my more bizarre elephant encounters – dark shadows in the night lit up by red and green flashes of light.

Next time I'll have my camera ready - meanwhile the residents of Victoria Falls will be bracing themselves, and their garden walls, for the arrival of midnight raiders.









Click here to return to Victoria Falls News.