VICTORIA FALLS COMMUNITY GATHERS FOR CLEAN UP ACT
by Pete Roberts
(Victoria Falls)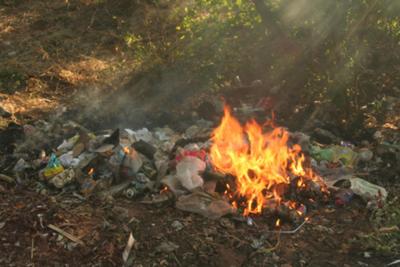 At the end of June a huge rubbish clean up was organised by the Victoria Falls community. Sponsored by the Victoria Falls Green Fund, a voluntary environmental awareness project supported by the tourism industry, the day was more than just a litter pick, but an attempt at reminding the residents and business of Victoria Falls of the environmental responsibilities of living within a National Park. Bringing business and communities together, over 600 volunteers turned out to help scour the town and suburbs clear of rubbish.

In recent years municipality rubbish collection services have been disrupted by 'the situation', a residents call the economic meltdown of their country, and regular refuse collections were for some years irregular or suspended. Many residents resorted to burning and burying their own rubbish. In some cases rubbish was, and still is, left at small dumping points along residential streets (see picture). These mini rubbish dumps, which are burnt periodically, have become daily points of attraction for stray dogs, wild baboons, warthogs and even elephants. All have a good sniff around the rubbish, and together with the wind and other agents of dispersal, have a good go a re-distributing it randomly around the bush (I've even found plastic rubbish in elephant poo!). Plastic bags and bottles, together with aluminum drinks cans, make up the large proportion of this unsightly problem.

With the emphasis on residents and businesses taking responsibility for clearing areas local to their homes and business premises, it is hoped that all will play a more active role in ensuring that the town, and the surrounding bush, is kept clean of the rubbish and waste which has caused such an unsightly problem in recent years.

Waste is a big problem in Victoria Falls, with the rapid growth of the town in recent decades and an overflowing landfill dump on the edge of town. It is hoped that the municipality will be encouraged to improve the management of the waste site and collection services, and that residents will become more aware of the rubbish they generate and how they dispose of it. In a country where recycling opportunities are minimal, it pays for consumers to be aware of the rubbish they generate, and to reduce, re-use and recycle as much as they can.

The concern is, however, that residents, businesses and even the local municipality, will come to rely on these organised litter picks to solve their rubbish problems.

TOURIST TIPS

- Be aware of the potential rubbish you are bringing with you on holiday. Minimise your luggage, and support local businesses, by buying toiletries locally on arrival.

- Bring a re-usable drinking water bottle. The tap water in Victoria Falls is safe to drink, so a re-usable bottle is ideal. Even if you prefer bottled mineral water, buy one large bottle and re-fill from this.

- Use strong re-usable shopping bags instead of many smaller disposable bags. Many of the shops will also charge you for their plastic bags, so it pays to have a stronger, longer lasting alternative.

- For waster items such as batteries, where there are no recycling facilities available, take these with you and recycle where you can – often airports have such recycling points.

- Be aware of the rubbish you generate during your stay, minimise where possible and always dispose of properly. If you are concerned about environmental issues, let your tour operator, hotel and booking agents know – hopefully you can play a part in the 'greening' of Victoria Falls!



Click here to return to Victoria Falls News.