The Victoria Falls Bush Telegraph | January 2022
Issue 19
---
Destination Update
As the curtains have closed on 2021and we step into 2022, we take a little time to reflect on the past year and look into the next.
To say that 2021 was a tough year for those involved in tourism in Victoria Falls, is rather an understatement.
However, Zimbabwe is an interesting country, which has faced incredible challenges in its past. I mean some really, really tough times. This has made its people resilient and strong in the face of adversity. We have faced challenges as big as Covid-19.
We don't rely on our government to provide any financial assistance, as we know there is just none available. So, whilst many companies and individuals in the rest of the world were propped up financially by their governments, Zimbabweans had to manage on their own.
And on the whole, manage on their own they did, which is tremendous news for expectant tourists set to travel in 2022 and 2023. We are excited for this year ahead and hope that you are too. The way we travel may have changed but the natural wonder of Victoria Falls has not!
During the year there has been some refurbishment and also the completion of some high-quality new hotels and guest lodges. Tourists coming to the Falls next year have even greater accommodation options to choose from and at more competitive prices.
As is typical, our October and November were stiflingly hot. Ideal conditions for game viewing but not so for everyday life. We waited patiently for the rains to arrive and cool everything down and turn the bush from golden brown to verdant green, which happens in a matter of days after the first big storms.
The rain is here now but it is lacking in quantity, it is still early enough in the season though and this year could just be one of those years where we have late rains.
The rainfall and its impact on the level of the Zambezi River and then subsequently the flow over Victoria Falls is a topic that generates a lot of interest, so we will keep you updated on that issue. You can read more about the effects of rainfall levels of the Zambezi here – Victoria Falls water levels.
Two major environmental challenges that face Victoria Falls town today are litter and deforestation. Both issues are being tackled by local organisations and due to their gravity, we have chosen to highlight them in articles below.
All that's left for us to say is thank you for signing up to receive updates from us and may all your dreams come to fruition in 2022.
Best wishes,
Tony and Boo
www.victoriafalls-guide.net
Click here to subscribe and receive future editions of our newsletter directly by email.
Covid-19 Update
The Covid-19 pandemic continues to haunt all of us. Just as it seemed tourism was beginning to resume, by no means to pre-covid levels but the signs were looking promising, than the Omicron variant was announced.
The United Kingdom put Zimbabwe back on the red list and our own ministry of health announces that there will be mandatory quarantine for anyone arriving in the country, along with mandatory PCR tests at the airports on arrival.
As not a single tourist would entertain quarantine or the added costs of PCR test on arrival, all international bookings for December were cancelled overnight.
It seemed like we were back to the early days of the pandemic, as once again we were issuing refunds left, right and centre. Having only just poked our heads above the parapet, as far as income was concerned.
The long and the short of it as we stand today. The UK has taken Zimbabwe off the red list and none of the stringent regulations that our ministry of health announced have been put into effect. It would appear that the authorities made an error in judgement, as nothing more has been said on the issue.
It was madness. Zimbabwe didn't have any quarantine facilities for arrivals to go to, neither did it have the resources to carry out the PCR test at the airport.
So, it seems sadly that millions of dollars of tourism revenue were lost unnecessarily. Not to mention the many families who were looking forward to a holiday in Zimbabwe, being disappointed by having to cancel their trips.
Anyway, there is definitely no point in looking at the past. We are now totally focused on 2022 and 2023, which are looking bright. Zimbabwe and its many wonders, not just the Victoria Falls, is now ready and waiting to receive you. Please contact us so we can help you to arrange your dream trip.
The Pristine Society of Victoria Falls
The Victoria Falls Community Challenges Itself to be the Cleanest and Greenest City in Africa
The organisation has been established with one far-sighted goal at the fore - to be the cleanest and greenest city in Africa. I wonder if there are others out there on this great continent ready to challenge us. The aims are multi focussed and will eventually involve every citizen, lucky enough to live in or to visit our World Heritage Site.
Companies and ordinary suburban dwellers are being invited to pledge to clean up sections of the city including the roads around the Rain Forest, between the Zimbabwe/Zambia border posts and all the way to Kazungula in Botswana.
Victoria Falls is built within the national Park and here, animals have right of way. Very sadly our elephants who are not always discerning eaters, are ingesting plastic and some dying as a result. This is an emergency that we can do something about.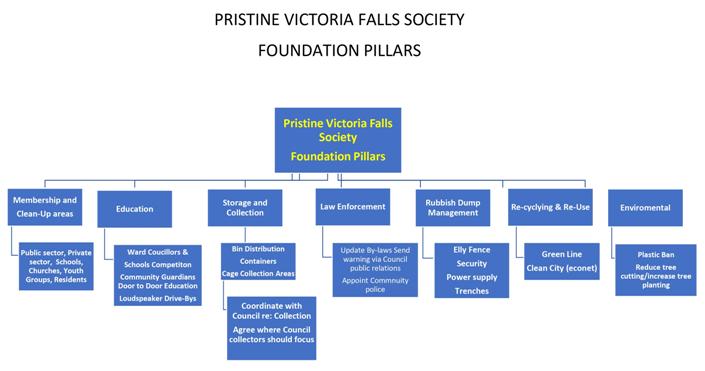 Become Plastic Conscious
Schools are the obvious focus here. Imagine an entire generation of young people growing up aware of the negative impact of single use plastic and pledging not only, not to litter but to avoid using unnecessary plastic products.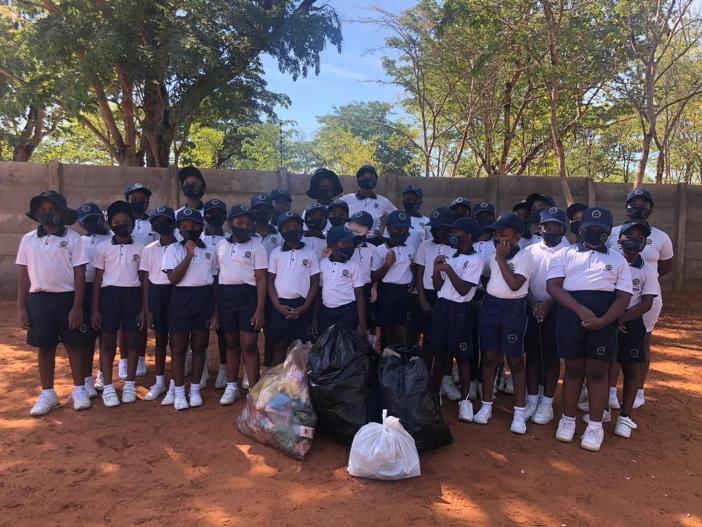 School children do cleanups around town
Supermarkets are invited to dispense with single use plastic shopping bags and to drastically reduce and eventually phase out plastic trays and cling wrap used in store. Lodges and hotels can find alternatives to plastic water bottles.
We are extremely pleased and proud to be associated with this community project and encourage everyone to check out their Facebook Page Pristine Victoria Falls Society to see how you too can be involved.
Alternately you can contact
Society Secretary: sibongile@shearwatervf.com
Mike Davis: +263 773 228 085 / mike@shearwaterct.co.za
Deforestation Around Victoria Falls
The Problem
The exorbitant cost of electricity along with the lack of supply to some areas in the high-density suburbs of Victoria Falls has led to a serious deforestation problem, as families are forced to collect firewood from the forests surrounding the town.
Wood collected by residents in the high density suburbs for cooking
To give scale to the magnitude of this problem. There are approximately 10 000 houses in the high-density suburbs with 70% of these housing 2 to 3 families in each. That equates to over 20 000 families. Estimates indicate that 50% of these families cook on open fires rather than electric or gas stoves. This means that between 5 and 10 tonnes of wood is consumed daily and none of this is coming from a renewable source.
It is mostly collected from the indigenous forests surrounding the town, by ladies who venture into the wilderness, sometimes risking their lives as they encounter wild animals such as buffalo, lion and elephant.
This is a sensitive issue that requires more thought than simply prohibiting the collection of wood and arresting the culprits.
Until a solution is found it is hard to condemn the wood collectors for what they are doing to survive.
The Possible Solution
A local non-profit organisation, Victoria Falls Enviro Watch (VFEW) has been working for months now to find such a solution. There were long delays initially seeking the local authority's approval and support.
A multi-pronged approach is required which involves finding alternative and sustainable energy sources along with changing historical mindsets, but the initial target is to reduce the consumption of wood as quickly as possible by introducing more efficient cooking methods.
Simple, but effective Rocket Stoves are much more efficient than cooking on open fires. On analysis they use less than a third of the wood required to cook a meal on an open fire. If every family was using one of these stoves, rather than an open fire, between 3.5 and 7.5 tonnes of precious wood could be saved daily.
Demonstration of the rocket stove
Establishing trust with the ladies has been a challenge. They are largely considered as wood poachers and are harassed by anyone seeing them carrying their large bundles of wood, so they have been very wary of engaging in dialogue.
However, VFEW has made great strides in this area and has managed to have several meetings with different groups of ladies. On each occasion explaining to them the importance of finding a solution to this problem.
Rocket stoves have been handed out to these groups along with demonstrations on how to use them successfully. The results are that the ladies are using the stoves successfully and are very keen to continue and support this vital initiative.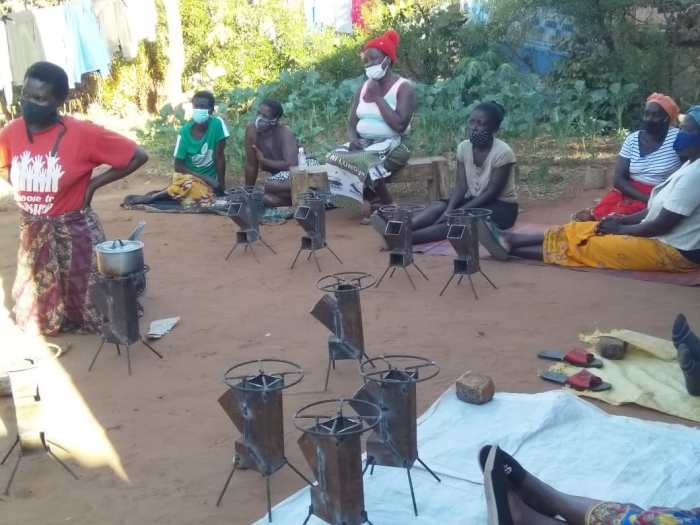 Rocket stoves being distributed
The challenge now is that 10 000 stoves are required. The cost to manufacture a stove locally is US$10. Local manufacture has the added benefit of supporting local industry.
VFEW has set up a GoFundMe Campaign to raise funds for this initiative and is looking to anyone who has an interest in protecting the environment for future generations to support this initiative. No donation is too small.
If we do not tackle this is issue, the forests surrounding Victoria Falls will be decimated in a very short space of time.
More photos, videos and details can be seen on the VFEW Facebook page: https://www.facebook.com/VictoriaFallsEnviroWatch or on their website: Victoria Falls Enviro watch
Accommodation Update
New Lodgings in Victoria Falls
While it has been a bit quiet here in Victoria Falls, some new places to stay have been completed and opened. Future travellers have more to choose from, and from a group of great quality accommodation options. Have a look at the new hotels and lodges in Victoria Falls.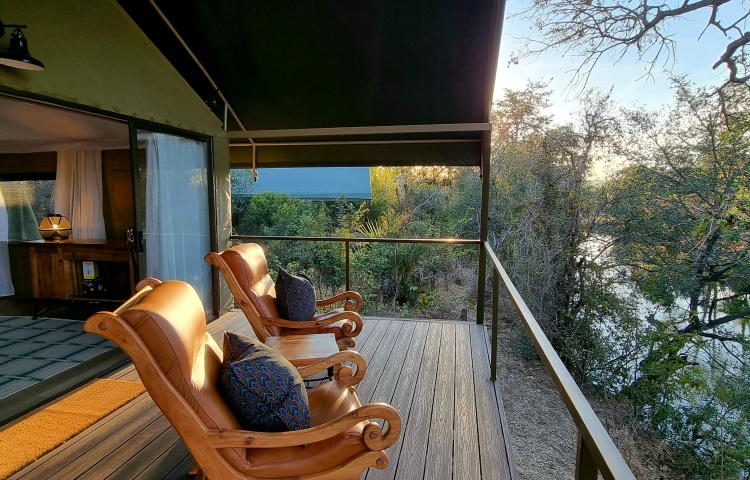 The new Wallow Lodge on the Masuwe River - Victoria Falls
Dr David Livingstone...missionary, explorer, author, philanthropist and liberator!
The falls, even at their lowest ebb, in late November are truly magnificent and will drench you thoroughly as you wander along newly, cemented pathways through the ancient rainforest where groves of beautiful Christmas lilies [scadoxus multiflorus] bloom red amongst the wet, green foliage. Overhead a glorious rainbow arcs across the sky and buries itself in the gorge. Birds and butterflies abound and the water thunders endlessly hurling clouds of mist aloft. Always a mystical experience.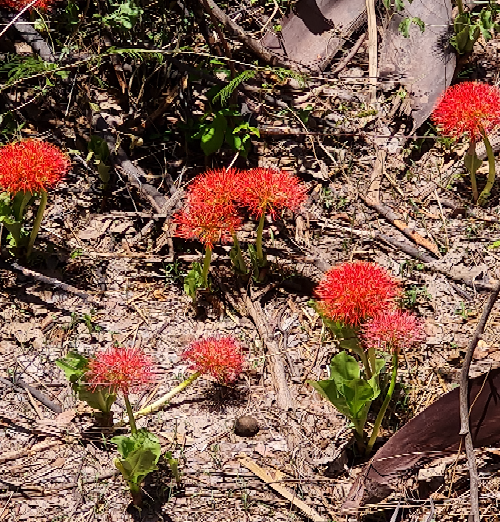 Christmas Lilies
The 17th November 1855 is the date David Livingstone the missionary explorer first saw the falls from a dugout canoe as he hurtled towards the chasm, white knuckled with awe and terror. His story is a fascinating one of poverty, determination, exploration and ultimately liberation and the abolition of slavery. He worked is way up through the ranks to become "The greatest man of his generation", only to fall from grace and then once again become a hero.
Some of you who have been lucky enough to visit Victoria Falls may have been privileged to listen to one of the live talks given on his life. If you have not heard one of these live talks, we have managed to get access to exclusive rights for a limited time, to offer you an unabridged live recording of one of these talks, by the legendary Christopher Worden from the Life of Livingstone Raconteurs.
The talk is approximately 40 minutes long. I was spellbound by the story and riveted to my screen for the entire length of the video.
I would really recommend you taking a look. Chris has made this recording available, at a small cost of US$9.99, to our newsletter subscribers for this edition only, so the link will be taken down in a few days.
Click on this link David Livingstone Talk and you will be re-directed to the payment and download page.
Island Treehouse suites, Victoria Falls
On his way downstream from Linyanti, Livingstone spent a night on Kalai Island a few km upstream of the falls and close to Kandahar Island where the low impact, beautifully appointed Island Lodge, peeps between the treetops. There are six very private rooms on stilts, each with a deck over the river and a plunge pool. Sumptuously luxurious interiors, with stunning views, world class food and a friendly and efficient team looking after you, mean your stay will leave you refreshed and longing to return.
The walkways throughout the lodge are constructed above elephant height as these, not always gentle giants, frequent the the Ilala palm groves, shaking the trees to release their delicious nuts. Interestingly these palms can only germinate once they have passed through an elephant's digestive tract. So all over this country where you see Ilala palms, there have been elephants!
Accommodation at this lodge is highly sought after, but they still have some special offers available during the green season. Please contact us for more details.
A Fascinating Insight into the Origin of Zimbabwe Contemporary Stone Sculpture
by Stuart Danks of Stone Dynamics
The tradition of Zimbabwean Stone Sculpture is hundreds of years old. The famous Zimbabwe bird sculptures from Great Zimbabwe, which existed between the 11th, and 15th Century were an early indication that Zimbabweans had sculpted with stone hundreds of years ago. The word Zimbabwe is derived from a Shona word meaning the "house of stone".
In 1954 Frank McEwan was invited to come out from England to Zimbabwe to help with the design of the building of a National Gallery in Harare. The National Gallery was completed in 1955 and was hailed as a beautiful modern gallery, which has withstood the test of time even today. In 1956 McEwan was the natural choice as the first Director with his international contacts and knowledge of the art world.
One of the first things he did was to set up a gallery workshop with sculpture being predominant. Encouraged by the talent McEwan asked the artists to abandon realism and curios and try to express their traditional values and he also got them to use harder stones like serpentine and verdite. He wanted true artistic expression and this significantly forced the artists to improve and the results showed.
McEwan's good standing in the European art scene allowed him to show the sculpture in America and Europe. Well-known exhibitions he organized were in 1969 at the Museum of Modern Art in New York, in 1971 at the Museum of Modern Art in Paris and in 1972 at the Rodin Museum in Paris. Contemporary Zimbabwe Stone Sculpture had been born and become a major force in the world of art.
Stone Dynamics Gallery established in 1987 by Stuart Danks wanted to provide an outlet for younger artists and give the artists freedom to express themselves. The gallery established a permanent commercial exhibition at the famous Victoria Falls Hotel where work of the old masters such as Richard Mteki can be bought. However, other sculptures by well-known sculptors such as Dominic Benhura, Rufaro Ngamo, Lovemore Bonjisi, Godfrey Matangira, Zachariah Njobo, Ernest Chiwaridzo and many others are also sold here.
If you would like to purchase one of these exquisite and valuable sculptures, please contact us. Below are a few examples of what is on offer but Stone Dynamics has a wide range of other sculptures on offer. So please don't hesitate to contact us for more details. Stone dynamics will arrange the shipping worldwide.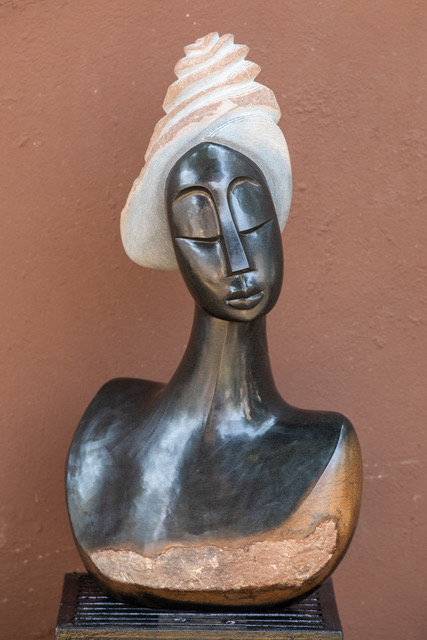 "Traditional Woman"
50kg and 60cm
US$ 2900 (excluding freight)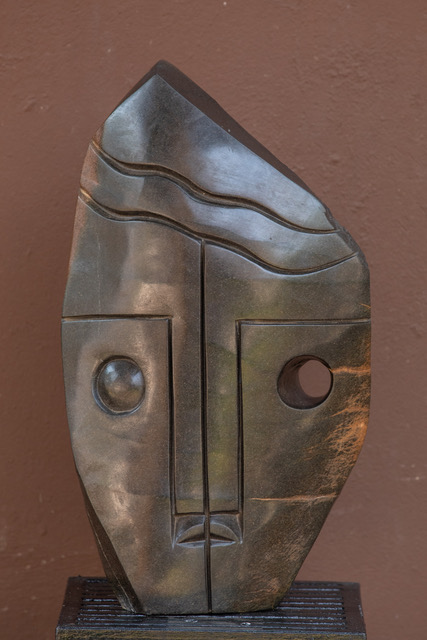 "Emotions"
44kg and 60cm
US$ 3100 (excluding freight)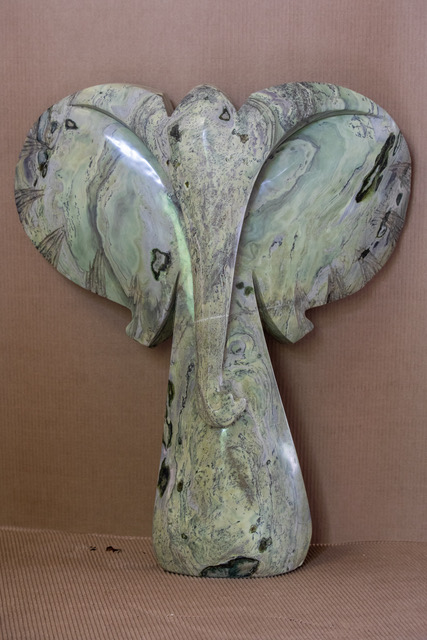 "Elephant"
125kg and 120cm
US$ 5000 (excluding freight)
Great Special on Offer for All Travellers
The location of brand new Palm River Lodge could not be more idyllic, situated as it is along the banks of the iconic Zambezi River, among towering indigenous trees and only 4 kilometres from Africa's Natural World Wonder, Victoria Falls – so close, in fact, that you can often hear the thunder of the mighty waterfall from your room! Elegantly appointed with comfort and space in mind, the interior design of the rooms is focused on bringing the outside in, with the stylish use of natural tones, locally sourced materials and artwork reflective of the area.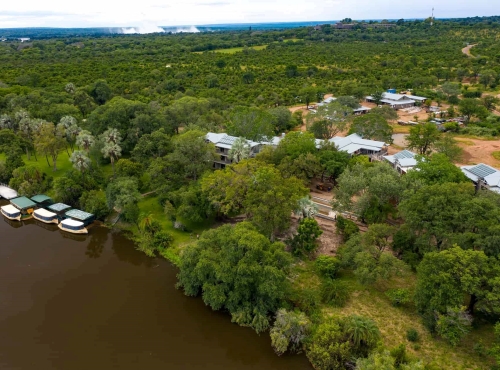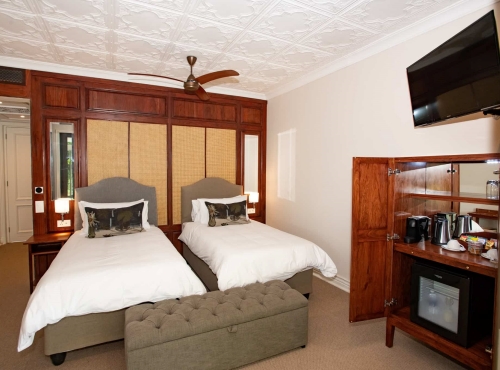 Price: US$ 189 per person sharing per night - Single Supplement may apply
Includes: Accommodation; Breakfast; Daily afternoon riverside tea, coffee and sweet treats; Mini bar (one per stay); One complimentary town transfer per day. Stay for 3 nights or more and receive a complimentary Ra-Ikane Breakfast cruise.
Excludes: Other meals; Drinks; Activities; Transfers.
Children: Children under 4 years stay free of charge. Children 4 to 11 years pay 50% of the adult rate.
Valid: until 28th February 2022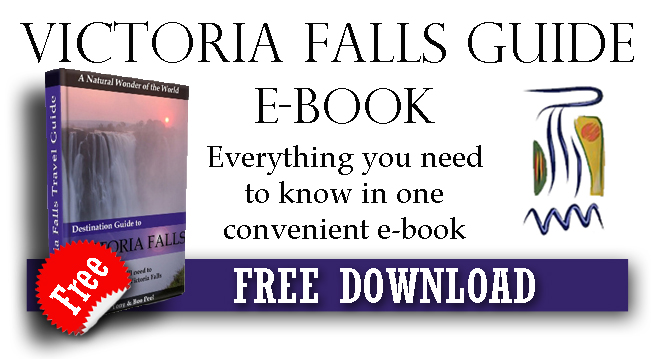 GDPR Regulations
The GDPR is a part of the European Law that governs data protection and privacy for all individuals and to comply with the consent requirements we are obliged to reconfirm with you that you are happy to continue receiving mailings from us.
All our newsletters include an "Unsubscribe" link which you can remove yourself from at any time from our mailing updates.
We wish to take this opportunity to reassure you that your information is safe and remains confidential to us alone and will continue to be used in association with our company updates only. You don't have to do anything further if you wish to continue to remain on our database BUT should you wish to stop further mailings kindly click the unsubscribe link below. Have a look at our Privacy Policy.
Click here to subscribe and receive future editions of our newsletter directly by email. Don't forget you can follow us on Facebook and Twitter for all the latest travel information updates from the region, and we're always here to help with your travel logistics.
---
Contribute - If you would like to submit your safari story or send us some pictures to feature in an upcoming issue please click here.
About Us | Home Page | Our Blog | Past Newsletters | FAQ's | Unsubscribe


www.victoriafalls-guide.net | Nguhumwa Crescent, Victoria Falls, Zimbabwe | info@victoriafalls-guide.net | +263 83 2846213