Palm River Hotel

Riverside luxury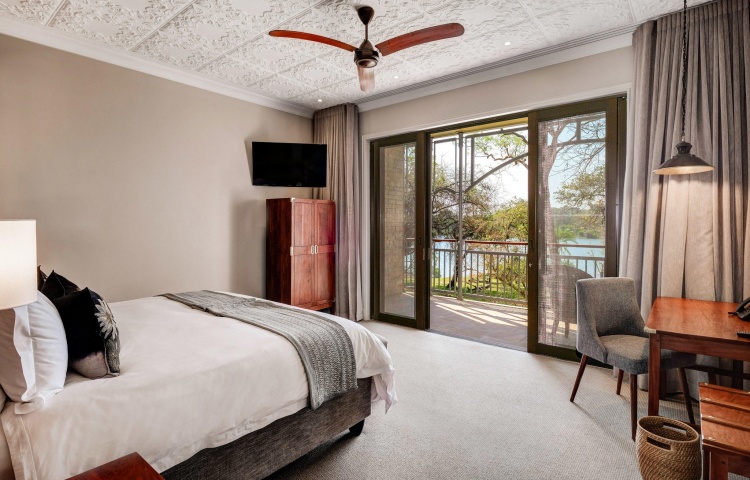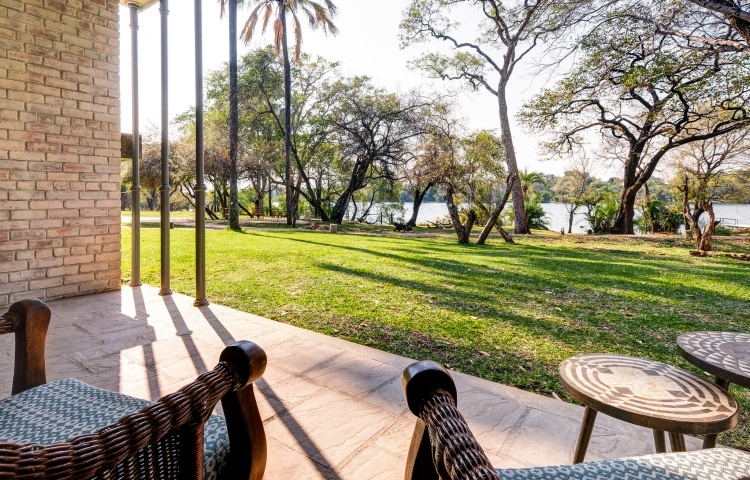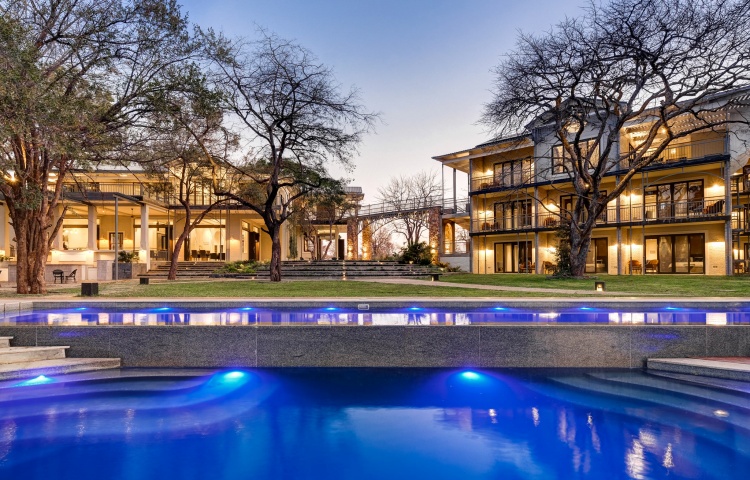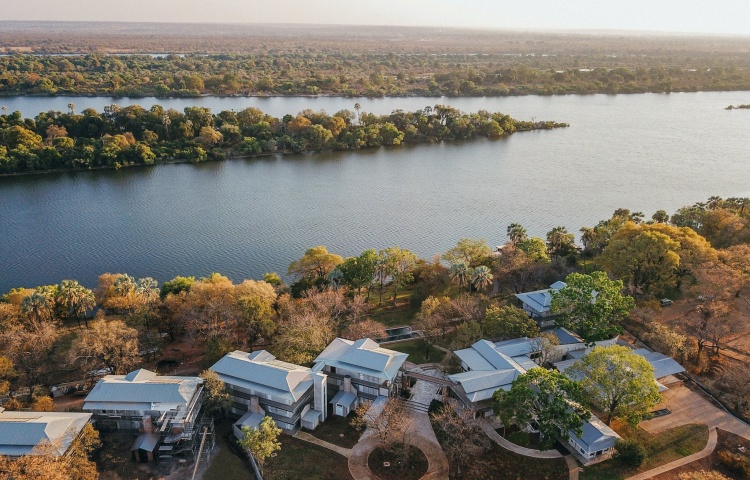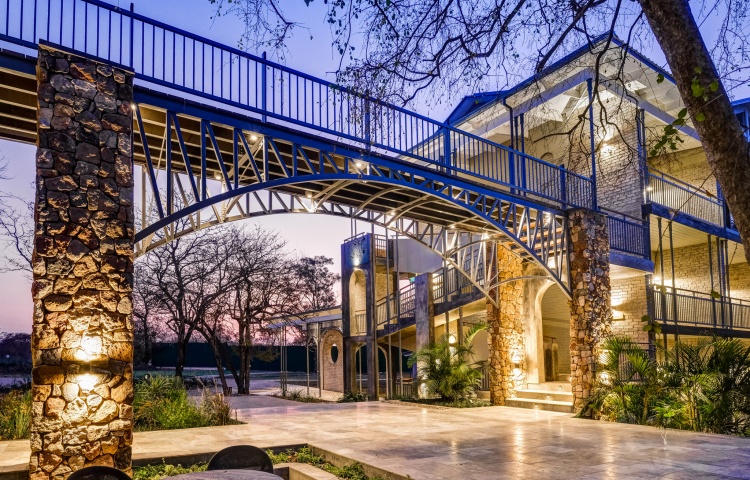 PRICE before special offers

Approximate price per person sharing per night


International
US$ 291 (Deluxe room) January to December
US$ 416 (Executive suite) January to December

SADC
US$ 233 (Deluxe room) January to December
US$ 333 (Executive suite) January to December


International
US$ 328 (Deluxe room) January to December
US$ 468 (Executive suite) January to December

SADC
US$ 262 (Deluxe room) January to December
US$ 374 (Executive suite) January to December


Introduction
The Palm River Hotel, opened in December 2021 is the new sister hotel to the popular Ilala Lodge. It is located further upstream from Ilala and the Victoria Falls, along the Zambezi River where the Ra-Ikane boats are accessed. This is 5km (less than a 10-minute drive) from the entrance of the Victoria Falls, and 3.5km from the town centre. Getting into town, Ilala Lodge, craft market and to the rainforest entrance is easy, with a shuttle running regular trips throughout the day.
The Palm is a welcome addition to the upmarket hotels in the Falls, with various room options from deluxe rooms to a presidential suite. It is a unique hotel with a blend of luxury and a sense of home comfort. Vast, unimpeded views do not get in the way of privacy. While not being in the city centre, the location offers a peaceful stay in beautiful surroundings, yet close to the great adventure that awaits you in Victoria Falls.
The Palm River Hotel has been inspired by the architectural style of the Queenslander, distinct in its savvy use of timber and corrugated iron and its consideration of climatic conditions. Highly skilled and professional teams of Zimbabwean architects and interior designers have taken these principles and modified them to create a hotel that is at once aesthetic and functional, modern and timeless, cosmopolitan and perfectly suited to the local environment. The innovative blend of traditional East-Coast Australian design and the unique landscape of the upper Zambezi River has resulted in a brand new and distinctive landmark for Victoria Falls.
The Palm River Hotel uses both solar power and hydroelectricity supplied by the powerful flow of the Zambezi River. Hot water supplies are powered by solar heated water tanks that heat-exchange with the air conditioning plants for maximum efficiency. In future, a solar farm will be added to the site to cater for the hotel's power needs, ensuring that the Palm River Hotel is truly a green entity. The hotel has installed a sustainable borehole system equipped with its own water purification system. Recycling efforts include a glass crushing machine to allow for re-use, while plastics, aluminium and paper will be sorted into correct waste and passed on to the Victoria Falls Recycling Project for processing and re-use.
Facilities at the hotel include a luxurious spa, with tranquil views of the Zambezi River. Here, guests can enjoy a variety of aromatherapy treatments, soothing massages and beauty treatments such as manicures and pedicures. A 34m infinity pool in the foreground of the main area merges with the horizon and offers a cool oasis under the shade of towering trees. At night the pool area transforms into a starlit wonderland, with the use of cleverly illuminated pebbles and lighting. The nearby jetty provides access to the luxury Ra-Ikane River Cruise, which offers breakfast, birdwatching, lunch and sunset cruises on the Zambezi River.
The interior design of the guest rooms is focused on bringing the outside in, with the stylish use of natural tones, locally sourced materials and artwork reflective of the area. The tastefully modern Queenslander style is reflected on the inside as well as the outside, and introduces a new dimension of luxury, providing guests with every modern convenience to make their stay as comfortable as possible while maintaining the old-world charm that is the essence of Victoria Falls. The well placed rooms all offer expansive views of the riverside garden from the bedroom balcony, allowing guests to feel up close and personal with the mighty Zambezi River, even from within the comfort of their rooms.
Deluxe Rooms include a spacious bedroom and private balcony where guests can enjoy views of the Zambezi River and the gardens. The Deluxe Suites are situated on the ground floor overlooking the flowing waters of the Zambezi River and surrounded by lush green gardens. The suites are made up of two spacious bedrooms including a large King Deluxe room and a Twin Deluxe room, and centred between the rooms is a comfortable and contemporary shared lounge area. Executive suites offer extra privacy and luxury, connecting a comfortable bedroom with a relaxing lounge and balcony area overlooking the Zambezi River. The rooms feature high ceilings and open-air setting, and an intimate dining area, suitable for 4-6 people to enjoy private in-room dining experiences. The Honeymoon Suites' most stand-out features include a spacious lush balcony, nestled in the treetops, a relaxing outside lounge and hanging daybed, as well as a starlit outdoor shower. The rooms are spacious with king-sized beds, and bathrooms boast a beautiful bathtub, double shower and vanity, and separate toilet.
The private Palm River Villa is an exclusive unit, made up of a twin Deluxe Room, a Honeymoon Suite and an Executive Suite. The secluded and intimate accommodation option showcases the hotel's range of elegant, stylish and charming room varieties. The Palm River Villa comes complete with a shared kitchen, dining area, spacious lounge, private car park, private swimming pool with an expansive patio and garden; shared only with free-roaming wildlife that frequent the lush lawns. The secluded space allows for families or small travel groups to have their own exclusive space, while immersed in the riverside location of the Palm River Hotel.
The restaurant at the Palm River Hotel features a welcoming indoor dining hall, as well as open outdoor seating under the tree canopy, with stunning views of the Zambezi River. The cuisine reflects the natural setting, using fresh, local ingredients to create unique fusion fare. Sourcing local and seasonal products to add to the menu will mark a shift to more sustainable food supply. Next to the outdoor dining is the bar, serving a selection of local and imported beverages, wines, cocktails, speciality coffees and fresh fruit juices daily.
Summary
• New sister hotel to Ilala Lodge by the Zambezi River
• Upstream from the Victoria Falls, 5kms from the entrance
• Various room options - all luxurious
• Australian Queenslander design by Zimbabwean architects and interior designers
• Use of both solar and hydro-electric power, plus heat exchange between facilities
• Various luxury facilities, plus access to the Ra-Ikane cruises
• Stylish rooms with exquisite design reflective of the nature outside
• Private Villa with different rooms designed just like the main hotel
• Indoor and outdoor restaurant, plus outdoor bar with views of the river
Accommodation at Palm River Hotel
• 73 individual units in total
• 60 Deluxe rooms (40.3m2) - king-size or twin bed configuration. Accessible accommodation in 2 of the Deluxe rooms with king bed or twin configuration. Inter-leading door to carer or companion room.
• 2 Deluxe suites (112.8m2) - 1 king and 1 twin
• 2 Honeymoon suites (72.9m2) - king-size beds
• 3 Executive suites (82.3m2) - king-size beds
• 1 Presidential suite (112.8m2) - king-size bed
• 1 Palm River Villa with 3 bedrooms - 1 Honeymoon Suite with en-suite bathroom, lounge area, balcony and guest bathroom (top floor); 1 Executive Suite with en-suite bathroom; 1 Deluxe Room with en-suite bathroom; Common lounge, kitchen area, dining area, verandah and private swimming pool.
All rooms have:
• Bathroom en-suite - shower, twin vanity basin and toilet. All rooms except Deluxe rooms have a bathtub.
• Private river-facing balcony/verandah
• Ceiling fan
• Hair dryer
• Room digital safe
• Writing desk
• WiFi
• Satellite TV
• Tea/coffee making facilities
• Mini bar
• Air conditioner
• Luggage storage and wardrobe space
• Laundry service
• In-room dining
Advantages
• Located along the Zambezi River bank
• Only 5 minutes away from the city centre
• Luxury rooms and bathrooms are elegantly designed, making for a very comfortable stay.
• Rooms are well appointed with views of the Zambezi River
• Complimentary shuttle taking guests to and from town
• Privately owned
Dining
• Continental and Full English breakfast included. Upgrade to Ra-Ikane Breakfast Cruise available at an extra cost.
• Restaurant/dining hall, as well as al fresco dining under the trees
• In-room dining
• Outdoor bar
Facilities and Services
• Indoor and outdoor dining
• River deck
• Outdoor bar
• Swimming Pool. Palm River Villa has it's own pool.
• Beauty spa
• Satellite TV
• Shuttle service
• Safe parking
• Porter service
• 24-hour concierge
• Laundry service
• International and USB charging ports
• Shuttle to Victoria Falls
Children
• Children are welcome at Palm River Hotel. Children's rates are available.

How to Get to Palm River Hotel
• Self drive to Victoria Falls
• Fly in to Victoria Falls Airport/Livingstone Airport, and transfer by road 25kms to the hotel.
• Fly in to Kasane Airport, and transfer by road +/-1.5 hours.
THE VIC FALLS BUSH TELEGRAPH
our Bi-Monthly E-Newsletter

Each issue has a destination update, loads of information about conservation and wildlife, specials offers, traveller tips, community projects, website highlights and tons more...

Find out more about our Bush Telegraph

"Your newsletter keeps me informed about new and old and is the best I've seen in a long while - informative, not commercial, just plain perfect!" - I.Skliros

Don't worry. Your e-mail address is totally secure. I promise to use it only to send you The Vic Falls Bush Telegraph.
Return from Palm River Hotel to our Victoria Falls home page