Zimbabwe COVID-19 Update
Zimbabwe seems to be a few weeks behind the rest of the world in regards to breakouts of COVID-19. Although we only have few cases that have been recorded so far, we have been taking all necessary steps to avoid it getting out of control. The government ordered a 21 day lockdown that began on the 30th of March, and we are expecting that to be extended. So, we are not sure how things will unfold in the weeks to come, but we will cross future bridges when we get to them and update you along the way. We will continue to stay at home and live consciously in order to get to the other side of this as smoothly as possible.
In light of this crisis, there are a couple of community non-profit projects running to help both the less fortunate and our wildlife get through this time safely. We would be eternally grateful for any help that you might be able to give. Every little bit counts!
Victoria Falls anti Poaching Unit (VFAPU) are doing everything in their power to keep our wildlife safe from poachers and to conserve our National Park, whilst the Falls Famine Appeal is doing whatever they can to prevent extreme starvation in Victoria Falls, due to the tourism economy collapsing.
If you'd like to, you can donate to VFAPU here: https://www.gofundme.com/f/victoria-falls-anti-poaching-unit and Falls Famine Appeal here: https://www.justgiving.com/crowdfunding/vicfallsfamine-appeal.
Have a look at their websites to find out more about them! VFAPU: http://vfapu.com - Falls Famine Appeal: https://www.fallsfamineappeal.com
Zambezi Water Levels
We are so thrilled as The Zambezi River has reached extremely high water levels over the last few weeks. In areas upstream such as Chavuma Mission Station (where daily river flows are recorded) in North Western Zambia, the flow has been one of the highest ever recorded!
According to the Zambezi River Authorities, it peaked at Chavuma for the second time this year at 5,825m3/s on 6th April, while the flow observed last year on the same date was 657m3/s. Flows at Victoria Falls so far have peaked at 4,289m3/s on 31st March, last year on the same date, the flow was 896m3/s. So there is a considerable difference in water flow between this year and last year.
The second flood from Chavuma hasn't reached Victoria Falls yet and these are expected to arrive soon. The river started receding on the 2nd April, but has been rising again by 1cm a day for the last few days, so maybe they are almost here.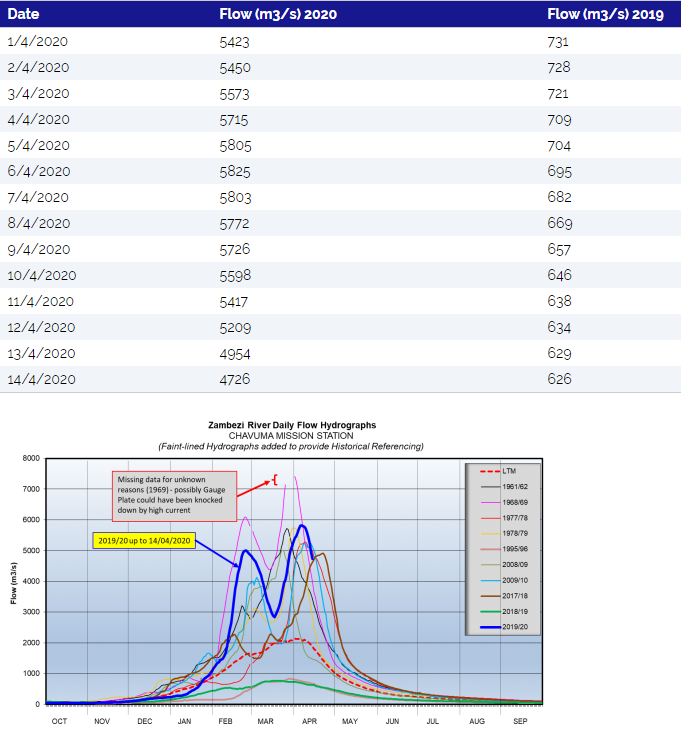 The waterfall is flowing furiously and we can hear and even see the magnificent spray from our homes! It's making itself more present than ever, maybe in hopes that it will get noticed by those who spread and believed the false news that it had dried up just a few short months ago, which of course was not the case at all. The Falls really are a sight to behold at the moment. You can see a video that was taken on the 3rd April 2020 here.
Annual Events
We mentioned all of the events that Victoria Falls was hosting this year in our previous email. To recap, they were the Enduro, The Vic Falls Marathon, Pumping Legs for Hwange, The Zambezi Cycle Challenge, The Zambezi White-water Festival and of course, at the end of the year is The Vic Falls Carnival. As it stands, The Enduro has been cancelled, and registrations for the marathon have been suspended until further notice. The other events that are held later on in the year will wait and see whether or not they too need to cancel closer to the time.