Victoria Falls Blog
Victoria Falls Blog shows You What's New on this site.
Every time we add new content to our site it will appear on this page as a headline and summary paragraph. Have a quick look at the recent entries below.

If you have a Story or Experience, Advice or a Review. Please share it with us. It really easy click here

We add exciting content almost daily this ranges from news and events to stories and adventures from our readers. Not only that, we add interesting information about traditions and culture, folklore, wildlife and conservation, pictures and art and really too much else to mention. We are confident that you will find it really interesting.

If you subscribe to our RSS feed the information on this page will be delivered straight to your RSS reader. No need for you to come back here and check for it. Simply right-click on the orange RSS button (see buttons in the lower part of the left hand column) and then paste the URL into your RSS reader. (no email is necessary)

Or click on the My Yahoo! button or My MSN or Add To Google button if you keep a personalized home page there.

If you are not sure what RSS and blogging is all about, click here..... What's an RSS Feed?

Once you start, you will be amazed at what RSS can do.

We hope you enjoy this... it is fun!


---
Can't find what you are looking for? Use Google Search to search this website for any term you are looking for.


May 28, 2020
Where is Victoria Falls - The world's largest waterfall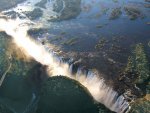 Where is Victoria Falls? A good question to ask for anyone who wants to see the world's largest waterfall.
Continue reading "Where is Victoria Falls - The world's largest waterfall"
---
Share with others!