News And Events
Downloadable E-guide:-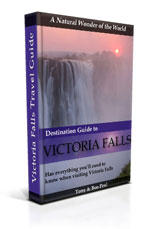 We are very excited to announce the launch of our very own Victoria Falls Destination E-guide. Every day we gets asked dozens of questions about every aspect of travel to the Falls, so we decided to gather all the questions together, answer them and produce a downloadable guide for people to access the information easily. We have included our Tips in just about every section to help save time, money and frustration when visiting Victoria Falls.
Apart from all the information we have included maps, photographs, slideshows, checklists, a local language guide, an activity fact file, a tour of the falls, a calendar, discount vouchers and much more.
We have been working on this for several months now and have finally launched it. We believe that it is a complete resource for anyone travelling to the Falls. To find out more about it...Click here
Jet Boat - Regal Tours and Safaris recently launched a new jet boat operation. This activity involves a high powered jet boat racing up and down the Zambezi at speeds of up to 100kms per hour in rapids 1 and 2 just below Victoria Falls. This Adrenaline packed activity sadly did not operate for long as the specially designed boat imported from New Zealand didn't negotiate one of the waves to well and nose dived into the water sinking the entire boat. Fortunately no one was hurt and everyone made it to the banks safely. Nyami Nyami the Zambezi River god is the only one who knows where the the boat is.
Victoria Falls Rainforest Restaurant - Huge controversy raged over the opening of a newly constructed restaurant and shop at the entrance to the Victoria Falls Rainforest Park by tour operators Shearwater Adventures. Environmentalists, curio traders and other tour operators objected citing that the UNESCO's World Heritage status of Victoria Falls was threatened.
The main objections appeared to be:-
1) Shearwater clandestinely partnered with Zimbabwe National Parks to be awarded this licence.
2) The new construction was not within UNESCO's guidelines of building restrictions of this World Heritage site
3) The National Museums and Monuments of Zimbabwe (NMMZ) and Zimbabwe National Parks (ZNP) have been in conflict with each other as to who has jurisdiction of the Rainforest National Park.
4) The livelihood of 100's of curio vendors outside the Rainforest Park would be threatened.
In Response:-
Shearwater Adventures have categorically maintained throughout the controversy that they have done nothing underhand and that the award of their licence was completely above board. The only dispute being between NNMZ and ZNP.
Shearwater have also maintained that the construction is completely within the UNESCO's guidelines for this world heritage site. Paul Connolly Shearwater's lawyers states:-
"There are UNESCO regulations pertaining to the site. The UNESCO regulations say, among other things, that there should be no developments in an area which is not already designated a facilities area.
"Shearwater has simply improved and developed infrastructure within the physical parameters of the buildings that have been in existence for a long time. This is already a developed area and Shearwater did not go an inch outside that designated area."
At the height of the conflict NMMZ took control of the Rainforest Park and ousted Zimbabwe National Parks officials. This action was blown out of proportion by the press who stated that an armed struggled had ensued, when in fact this was not the case. NMMZ did take control of the Rainforest Park entrance for a short period of time with ZNP relinquishing control in a peaceful manner. After discussion behind closed doors it was resolved that these were both State run authorities but that ZNP had jurisdiction.
The shop that Shearwater have set up is an upmarket shop. It is not a curio store, in fact they do not sell curios similar to any curio traders outside the Park therefore the likelihood that it will affect the livelihoods of 100's of curio traders is minimal.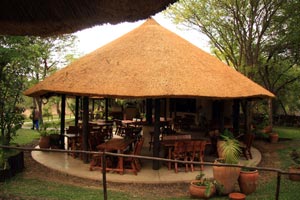 The whole entrance to Victoria Falls Rainforest park was in desperate need of revamping and updating. The information centre was dull and outdated and the toilets facilities were not up to standard. Shearwater have improved the whole facility dramatically and brought it up to international standards. The information boards now on display are a vast improvement on what was there previously. The restaurant block has been tastefully designed and built and blends in well with the surrounding environment, it is the bare minimum that an international traveller might expect. Tourists are now able to enter the Rainforest Park (having paid an entrance fee of US$30) wander around the Falls enjoying this marvellous spectacle and then rest and enjoy a bite to eat before going back to their hotels or indeed wandering around the Falls again.
Presently the dust has settled and operations are back to normal.
Victoria Falls Art Gallery -A rather disturbing case has come to light through the FAQ's section of our website. Several people have made contact with us regarding curios that they have purchased at the Victoria Falls Art Gallery. They have either paid deposits or paid in full for curios and shipping with the promise that these items will be shipped back to their respective countries, unfortunately for these people the items never arrive. Details of correspondence can be seen at this post on our site https://www.victoriafalls-guide.net/southern-africa-gallery.html
We are currently investigating this whole affair and have been to see the owner of the gallery, who has a string of excuses as to why the goods have not yet been shipped, we hope to get to the bottom of this and at least get the money returned to these unfortunate customers.
Please be aware of this problem and warn others but also understand that this is not a true reflection on all traders at Victoria Falls. You must just be very careful when buying something and then asking for it to be shipped home. Make sure the individual or company has been recommended to you or that they can show you details of previous shipments and also who their shipping agents are. If in doubt rather organise your own shipping through the Fedex agency in the Falls.
This sort of thing casts a very unfavourable light on Victoria Falls and along with other residents in the Falls we will do everything in our power to put an end to this dishonest behaviour. If indeed this turns out to be a fraud case we hope that these perpetrators will be brought to book and stopped from trading any more.
New Years Eve Party - This years "New Years Eve Party" is set to supersede all parties of the past. It's likely to be one huge rock festival with some of the best artists from Zimbabwe and South Africa performing.
It will create a new hype about Victoria Falls. Most accommodation establishments are 100% fully booked (camping still available) and the activity tour operators are extremely excited about the influx of people which promises to ignite Victoria Falls as a premiere tourist destination once again.
This years line up includes The Parlotones, Mann Friday, Ghapi, Evicted, Kate Douie and many others. The festival is spread over two nights with the Parlotones playing on the 30th and Ghapi, the drummer and singer with wild hair, bringing in 2011 with a bang.
Tickets numbers are supposedly being restricted to 3000 with standard tickets costing US$40 per night.
The Zambezi Traveller- The Zambezi Traveller is a new quarterly publication, it's first issue was launched in June of 2010. Their third issue has just gone to the printing press and will be out next week. Currently 25 000 copies are printed per issue for Free distribution.
This tabloid sized publication is jammed packed with interesting articles, stories, news, adverts and information on this whole area, with individual sections on Livingstone, Kariba and Lower Zambezi, Chobe, Mozambique, Victoria Falls, Okavongo and Hwange. If you have any interest in these areas, we would highly recommend getting a copy, there is nothing else quite like it out there.
If you would like to subscribe for FREE please email teddy@yoafrica.com They will send a copy to you anywhere in the world and won't even charge you for postage.
Explorers Bar - During the 90's Explorers Bar in Sopers arcade was the place to go for a lively bit of nightlife. In recent years it's popularity waned slightly but it has just reopened under the new ownership of Tim Element and Deidre Adams and is set to start humming again. Mike Saunders the young new manager has brought in Live entertainment and theme evenings which are set to draw the crowds in.