Well Christmas and New Year have passed and we are just about catching up with ourselves!
December and January saw us doing quite a bit of travelling, lots of hotel site inspections and familiarisations on many of the activities. After Christmas we drove to Kariba through Zambia to celebrate Boo's 50th with a group of close friends, and then spent New Year at Tiger Bay in the Matusadona National Park. Lake Kariba is just one of our most favourite places in the world and it was as awesome ever. It's wild and beautiful and at this time of year the huge thunderstorms that build up on the Lake are an absolute spectacle.
January is generally a time when the hotels are a bit quieter so this gives us a good opportunity to spend a night in each one, just to sample the levels of service, the food and the condition of them. We can then be confident when recommending any hotel to our clients; we like to know exactly what it's like, from experience. Highlights for us were a night at the new Victoria Falls River Lodge and a luxurious stay in the Honeymoon suite at the Victoria Falls Hotel.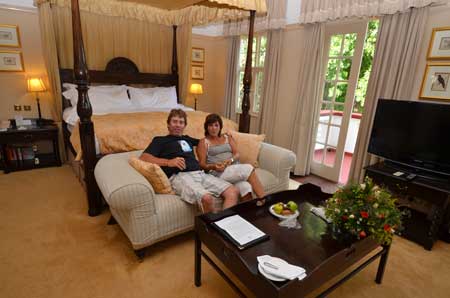 This is us in the honeymoon suite at Victoria Falls Hotel
Standards throughout the hotels in Victoria Falls are still high and apart from high prices we could find very little fault anywhere. Each hotel is unique in its own way and offers individual characteristics to suit different people. This is why we like to match the hotel to a person's exact requirements.
On the activity front, courtesy of Shearwater, we sampled the newly structured "Champagne and Sunset Tram Tour" which was outstanding and also a spectacular 25 minute helicopter flight in which we saw so much game in the Zambezi National Park we were astonished. This is such good news for the Park which has been plagued by serious poaching in recent years. The anti-poaching efforts of the Victoria Falls Anti-Poaching Unit (VFAPU) are clearly paying off as game numbers appear to be thriving. Please read the 2012 VFAPU reportby Charles Brightman which summarises the poaching and arrests figures for the year.
Des and Kim Van Jaarsveldt of 'into Africa' hosted us on an 'evening sunset and dinner cruise' on their new cruise boat. We already highly recommend this activity to most of our clients and will continue to do so as it is really a great activity and good value for money.
An extremely fleeting visit took us to Hwange National Park as we wanted to see two of the most recent camps to open there in 2012; Camp Hwange and Sable Sands. These two very different camps are aimed are different sectors of the market and we will be featuring more information on them in this and upcoming issues and on our website (for more on Sable Sands see below).
Hwange National Park suffered from a tremendous shortage of water late last year, with large numbers of animals perishing at the dry waterholes. Well you wouldn't have believed it while we were there, the park was literally awash with water. In some places the roads were under water and we drove for hundreds of metres through water a couple of feet deep. This is fantastic news and we just pray that the rains continue and the waterholes fill to overflowing, so that they can last through the long dry season once more.
This January report on the African Waterbird countin Hwange by John Brebner is an interesting read.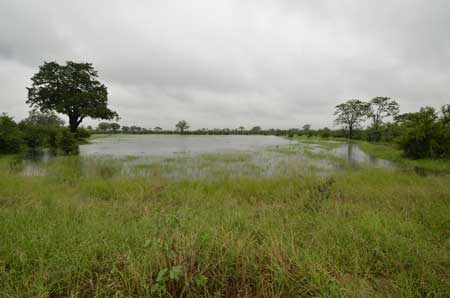 Pans in Hwange are filling up and there's green grass everywhere
(Credit: Tony Peel)
Although this time of year does have its draw backs, like if you have a three day holiday planned and the persistent rain sets in for the entire time, but if you happen to catch the glorious days in between the rain it is a wonderful time of year, the sunrises and sunsets are just out of this world and there is nothing quite more thrilling than seeing huge cumulus nimbus clouds building to several kilometres high, dark and angry then dumping themselves in torrential downpours across the landscape.
It's known as the green season and the bush is now thick with growth, which makes it's harder to see animals now than in the dry season. Baby animals are everywhere and you can really sense that every plant and animal is rejuvenating itself getting prepared for the dry season ahead.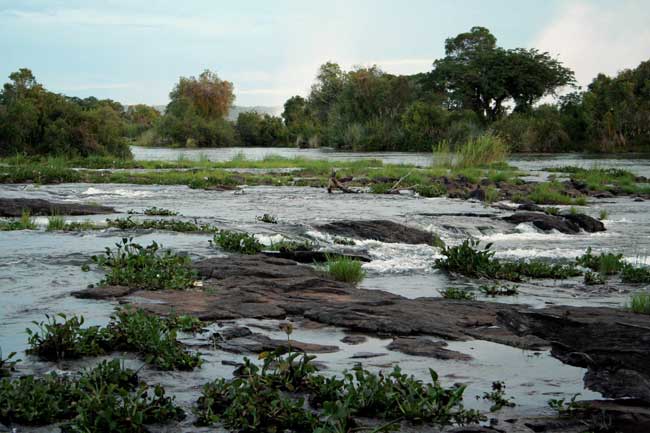 The Zambezi River just above the Victoria Falls,
photographed on 03 January 2013
(Credit: Peter Roberts).
So the endless cycle of the seasons continues -the region has received good rains in the last month or so, and water levels on the Zambezi have risen rapidly for the time of year (see photographs), with rafting already being suspended early on the river as a result. The river is now a powerful force and the Victoria Falls are beginning to reach their peek (the river normally peeks between late March and early May). Many may think this is the best time to view the Falls, but the resulting dense clouds of spray can completely obscure many of the viewpoints.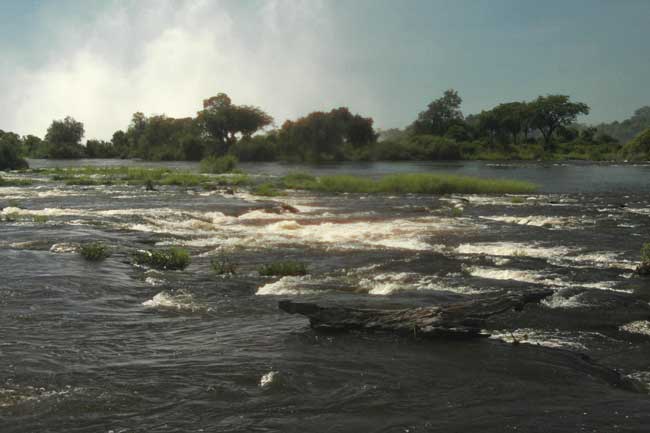 A similar view of the Zambezi, photographed on 29 January 2013
(Credit: Peter Roberts).
Looking ahead, 2013 is promising to be a year to remember, with celebrations in Livingstone for the anniversary of Livingstone's birth starting in March and the UNWTO General Assembly in August - both sides of the river will be extremely busy during this period, so make sure you have the dates in your diary (see section at end of newsletter).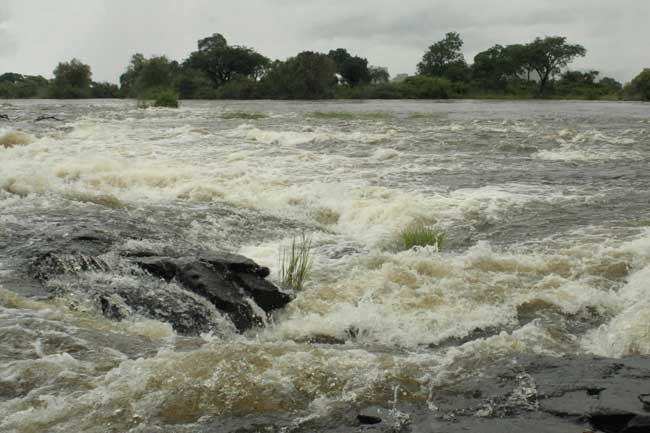 Another view, photographed on 12 February 2013
(Credit: Peter Roberts).
Best wishes
Tony & Boo
---
News and Events
Zambezi River Levels
The water levels on the Zambezi at the Victoria Falls respond to rainfall across the whole Upper Zambezi catchment, but flow patterns are also hugely influenced by natural wetland areas such as the Caprivi Swamps, which intercept and absorb floodwaters and then regulate the water released downstream. Data from the Victoria Falls Hydrological Station, located just above the Falls (along Zambezi drive) show that as at the end of January the Zambezi River was 10 centimetres higher than last year, but 10 centimetres lower than the highest level recorded in recent years (2007).
However, data from the Katima Mulilo Hydrological Station, upstream of the Victoria Falls and the Caprivi Swamps, showed a far more dramatic rise in river levels in late January, with the river rising to higher than average for this time of year and following a similar rise to 2011 when river levels rose early and quickly (but then subsided into a lower than average maximums). Indeed rises at Katima Mulilo can be up to four times that experienced at the Victoria Falls, emphasising the regulatory effect of wetlands and their importance in controlling natural flood patterns. The Caprivi Swamps absorb and store excess floodwaters, much like a sponge, releasing them slowly and steadily downstream. The corresponding reduction in flow can be up to seven times higher at Katima Mulilo than at the Victoria Falls, as the swamps slowly release stored water, reflecting the importance of the Caprivi Swamps in regulating flow downstream to the Victoria Falls and preventing dramatic, and destructive, flood events. Without them, the Falls would experience even more dramatic fluctuations in level, rising quicker and higher than presently, and accordingly dropping quicker and more dramatically, and the rapid below even more treacherous.


Water level measuring point at the Victoria Falls Hydrological Station,
photographed on 12 February (left) and 25 February (right) 2013
(Credit: Peter Roberts).
At the same time as increasing in volume, the speed or flow of the river increases. The flow at the Victoria Falls Hydrological Station as at 3rd February 2013 was 1,459 metres cubed per second, which is about 44% higher than the flow recorded last year on the same date when water levels were also significantly lower by comparison.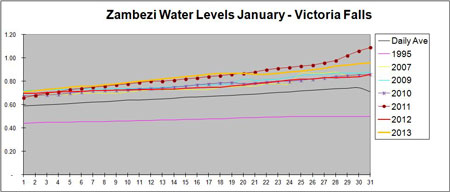 ---
Kariba Update
Early in February the Zambezi River Authority gave notice that Kariba Dam floodgates will be opened in March (date to be confirmed), following the completion of major structural works to the dam wall. The Authority confirmed that for the period October - December 2012 the region recorded generally average to above average rainfall for most of the Lake Kariba catchment. As at the end of January reservoir levels were at 65% of capacity. Management of the reservoir requires that the dam is maintained at a level of 64% of capacity as at the end of February in order to accommodate potential floodwaters.
Concerns have been expressed in the past over the plunge pool at the base of the dam and the erosion of the bedrock, caused by the high force of water released from the dam when three or more of the floodgates are used. The works currently being undertaken will help to control this problem, along active management of the reservoir storage levels and controlled release of water.
The opening of the dam floodgates is of critical concern to communities and businesses operating downstream, with rapidly rising river levels causing concern for life and property. Kariba has a total of six floodgates, and the challenge for the river authority is to manage storage levels in the lake to maximise hydro-electric production whilst at the same time responding to weather patterns and river flow predictions across the region.
---
Victoria Falls Guide takes on new consultants
In 2012 we saw an exponential growth in the volume of travel enquiries we received on a daily basis, while this was wonderful business we just couldn't keep up with the demand. We needed help but finding the right people with the experience, knowledge and commitment is not that easy. Lucky for us we have managed to recruit the services of Dave and Jane Boaler, this Zimbabwean couple know the area incredibly well having lived in Victoria Falls since 1984. This is exciting news for us as a company.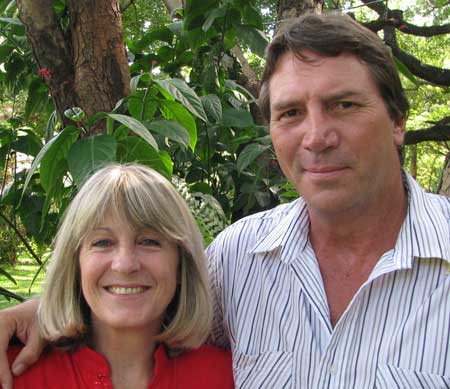 Dave and Jane
After leaving the Government Wildlife Department, Dave started the first private commercial safari operation in Victoria Falls since Zimbabwe's independence in 1980. He has since conducted walking and vehicle safaris throughout Southern Africa. After helping Dave for ten years Jane took over the tourist section of the Zambezi Nature Sanctuary in 1994 which she ran for nearly ten years. Jane is renowned for the three orphaned lion cubs she brought up in her home. Dave and Jane still live in Victoria Falls and have two grown up children who live in England. We welcome them onboard.
---
Zambezi Challenge
January saw six television and entertainment celebrities from the UK take on the Zambezi Challenge to raise money for British charity Comic Relief. Former Spice Girl Melanie Chisholm, actress Chelsee Healey, DJ Greg James, Olympian Phillips Idowu and comedians Dara O'Briain and Jack Dee battled the rapids and dodged rocks, crocs and hippos as they canoed and white water rafted over 111 kilometres down the Zambezi River in five days.
The Hell and High Water documentary will be aired in the UK during Red Nose Day 2013, on March 15th. Donate to the Zambezi Challenge Online - Red Nose Day
Donate [link to external site, opens in a new window]
---
Livingstone 2013
Livingstone will be hosting a series of international sporting, cultural and musical events and festivals running from 19 March (Livingstone's actual birthday) through to 16 November, the date when David Livingstone first viewed The Victoria Falls back in 1855. The programme is part of a global chain of events celebration of Livingstone's birth.
Read more here [link to external site, opens in a new window]
Read more about Livingstone and the discovery of the Victoria Falls on our website here
---
Conservation
Batoka Gorge Dam Update
At the end of last year Zambezi River Authority (ZRA) invited Expressions of Interest (EoI) from prospective companies to develop the project proposals on a 'Build Operate Transfer' (BOT) basis, with EoIs to be submitted by 8 Feb 2013. At least one company, from Brazil, has expressed an interest in the project.
In September 2012 plans for the proposed Batoka Gorge Dam and Mphanda Nkuwa Dam (Mozambique) were criticised by an American hydrologist for being based on historical hydrological data which has not been re-evaluated for future increased climate change risks.
Read more here
---
Victoria Falls to become Ramsar Site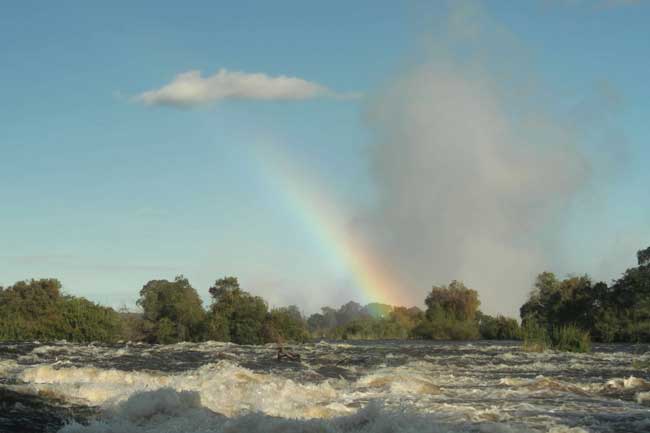 Rainbow in the spray from the Victoria Falls,
photographed from above the Falls.
(Credit: Peter Roberts).
Victoria Falls is to be listed by the Zimbabwean Government as a Ramsar wetland of international importance as part of a process that will see the country become the 164 national state to join the Convention. A total of seven sites have been identified nationwide as potential Wetlands of International Importance - Mana Pools, Monavale Wetland, Lake Chivero and Manyame, Driefontein Grasslands, Chinhoyi Caves, Cleveland Dam and the Victoria Falls.
Zimbabwe joins neighbouring countries Botswana, Namibia and Zambia who are all existing members to the Convention. It was reported in January that Namibia is preparing to list the Kavango River (also known as the Lower Okavango River) in the Bwabwata National Park as a Ramsar Site.
Worldwide the Ramsar Convention has 164 Contracting Parties and over 2,000 Ramsar Sites have been identified and listed as wetlands of international importance, covering an area of just under 200,000,000 hectares.
---
Hotel and Lodge News
Sable Sands
Those who know Hwange well will know of the old Sable Valley Lodge on the Dete Vlei, just outside Hwange National Park at Main Camp. The lodge famously hosted Queen Elizabeth II during her visit to Hwange in 1991.
For many years the lodge has been closed to visitors, but with the efforts of management couple and co-owners Brian and Marleen Sabeta Post the lodge has been fully refurbished and restyled, and was reopened at the end of last year. Brain and Marleen, former managers at neighbouring Sikumi Tree Lodge, have teamed up with Tanzanian based operator Moivaro Lodges & Tented Camps to open their first Lodge in southern Africa.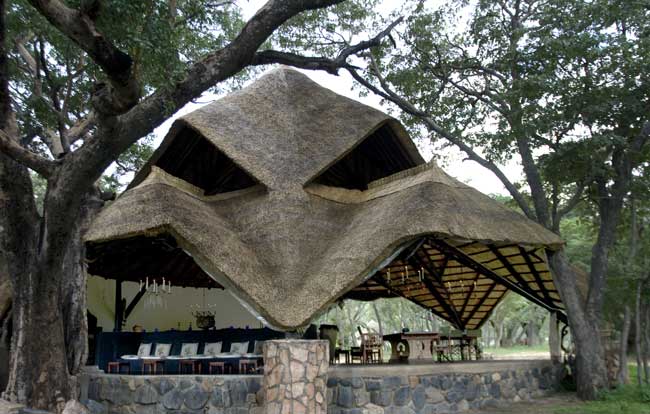 Main Lodge Building, Sable Sands, Hwange National Park.
(Credit: Marleen Sabeta Post).
The lodge is located just within the tree line, with the main lodge building, a stunning thatched structure, overlooking the vlei which is often visited by elephant, large herds of buffalo, elephant, zebra and antelope species as well as being regularly frequented by lion, cheetah and occasionally leopard.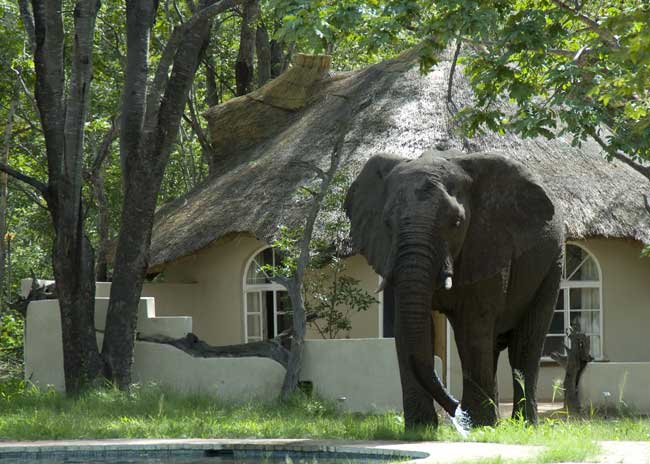 Chalet unit, Sable Sands, Hwange National Park,
complete with elephant attendant.
(Credit: Marleen Sabeta Post).
The eleven lodge chalets, or 'rondavels', have been designed with flexibility in mind and can be arranged as twin, double or family rooms, with on-suite bathrooms and shower.
The lodge is currently only partially open, with only half the rondavels available for clients.
They have a great opening SPECIAL OFFER running till the 1st April 2013 - US$95per person per night this includes accommodation and all meals. Safari activities are not included but can be arranged at US$35 per person on the estate and US$60 per person in the national Park. Please contact us for more details.
---
Imbabala refurbishment
Imbabala Zambezi Safari Lodge will be undergoing a refurbishment during the coming months. The safari lodge, located upstream of the Victoria Falls on the banks of the Zambezi close to the Botswana border, will be increasing capacity to 20 guests in 9 thatch lodges, as well as minor changes to the bar and main lodge areas and a soft refurbishment of the rooms and central areas. The refurbishment is planned to be completed by the end of April.
---
Dates for your Diary
19 Mar - 16 Nov
Livingstone; Zambia Celebrates 200 Years since the birth of David Livingstone
13-17 June
Victoria Falls Mountain Bike Challenge Weekend
14 July
Victoria Falls Marathon
24-29 August
Victoria Falls/Livingstone host United Nations World Tourism Organisation General Assembly
---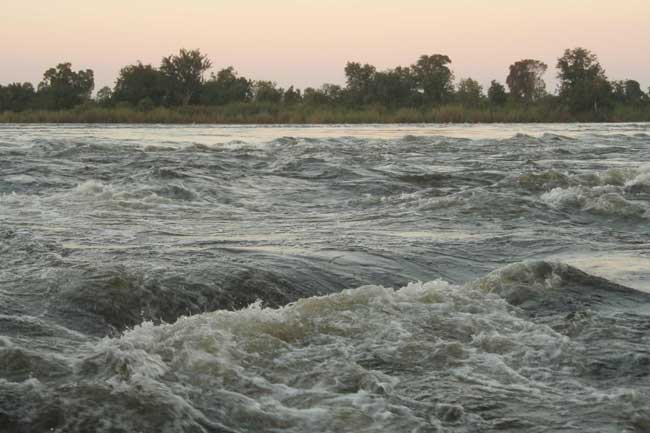 The Zambezi River above the Victoria Falls,
photographed on 25 February 2013
(Credit: Peter Roberts).
Feel free to contact us with any questions, queries, ideas or criticisms.

We're here to help you!