Kariba Ferry - Sail Across Lake Kariba
The Idyllic and Easy Way to Get from Victoria Falls to Kariba

The "Sea Lion" - Kariba Car and Passenger Ferry Service
Victoria Falls to Kariba by Road
Getting from Victoria Falls to Kariba and visa versa has in recent years been a real problem. Air Zimbabwe cancelled their scheduled flights, and therefore only expensive private charters were available.
The drive on the Zimbabwe side is extremely long and arduous, the only route via Karoi and Binga.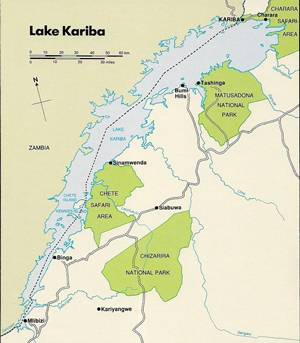 Map of Kariba
It is a remote dirt road through the mountains behind Matusadona and is only recommended for 4 x 4's or seasoned travellers.
You can drive through Zambia, this is a good tarred road, and will take you approximately 6 to 7 hours via Siavonga and Livingstone. However depending on your passport you might incur the costs of a Visa to enter Zambia as well as additional vehicle entry costs.
The Kariba Ferry
The re-introduced Kariba Ferry Service has made it easy again. The Service operates between Andorra harbour in Kariba Town and Mlibizi in the western end of the lake. They can accommodated up to 70 people and 15 vehicles
It's a an overnight journey of 22 hours. During this time you can completely relax and take in the breathtaking scenery of lake Kariba as you cruise its full length.
Three meals are included Lunch, Dinner and Breakfast, plus morning and afternoon tea is also provided. There is also a cash bar available for those inevitable sundowners.
Sleeping is communal on chair-beds in the central lounge area - mattresses and all bedding is provided. There are toilets and hot showers available.
This is a great cruise and not only does it get you from A to B but is also a really enjoyable part of your holiday. We have done it a couple of times now and we love it. See the bottom of this page for scheduled sailing dates.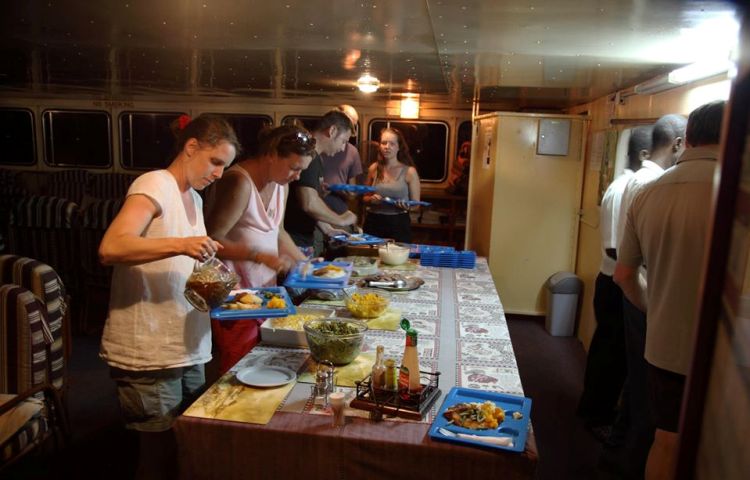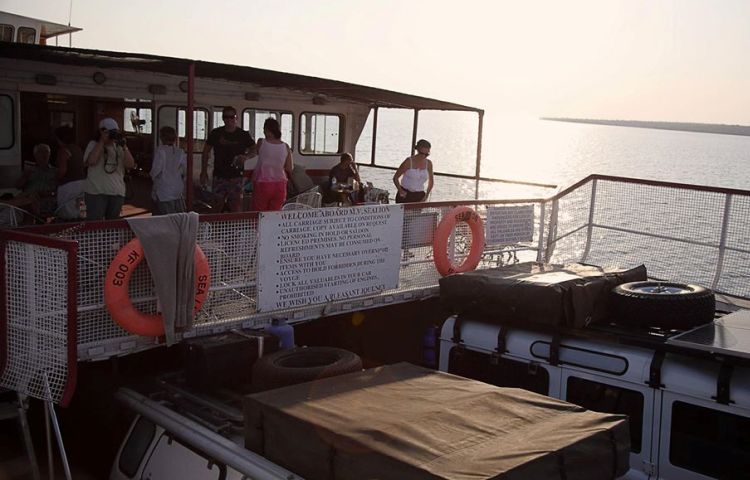 Kariba Ferry Departure Times
The ferry departs from Andora harbour (Kariba) & Mlibizi at 10h30 Sharp
Arrives the following day at 08h30

Passengers to be at embarkation point no later than 09h30 (late arrivals will miss the boat)
If you don't have a vehicle you will need to arrange for a road transfer from Mlibizi to Victoria Falls or visa versa. Please contact us we can help you arrange that.
The Sealion
Kariba Ferry Vehicle Restrictions

There is a height restriction of 1.95metres for 12 vehicles, and 3 parking spaces in an open-deck area with no height restriction (ideal for heavily-packed 4x4s with roof rack tents etc.)
When making enquiries regarding vehicles other than standard types, please give full dimensional details of the vehicle; length, width and height.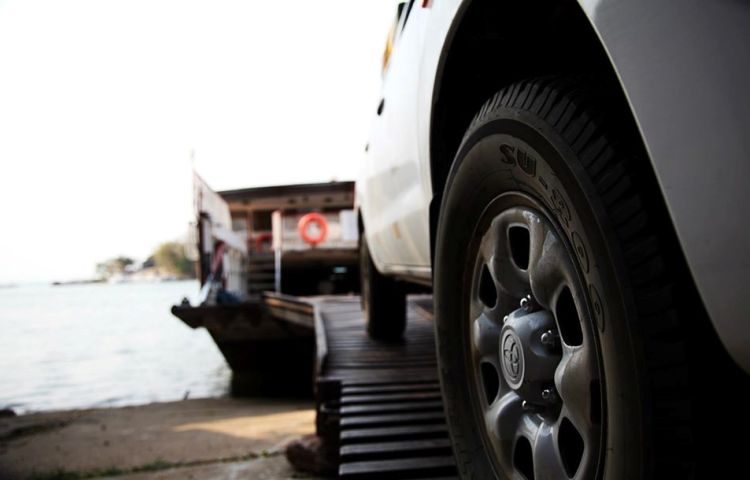 Kariba Ferry Rates 2022-3
PASSENGERS
Adults – $145.00
Under 12 – $ 75.00
Under 2 – Free

2% ZTA levy included
15% Vat included if applicable
National Parks entry fee not included.

VEHICLES / TRAILERS / CARAVANS
Bicycles – $15.00
Boat on trailer – subject to quotation
Caravans over 6m – subject to quotation
Karibean Cruise – $200.00 (Child $97)
Mini Bus (up to 8 seats) – $175.00
Mini Bus (9 – 14 seats) – $225.00
Mini Bus (15 – 20 seats) - $325.00
Motorcycle – $115.00
Trailers & Caravans (over 4.01m - 6.00m) – $290.00
Trailers up to 4.00m – $215.00
Vehicles 4.00m and under – $135.00
Vehicles 4.01m to 4.70m – $155.00
Vehicles 4.71m to 5.50m – $175.00
Vehicles 5.51m to 6.00m – $210.00
Kariba Ferries Terms and Conditions
Regrettably, due to non arrivals, they have to advise that they cannot confirm a booking until they are in receipt of a 50% deposit which is due within 14 days of making the booking. Should this not occur, Kariba Ferries reserves its right to resell the booking. Final Payment is due 30 days prior to sailing, likewise should this not occur; they reserve the right to resell the booking. In the case of late bookings, space may be secured via cash payment or electronic transfer.
Cancellation Policy
50% of payment is required with in 14 days after receiving your invoice, remainder of the fare is due at least 30 days prior to sailing.
Cancellations will be charged at the following rates:
31 days or More – 10% of Fare
15 – 30 days – Loss of deposit
14 days or less – forfeiture of full fare
Scheduled 2023 Sailing Dates
*All Sailing Dates are provisional unless otherwise stated.
Kariba to Mlibizi
Mlibizi to Kariba
February 2023
20th
21st
March 2023
6th (confirmed)
7th (confirmed)
April 2023
3rd (confirmed)
4th (confirmed)
10th
11th
17th
18th
27th
28th
May 2023
8th
9th
22nd
23rd
June 2023
5th
6th
15th
16th
26th (confirmed)
27th (confirmed)
July 2023
3rd (confirmed)
4th (confirmed)
13th (confirmed)
14th (confirmed)
17th
18th
24th
25th
August 2023
3rd
4th
7th (confirmed)
8th (confirmed)
17th
18th
21st (confirmed)
22nd (confirmed)
28th (confirmed)
29th (confirmed)
September 2023
4th
5th
7th
8th
11th
12th
25th
26th
October 2023
16th
17th
November 2023
9th
10th
December 2023
18th
19th
28th
29th



Email for more information: info@victoriafalls-guide.net



Share Your Experience With Us !
It's easy just type in your review below then click the "Share your Review" button.

Thanks from all our readers we really appreciate your effort!!!

Here's where you read Reviews of other Travellers !!
Click on the Links below they will open in a new page and you can then rate them and leave your comments as well...
I can recommend the Kariba Ferry Not rated yet
With the back drop of the beautiful lake Kariba, the ferry made for a picturesque and outstanding experience. The ferry has been kept in great condition …
THE VIC FALLS BUSH TELEGRAPH
our Bi-Monthly E-Newsletter

Each issue has a destination update, loads of information about conservation and wildlife, specials offers, traveller tips, community projects, website highlights and tons more...

Find out more about our Bush Telegraph

"Your newsletter keeps me informed about new and old and is the best I've seen in a long while - informative, not commercial, just plain perfect!" - I.Skliros

Don't worry. Your e-mail address is totally secure. I promise to use it only to send you The Vic Falls Bush Telegraph.