---
The Victoria Falls Bush Telegraph | June 2018
Issue 15
---
Destination Update
It has been a while since our last newsletter, but we had a little spare time and felt it would be a good idea to do a quick update on some of the things that have been happening in our wonderful little town of Victoria Falls. Hope you enjoy the read!
After a very slow start to this year's rainy season which had us preparing for a drought, a dramatic turnaround saw the Zambezi River reaching its highest level since 1978. The river kept rising until mid-May and then turned on its heels and the levels began to recede, but they are still sitting significantly higher than recent years.
Now the yellowing of the Mopani's butterfly leaves, flocks of quelea and shorter days announce the arrival of our winter in June. The bushveld has dried out and as the grass cover recedes, animals advance to the water sources. These characteristics make for particularly good game viewing in our own Zambezi National Park, right on Victoria Falls' doorstep.
Temperatures have dropped but the days are gloriously warm - it's the evening and early mornings that have a winter chill. However if you are staying by the river then it's several degrees cooler. If you are doing any activities in open vehicles, like game drives be prepared and bring warm stuff.
An article today by a leading tourism online travel portal, reveals that tourism arrivals in Victoria Falls are up by 50% from last year and are the highest since 1999, about when Zimbabwe's political woes began. This increase shows that confidence is genuinely back in Zimbabwe and that it is truly "Open for Business" as per President Mnangagwa's mandate.
New lodges that have only just opened are already recording 100% occupancies and finding available beds is becoming a challenge, so booking as far in advance is the best possible advice we can give. Victoria Falls Town is still small though and for an international traveller who is accustomed to the likes of Niagara Falls we would appear as a sleepy little destination.
As always, we welcome you in true Zimbabwean style, whether you are coming for the first time or have been here several times, we look forward to having you!
Best wishes,
Tony and Boo
www.victoriafalls-guide.net
Click here to subscribe and receive future editions of our newsletter directly by email.
News and Events
The Latest on the KAZA Visa
It has been a rollercoaster ride in terms of consistency of availability of the KAZA uni-visa in the last couple of years, but supplies seems to have levelled out. With both Zimbabwe and Zambia planning to print the uni-visa locally and incorporate it in their respective immigration systems, we have seen a continuous supply since December 2017. In addition, 25 more nationalities have been added onto the KAZA visa eligibility list.
More KAZA visa info...
Online Payments on E-visa sites
Both Zimbabwe and Zambia have implemented online payment facilities for clients using their e-visa websites for pre-application of some visas. Zambia now offers online payment for the Uni-Visa as well as their single entry and double entry visas. Zimbabwe currently only offers online payment for category C nationals who are not legible for a visa on arrival. Hopefully this is the first step in a fully integrated system but to be honest, right now I don't see the benefit of these online payments, it is going to save you about 2 minutes on arrival and possibly just create more confusion. I would still pay on arrival with your credit card, but bring enough cash as a back-up, in case the card machines are down.
Cash Shortages
Since 2016, Zimbabwe has been experiencing extreme shortages in cash in all currencies. The situation has not improved at all, even after the introduction of a local bond note, and so electronic transactions have become the norm with more services and retail outlets using card machines than ever in Zimbabwe's history. So bring enough back-up cash with you, as you cannot get any money out of the ATM's, and a Visa or MasterCard for all other purchases. Try and book and pay for as much in advance as possible to alleviate any other complications. Remember Zimbabwe is US$ based so that is the best currency to have, but Rand, Sterling, Pula and Euro's will also be exchanged, unfavourably.
New Mall Under Construction
Construction of the new mall in the town of Victoria Falls is well under way and going up fast, completion is scheduled for mid 2019. Sawanga Mall is being built by a leading real estate firm ZIMRE, and is the first of its kind in this small tourist town, which is an exciting development for the residents. It will host various facilities and space for boutiques, gym, food court, offices, grocery stores, and much more. Read on...
Flying Into Victoria Falls
Since the completion of various facilities at the new Victoria Falls Airport, the town has welcomed guests coming in with Ethiopian Airlines and Kenya Airways. To see all the inbound and outbound flights in the area, click here...
Annual Events
Coming up on Victoria Falls annual events list is the marathon, which is on 1st July. Accommodation in town is already sold out during the marathon days, but late cancellations might mean you get lucky. After the marathon is the Zambezi Cycle Challenge - three days of endurance cycling in three different parts of Victoria Falls. Not in town but for a very worthy cause is the Pumping Legs for Water event which takes place in Hwange. The second Zambezi White-water Festival will be in October this year - a two day rafting festival - not for the faint of heart. Read more about Victoria Falls Annual Events here...
Activities Update
Some great new and not so well advertised dining experiences have been introduced in Victoria Falls, along with some new activity options. Read all about them below:
---
Steam Train Dinners
Since the inception of the Bushtracks Express sunset bridge run, the operators have now changed the activity to a dinner run, similar to the Royal Livingstone Express dinner run in Zambia. The dinner runs run on Tuesdays and Fridays, but are now about 5 hours long, returning you to the station at 9pm. A High Tea run is available on Saturdays by request for groups and there are also occasional set dates for the sunset bridge run, but this is again for groups only. Bushtracks steam train dinners...!
---
The Lookout Cafe Dinners
One of the favourite spots in Victoria Falls is now serving daily dinners! The Lookout Café dinners are a 3-course set menu, and may be booked and paid for in advance. And although you can have dinner on any night, their full moon dinners offer a little something extra special - full views of the Zambezi River gorge below, with the colourful bridge and spray of the Victoria Falls in the distance!! Lookout Cafe Dinners


---
Monkeys, Gourmet and Brew
Since our last update, a few culinary establishments have been introduced, providing a whole bunch more options! The 3 Monkeys is a restaurant and cocktail bar, frozen yogurt (froyo) and ice cream place, which has already become well known for its delicious and well priced food. In another part of the CBD, Little Monkey is their fast food option and one of the few places one can get sushi in Victoria Falls. The Africa Cafe has left the building and in came Dean's - an exciting culinary experience by a charismatic Victoria Falls local chef. A jovial and friendly restaurant bar - The River Brewing Co serves delicious craft beer and with live music on Fridays by local Vic Falls talent makes this the town new top night spot. Outside the town's centre and on the banks of the Zambezi River is Zambezi House...trendy decor and a wonderful setting. Coming soon is Pariah State due to open within the next few weeks.
---
The Elephant Cafe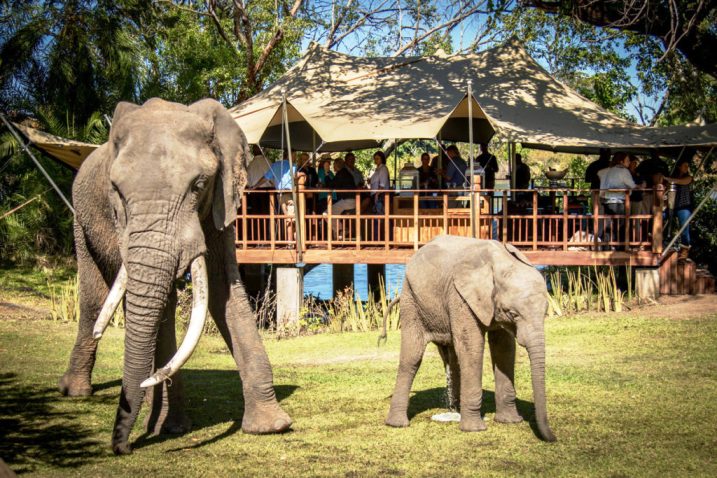 On the other side of the Zambezi River is a very cool Elephant and dining experience at the Elephant Cafe. It has fast become the best place for a meal in Livingstone, and now Zambia's number one restaurant. A pickup at the Royal Livingstone jetty takes you on a jet-boat ride upstream (an awesome start to the trip, but for those who prefer a drive to the restaurant, that can be arranged too). An interaction with real orphaned African elephants at the sanctuary follows, and then a dining experience to remember. Elephant Cafe!
---
Skydiving in Victoria Falls
The latest adrenalin activity in Victoria Falls began in 2017. From the nearby airstrip, the Skydive Tandem plane takes you up 10 000 ft above the ground, where you get a bird's eye view of the town, the Victoria Falls and the Zambezi River, as well as the national park. Take a leap with the skydive instructor and experience freefall for about 45 seconds at speeds of up to 200km/hour - yikes! After that, it's a smooth glide back to the ground by parachute. Sky Dive in Victoria Falls


---
More Art of Africa Workshops
In addition to the village tours and river safari workshops, Art of Africa have added exciting art sessions taking place all over town - Paint and sip on the edge of the gorge at the Lookout Cafe; Safari, picnic and art session in the national park; Painting in the Victoria Falls Rainforest; The absolute favourite has to be the Art with Elephants which takes place at The Wallow, and begins with interactions with the elephants at the sanctuary, followed by a guided painting session (try capturing a moving target on canvas), and then drinks and eats. Art of Africa has added a very similar experience at the Elephant Cafe in Zambia.
---
More to See in Victoria Falls
A first in Victoria Falls and unique in the area is the Tribal Trap Escape Rooms - an adventure activity for the family involving puzzles and riddles which are solved and won as a team. The other interesting place is the Victoria Falls Snake Park which is located behind The 3 Monkeys Restaurant near N1 Hotel and the Elephant's Walk Shopping Mall.


We continuously add new content and make changes to our website, keeping abreast with new legislation or requirements and also to simply to make things easier for our visitors. The rate of use of mobile devices has increased quite rapidly in the past few years and as such our mobile website makes browsing a breeze. Safe http browsing has also been enhanced as well as the new GDPR privacy requirements. We have added many new sections - Kariba, the Okavango Delta and Moremi Game Reserve to name just a few. You will find a wealth of information on these places, and we will be adding accommodation sections soon. In the meantime, you can find combined safaris featuring the Delta and Moremi in our packages and safari ideas. Also new are our itineraries combining Tanzania with Victoria Falls, taking advantage on the Kenya Airway flights linking these destinations easily.
Did You Know?
Explorer Dr David Livingstone travelled on a steam boat up the Zambezi River from its mouth in Mozambique, in an attempt to reach the Victoria Falls, and the boat that he travelled on was called Ma Robert, named after his wife Mary, mother of their first child Robert? Today there is a sunset and dinner cruise vessel in Victoria Falls named the Ma Robert.
Read more intriguing stories in history
Image: National Library of Scotland. Picture was taken by Sir John Kirk during the expedition between 1853 and 1863.
Special Promotions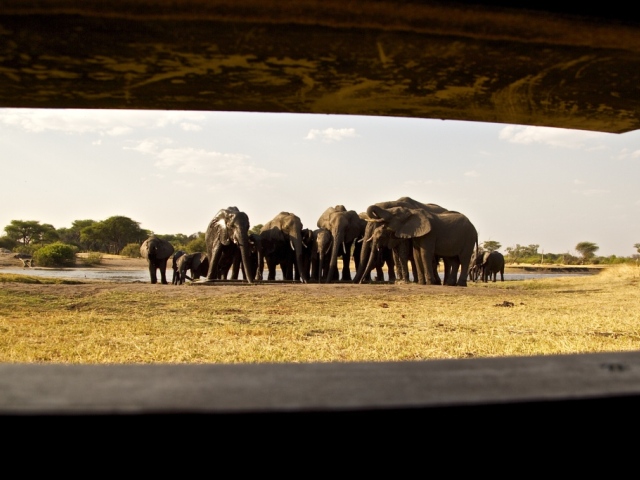 $350 SPECIAL AT THE HIDE
Take advantage of this special reduced rate at The Hide Camp in Hwange National Park of $350 per person sharing per night - save $40 per person per night. Click here for more information and to see other specials and packages.
Offer valid 1st November 2018 to 31st March 2019
Conservation
This year, you can help with supporting the Victoria Falls ELE BEE Fence project - a local initiative set up to assist with human wildlife conflict in the Victoria Falls area. Greenline Africa Trust is facilitating the community ELE BEE Fence between the Mkhosana community of Victoria Falls and the Zambezi National Park. The fence will not only assist with human wildlife conflict but the bee hives will be harvested for honey, thus creating an income for the community groups engaged with the project.
RUN FOR A CAUSE...
At the Econet Marathon and help fundraise for the Victoria Falls Ele-Bee Fence Project. Sign up here
Testimonial
"Dear Boo,
The time has flown since we came back from Zimbabwe, but I did want to write and thank you for all your help in making our holiday a total success.

It and everything happened exactly as you had planned it. I don't know how you could have made it any better for us!

We loved staying at Ilala and besides eating there also had great nights at the Three Monkeys which we liked very much. Of the trips we did, I have to send special mention of Mitchell who piloted our raft and Ndogo who led the canoeing. Great guys both, and with fantastic teams with them.

We shall long remember our trip and if anyone asks, we shall send them your way to make plans that work first time every time!. " - Andrew
Click here to read more testimonials
Hotels & Lodges Update
Since the completion of the new Victoria Falls Airport, along with increased interest in Zimbabwe, the town of Victoria Falls has been experiencing higher and higher occupancies. New hotels and lodges, as well as upgrades and expansions in existing ones has taken place in a effort to keep up with the increasing demand for accommodation. However, beds are still hard to find and it's so disappointing that potential visitors are turned away by lack of availability. Number one rule for Victoria Falls is: book as far in advance as possible, especially if travelling in the high season. Read more about the new developments below:
New & Renewed in Victoria Falls
The managers of Bayete Guest Lodge in Victoria Falls are in the process of adding a new lodge in Victoria Falls - Phezulu Lodge, which opens on 1st August this year. The lodge is located in the same residential area as Bayete, and falls in the same price range. About 8kms out of the centre of Victoria Falls town, Masuwe Lodge reopened in 2017 after being closed for 15 years! It is a great option for out-of-town lodges as it is not too far from town and activities in Victoria Falls. Super budget accommodation in Victoria Falls is available at Flat Dog's Lodge. Their sister lodge Nguni Lodge has just opened her doors and also offers great quality at very competitive rates. The Victoria Falls Safari Club recently got an upgrade in their main guest areas, including an extended restaurant and a brand new swimming pool, meaning Safari Club guests no longer have to share Safari Lodge facilities, even though they are free to. Ilala Lodge have increased their capacity once again - they built a new wing and now have a total of 73 en-suite rooms and suites:
• 32 standard rooms - 26 twin (3-quarter beds) and 6 double rooms (king size beds)
• 36 Deluxe rooms - 23 double rooms (king size beds), 13 twin (3-quarter beds)
• 2 Standard suites - 1 King size bed
• 3 Executive suites - 1 King size bed, lounge
---
New in the Zambezi National Park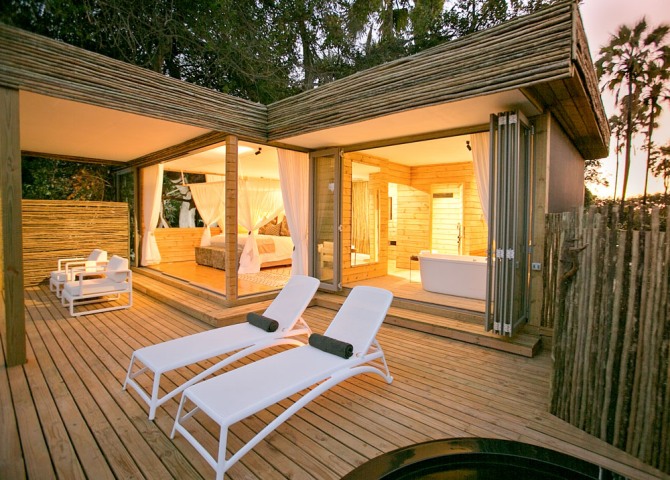 Zambezi Crescent, owners of the luxurious Victoria Falls River Lodge, built and opened Island Lodge suites which are situated on Kandahar Island on the Zambezi River. Exclusive and even more luxurious, the suites are accessible only by boat. More recently, Old Drift Lodge was added to the Wild Horizons portfolio, which includes Imbabala Safari Lodge, and The Elephant Camp. Chundu Island Camp, about 20kms from the Falls, and also on an island has been completely rebuilt and now offers very upmarket accommodation.
---
Under Construction...
The Stanley & Livingstone Hotel is currently undergoing major renovations to modernise the boutique safari hotel. The current expected opening date is 1st November 2018.
---
Hwange's New and Refurbished Lodges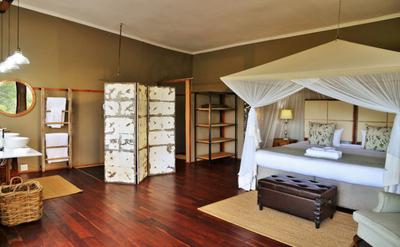 The Amalinda Collection have done a bit of rebranding, as well as creating a new private safari option at Khulu Retreat. This is an exclusive use two bed-roomed tented lodge complete with private meals and guided activities - fully inclusive. Also in Hwange, Bayete Guest Lodge owners have added Robin's Camp to their portfolio, these old Zimbabwe National Parks lodges are being converted and offer mid range accommodation - They will be opening on July 1st. The Hide in Hwange National Park also went through a bit of an upgrade, particularly in the main guest area at The Hide, Tom's Little Hide and The Private Hide. Finally, Verney's Camp is a brand new build, situated in the south of the park close to the Somalia concession. Also offering upmarket Safari accommodation in a great wildlife area.
---
Lodge Expansion Opening Soon
Only opened in 2017, Batonka Guest House are so popular they are already adding on additional rooms. Building is almost complete with the opening scheduled for mid July 2018. Batonka Lodge is located just 2.5kms from the Victoria Falls Rainforest entrance, in the same area at Cresta Sprayview Hotel. Be sure to like our Facebook page to stay up-to-date with what's happening.
GDPR Regulations
The GDPR is a part of the European Law that governs data protection and privacy for all individuals and to comply with the consent requirements we are obliged to reconfirm with you that you are happy to continue receiving mailings from us.
All our newsletters include an "Unsubscribe" link which you can remove yourself from at any time from our mailing updates.
We wish to take this opportunity to reassure you that your information is safe and remains confidential to us alone and will continue to be used in association with our company updates only. You don't have to do anything further if you wish to continue to remain on our database BUT should you wish to stop further mailings kindly click the unsubscribe link below. Have a look at our Privacy Policy.
Click here to subscribe and receive future editions of our newsletter directly by email. Don't forget you can follow us on Facebook and Twitter for all the latest travel information updates from the region, and we're always here to help with your travel logistics.
---
Contribute - If you would like to submit your safari story or send us some pictures to feature in an upcoming issue please click here.
About Us | Home Page | Our Blog | Past Newsletters | FAQ's | Unsubscribe


www.victoriafalls-guide.net | Ngugwuma Cres, Victoria Falls, Zimbabwe | info@victoriafalls- guide.net | +263 213 2846213