Exciting New Restaurant Opens in Victoria Falls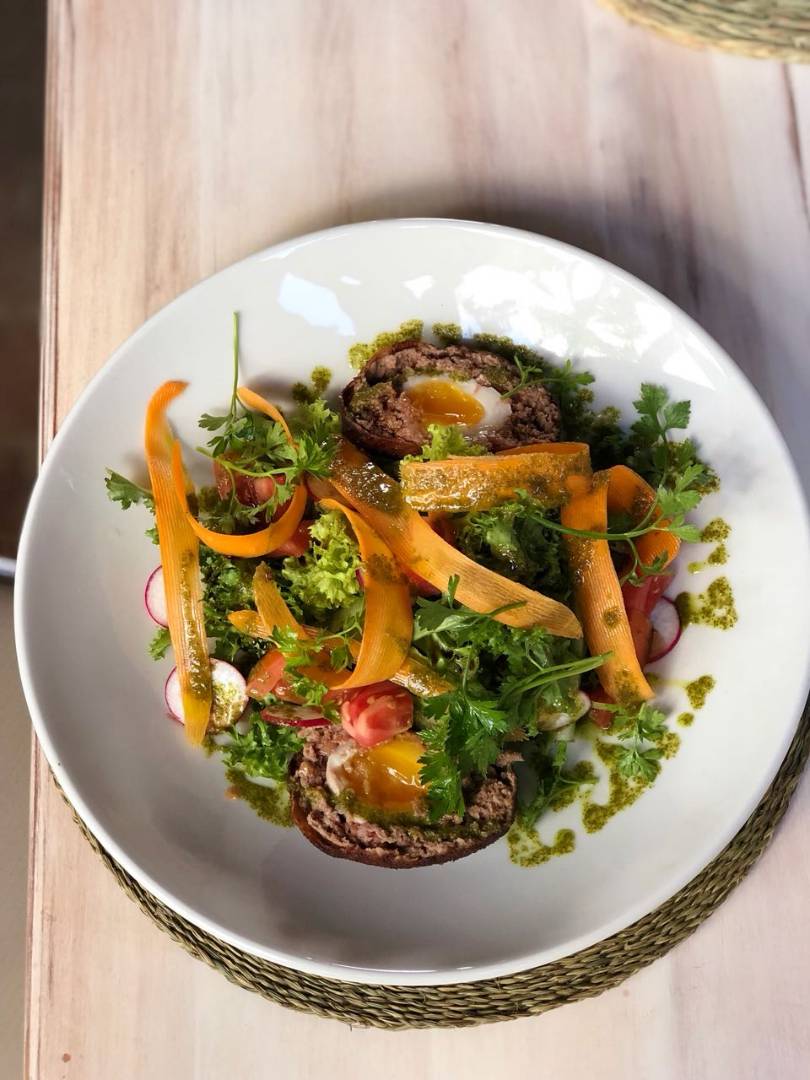 17 April 2018
Deans Restaurant is a satellite office for everyone- there are tourists in their walking shoes, business people with their laptops out, mums gossiping over lattes and couples subtly fighting for the last bite of a shared slice of cake. The one thing they all have in common- absolute comfort and bliss. It is the kind of place that you will visit once and then confidently recommend to your friends as though you grew up dining there. The meals are Instagram worthy and the desserts- is there anything pastry can't do! Eating outside (and just eating in general) is one of life's greatest pleasures and this open planned restaurant is located within the hub of Elephant's Walk. A tree dripping in locally made crafts spreads its branches over some of the couches, and from every spot you can watch the foot traffic as people browse art stalls and curio shops.
Apart from a few rave reviews by locals on chefs Dean's Facebook timeline, the restaurant doesn't have much of an Internet presence just yet. It only recently opened on the 1st of April so I am sure that the locals want to keep this little gem to themselves for a while! Their Facebook page is up and running, and is awash with bright and colourful pictures of the food and guests. Dean's is a very special place and both the decor and menu epitomize the laid back and chic essence of Victoria Falls.
The menu currently boasts a variety of exciting salads and sandwiches with gluten free options available. Dean brings it back home with his grilled Zambezi bream fillet, served with a chilli peanut butter sauce that is sure to be a firm favourite. The menu is still under construction as Dean trains his new staff with some of the more intricate techniques that he has mastered over the years, so we can look forward to some interesting and delicious additions in the near future.
As the chef eloquently stated, "Life is made up of many wonderful, colourful people, and food has a way of bring cultures, families and friends together." His restaurant is sure to see a great inflow of international clientele, and is bound to be a hot spot for people to come together and share a meal.
Dean Jones completed his culinary training at Silwood School of Cookery in Cape Town, but his passion for food began long before then. It was sitting in the corner of the warm, croissant scented bakery owned by his Ouma (grandmother) that Dean's appreciation for flavour profiles and experimentation was born. Since then, he has worked in a myriad of fine dining restaurants, learning the art of nourishment from highly acclaimed chefs all around South Africa. His tutelage with Abigail Donnelly at Woolworths Taste magazine shines through in the exquisite presentation of every meal and cocktail served at his restaurant. "Since going to Chef School, food has become more than just a meal to me, its art in the most delicious form", says Dean.
Eating at Deans is almost like enjoying one of these fine-dining meals, but you can do it in the comfort of your yoga pants and (usually) without the hassle of making a reservation. Pastry is his passion, so you cant go wrong with a croissant or a chunk of chocolate cake. It's someone's birthday somewhere!
Dean's talents extend well beyond the kitchen and his singing voice is as divine as his culinary creations. He frequently performs at the Lookout Cafe and other hotspots around the town, so hopefully we can look forward to him stepping away from the stove and onto the stage in the future. This restaurant is a wonderful addition to the Victoria Falls, and an idyllic spot for brunch, lunch or a coffee catch up with friends.

UPDATE (7 May 2020): Unfortunately, Dean's have had to close it's doors. We will keep you updated with what comes next. Be sure to follow our Facebook page for the latest updates.

THE VIC FALLS BUSH TELEGRAPH
our Bi-Monthly E-Newsletter

Each issue has a destination update, loads of information about conservation and wildlife, specials offers, traveller tips, community projects, website highlights and tons more...

Find out more about our Bush Telegraph

"Your newsletter keeps me informed about new and old and is the best I've seen in a long while - informative, not commercial, just plain perfect!" - I.Skliros

Don't worry. Your e-mail address is totally secure. I promise to use it only to send you The Vic Falls Bush Telegraph.
Return from Exciting New Restaurant Opens in Victoria Falls to our home page