Home | Victoria Falls Activities | Steam Train Trips
Steam Train Trips
Travel Back in Time...Revelling in The Romance of The Steam Train Era
Bushtracks Express Steam Train on the Victoria Falls Bridge
Victoria Falls is synonymous with tourism and adventure... with fantastic activities such as white water rafting, bungee jumping, helicopter flights, etc. However the Bushtracks Express Steam Train "is an indulgent luxury fine dining experience going back in time to the age of romantic steam train travel" (Bushtracks).
The Steam Train...
A 1952 14a Class Locomotive 512 heads up the Club car, Dining car and Observation car, which have been beautifully restored by Rohan Vos of Rovos Rail. Well-trained staff, dressed in crisp white colonial attire, synonymous with the steam train era are ever attentive to passengers. The cuisine, provided by the 5-star Victoria Falls Hotel, is superb.
We think this Steam Train Trip will appeal to those who want to be spoilt with luxury, revel in nostalgia of a bygone era and see Victoria Falls in a completely unique way.

The Dinner Run
The old fashioned sunset steam train journey begins with a trip to the impressive Victoria Falls Bridge, a historical landmark that was completed in 1905 and the second most visited landmark in this area.
You meet at the Victoria Falls Train Station (directly opposite the grand and colonial Victoria Falls Hotel) and board the train via the red carpet, setting the opulent tone, making you feel very important.
Once everyone is aboard the old steam locomotive fires up and puffs its way along to the Victoria Falls Bridge. Relax in the luxury and comfort of the lounging car taking in the sights and sounds of Africa. Depending on how much game can be seen while in the park, the train should reach the bridge before sunset.
The train stops on the Bridge and if you wish you can disembark and wander along on this historical landmark. If not... just stay on board and enjoy drinks and snacks, while feasting your eyes on the breathtaking vista in front of you.
Cecil Rhodes whose vision it was to build the bridge, insisted that it be positioned so that passengers travelling in the train would feel the spray of the Victoria Falls falling on their faces.
The waterfall is close... you can see and feel it. This is a sunset adventure with a difference.
BUSHTRACKS EXPRESS DINNER MENU
Amuse Bouche
Smoked salmon terrine with cucumber, quail's egg and a herb salad
Butternut soup with cheese straws
Beef Wellington with mash, wilted spinach, asparagus and a red wine jus
Chocolate tart with white chocolate mousse and salted caramel sauce
Tea/Coffee and petit fours
Wine
Lomond Sauvignon Blanc 2016
Teuniskraal Cape Riesling 2016
Petit Plaisir 2014 (Cabernet Sauvignon/Shiraz)
After the bridge run, you will board the train again for the leg down to Jafuta Siding where you will arrive at 8pm (winter) or 8:30pm (summer). A delectable 3-course meal and more drinks will be served on this part of the trip, before the train takes you back to the Victoria Falls Train Station where you will arrive at 9:30pm (winter) or 10pm (summer).
More Details
A selection of light snacks and drinks, provided by the Victoria Falls Hotel, are served. (local beers, wine, G&T's, minerals, cordials). Premium beverages are available but are not on the ticket price. A 3-course dinner will be served while at Jafuta Siding.
Depart Victoria Falls Station - 17h00 (winter) or 17h30 (summer) every Tuesday, Friday and Sunday.
Tour duration is approximately 5 to 5.5 hours.
The High Tea Safari
On the same locomotive, you can enjoy an afternoon High Tea trip for a truly classic and indulgent experience. The train leaves the Victoria Falls Station and takes you around to the Victoria Falls Bridge, where you disembark and take in the depth of the Zambezi River gorge from the Victoria Falls on one side to the distant Victoria Falls Hotel on the other side.
From the bridge, the train takes you into the Jafuta Conservancy, where high tea will be served as you absorb the surroundings, perhaps catching sightings of wildlife along the way and at the siding.
"Sit back, relax and enjoy the romance of the African Bush while you steam through the wilderness"
Details
The High Tea Safari run each Saturday afternoon, and the duration of the trip is 3 hours (departing at 15h00 and returning at 18h00).
There will be a variety of drinks and classic high tea finger foods on offer during this unique safari.
This trip is only confirmed for 50 people.
Other Steam Train Trips
On the other side of the bridge, the Royal Livingstone Express steam train experience offers a similar superb trip, taking you to the Victoria Falls Bridge in time for the sunset, and then into the bush for a 5-star meal courtesy of the Royal Livingstone Hotel. Contact us for more information on this trip.
Epic Steam Train Journeys to Victoria Falls
From South Africa, Rovos Rail offers 3 nights in a luxurious 5-star steam train, as well as a much longer 11 day and four country experience on the 3-star Shongololo Express. Get to Victoria Falls by train!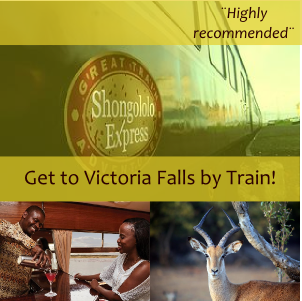 What you Need to Know
• Price does includes collection and drop off from your hotel
• Children pay the full adult rate, while children under 2 do not pay. See our Price list for the latest Steam Train Trips price
• Dress code is smart casual - no shorts
• Smoking is only permitted on the outside deck and not inside any of the carriages
Watch this short video for a small preview of the steam train dinner run:
THE STEAM TRAIN DINNER MENU
Dry Snacks
Crispy Root vegetables chips, Roti crisps with Hummus and balsamic vinegar foam
Dinner Options
Menus are rotated
Option 1
Fresh garden leaves, herbs, cucumber, cherry tomatoes and balsamic vinaigrette
Gemsbok fillet with wilted spinach, wild mushrooms, fondant potatoes and port jus
Fresh sliced local fruits, citrus & mint granite
Tea /coffee
Option 2
Chicken liver parfait with salad leaves, date brioche, red onion jam and balsamic dressing
Seared Zambezi bream with crushed new potatoes, pea puree, asparagus and a white wine beurre blanc sauce
Warm chocolate brownie, cashew nuts, vanilla bean ice cream Candied orange
Tea /coffee
Option 3
Crocodile rillettes, herb salad and cauliflower piccalilli
Grilled Zimbabwean Beef fillet with fondant potatoes wilted Spinach, baby carrots and a red wine jus
Chocolate tart with white chocolate mousse and salted caramel
Tea /coffee
Option 4
Lightly curried Butternut Velouté served with a cheese straw
Seared Scottish salmon with Swiss chard, carrots, lyonnaise potatoes and a tomato and chive hollandaise
Strawberry cheese cake with macerated strawberries
Tea /coffee
---
BEVERAGES ON OFFER INCLUDED IN THE TICKET
Soft Drinks/Mixers
Tonic Water, soda water, ginger ale
Coke, Coke Zero, Sprite
Orange Juice, Mango Juice
Beers
Zambezi, Bohlingers, Castle Lite
Wine
Painted Wolf Cabernet Sauvignon
Bouchard Finlayson Blanc de Mer
Spirits
Strettons Gin, Smirnoff Vodka, Bacardi Rum, Viceroy Brandy, Jameson Whiskey, Amarula
---
PREMIUM BEVERAGES WHICH CAN BE PURCHASED ON THE TRAIN
Vodka
Grey Goose, Absolut, Belvedere
Gin
Inveroche Amber, Bombay Sapphire, Tanquery
Rum
Bacardi Spiced Gold, Pyrat, Mount Gay
Whiskey/Bourbon
Glenmorangie 18 years, Glenfiddich, McCallan 10 years, Jack Daniels, Makers Mark
Brandy
KWV 15 years, Courvoisier VSOP, Remy Martin VSOP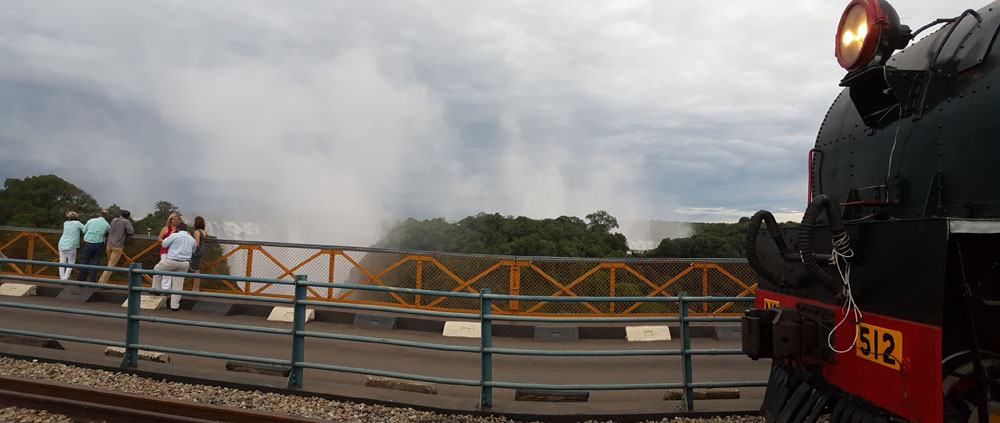 The train on the Victoria Falls Bridge. The Victoria Falls and its spray are in the background.
Share with others!

Can't find what you are looking for? Use Google Search to search this website for any term you are looking for.


The Vic Falls Bush Telegraph
our Free Quarterly E-Newsletter

Each quarter there's loads of information about conservation and wildlife, a destination update, specials offers and discount packages, traveller tips and stories, book reviews, African folktales, environmental reports, bush recipes, best photo competitions and tons more....

"Your newsletter keeps me informed about new and old and is the best I've seen in a long while - informative, not commercial, just plain perfect!" I.Skliros

This Quarter we are also giving away a Free Screensaver to Every New Subscriber.
---
Return from Steam Train Trips to our Victoria Falls home page