The Victoria Falls Bush Telegraph | February 2020
Issue 16
---
Destination Update
A lot happened in Victoria Falls throughout 2019. Unfortunately we didn't have time during the year to get a newsletter out, so we thought it an opportune time now, early into 2020 to give an you overview of last year and an insight into the year ahead. This year we are hoping to get these newsletters out more regularly again.
If you didn't know already, we had a rather tough end to 2019. Some reports from the international media insinuated that Victoria Falls was dry. This news, which reached millions of people around the globe, was so far from the truth. Vic falls was still flowing over the edge and although the "smoke" of the water wasn't quite it's usual dramatic self – we still had incredibly beautiful views of the Falls and white water rafting was still operating in full force!
Yes, water was marginally lower than usual, and yes, climate change is real – we don't deny that, but Victoria Falls as a tourism destination took a major knock because of this fake news, which was devastating to see. Alas, we eventually managed to correct the media and calm down our panicked travellers, and so we are, as Zimbabweans like to say, still very much "open for business".
Now, the rain has transformed the colours of nature around us into a lush emerald and temperatures have dropped, making life a bit more comfortable for everyone. The animals have ventured further into the thick bush, as they don't need to depend on the water holes as their only source of water. This means animal sightings might not be as frequent, but this also means there's a higher chance of spotting new life in the parks, as the rains welcome the beginning of the birthing season.
Several new lodges have opened, and some are still yet to open this year, which has alleviated the chronic shortage of available rooms. However finding good quality accommodation, especially in the high season can still be a challenge, so as always it's best to plan and book your holiday as far in advance as possible to avoid any disappointment.
As always, we welcome you in true Zimbabwean style, whether you are coming for the first time or have been here several times before, we look forward to having you!
Best wishes,
Tony and Boo
www.victoriafalls-guide.net
Click here to subscribe and receive future editions of our newsletter directly by email.
News and Events
Zambezi River Water Levels
As we mentioned above, there has been some hype on the media about the Victoria Falls drying up. This isn't the first time we've had unreliable reports being made regarding water levels, it happened in October 2015, and just as it did back then, our tourism once again took a major hit due to the fake news.
The Victoria Falls' annual flow changes dramatically with the seasons and there are months in the year (October, November and early December) that certain parts of the waterfall, on the Zambian side that dry up. The lowest ever water levels were recorded in the 1995/6 season, and last year, 2019 counts as the second lowest. However, we assure you that the Victoria Falls certainly did not dry up.
You can read our report on "The Truth behind Victoria Falls Drying Up" and also check out this video to see how much water there is.
The water levels now are rising swiftly, and the famous "smoke that thunders" is visible from pretty much everywhere around town!
New Shopping Places
Sawanga Shopping Mall was completed last year, although not all facilities have been filled to date. There are a few banks, general leisure stores, a large Pick N Pay supermarket and liquor store, and a Puma fuel station.
For those interested in fine art photography, Tami Walker has opened a beautiful, modern gallery full of her own amazing work and it is located just after 3 Monkeys Restaurant to your left, right after the railway crossing in town.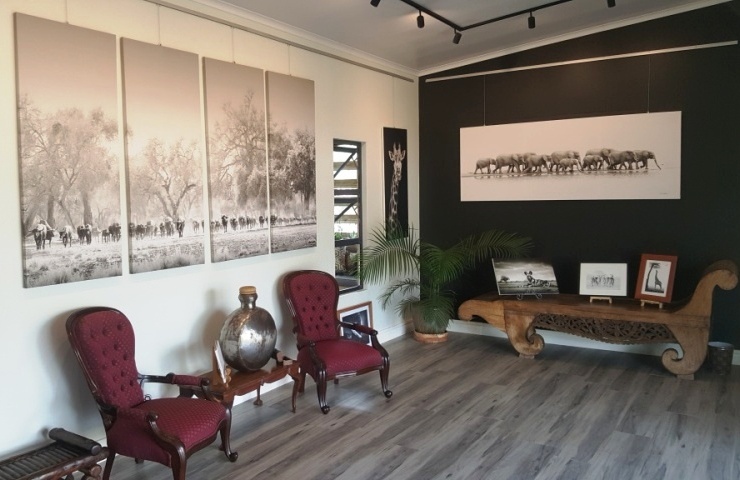 Tami Walker Gallery in Victoria Falls town
A new housing development in Victoria Falls
Victoria Falls town suffers from an acute shortage of residential property. The demand is high and the supply is low. The first private gated, residential complex, situated 2.8kms from the town center, is due to break ground any day now.
The development will include 34 double story apartments, 30 duplex townhouses,10 freestanding bungalows and 10 luxury villas. Six unique house designs have been established drawing inspiration from both modern and traditional architecture. Two, three and four bedroomed options are available.
The estate offers manicured lawns, communal green areas, ample parking and 24 hr security, making it ideal for homeowners looking to live, rent or Air BnB.
If you are interested in investing in this new and exciting development please contact us for more details and a brochure.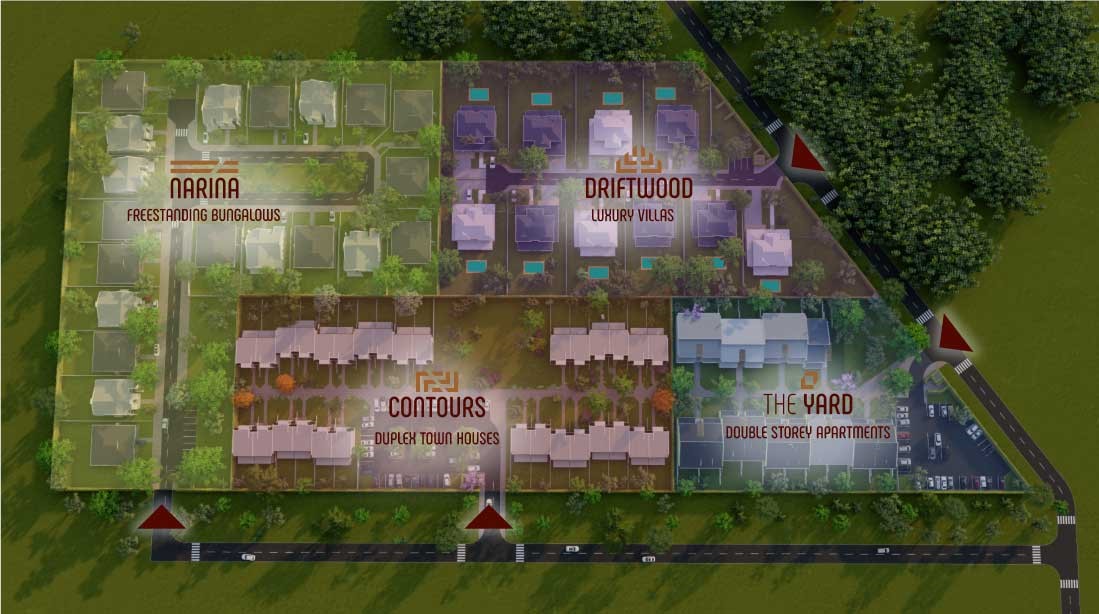 Victoria Falls New development
Dining Experiences & Activities Update
Some great new and not so well advertised dining experiences have been introduced in Victoria Falls, along with some new activity options. Read all about them below:
---
Steam Train Dinners Now on Sundays
We had the opportunity to hop onto the Bushtracks Express Sunday run, which was launched on 20th October 2019. Some of you might have heard about, or even enjoyed a romantic evening on the Bushtracks Express as it isn't new, but we're very happy that they are now running on Sundays (as well as their usual Tuesdays and Fridays) due to high demand!
These steam train trips will appeal to those who enjoy luxury and reveling in nostalgia of a bygone era. The trip also allows guests to see Victoria Falls in a completely unique way. More about the Steam Train.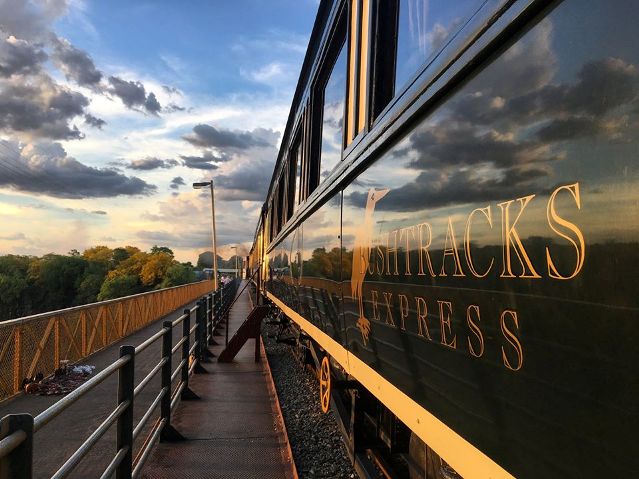 The Bushtracks Express on the Victoria Falls Bridge
---
The Lookout Cafe Now Open
On Christmas Eve 2018, a fire broke out at the Lookout Cafe, and the entire restaurant was burnt to the ground. The cafe has been rebuilt and completely redesigned, making it bigger and even more breathtaking than before.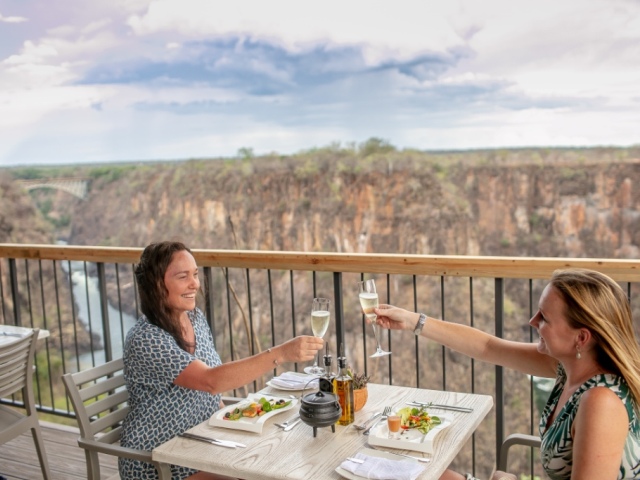 We were itching with curiosity and excitement before the opening on December 1st 2019, and it's safe to say that the new Lookout Cafe totally exceeded our expectations. Its sleek, modern interiors create a sensational ambience that perfectly matches the views shown off by the magnificent Batoka Gorge.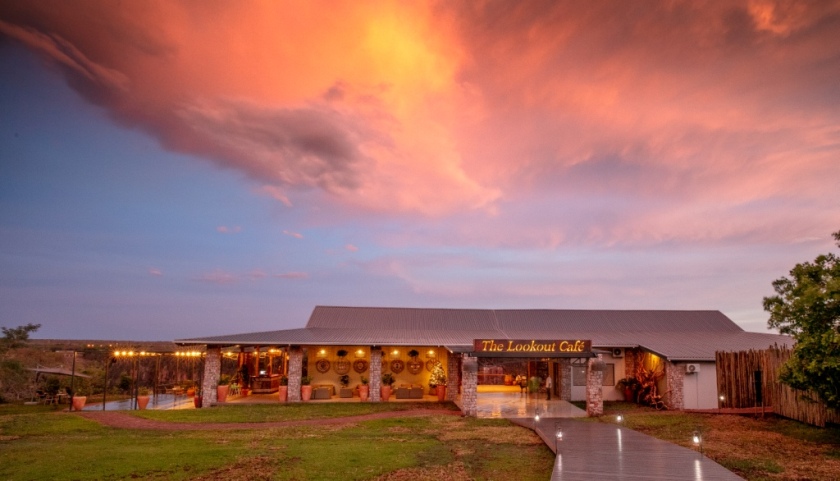 The new Lookout Cafe
---
Dusty Road
Dusty Road is an authentic local cuisine restaurant located in Victoria Falls' oldest and largest township – Chinotimba. This incredibly unique product is far more than just a restaurant. Guests are able to experience the Zimbabwean culture both through the incredibly detailed décor and of course through the food!
Open for dinner and lunch, meals are prepared and cooked using natural and traditional Zimbabwean ingredients. You'll even get a chance to indulge in the locally brewed beer – Utshwala, which you won't find easily in other surrounding restaurants! Read all about it...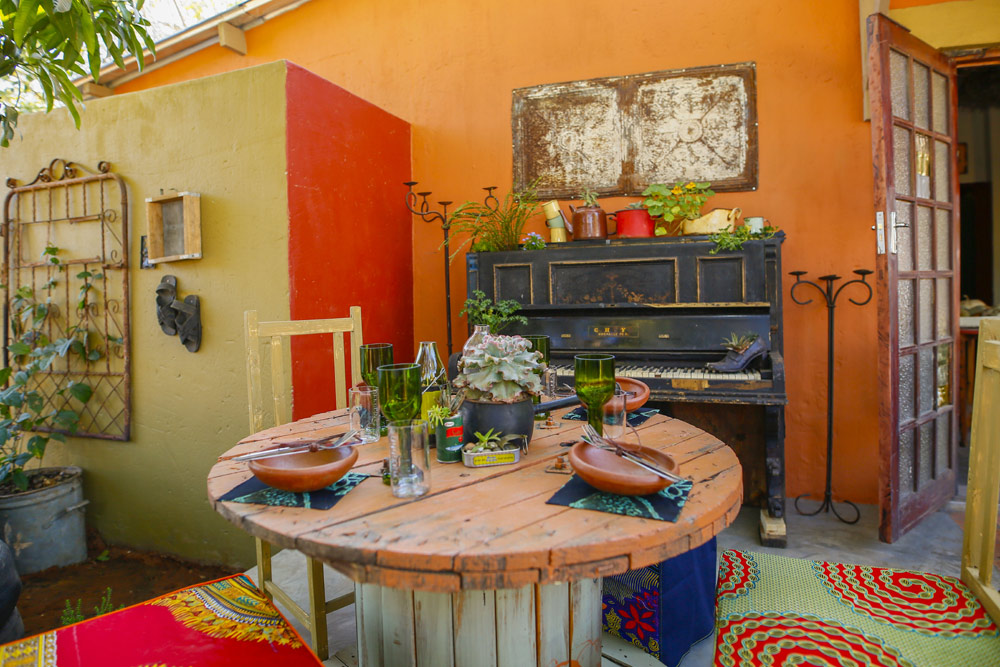 Dusty Road dining experience
---
New on the Zambezi River
Last year saw quite a few new additions to activities offered in Victoria Falls. On the lower Zambezi River, below the Falls, a high speed jet boat was launched to drive guests through the monstrous rapids at a thrilling speed! It certainly pumps the adrenaline, but unlike the white water rafting, you don't have to paddle and there's no falling out. Read more on the Jetboat.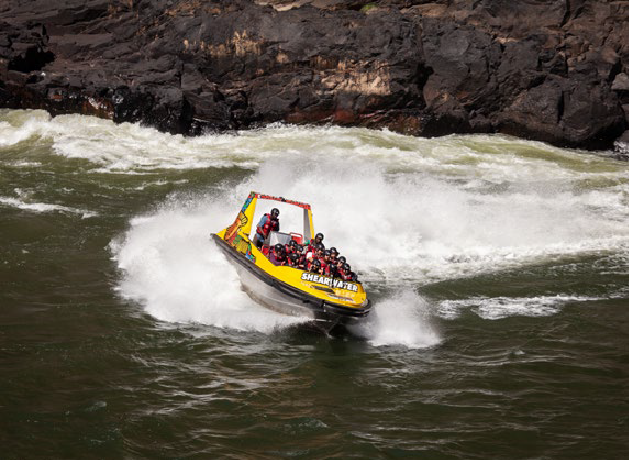 Adrenaline Jetboat below the Falls
On the upper Zambezi River, above the Falls, two new double decked vessels were launched by competing operators - the Malachite and the Riversong. The Malachite is Wild Horizon's new dinner cruise vessel, cooking your food while you watch!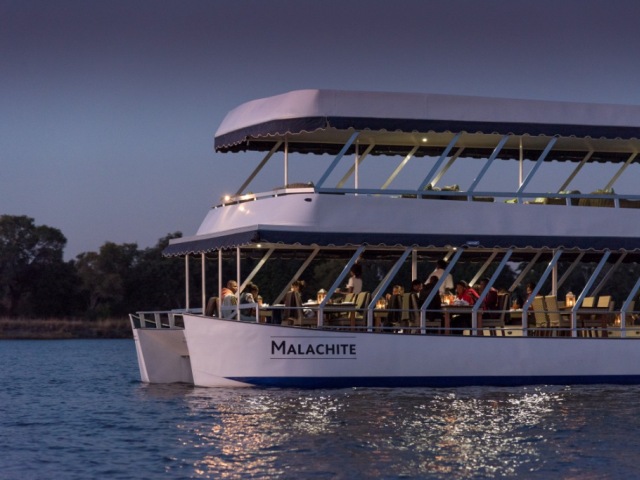 The Malachite on the Zambezi River
Both vessels are more luxurious than the standard cruises on offer and are a wonderful experience that can be enjoyed by the whole family! Read more on the different river cruises.
If you would like to book any of the above activities, please contact us.
---
Activities closed
A few operators have unfortunately had to close up shop in Victoria Falls. Sadly, the Skydiving Tandem Company is one of them. After just over a year of operations, the company had to close down, as it was no longer viable.
The Tribal Trap Escape Rooms operation in town also closed up, along with the Victoria Falls Snake Park. The Snake Pit moved over to the Crocodile Farm, adding on to the interesting reptile experience that you can get there.
Elephant Back Safaris are also a thing of the past. Growing pressure from animal rights groups has lead to the operators of this activity ceasing the riding of elephants. However, the elephants have not disappeared and they live for a long time. They cannot be released into the wild, so they need to be looked after and cared for.
The operators have come up with a new activity to sustain these costs, where clients interact with the elephants and get to learn a lot more about these magnificent animals. You can read more about the activity here - Elephant encounter.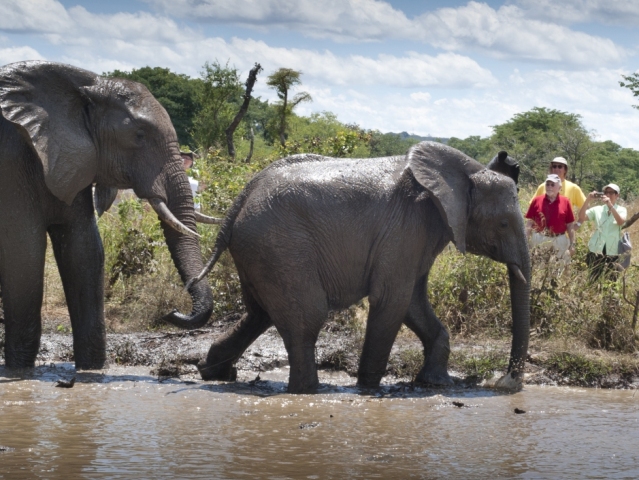 Elephant Encounter
---
More in Victoria Falls
The Victoria Falls Audio Guide is an electronic voice guide, available in 7 different languages, specifically made for the Victoria Falls in Zimbabwe. Guests can rent the guide, which comes with headphones and a map of the rainforest, at the entrance gate at a special price of $5 per person ($10 from April 1st 2020). Read more on the Audio Guide.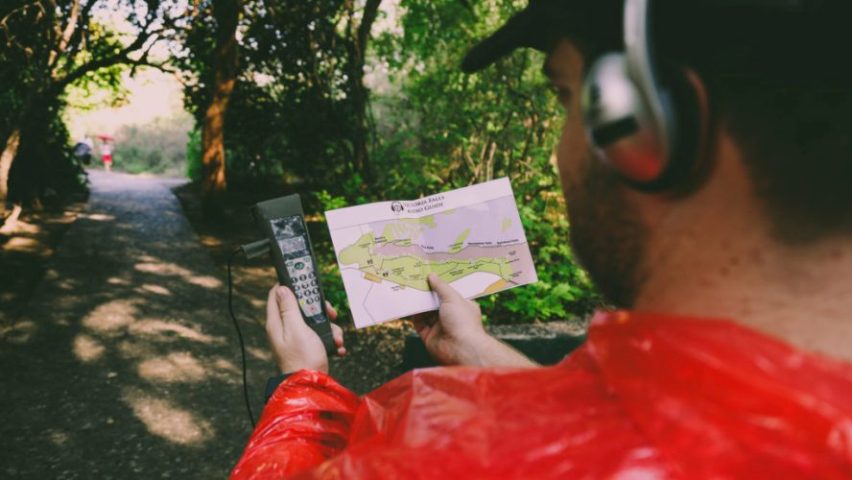 Victoria Falls Audio Guide available at the Rainforest


We're continuously adding new content and making necessary changes to our website when needs be
We also make sure we keep well up to date with new legislation or requirements for tourists in order to make things easier for our visitors, as we know that travelling around Africa can be a little tough sometimes.
To start off the year we completely revamped the look and feel of the whole website. It's a big job to change over hundreds of pages but we are excited about the new and more contemporary design, let us know what you think.
In 2019 Victoria Falls Guide joined FEEFO, which is an independent review site, that enables our customers to leave reviews about our customer service and the products we offer. I am very pleased to announce that we have just received their "2020 Gold Trusted Service Award", which recognizes businesses that deliver exceptional experiences, as rated by their customers. You can read our reviews by clicking/tapping the banner below:

New pages that we think might interest you as a tourist include: High vs Low Season (an extension to our Best Time to Visit page), Wildlife Parks Close to Victoria Falls (a detailed comparison of Chobe, Hwange, Zambezi National Parks, as well as the Victoria Falls Private game reserve and Mosi oa Tunya park), Choosing Victoria Falls Accommodation (a comprehensive guide to Victoria Falls accommodation and how to go about booking your holiday), Victoria Falls Flights and Livingstone Flights (to give you an idea of the flights that come in and out of Victoria Falls and Livingstone).
We also recommend you look at our new Victoria Falls Discounted Activities section to see what activities you'd like to immerse yourself in!
Special Promotions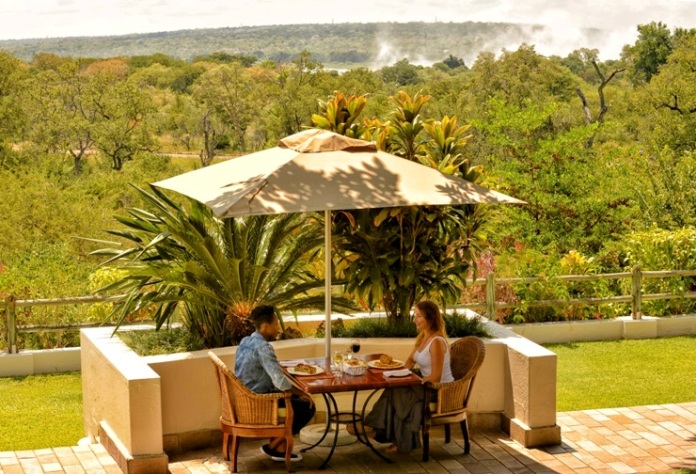 LAST MINUTE SPECIAL @ ILALA LODGE
Book and Pay within 60 days of your arrival and get a 35% discount at the luxurious Ilala Lodge Hotel in Victoria Falls.
Book Now
(Subject to availability)
PAY FOR 2 STAY FOR 3 NIGHTS
Stay for 3 nights and only pay for 2. Bring the kids and they stay FREE OF CHARGE. An absolute bargain!
Offer available at Camelthorn, Bomani and Nehimba Lodge in Hwange National Park, and Zambezi Sands and Gorges Lodge in Victoria Falls. Click here for more information, and to see other specials and packages.
Offer valid 1st March to 30th April, & 1st to 30th November 2020
(Subject to availability)
Community
Imvelo Safaris, who are offering the amazing special above are involved in several community based initiatives aimed at uplifting the local community.
One such initiative is called See and Smile Safari where Imvelo has partnered with a team of volunteer dentists and optometrists from Spain and Italy to provide annual Mobile Dentist and Eye treatment in Tsholotsho and Hwange Districts which surround their safari areas.
The 2019 Smile and See Safari saw the best day on record, with 1543 people in need being treated! 408 received dental care, 836 got their eyes checked and 299 were provided fluoride treatment, helping bring the year's grand total to 6191 patients. Fluoride is an important mineral for all children, playing a key part in protecting teeth against decay. This year's team provided 740 children with fluoride treatment, helping children, and their parents, understand the importance of dental care and oral hygiene.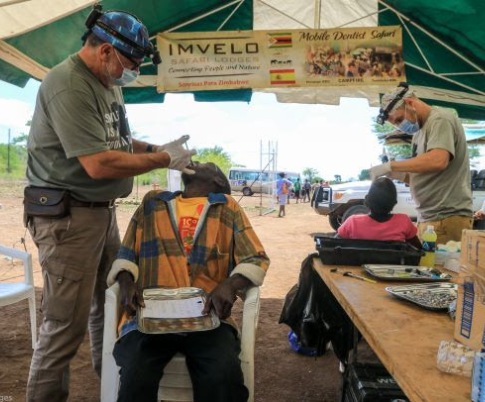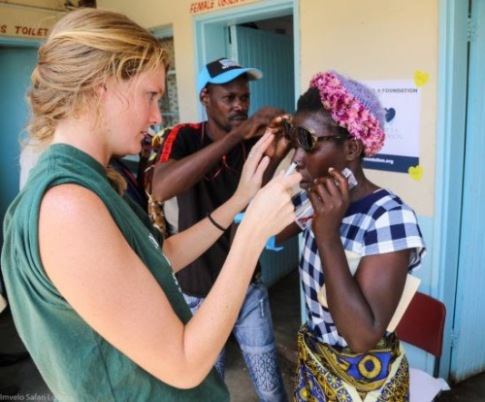 Well over 20 000 dental procedures have been carried out, including extractions, fillings and root canals - for free! This incredibly successful initiative has transformed thousands of lives and has received multiple awards.
These incredible achievements would not be possible without the invaluable efforts of Imvelo's on-the-ground team, bringing people from across the district to the clinics. With buses coming in and out, travelling through the bush, it's nothing short of a mammoth operation! Not a single person was turned away and every single person that was brought to the clinics was seen to and fed.
Customer Feedback
"Dear Boo,

I stumbled across Victoria Fall Guide by accident, but I am so glad I did. Tony and Boo were so helpful, advising us on the best activities for us as I have mobility issues, and arranging our itinerary and booking everything.

I had no worries about using them, or sending a very large payment to someone I didn't know. Everything they booked for us was so well organised, pick ups on time, knowledgeable and friendly guides, clean transport. We did the walking tour of the falls, the sunset dinner cruise, full day at Chobe, the team, lion encounter and the helicopter and every single one was faultless.

We were also due to do the lunar rainbow but unfortunately it was cancelled, however Boo arranged the refund immediately. I wouldn't hesitate to recommend them to anyone. We are so grateful to them for making our special holiday even more so. " - Sally
Click here to read more feedback
Hotels & Lodges Update
2019 saw several new hotels and lodges being built, as well as upgrades and expansions to existing ones, in an effort to keep up with the increasing demand for accommodation.
New & Renewed in Victoria Falls
Completely redone into fabulous guest lodges in the residential suburbs of Victoria Falls, 528 Victoria Falls Guest House and Shongwe Lookout offer something different to visitors to Victoria Falls. Both lodges are owner run and managers have included viewing points over the beautiful landscape and down on to the the Zambezi River. Visit the links - 528 Victoria Falls Guest Lodge | Shongwe Lookout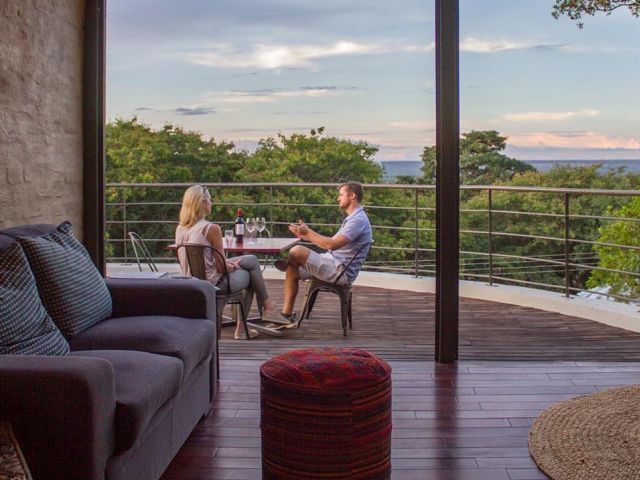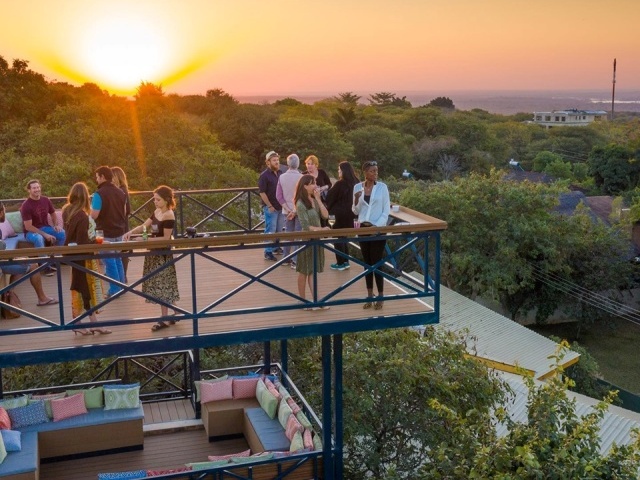 Left: 528 Victoria Falls. Right: Shongwe Lookout
The Explorer's Village added their brand new deluxe chalets in July last year. The new deluxe rooms offer larger sleeping spaces and bigger bathrooms. The whole central area has been enlarged substantially and now encompasses a 200 seater restaurant. The village is a really good choice for good quality, affordable accommodation.
Mbano Manor is a brand new boutique hotel located on the edge of Victoria Falls town. The site covers four acres of natural teak forest. Comprising of 18 luxury suites, the hotel caters for the discerning, high-end traveller.
---
New and Improved in the Zambezi National Park
The Zambezi National Park is now home to a few new upmarket safari lodges.
Tsowa Safari Island is located deep in the wilderness on the majestic Tsowa Island about 50kms upstream from the Victoria Falls. The island, which has never been inhabited, is fringed by lush forests while the mainland is riverine woodland with natural spring lines which are hidden gems used by wildlife. This scenically beautiful area is popular for both landscape and wildlife photography. It is a particularly scenic game reserve for guided walking. There are 6 eco-sensitive luxury tents designed to blend in with their natural surroundings.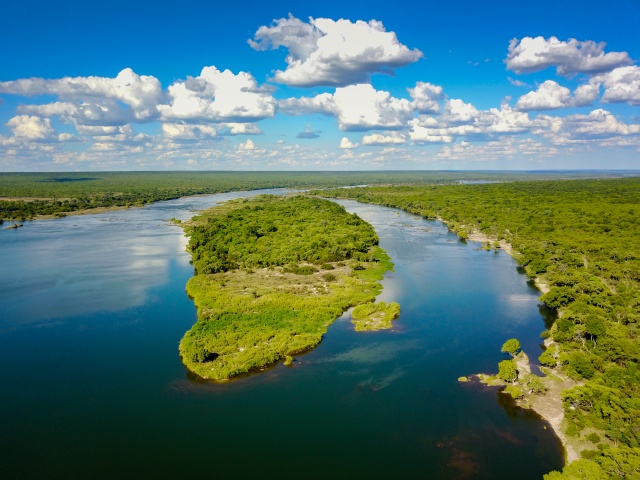 Tsowa Island on the upper Zambezi River
The year old, luxurious Mpala Jena offers 4 exquisite guests tents located on a private concession within the Zambezi National Park, about 16 km's away from the hustle and bustle of Victoria Falls town. Mpala Jenna also has decking and a private plunge pool with views of the river directly in front of you!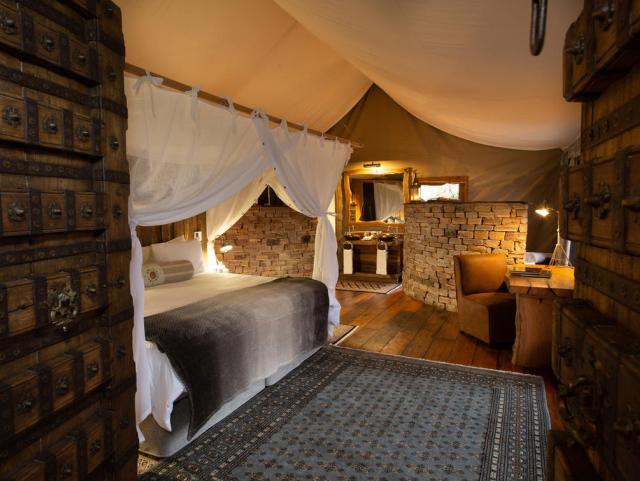 Mpala Jena suite
If you would like to book any of the above lodges or hotels, please contact us.
---
Under Construction....
The Ilala Lodge Hotel Group is busy building their brand new Palm River Hotelon the banks of the Zambezi River, Victoria Falls, Zimbabwe. "A new form of luxury", so they say… The hotel is being built in the Queenslander architectural style, making it completely unique to the surrounding hotels. They are due to open in the next few months, so we will be sure to keep you updated on all our online platforms.
Pioneers Victoria Falls, is a new guest lodge being built in the Victoria Falls residential area, just 2,5km from the thundering Falls and is due to open in April this year. The lodge consists of 50 spacious rooms designed in an elegant, classic style that embrace Zimbabwe's pioneer era.
Nkosi Guest Lodge is the Bayete Collection's newest addition, due to be opening in April this year. Located in the suburbs, the lodge consists of 24 spacious rooms which all fall under the executive category. The lodge design is focused on providing guests with adequate space for socializing and relaxing whilst on holiday.
---
Hwange's New and Refurbished Lodges
Nantwich is Hideaways' newest addition and is due to open in April this year. The lodge, which is perched on a hill, offers views of a large dam that welcomes the wildlife for a drink whenever they please. Being an eco-lodge, Nantwich plays their part by re-purposing, preserving and celebrating the natural heritage of this site.
Deteema Springs, which opened last year, is located in a small concession in the Northern region of Hwange National Park. The Camp overlooks permanent water springs that offer magnificent views of wildlife that come to drink. This luxury Safari Camp can hold up to 18 people, including children above 6 years.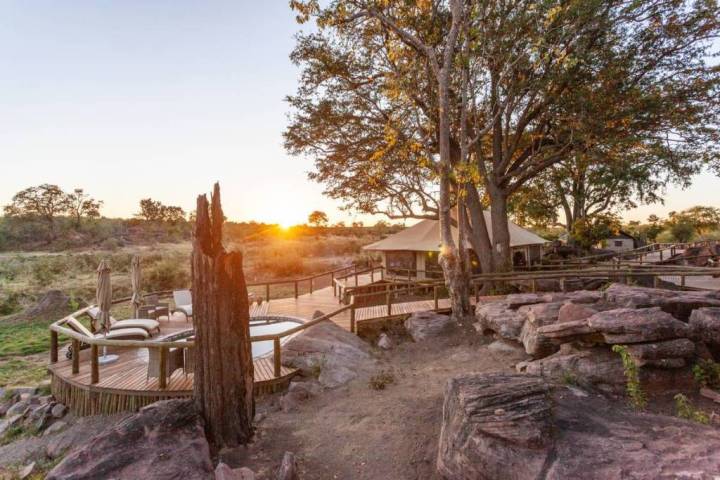 Deteema Springs in Hwange
Deka Camp, sister to Deteema Springs, also rests on a private concession in the far north of Hwange National Park is said to be the most remote camp in the Park. Guests here can enjoy night drives, walking safaris and of course game drives during the day. This camp can take up to 16 people including children over 6 years old.
---
Hotel Closures
Flat Dog Lodge closed in September 2019.
Did You Know?
Robins Camp in Hwange National park was named after Herbert George Robins who, in the early 1900's, acquired multiple farms that added up to 26000 acres. He was extremely active in trying to cease poaching and hunting on the land, which consisted of a variety of game. It seemed to be a continuous battle as Robins was also defending the reserve against local farmers who wanted the game exterminated to open up the country.
Fearing that his land would be sold on his death, he offered his land to the government in 1934 on condition that it be forever maintained as a game sanctuary protecting animals from hunting - possibly the first in Southern Africa. He died in 1939.
In the picture: Herbert George Robins. Source: robinscamp.com
GDPR Regulations
The GDPR is a part of the European Law that governs data protection and privacy for all individuals and to comply with the consent requirements we are obliged to reconfirm with you that you are happy to continue receiving mailings from us.
All our newsletters include an "Unsubscribe" link which you can remove yourself from at any time from our mailing updates.
We wish to take this opportunity to reassure you that your information is safe and remains confidential to us alone and will continue to be used in association with our company updates only. You don't have to do anything further if you wish to continue to remain on our database BUT should you wish to stop further mailings kindly click the unsubscribe link below. Have a look at our Privacy Policy.
Click here to subscribe and receive future editions of our newsletter directly by email. Don't forget you can follow us on Facebook and Twitter for all the latest travel information updates from the region, and we're always here to help with your travel logistics.
---
Contribute - If you would like to submit your safari story or send us some pictures to feature in an upcoming issue please click here.
About Us | Home Page | Our Blog | Past Newsletters | FAQ's | Unsubscribe


www.victoriafalls-guide.net | Ngugwuma Cres, Victoria Falls, Zimbabwe | info@victoriafalls- guide.net | +263 83 2846213