Wildlife Parks Close to Victoria Falls - a definitive comparison
Thinking of visiting a game park close to Victoria Falls? Then read on to find out which one suits you best.
Visitors to Victoria Falls often want to add on a few days safari to one of the game parks close by. However, they struggle to find information on the differences between them and therefore which one to choose.
What parks are there to choose from?
The three most commonly asked about are Chobe National Park, Hwange National park and Zambezi National Park as these are all a relatively short drive away from Victoria Falls. Smaller parks in the area - the Victoria Falls Private Game Reserve and the Mosi-oa-Tunya National park are not compared in-depth on this page as they do not compete on the same scale as the aforementioned parks, but I have given a very brief outline of them at the bottom of this page.
What will this page tell me about?
Each of the three big main parks have their pro's and con's which I will endeavour to outline below. It's nigh on impossible to detail every eventuality as many unpredictable factors such as weather influence game viewing but this page is about getting an overall understanding of the area and what it offers. With specific regards to the game viewing, the accommodation, the guiding, the seasons and the logistics of getting to each one from Victoria Falls.
Some safari travellers might opt for parks further away like Mana Pools and the Okavango Delta or even the Kruger National Park, but this adds considerably to the overall price and unless you have a specific interest in visiting one of those parks, it is not completely necessary.


Chobe National Park, Hwange National park and Zambezi National Park, are all part of the Kaza TransFrontier conservation area. There are no fences between them and safari areas surround them. The animals migrate freely between these parks and other areas throughout the seasons and according to the rains.

Travel Logistics – Getting from Victoria Falls to Chobe, Hwange and Zambezi National Park
As you can see from the map below, Victoria Falls is very close to where four countries meet at Kazungula. The Zambezi River divides Zimbabwe and Zambia, and the Chobe River divides Namibia and Botswana.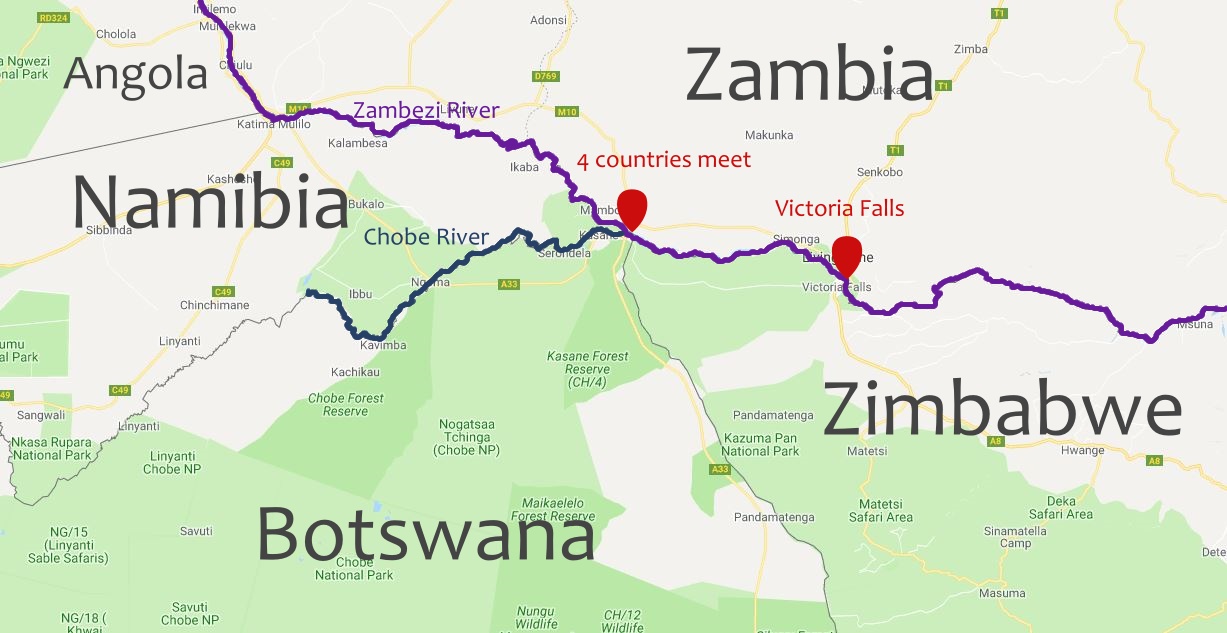 The confluence of Chobe and Zambezi Rivers is where four counties meet - Zimbabwe, Zambia, Namibia and Botswana.


Getting to Chobe National Park involves a border crossing, which on some occasions can be frustrating and time-consuming and it can also involve extra visas fees depending on your nationality. Please check our Botswana visa page for more information. We generally allow one and a half hours from Victoria Falls to Kasane, the town located just outside the Chobe National Park.
To Hwange National Park, there is no border but it's a bit further so we allow about two and a half hours to Main camp.
Zambezi National Park takes about 10 to 15 minutes to the entrance gate if that.
The transfers to these park entrances are all on good tar roads. You can, of course, fly into Hwange in a light charter aircraft, straight to your camp in the heart of the bush, this is much quicker but does add to the cost. It is not so easy to fly into Chobe because it becomes an international flight.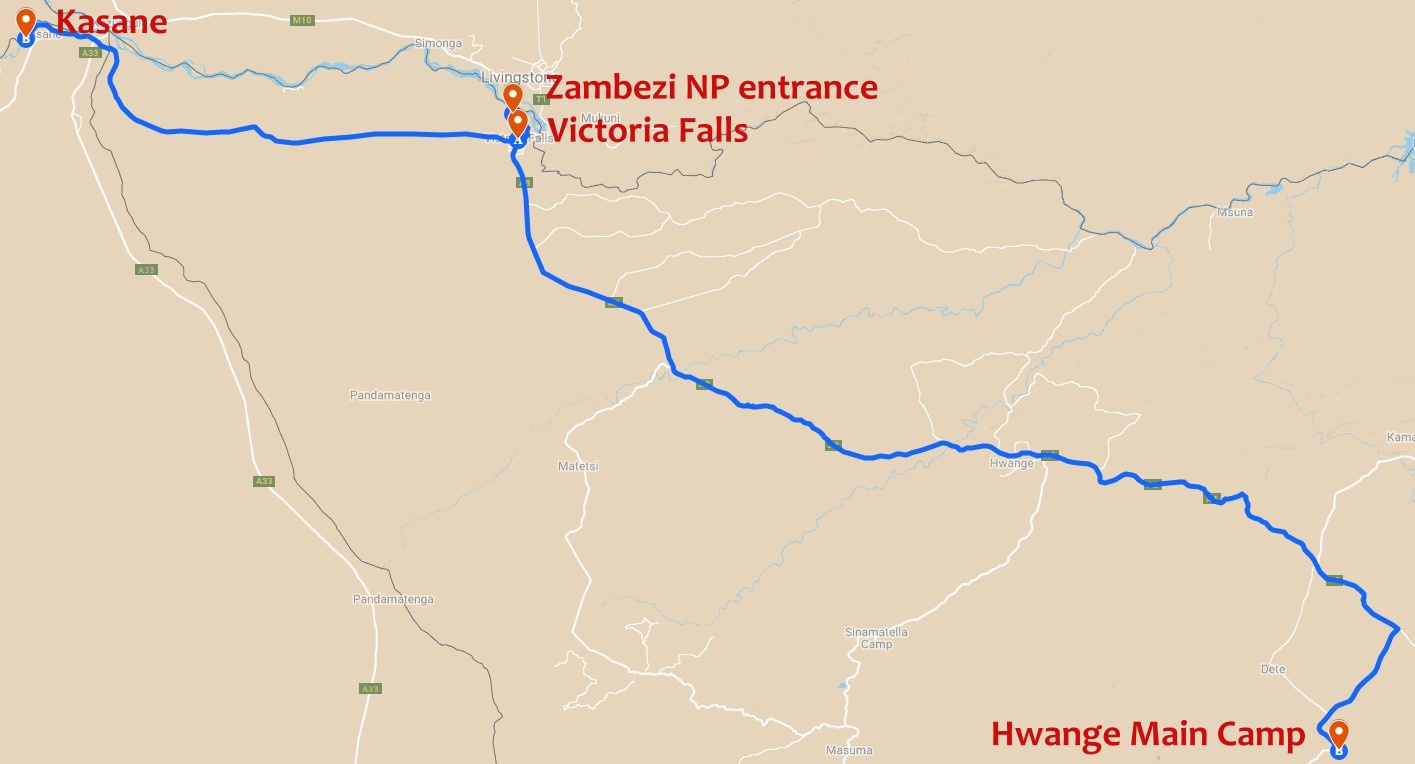 Victoria Falls to Kasane (town outside the Chobe National park) 80kms, Victoria Falls to Hwange main camp 170kms (there are 3 entrances so does depend on where you are staying, ones in the north a bit closer) Victoria Falls town centre to Zambezi National Park entrance gate 6kms.

Game Viewing - the difference between Chobe, Hwange and Zambezi National Park
Game Viewing in Chobe National Park
Starting with Chobe National Park – Despite its large size of 11 700 square kilometres, much of the action takes place in a tiny section called the Chobe River Front, in the northern most part of the park and is what we are discussing here, because it is so accessible from Victoria Falls.
Large elephant herds in Chobe River Front, Botswana

Animals in huge volumes come to the river and its floodplains for water and vital nourishment. In the dry season, you will be surrounded by hundreds if not thousands of elephant. Lion populations are healthy and you're not guaranteed but you are likely to see these magnificent cats. Leopard are also often seen. Plains game are plentiful; Giraffe, great herds of sable, buffalo, zebra etc. are everywhere.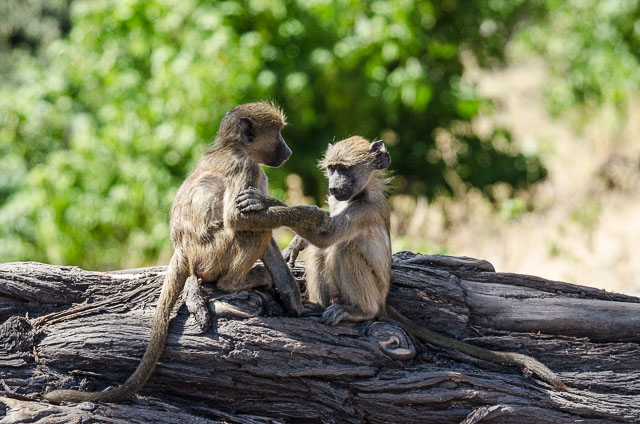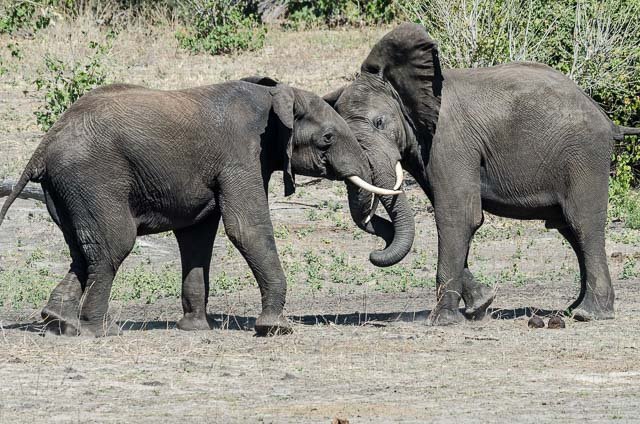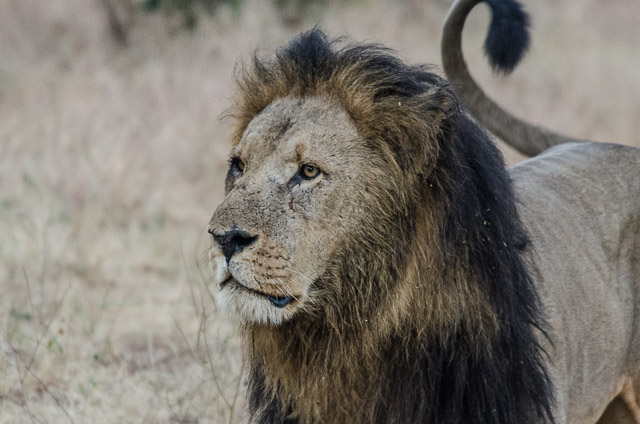 Of special interest in the Chobe River Front is the very similar looking Lechwe and Puku antelope which you will not see in either of the other 2 parks.
Lechwe (left) and Puku (right) (photos by Cliff Buckton and Michael Jansen)

A special attribute of visiting the Chobe National Park is the Chobe River itself. On a river cruise, you can be once again be surrounded by elephant drinking and wallowing, hippo cavorting and buffalo grazing on the islands in vast numbers. Crocodiles and lots of other little critters too, not to mention the outstanding birdlife.



Sounds great and the majority of people that visit Chobe River Front absolutely love it. However, the downside is that it is incredibly popular and vast numbers of tourists pour in. Upwards of 20 vehicles at any lion sighting is not uncommon. Vehicles jostle to get a good view and once you get to the front you have ten minutes and then you have to move on. This does not worry some people but it does others.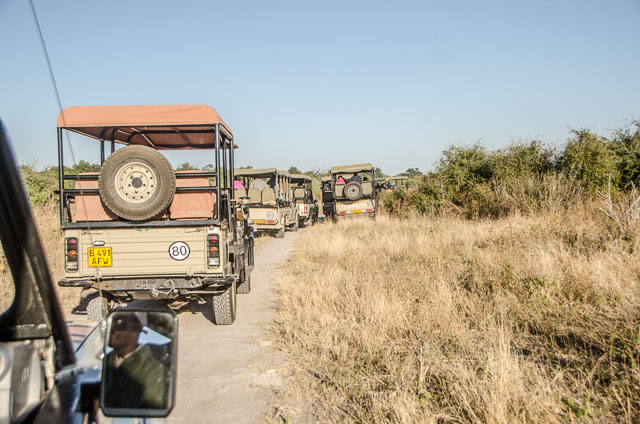 There can be heavy traffic in Chobe


In contrast, both Hwange and Zambezi National Park in Zimbabwe have far fewer tourists and vehicles, especially on the private concessions. If you find something interesting there are no time limits, you can watch all day if you wish.
Game Viewing in Hwange National Park
Hwange National Park is the largest of the 3 parks measuring 14 600 square kilometres. The game viewing, certainly in some areas and times of year is just about on par with Chobe National Park's riverfront. Hwange has an estimated elephant population of around 45 000, so elephant sightings are phenomenal. Predators such as lion, leopard, cheetah and to a lesser extent painted dogs are common sightings. As with Chobe, plains game of all varieties is plentiful and the birdlife is also spectacular.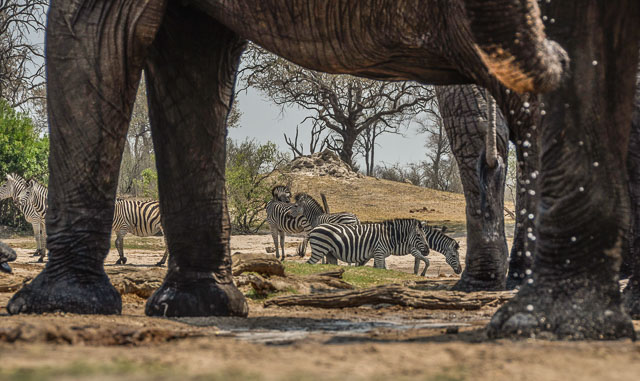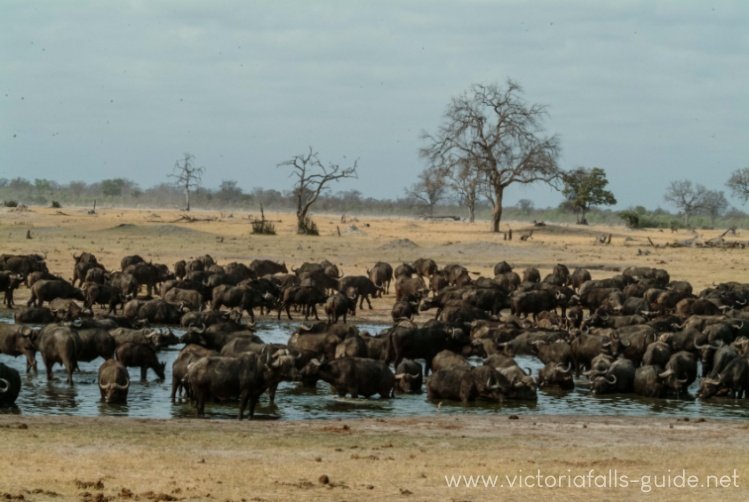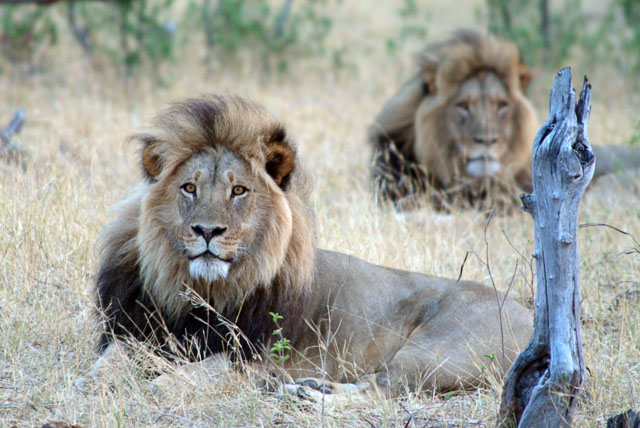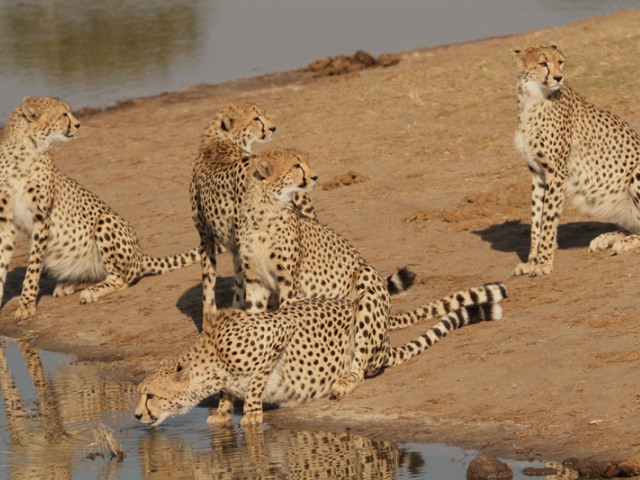 Hwange has very little natural water, except for annual rainfall and the springs and rivers in the north. So waterholes pumped by boreholes sustain these animals populations during the dry season. It is around these waterholes that animals in the dry months, congregate in huge numbers, which is very exciting to see.



Elephants around a waterhole in Hwange National Park, Zimbabwe
Game Viewing in Zambezi National Park
Zambezi National Park is the smallest of these 3 parks, measuring 56 000 hectares (560 square kilometres). It doesn't compete on most days with either Chobe or Hwange with regards to sheer numbers of animals, but populations are increasing and on a good day it is possible to have a comparable game viewing experience. As with Chobe and Hwange, there are elephant, buffalo, lion, leopard, painted dog and all the plains game species.
Wildlife from the dry interior is drawn to the river to drink and graze on the lush grass, much like Chobe River Front and of course having the Zambezi River as your backdrop is stunningly beautiful. Certainly for anyone staying in Victoria Falls with a day to spare, I would highly recommend at least one game drive into the Zambezi National Park.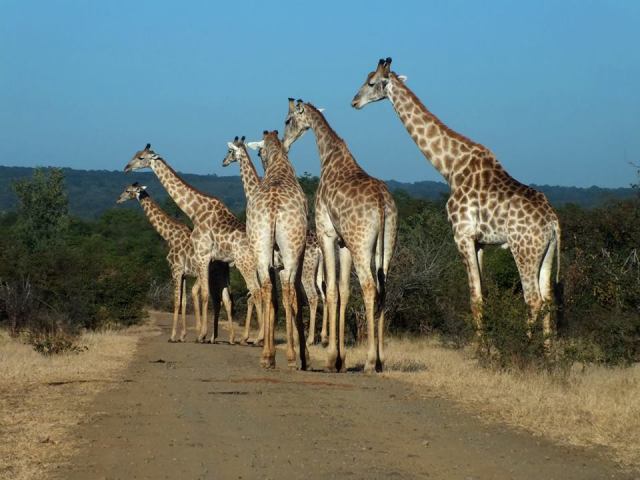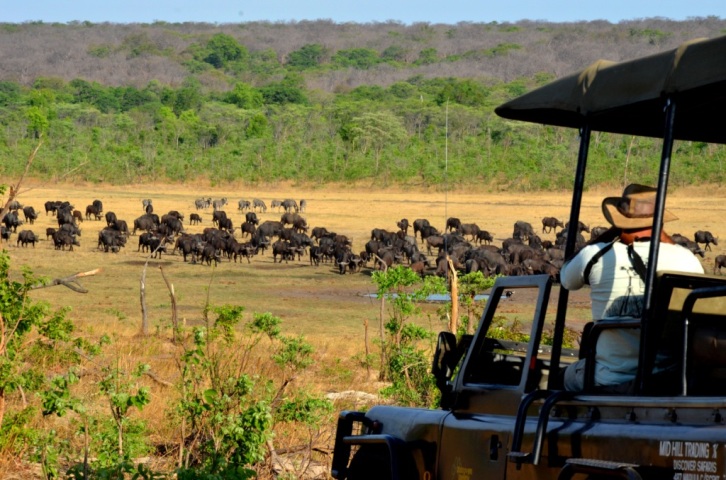 The Seasons and How It Affects Game Viewing
The seasons are going to have an equal effect on game viewing in all three parks. Animals naturally migrate every year during the rains away from their permanent water sources, be it the river or waterholes to allow for re-growth of the vegetation, so that during the dry season they can return.
The dry season months are July, August, September and October and these are the best months for game viewing in all 3 parks. Of course, there is always resident game that remains behind but just not in the same intensity. The rains bring with them a new season, the green season, which has some advantages, including fantastic birdwatching and the calving down of many species of plains game. I have gone into that in further depth here Advantages and Disadvantages of travelling in the Green Season.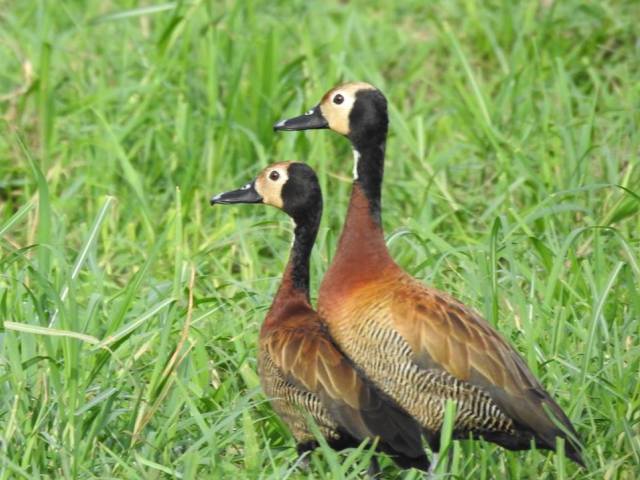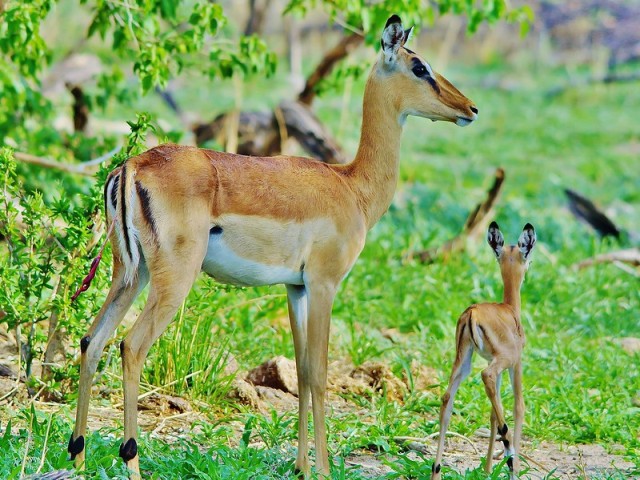 Left: White-faced Whistling ducks seen on a birding safari (image - Discover Safaris)
Right: Impala with newborn (image Sue Roehl)

Guiding and How it Affects Your Experience
Onto guiding, which in my opinion is a very important factor and can make or break a safari. I am generalising here as of course there are exceptions but on the whole, the guides in Zimbabwe, in my experience are better qualified and share their knowledge more readily than those in Botswana.
With trepidation, I would say that guiding in Chobe River Front is a bit rushed, it's see as many animals as possible and tick them off a list, which does suit some but not all.
In Hwange or Zambezi park, the guides go out of their way to impart their in-depth knowledge about the bush. It's not always just about lions and leopards. Nature is fascinating and it's the little stuff that can also be so interesting, which the Zimbabwean guides are very knowledgeable about.
Walking is not permitted in the Chobe National park, whereas in both Hwange and Zambezi parks, the highly qualified professional guides do conduct walking safaris. So if this is important to you, you need to consider this.
Accommodation Options in Chobe River Front, Hwange and Zambezi Parks
Accommodation in Chobe National Park
Starting again with Chobe National Park, the majority of hotels and lodges are situated in the town of Kasane, just outside the national park. Only one lodge: Chobe Game Lodge is inside the park, which is a high-end luxury hotel - then there are mobile camping safaris for those on a tighter budget and who prefer the camping experience and roughing it a bit. To the west you have a couple of luxury lodges on small private concessions, namely Ngoma Lodge and Muchenje Safari Lodge, these would be my preferred choice of accommodation for Chobe.


From left: Chobe Game Lodge, Muchenje Lodge, Ngoma Safari Lodge

But most people stay outside the park, in Kasane town at one of the many hotels or guest lodges and travel in the early morning into the park, but you have to be out again by 6 pm. The best game viewing can be outside of these hours so the only way to negate that is by staying at either Chobe Game Lodge or on one of the mobile camping trips.


Left: Luxurious room at Chobe Game Lodge. Right: Mobile camping Safari in Chobe National Park
Accommodation in Hwange National Park
Hwange National Park has a wider variety of accommodation options both inside and outside the park boundary. There are no towns outside Hwange National Park like with Chobe, it's just wilderness. Lodges situated inside the park are mostly situated on large private concessions inside prime game viewing areas overlooking productive waterholes. They are mostly high-end luxury lodges, varying to some degree in price but all in the upper price range. These lodges provide the ultimate safari experience.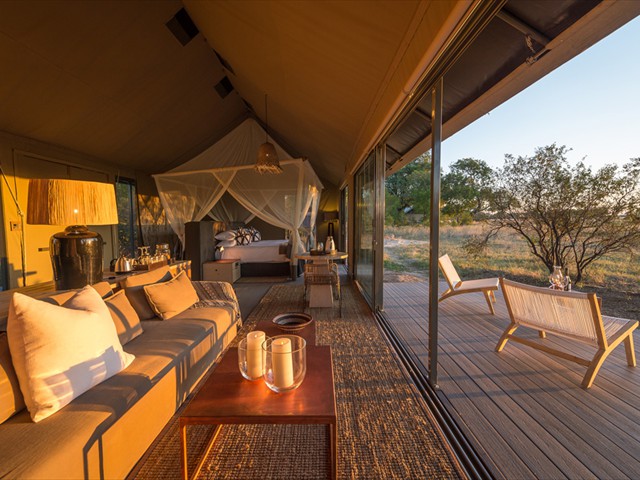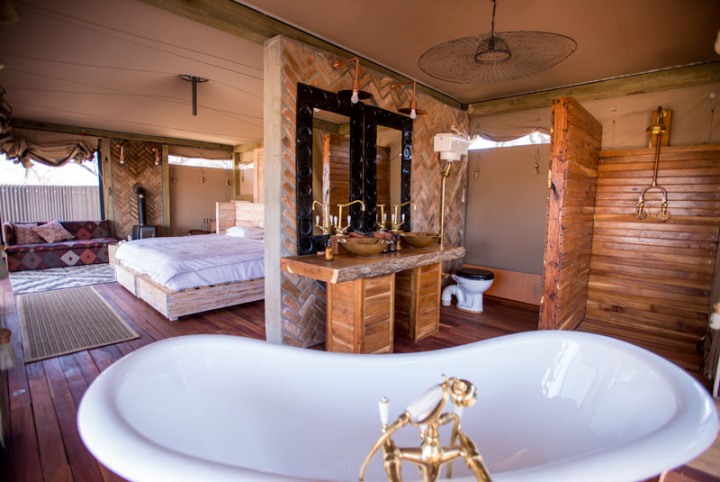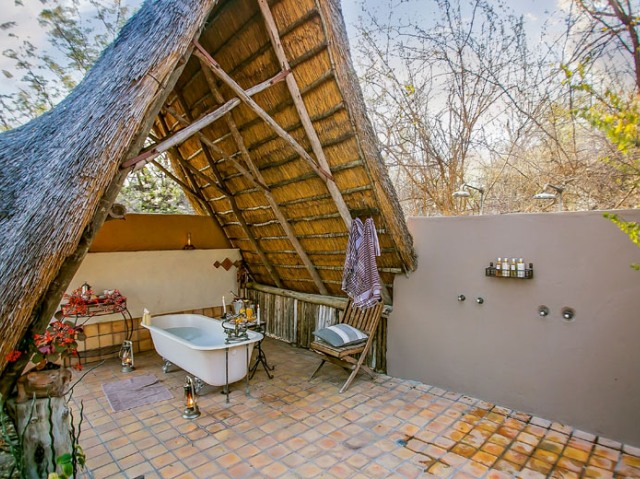 Lodges outside the park are slightly cheaper but don't have the same prime locations. Although most of these outside lodges have their own concessions, they are marginal and the bulk of the game viewing takes place inside the national park which involves a drive. Like Chobe you can only get in at 6 am and have to be out by 6 pm but hey budget often dictates and you can only stay where you can afford.


Miombo Safari Camp on a concession outside of Hwange National Park boundary

Mobile camping safaris are also available in certain areas inside the park and these work very well for the slightly more adventurous traveller on lower budgets, getting you into great locations for less money.
The scope of this article is not big enough to go into details of all the accommodation options available, but you can contact us and we would be delighted to recommend the correct lodge for you according to your budget and expectations.
Accommodation in Zambezi National Park
Finally, Zambezi National Park. As it is on the doorstep of Victoria falls town, it has quick and easy access from all the hotels and lodges situated in Victoria Falls town. So you can do day trips into the park as required. Inside the park, there is only a handful of lodges, spread out along the Zambezi river bank. All are high-end lodges offering top quality accommodation and service, in prime locations, with magnificent views of the river.


Beautiful luxury suite at Old Drift Lodge, with views of the Zambezi River
So in Summary
If you want a quick one or two-day safari to see lots of game, you don't mind all the people and you want to be close to Vic Falls then I think Chobe River Front will suit your requirements.
If you want a genuine safari and have a bit more time, you prefer a more intimate experience away from the maddening crowd. Top-quality private concessions within the park and exceptional guiding, then I would unquestionably choose Hwange National park.
And finally, if you want to be close to Victoria Falls without the hassle of a border crossing. Reasonable game viewing, excellent guides and hardly any tourists and also have only a day or two available then Zambezi National Park is perfect for you.
Mosi-oa-Tunya National Park and Victoria Falls Private Game Reserve
Mosi-oa-Tunya National Park and Victoria Falls Private Game Reserve have not been included in this comparison, as they are both much smaller game reserves and not on the same scale as the other 3 parks discussed in the above paragraphs. They are good for a morning or afternoon game drive to see some wildlife, especially rhino which you won't see in the other three parks, but spending more than one day in either of them is likely to be repetetive, so because of that I don't believe they offer a complete safari experience, which is what separates them from the others.
Mosi-oa-Tunya is 66 square kilometres but only 10sq kms is fenced and has game in it. It does not have any of the predators, but is does have a few white rhino which are monitored and protected, so offers good rhino walking safaris. It does have some species of plains game and the elephant do move through there but not on a large scale. It includes the Victoria Falls on the Zambian side.
Victoria Falls Private Game reserve, is a privately owned reserve of 2500 hectares, although it is accessible to the public through the Stanley and Livingstone Boutique Hotel who conduct game drives there. The entire reserve is fenced and is home to the big five, including black rhino. These like the white rhino in Mosi-oa-Tunya are monitored and protected by game scouts. There is a resident pride of lion and also a good population of leopard both of which are seen relatively often. Several elephant have also made this sanctuary their home. Other species of plains game such as buffalo, giraffe, zebra, impala, sable and eland are quite plentiful. So I highly recommend it for a morning or afternoon drive - the black rhino are ultra special, but you couldn't spend several days there.

Below is our Google Map of the three parks, transfer routes and points relative to this article
Do you have questions or stories to share?
What Other Visitors Have Said
Click below to see contributions from other visitors to this page...

Chobe river front mobile safari

What is rbe max nights you can stay? Can you return a week later ? Does Hwange offer mobile safari?
**Additional photos by Discover Safaris, Imvelo Lodges, The Hide, Miombo Safari Camp, Wild Horizons, Africa Bush Camp and Wilderness Safaris.
THE VIC FALLS BUSH TELEGRAPH
our Bi-Monthly E-Newsletter

Each issue has a destination update, loads of information about conservation and wildlife, specials offers, traveller tips, community projects, website highlights and tons more...

Find out more about our Bush Telegraph

"Your newsletter keeps me informed about new and old and is the best I've seen in a long while - informative, not commercial, just plain perfect!" - I.Skliros

Don't worry. Your e-mail address is totally secure. I promise to use it only to send you The Vic Falls Bush Telegraph.
Return from Wildlife Parks Close to Victoria Falls to our home page