Home | Victoria Falls Activities | Elephant Encounter
Elephant Encounter
A gentle and heart-warming experience with gentle giants
The elephant encounter allows an intimate and educational experience with the African Elephant
The Wild Horizons Elephant Sanctuary and Orphanage is home to several rescued and resident African Elephants that have been cared for for years in the Victoria Falls area.
Here, guests have an opportunity to learn about the beginning of this vital conservation program, the guides that have journeyed with the elephants that they have cared for, and the stories of the elephants themselves.
The elephant encounter begins with a presentation on the orphanage and how it came to be. Guests will have an opportunity to have a conversation with the very people that care for the elephants each and every day. The guides will give insight into the way the herd interacts, and how they came to be where they are today. Learn about the threats to the African elephant in the region.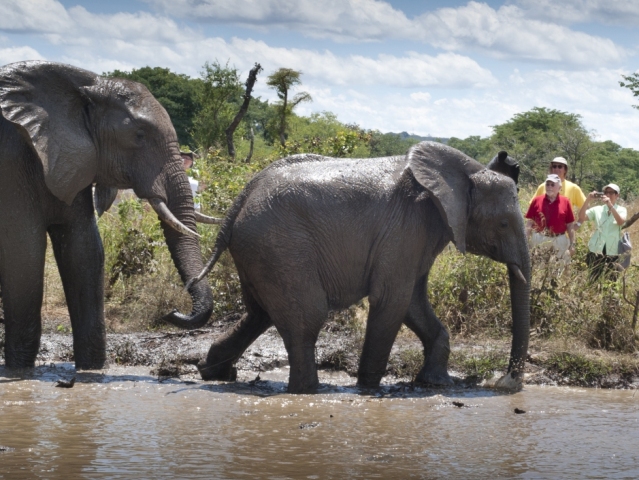 Mammals at play
After the informative presentations, take a walk venturing out into the bush - an opportunity to interact with the elephant on a personal level. Observe their individual behaviour up close while marvelling at their massive sizes, see how they interact with each other, and note the special relationship which the elephants have with their keepers.
At the end of the interaction, you will be offered refreshments and eats at The Wallow, while you you cool down with a view of the Masuwe River and beyond.

Available Elephant Encounter Trips
• Morning trip - Pickup 6:30am/Dropoff 9:30am - Includes tea/coffee/soft drinks and breakfast
• Late morning trip - Pickup 9am/Dropoff 12pm - Includes drinks/beer/wine/tea/coffee and hot and cold snacks
• Afternoon trip - Pickup 3:30pm/droppff 6:30pm - Inlcudes drinks/beer/wine/tea/coffee and hot and cold canapés
All Trips Include
• Return transportation from all major lodges and hotels to the activity.
• Refreshments and eats.
Children
• Age Restriction - 5 years min. All children 18 years and below require a legal guardian to sign an indemnity form.
What To Bring
• Wide-brimmed sun hat
• Comfortable walking shoes
• Sunscreen
• Binoculars
• Camera
• Booking voucher
• Insect repellent



Read Experiences and Reviews from other travellers - or why not share your own Experience with us. Find out more...

Back to Victoria Falls Activities

Share with others!





---
Return from Elephant Encounter to our Home Page