Elephant Encounter
A gentle and heart-warming experience with these gentle giants
The elephant encounter allows an intimate and educational experience with the African Elephant
The Wild Horizons Elephant Sanctuary and Orphanage is home to several rescued and resident African Elephants that have been cared for, in Victoria Falls, for many years and were formerly used for the elephant back safari activity.
Here, guests have an opportunity to learn about the beginning of this vital conservation program, the guides that have journeyed with the elephants that they have cared for, and the stories of the elephants themselves.
The elephant encounter begins with a presentation on the orphanage and how it came to be. Guests will have an opportunity to have a conversation with the very people that care for the elephants each and every day. The guides will give insight into the way the herd interacts, interesting facts about elephants and how they came to be where they are today. Learn about the threats to the African elephant in the region.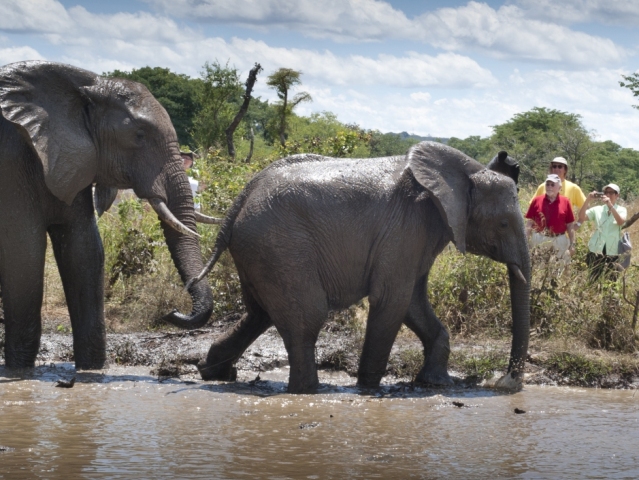 Pachyderms enjoying a mud bath
After the informative presentations, take a walk alongside these magnificent animals - an opportunity to interact with the elephant on a personal level. Observe their individual behaviour up close while marvelling at their massive sizes, see how they interact with each other, and note the special relationship which the elephants have with their keepers.
At the end of the interaction, you will be offered refreshments and eats at The Wallow, while you cool down enjoying a view of the Masuwe River and beyond.
Elephant Encounter - Our Opinion
The elephant back safari activity used to be very popular, however due to changing attitudes around the world, regarding human/animal interactions, the custodians of these elephant decided to withdraw the rides in favour of an "encounter". Elephants live to around 60 years old and even more in captivity, so the custodians, who rescued these animals in the first place, had to find a way to cover the enormous costs of sustaining these animals, now that the revenue from the rides had gone.
The elephant encounter became the way, and although it might not contain the excitement of sitting on the back of these enormous animals, it does still offer you the opportunity to get up close to these animals, look right into their eyes and get a waft of their pungent odour. You feel bonded to them. You get to learn about them and find out the real story behind this whole conservation initiative. If you at all interested or care about elephants, then we strongly recommend this activity.

Available Elephant Encounter Trips
• Morning trip - Pickup 6:30am/Drop-off 9:30am - Includes tea/coffee/soft drinks and breakfast
• Late morning trip - Pickup 9am/Drop-off 12pm - Includes drinks/beer/wine/tea/coffee and hot and cold snacks
• Afternoon trip - Pickup 3:30pm/Drop-off 6:30pm - Includes drinks/beer/wine/tea/coffee and hot and cold canapés
All Trips Include
• Return transportation from all major lodges and hotels to the activity.
• Refreshments and eats.
Children
• Age Restriction - 5 years min. All children 18 years and below require a legal guardian to sign an indemnity form.
What To Bring
• Wide-brimmed sun hat
• Comfortable walking shoes
• Sunscreen
• Binoculars
• Camera
• Booking voucher
• Insect repellent
• Conservation Fee of US$10 per person




Read Experiences and Reviews from other travellers - or why not share your own Experience with us. Find out more...




Back to Victoria Falls Activities




THE VIC FALLS BUSH TELEGRAPH
our Bi-Monthly E-Newsletter

Each issue has a destination update, loads of information about conservation and wildlife, specials offers, traveller tips, community projects, website highlights and tons more...

Find out more about our Bush Telegraph

"Your newsletter keeps me informed about new and old and is the best I've seen in a long while - informative, not commercial, just plain perfect!" - I.Skliros

Don't worry. Your e-mail address is totally secure. I promise to use it only to send you The Vic Falls Bush Telegraph.
Return from Elephant Encounter to our Home Page