Zambezi River Cruise
The Upper Zambezi River Cruise is a wonderful way to soak up the atmosphere of this magnificent River. Enjoy morning, lunch, sunset and dinner options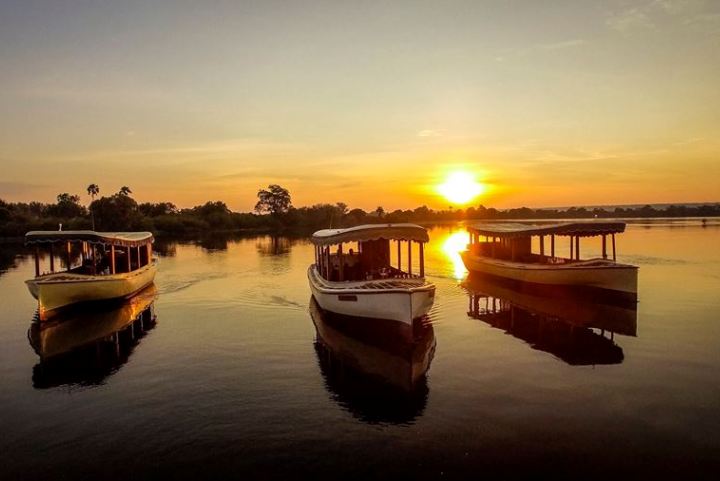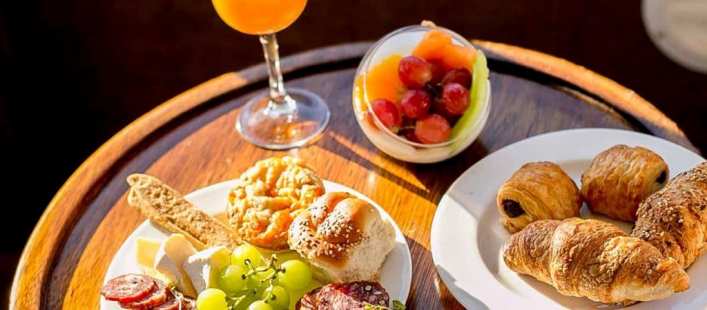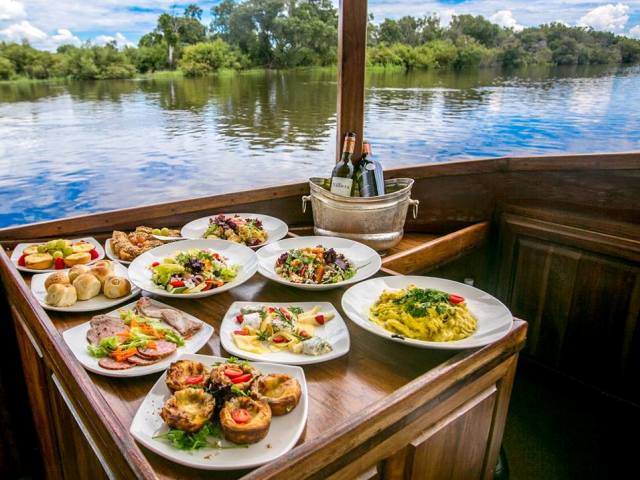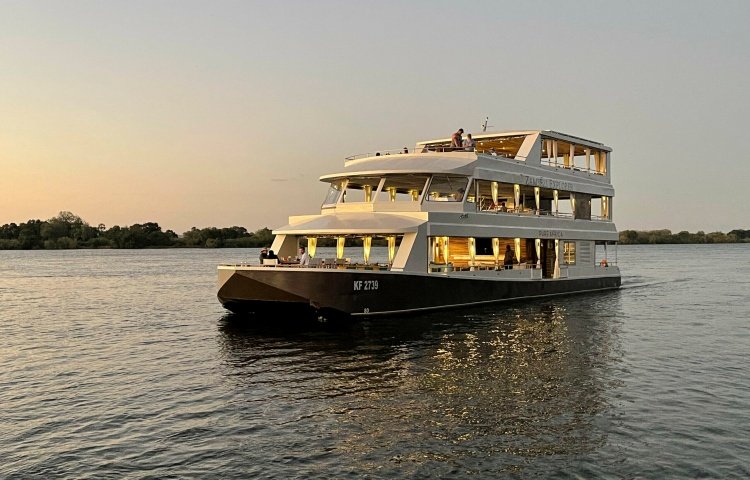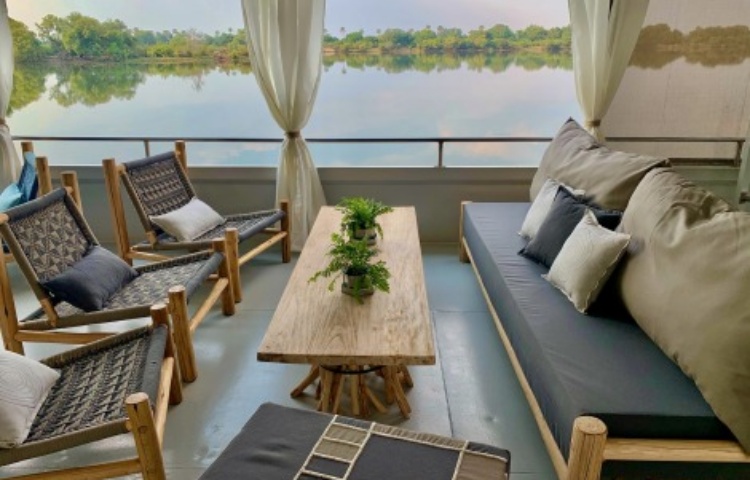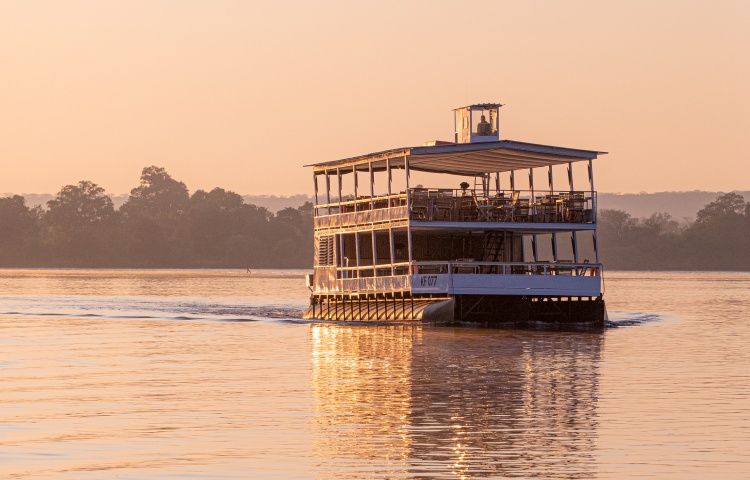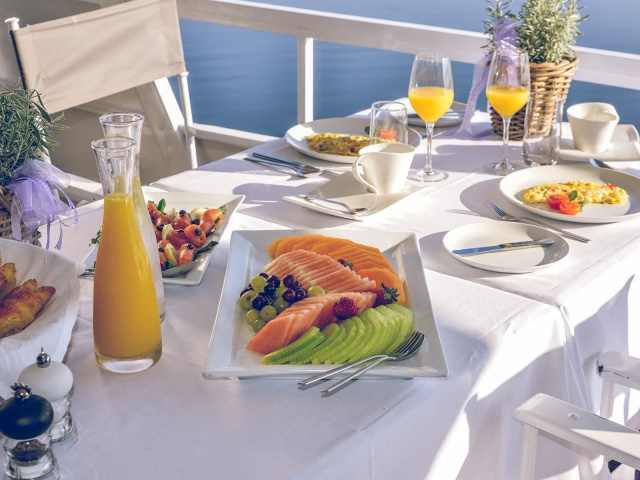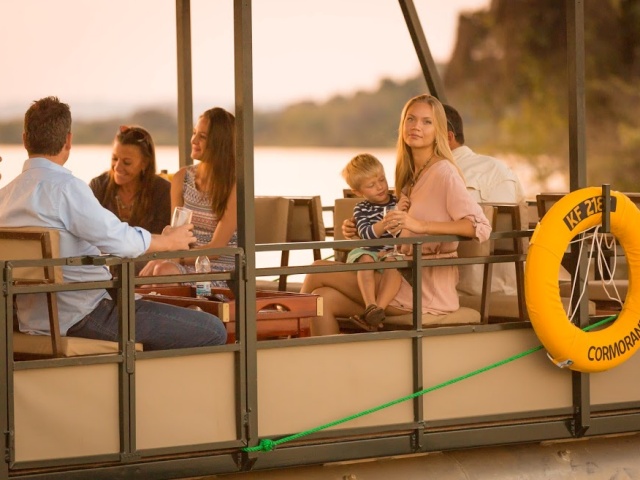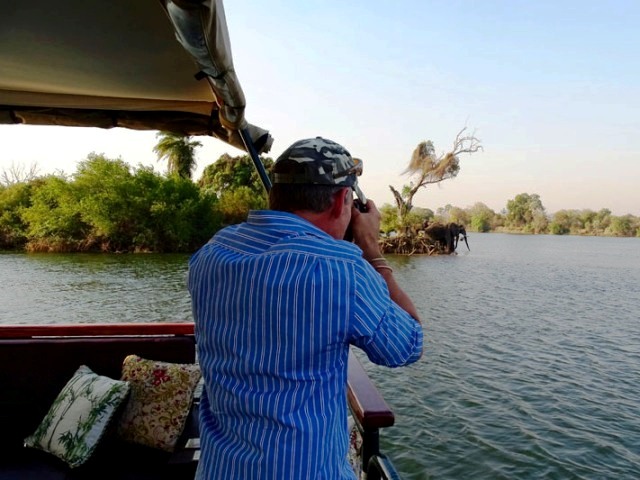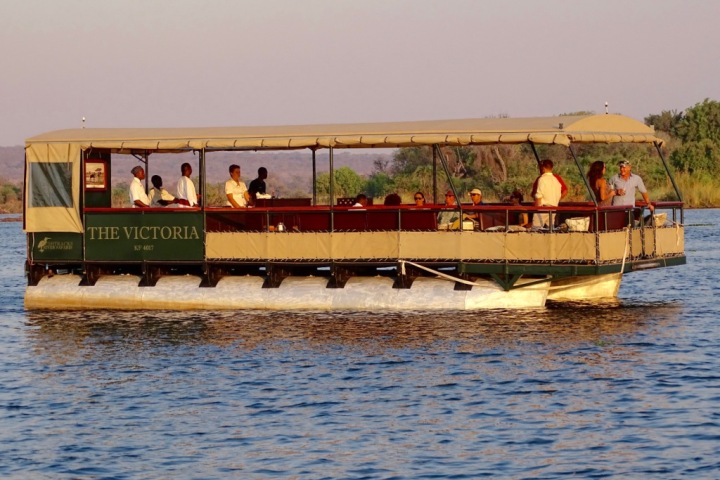 Lush riverine vegetation, beautiful scenery, prolific birdlife and a variety of wildlife, means going on at least one cruise on the iconic Zambezi River is an absolute must for every visitor to Victoria Falls.
There is a great variety of cruises available, including early morning, lunch, sunset cruises and dinner cruises. There is also a huge variety of boats from small private boats of 6 to 10 people up to large party boats that carry 120 people.
Each boat is catering for different sectors in the market, from bulk standard through to fancy luxury. If you need advice on which cruise to book, please contact us.
A brief summary of the Zambezi River Cruises on offer.
• Standard River Cruises are normally the ones included in a package, they are relatively cheap, have good snacks and plenty to drink. Some people find these a bit of a booze cruise. There are various companies who offer them, they are nice and simple and get you out there. Morning, lunch and sunset options available. Prices range from $45 to $66 per person.
• Upmarket River Cruises are just fancier than the standard river cruises. Boats are smarter, seating is more comfortable, snacks and drinks are of a higher standard. Several boats fit into this category and each one of them is unique in its own way. Here are some of the options available - The Zambezi Royal, the RiverSong, the Zambezi explorer, the Victoria and the Ra Ikane. Prices range from $60 to $94 per person
• Sunset and Dinner Cruise is a sunset cruise with the added benefit of staying out on the river till about 8 pm to enjoy a 3-course meal while quietly cruising up and down the Zambezi River. This is a unique dining experience and one we highly recommend. Only a couple of options available, please find out all the details on our sunset and dinner cruise page. Price are around $85 per person
• Specialised River Cruises involve more than just cruising along and enjoying a few drinks and snacks. They include art workshops, birding safaris, photographic safaris and fishing trips. Prices range from $85 to $95 per person.
Confused by all the options, just contact us and we can talk you through them all, as well as all the other activities on offer.
Where do the Zambezi River Cruises go?
In Zimbabwe, the boats launch about 5 kilometres upstream of the Victoria Falls well out of dangers way of going over the edge, some people are often wary of this.

Although the Zambezi River is a very large river (2700 km long), there are still rocks and rapids which means that in this section by Victoria Falls only about 5 kilometres of the river is navigable for these large boats.

The bigger boats normally head upstream a little way and then turn around to return slowly giving you plenty of time to take in the magnificence of your surroundings.

You will see plenty of crocodiles and hippos and the birdlife is spectacular. Often elephants are seen crossing the river to get to the lush vegetation on the islands. Giraffe, baboons and other plains game are also often seen.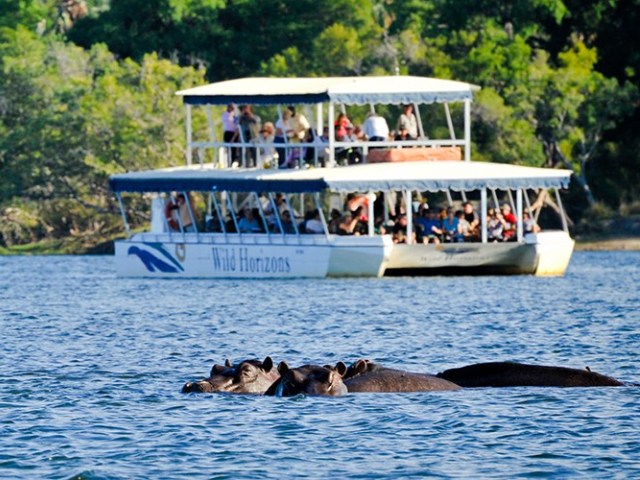 Hippos are seen on the Zambezi River often

As you look downstream you can normally see the spray from the mighty Victoria Falls rising high into the sky and you imagine to yourself, that this must have been the same view that David Livingstone had, as he approached the Falls for the very first time in 1855. It's difficult to understand the excitement he must have felt.

What does confuse and disappoint some people is that you cannot see the waterfall from any one of these cruises. They are all above the Falls themselves and all you will see is the rising spray from the Falls.

To see the waterfall from below you need to take a ride on the seasonal jetboat, which is an adrenaline activity (certainly not a sedate cruise). This can also be achieved on a white water rafting trip but also only at certain times of the year, during the low water season.
Zambezi Morning Cruises
Strangely enough, there are very few boats out on the river in the early morning, which is one of the added benefits of these cruises.
Possibly they are just not as well-publicized as the sunset cruises or it could be that many folk don't like getting up early. However if you can drag yourself out of bed you won't be disappointed, the peace and tranquillity is simply stunning.


Wonderfully serene sunrise cruise on the Zambezi River
It is cool and calm and at certain times of the year, mist hovers over the glass-like water, catching the early morning glows of the rising sun to create unforgettable photographs and memories. Sunrise and breakfast cruises typically attract birding and photography enthusiasts, but I highly recommend this activity to anyone - far fewer boats than at sunset, making it uniquely special to you.
There are a couple of different options for these cruises, depending on if you want to specialise in something or just cruise. A new offering is now with teas, coffees and muffins but without breakfast, as that is normally included in your hotel rate. What a way to spend your last morning in Victoria Falls before flying out at around midday. Please contact us for details.
Zambezi Lunch Cruises
As with the morning cruises, these lunch river cruises don't seem to attract as many people as the afternoon sunset cruises, but are in my view are still worthwhile if you have a couple of hours spare in the middle of the day and don't want to sit in your hotel room.
Cruising along the Zambezi River in the hot midday, whilst you relax comfortably in the shade with a cool breeze catching your skin. Waiters endlessly serve you refreshing drinks as you soak up the vibrant colours and scenery...it is wonderful.
You may encounter some wildlife along the river banks, and certainly the Zambezi regulars - hippos, crocodile and a splendid array of birdlife. Gourmet lunch or finger snacks are served depending on the boat you're on. The sizes of the boats also vary from the very small to a double-decker.
Zambezi Sunset Cruises
This seems to be the one activity that just about every visitor to Victoria Falls does, and rightly so as it is a very enjoyable experience. There are numerous boats of all shapes and sizes on both the Zimbabwean and Zambian side of the river.
Cruises range from a basic booze cruise up to high-end luxury cruises. Each of the boats offer something different and deciding on which one to choose would depend partly on your budget, as well as your personal preferences. You may also want a quiet dinner after the sun goes down.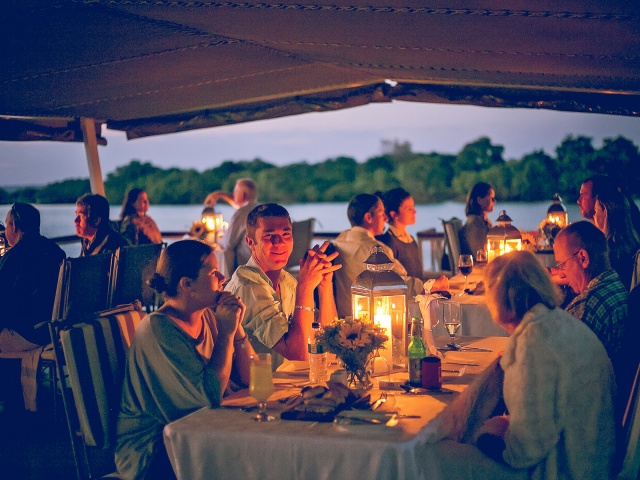 A fabulous alternative to Victoria Falls restaurants
Sunset cruises as the name suggest stay on the river to watch the great African Sunset and arrive back slightly after the sun has set, which varies throughout the year. A small handful of boats stay on the river after sunset and server dinner, more details on these can be found here - sunset and dinner cruise.
The price you pay includes all drinks and snacks. The waiters chirp is that the more you drink the more you will see. So they tirelessly bring you fresh gin and tonics. What a way to spend an afternoon.
What You Will Need to Bring
• National Parks Fees (currently US$10 per adult)
• Activity voucher/ticket from your agent
• Camera and/or binoculars (recommended)
• Smart casual dress (warm clothing in winter)
• Sunglasses
• Insect/mosquito repellent
• Any medication that you might need

What you Need to Know
• Pickup will be at from 16h00 (winter) or 16h30 (summer)
• The boat will leave from the jetty at approximately 17h00 (winter) or 17h30 (summer) and returns approximately 20h00 (winter) and 20h30 (summer)
• Transfers from and to the various hotels/lodges are included.
• Children (3-11 years) pay 50% of the adult rate. Children are welcome on river cruises. See other family friendly activities.
THE VIC FALLS BUSH TELEGRAPH
our Bi-Monthly E-Newsletter

Each issue has a destination update, loads of information about conservation and wildlife, specials offers, traveller tips, community projects, website highlights and tons more...

Find out more about our Bush Telegraph

"Your newsletter keeps me informed about new and old and is the best I've seen in a long while - informative, not commercial, just plain perfect!" - I.Skliros

Don't worry. Your e-mail address is totally secure. I promise to use it only to send you The Vic Falls Bush Telegraph.

Return from Zambezi River Cruise to our Victoria Falls Home Page