---
The Victoria Falls Bush Telegraph | April 2016
Issue 14
---
Destination Update
Once again the months have rolled by ever so fast and we apologise for being slack in getting our newsletters published. It's not for a lack of things going on in Victoria Falls, it's the opposite there is so much going on it's hard to keep up.
It's now mid April and the waters of the Zambezi River are reaching their peak levels. Friday 15th April was the last day of the season for white water rafting and the Livingstone island tour as it now becomes unsafe to runs these trips. It's been an unusual rainy season with the first decent set of rains arriving very late, raising fears that it could be drought year. The Zambezi was well below its average levels, then in mid February the heavens opened and there was dramatic rise in the river level sometimes as much as 6cm per day. Soon it was overtaking last years levels and by the first week in April the river was back to its average annual level.
The Falls themselves are pumping and massive plumes of spray can be seen rising high in the sky, especially in the mornings as the first rays of sun catch the white column and turn it into a kaleidoscope of pinks and oranges. In the still of the night, from our home we can hear the relentless thundering of the Falls as huge torrents of water endlessly cascade over this world wonder, even our doors and windows rattle and tremble at the incessant pounding.
But now the rainy season is almost over and winter doesn't seem to far away, the verdant grass and vegetation is already starting to yellow and die back heralding the start of the recognised game viewing season... Can't wait!
Victoria Falls is alive with positive new developments, some of which we have highlighted in the below articles. Hotels and activity operators are as always being creative in bringing new products to the market. Investors are looking around for opportunities and there is a general anticipation that we are on the brink of prosperous times ahead.
International arrivals are rising steadily, which has been fantastic to see but unfortunately the weakening Rand has meant that many of our South African neighbours just find our dollar based economy too expensive. With South Africans being as much as 40% of our market this decrease in travellers has slightly dampened the otherwise very positive outlook.
Victoria Falls is the Adventure Capital of Africa and it lives up to that accolade 10 fold, it is a remarkable destination with such a variety on offer for any traveller. We certainly hope that you plan on coming to visit us, be it for the first time or as returning visitor and we look forward to welcoming you in true Zimbabwe style.
Best wishes,
Tony and Boo
www.victoriafalls-guide.net
Click here to subscribe and receive future editions of our newsletter directly by email.
News and Events
Zimbabwe Relaxes Visa Regime
Early in March, the Zimbabwe government issued a revised visa regime, allowing for more relaxed visa requirements to citizens from more than 35 countries across the globe. Visitors from countries such as China, Turkey, Iran, Equatorial Guinea, etc. no longer have to apply for a Zimbabwe visa before they travel, but can get the visa when they arrive. Also, visitors from Angola and Seychelles have joined other SADC nationals as they no longer need a visa to visit Zimbabwe.
Read more on this development...
The KAZA Uni-Visa Update
More than a year after its launch on the Victoria Falls Bridge, the KAZA Uni-Visa was suspended for review in December 2015. The uni-visa pilot program was scheduled to run for 6 months but the trial ran from August 2014 to December 2015 when the uni-visa stickers eventually ran out, first in Zambia and then in Zimbabwe. More on this update...
New Victoria Falls Airport
In late 2015, the new terminal building of the Victoria Falls Airport was opened for use. This is significant news for Victoria Falls as the likes of Emirates, Etihad and other major airlines are now anticipated to fly directly into Victoria Falls, negating the need to connect via Johannesburg. This would make Vic Falls the hub of the region and rightly so as it is the epicentre to some of the best safari destinations in the world. Although the full project revamp is not yet 100% complete. Sections of the new building have already seen traffic from visitors to Victoria Falls, but the official opening of the new airport is scheduled for April 2016. See pictures on our blog...
Upcoming Events
This year, we look forward to another instalment of the Victoria Falls Marathon in early July. The 2015 event was in June and had participation from local, regional and international runners (you can see the list of winners, pictures and more info here). The Zambezi Cycle challenge follows less than a week after the marathon, and we hope it will be as successful and fulfilling as the last. Read more about Victoria Falls Annual Events here...
Pack for a Purpose Initiative
Have you ever booked your holiday and also wanted to take a little something to help with the local community but didn't know what to pack or how much? Pack for a Purpose (PfaP) is a non-profit organisation that can help you with exactly that sort of information. Find out how you can make a difference...
Activities Update
Some great new and not so well advertised dining experiences have been introduced in Victoria Falls, along with some new activity options. Read all about them below
---
Zambezi Explorer Signature Lounge
The luxury Zambezi Explorer after returning from its Sunset Cruise, docks and becomes a floating restaurant offering platters, an a la cart menu and drinks on the very sumptuous Signature deck. This dining experience is a great alternative to restaurants and bars in Victoria Falls town, as you can enjoy the sounds of the Zambezi under a great big African sky alongside excellent food and refreshing drinks. You don't have to have gone on the cruise to enjoy dinner in the Signature Lounge - one can simply make their way to the Zambezi Explorer from 6:30pm and enjoy drinks and/or dinner with friends.
---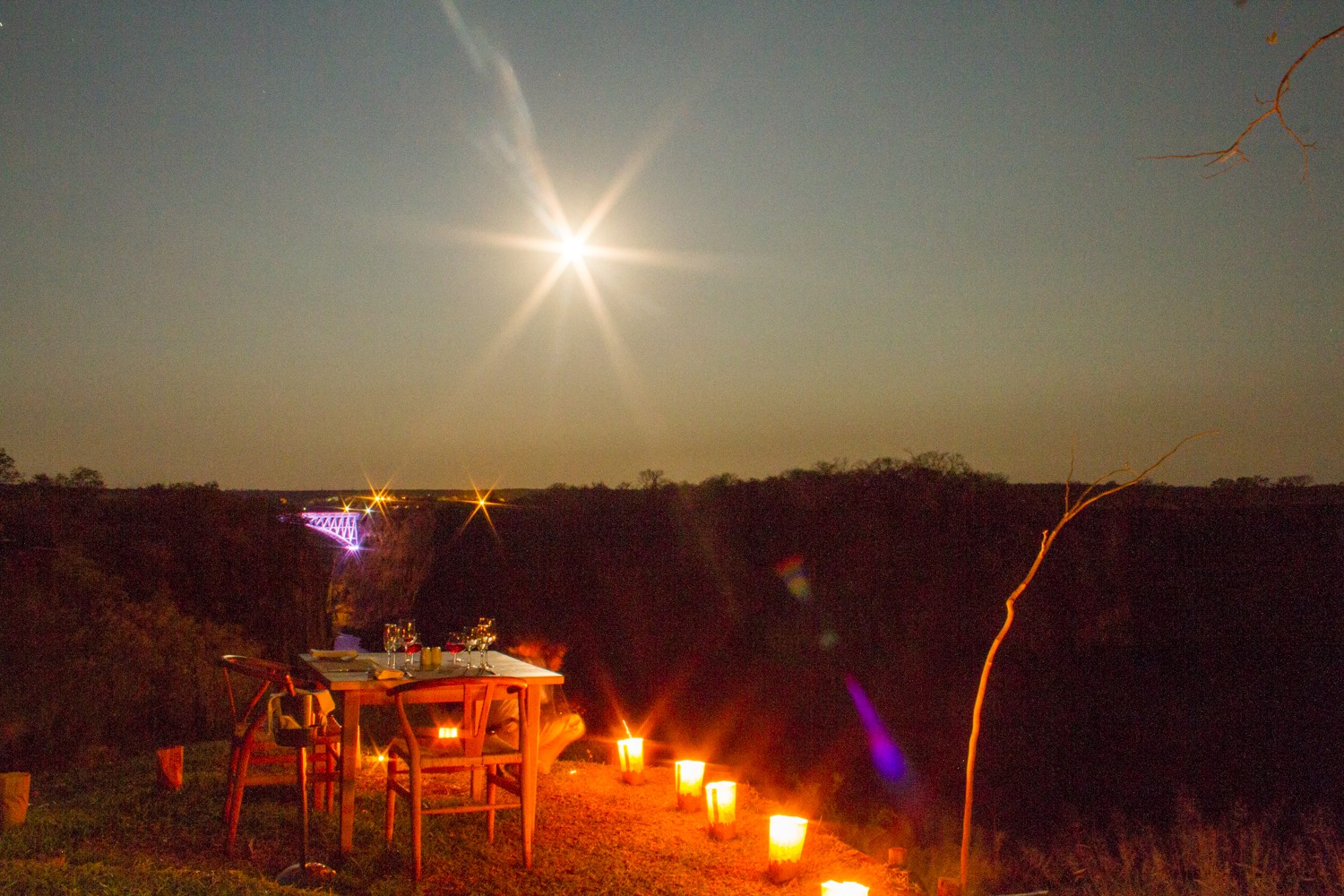 The Lookout Cafe Full Moon Dinners
A wee bit out of the town centre and perched along the Zambezi gorges is The Lookout Café, and during full moon nights, they open up for Lunar Dinners - an absolutely thrilling view of the zig-zagging Zambezi gorges that you won't get anywhere else under a full moon, accompanied a delicious a la carte menu and refreshing drinks. You can get a free shuttle ride to and from the restaurant!
---
Chipala Cultural Experience
A brand spanking new cultural dining experience in Victoria Falls was opened this month - the Chipala Cultural Experience. You may be familiar with Victoria Falls Safari Lodge's The Boma Experience, to which it is similar. The Chipala venue is located right in town, near the Victoria Falls Station and the railways. African decor of teak furniture, canvas, hand carvings and handmade African fabrics, along with enticing tunes played on the marimbas complete the enchanting African ambience. The food is a buffet of various game meats, vegetables and starches, as well as Zimbabwean vegetarian dishes. Desert and dancing to song and drums is last, and you are free to join in the fun.
---
BushTracks Express Sunset Bridge Run
The most recent addition to Victoria Falls activities is the re-launch of the beautifully restored steam train now called Bushtracks Express. Bushtracks Africa have partnered with the Victoria Falls Hotel to bring back the sunset Victoria Falls Bridge run. The Bushtracks Express offers guests a romantic and classy trip on a fabulous three carriage train pulled by a 14a class locomotive. On the other side of the border, the Royal Livingstone Express offers a beautiful journey through the bush to the bridge as well, in addition to a fine dining experience served up by a team from the Royal Livingstone Hotel. We will be adding information about this trip soon.
---
Specialised Victoria Falls Activities
There are a few new innovative specialised tours and workshops that have started running in Victoria Falls. We love to see different products emerging offering travellers even more choice of things to do.
• Art of Africa Workshops: These artistic activities which take place either on a breakfast Zambezi River Cruise, or as a local village cultural tour
• Birding Safari: Enjoy an early morning cruise cum Birding safari on the Zambezi River
• Photographic Safari: Morning and sunset photography workshops are now available - guided by a local professional photographer
• Photographic Tour of the Falls: Sunrise, afternoon (Rainbow), and Sunset (Zambian side) photographic tours of the Victoria Falls are now running - take fantastic shotsof the mighty world wonder with a local professional photographer
Our Favourite Picture
We snapped this beauty down in the gorges, under the Victoria Falls Bridge early one morning. We seldom see such unique view taken at this hour of the day. Sunsets and night images are the more popular ones, but sunrises are magnificent and breathtaking.
Did You Know?
On an island in the Kariba Dam, Robinson the Baboon has been marooned for more than 4 whole years now. No-one knows exactly how it happened but there are a number of possibilities: Perhaps he swam across while running from a predator (and there are plenty); or he walked over there during a dry season; or he fell from a tree on the mainland. There have been rescue attempts but the former alpha is simply content living on this little island by himself.
More of the story here
Special Promotions

3 ZAMBEZI SANDS/CAMELTHORN LODGE SPECIAL
Pay for 2 and stay for 3 nights at the luxurious Zambezi Sands Camp (Victoria Falls) or at Camelthorn Lodge (Hwange). See our specials page for more.
Valid up to 31st December 2016

4 NIGHT STANLEY & LIVINGSTONE HOTEL SPECIAL
Pay for 3 nights and get the 4th one FREE at the luxurious Stanley and Livingstone Hotel on the Victoria Falls Private Game Reserve. Click here for more information and to see other specials.
Offer valid until 5th January 2017

3 NIGHT VICTORIA FALLS SAFARI CLUB SPECIAL
Pay for 2 and stay for 3 nights at the exclusive Vic Falls Safari Club at an amazing rate. See our specials page for more.
Valid from 21st November to 20th December 2016

4 NIGHT IMBABALA & ELEPHANT CAMP SPECIAL
Three nights at Imbabala Safari Lodge and 1 night at Elephant Camp, plus a tour of the Falls...All Inclusive! Click here for more.
Valid up to 10th January 2017
Conservation
The Victoria Falls municipal dump site is located in a open area outside the town centre, an area where many wild animals have access and go there to scavenge. Quite notably are the elephants that forage through the waste devouring discarded vegetables and garden waste but in the process also consume plastic waste. As you can imagine elephants are heavy eaters and usually consume between 200 and 600 pounds (91 to 272 kgs) of grass, twigs, bark, foliage, and other vegetation in a single day. These plastic bags and other foreign objects are getting lodged in their intestines and several elephants have died as a result.

The Victoria Falls Green Fund/Environment Africa is a charity which aims to bring awareness and works with communities to better the environment. They are running a campaign to raise funds to put up a solar powered electric fence around the dump site to prevent the elephants from gaining access, and stop the unnecessary deaths. In addition to putting up the fence, the anti-poaching team (Victoria Falls Anti Poaching Unit - VFAPU) will patrol the fence.
A fundraising page has been established to help raise money for this cause. You can make your donations here. If you are in Victoria Falls, you can drop a donation in one of these ele-banks which were constructed using used bottle tops by local Victoria Falls artists who also want to make a difference. "They will be placed in prominent areas around town, including the airport". - The Victoria Falls EleFence


Victoria Falls artist constructing donation boxes out of wire and used bottle caps
Testimonial
"Boo,
We are finally back home in Canada, and I just wanted to thank you for the excellent Vic Falls tour that you planned for us. The hotel (Vic Falls Safari Club) was absolutely fantastic with beautiful rooms, marvelous staff and a great view of the waterhole. The guides on each of the tours we did were excellent - in particular Wonder who took us on the Vic Falls tour. He was very knowledgable and even took the time to help find a pharmacy that was open in town to get some medication for my wife.

Dealing with you was an absolute pleasure. You made the whole process of organizing and booking the vacation easy, particularly since the time difference made phone conversations difficult.

Many thanks, and we will make sure to recommend you to anyone we know that is heading to Vic Falls and of course we will use you again when we come back. " - Ian and Judy
Click here to read more testimonials
Hotels & Lodges Update
Over the last few years, some of the hotels and lodges in Victoria Falls have experienced phenomenally high occupancies. This has prompted a few of them to expand their premises in order to accommodate more guests at a time. A couple of other hotels have changed their management companies in order to stay remain competitive and profitable. Read more below
Gorges Lodge have opened up a beautiful new tented section called Little Gorges to add to their romantic chalets on their cliff-edge concession. You can find more information about them here.
More Room at Ilala Lodge Hotel
Ilala lodge is a small boutique hotel focused on offering high quality accommodation and service. It has consistently experienced high occupancies over the last few years and because of this the owners decided to increase their room capacity by building a new wing with 22 rooms, which includes 2 executive suites. The rooms are big and spacious and completed with outstanding decor. Of course their impressive view of the spray of the Falls makes this hotel an obvious choice for any discerning traveller. What a great development for Victoria Falls as a whole!
Legacy Hotels Take Over Management of African Sun Resorts
Africa Sun Hotels have contracted the South African group Legacy Hotels to manage and refurbish a few hotels in Zimbabwe, including Victoria Falls' Elephant Hills Resort and The Kingdom Hotel, as well as Hwange Safari Lodge in Hwange National Park. The hotel facelifts will take place over the next three years, while debts accumulated by the Africa Sun hotel group have already been reduced by 44%.
Wild Horizons Handling Stanley & Livingstone and Ursula Camp
Wild Horizons was awarded the marketing and management contract for the Stanley & Livingstone Hotel as well as neighbouring Ursula Camp. The contract also includes management of the Nakavango Conservation Program which is run on the same estate, and the various game activities that are run on the Victoria Falls Private Game Reserve.
New Lodge Opening Soon
Batonka Guest House will be the newest addition to lodges in Victoria Falls. Building is currently underway and the opening is scheduled for June of this year. Batonka Lodge is located just 2.5kms from the Victoria Falls Rainforest entrance, in the same area at Cresta Sprayview Hotel. We will be updating the website when the lodge opens. Be sure to like our Facebook page to stay up-to-date with what's happening.
Featured Lodge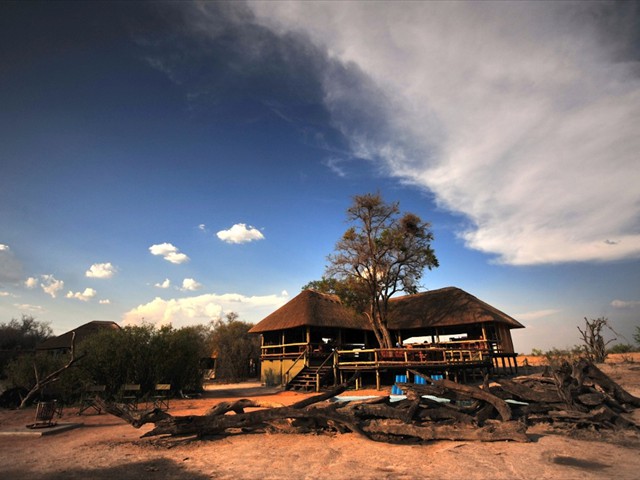 Nehimba Lodge - Hwange National Park
Nehimba Lodge is a thatched, fully inclusive lodge on a huge private concession in the northern part of Hwange National Park. Its location is in an area that does not usually get a lot of traffic, and is far from the cluster of other safari lodges concentrated in the opposite side of the national Park. The lodge offers a unique game experience sitting in between two ecotone regions.
We feature Nehimba Lodge because it is one of the top quality lodges in Hwange National Park, AND they offer a year round "pay for 2 stay for 3" nights rate, which means that they have great rates during high season. Get your high season bookings early because with those great rates, you might get disappointed if you wait too long.
The Future of this Newsletter
Producing these Newsletters unfortunately takes a considerable amount of time and effort. Time is money and hence some issues have simply had to be postponed, abandoned or cut short.
If we were to introduce a nominal charge amongst all our subscribers, it would pay for the production. We could have better newsletters produced quarterly and on time, packed full of interesting articles about the Victoria Falls region.
We are requesting your feedback. Would you pay $10 per annum for 4 quarterly issues of the Victoria Falls Bush Telegraph? Please respond here with a simple Yes or No. Thank you for taking the time.
Click here to subscribe and receive future editions of our newsletter directly by email.
Don't forget you can follow us on Facebook and Twitter for all the latest travel information updates from the region, and we're always here to help with your travel logistics.
Contribute - If you would like to submit your safari story or send us some pictures to feature in an upcoming issue please click here.