Chobe National Park
Famous for its phenomenal wildlife - Chobe is the third largest park in Botswana encompassing swamps, floodplains and woodlands
The Chobe National Park established in 1968 covers 11700 square kilometres and is situated in the northern most part of Botswana. Encompassing swamps, floodplains and woodlands it is the third largest Park or Reserve in the country after Kgalagadi Transfontier Park and the largest of them all the Central Kalahari Game reserve.
The Chobe River, which is without doubt one of Africa's most beautiful rivers, forms its northern boundary and in the extreme south-west it borders the Moremi Game Reserve. The park is famous for its wildlife and supports a diversity and concentration unlike anywhere else in Botswana. In the dry winter months over 50 000 elephants can converge on the Chobe River to drink - an awe-inspiring sight.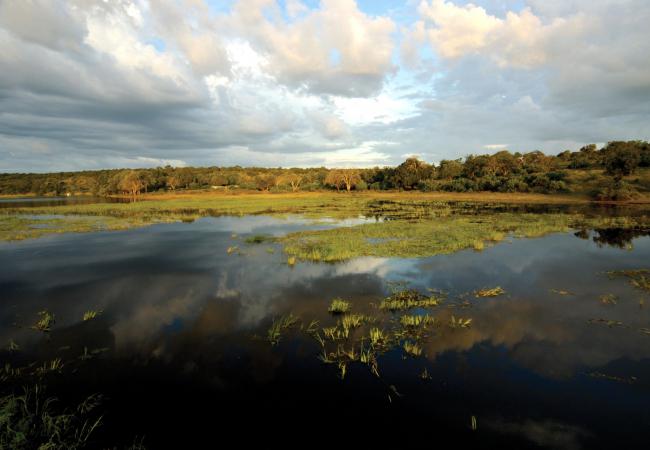 View of the Chobe River
Best Time for Chobe
The best time to visit Chobe National Park is from May to October with the hottest months being September and October and the cooler winter months May to August. This is when one is likely to experience the most intense game viewing around the waterholes and rivers, but it is also the busiest and most expensive time to visit. The migratory birds arrive from August to December.

Along the Chobe River this intense animal activity diminishes with the arrival of the rains around November but a new season known as the green season emerges. During this time bird and insect life is prolific, the savannah turns from semi desert into lush green plains and the resident herds gorge themselves. Wild flowers abound and the plains game drop their young in their thousands. Large herds of wildebeest and zebra gather on the Savute plains and Mababe depression. It's not the time for a quintessential safari but it does have a magic all of its own.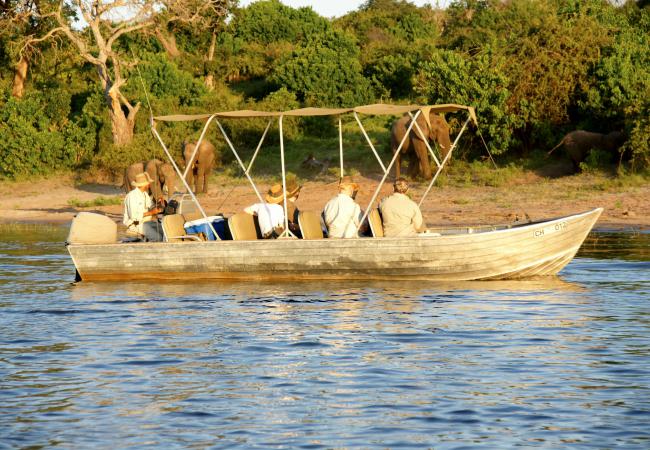 A river game cruise along the Chobe River banks (image from Botswana Tourism)

The Chobe National Park can be split in four distinct areas: the Chobe Riverfront, Linyanti, Savute and the Nogatsaa area.
The Chobe Riverfront is the most accessible being situated close to the town of Kasane which has an international airport. Good tar roads link to Francistown, Victoria Falls in Zimbabwe, Livingstone in Zambia and Namibia. Kasane has a plethora of Hotels and Lodges along the riverfront all with easy access to the park entrance gate only a few kilometres away. Read our Chobe Riverfront accommodation page for options. The ease of access and prolific wildlife attracts many people, so it does get very busy especially in the high season July to September. Its locality only 90kms from Victoria Falls also adds to its popularity as many visitors to the natural wonder of the world will incorporate at least a day trip if not more to the Chobe River.
On any one game drive along the loop that hugs the river's edge you are likely to see a huge variety of different animal species. It is the only place in Botswana where you can see the water loving Puku, an antelope similar to the Lechwe, but it is the enormous herds of elephant that has made the Chobe so famous. There are also regular sightings of lion, leopard and cheetah. A river cruise gets you up close and personal with hippo, crocodile and a mind boggling array of water birds and offers the chance to experience the park and the animals from a different vantage point. Over 460 bird species have been recorded in the park, making it one of Africa's premier venues for bird safaris.
Linyanti lies on the northwest boundary and is one of most beautiful, wild and secluded destinations the country has to offer. The vast Kwando, Selinda and Linyanti concessions offer outstanding game viewing and a landscape so beautiful that it rivals that of the Okavango delta, with picturesque channels, lagoons, reedbeds and papyrus stands. During the dry season the permanent waters of the Kwando and Linyanti rivers are important migration points attracting huge quantities of game. Its remote location lends itself to fly in safaris and accommodation in one of the lovely safari lodges, which are however quite pricey. Self-drive visitors can stay in the public campsite but driving around is limited as most of the areas are private concessions.
Savute lies within the interior of the Chobe National Park and offers a complete contrast to the water rich Chobe Riverfront and Linyanti areas with an almost desert-like appearance. The Savute channel which was dry for almost 30 years started flowing again in 2009 bringing much needed water from the Linyanti River and releasing it into a vast swampland known as the Savute marsh. The game viewing is excellent all year round with this now permanent water source and the nutritious grasses become a vital energy source for wildebeest and zebra during the rainy season when they gather in their thousands. It is best known though for its predators especially lion, cheetah and hyena which have large resident populations. You will have to go a long way to beat this as a true African bush safari. It is remote and access is once again difficult - light aircraft fly in safaris being the easiest and quickest option. It is however a popular destination for self-drive tourists but 4x4 vehicles are essential.
Nogatsaa is the least utilised area of the Chobe National Park with currently no accommodation or camping options available. Mobile safaris can be tailor-made by certain companies who do have access to some sites. Unlike the sandy soils of Savute, the soils of Nogatsaa are mostly clayey giving rise to several natural pans, these mostly dry up during the dry season apart from a few which are artificially topped up by boreholes. This source of water attracts hundreds of elephant and other game species.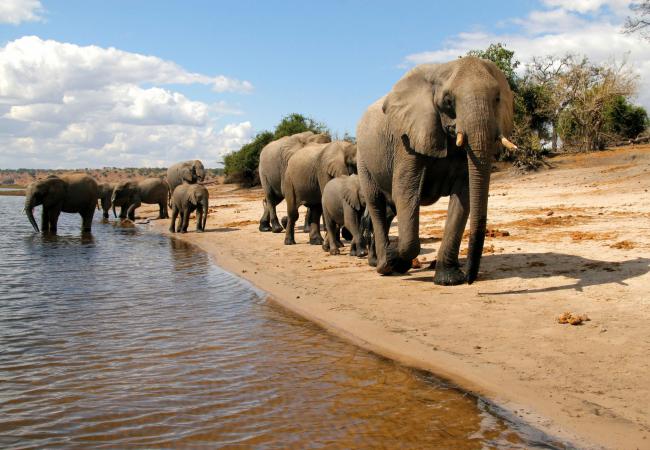 Elephants by the Chobe River
Chobe National Park Tours
Day trips and overnight trips are possible into this fantastic wildlife park. Chobe Day trips take you onto the Chobe River and a drive into Chobe National Park. Overnight trips also allow you to spend at least a night inside the park, camping with experienced guides.
Can't find what you are looking for? Use Google Search to search this website for any term you are looking for.


Share with others!

The Vic Falls Bush Telegraph
our Free Quarterly E-Newsletter

Each quarter there's loads of information about conservation and wildlife, a destination update, specials offers and discount packages, traveller tips and stories, book reviews, African folktales, environmental reports, bush recipes, best photo competitions and tons more....

"Your newsletter keeps me informed about new and old and is the best I've seen in a long while - informative, not commercial, just plain perfect!" I.Skliros

This Quarter we are also giving away a Free Screensaver to Every New Subscriber.