Home | What's on in Victoria Falls
What is on in Victoria Falls
Check out the listings below to see if anything interesting is happening while you are visiting Victoria Falls. These are mostly local events for the local community, but visitors are always welcome, so come along and meet some of the interesting folk who live in Victoria Falls...
Here's what is on in Victoria Falls

TICK TOCK TICK TOCK - IT'S GIN O'CLOCK
Friday 15th December, 2017 to Tuesday 2nd January 2018 (Daily) | From 12pm | Ilala Lodge | US$12 per person
Sip in a New Year with the best Craft Gin boards available on sale at the Pool Bar at Ilala lodge for $12 throughout this Festive Period.
The Gin Board is characterised by 4 types of Gins with fantastic exotic flavours:
• Musgrave Pink Gin garnished with grapefruit
• The classic Bombay Gin garnished with lemon
• Inveroche Gin Classic (South African Crafted Gin) garnished with strawberries
• Inveroche Verdant (South African Crafted Gin) garnished with cucumber.
All the above gins will come with pink or clear tonic water.
Come and enjoy the gins and usher in a new year at Ilala Lodge!
On New Year's Day, enjoy a delicious brunch | From 9am to 12pm | $20 per adult, $12 per child
A full breakfast buffet and hot breakfast choices will be available in addition to:
- Breakfast Burritos
- Spinach, bacon and egg salad
- A trio of egg cups with a spicy tomato salsa and a choice of the following fillings: Slow roast peppers and mushrooms; Pastrami and Cheddar Salmon; Chive and Spinach
- Cappuccino, Bloody Mary's and Buck's Fizz.
FESTIVE SEASON JAMS
Friday 22nd December 2017 | 6pm | Zambezi River, Victoria Falls | Free Entry!
Head out to the riverside on Unity Day for some awesome jams from the inspiring Djembe Monks and groovy Victoria Falls locals - Flying Bantu.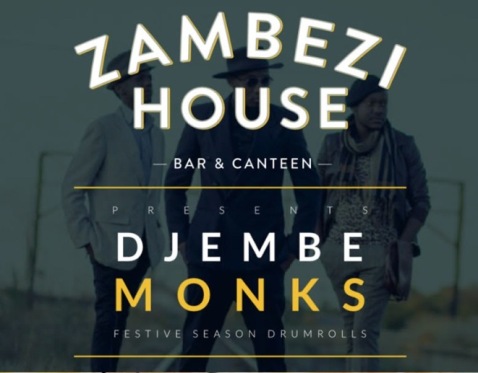 Zambezi House hosts a night of good music, accompanied by good food and drinks. There will be local beer bucket specials, pizza specials, and cocktail specials to add to your delight.
Entrance is FREE!!!
For more information, call +263 213 284 1130
GROOVE CRUISE
Saturday 23rd December 2017 to Wednesday 3rd January 2018 | 7pm | Zambezi River, Victoria Falls | US$40 per person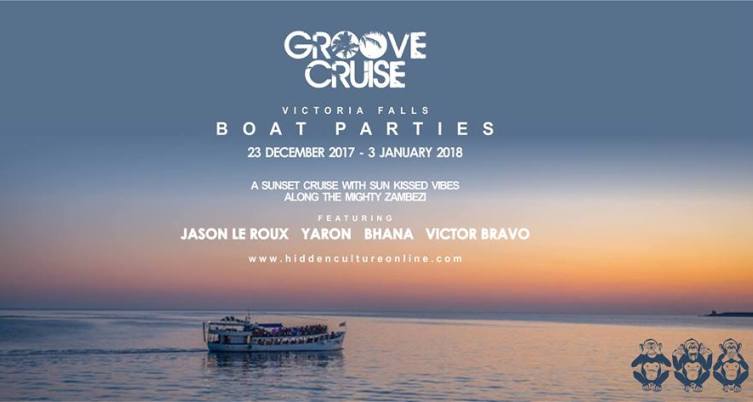 A Sunset Cruise with Sun-Kissed Vibes Along the Mighty Zambezi River, featuring, Jason Le Roux Yaron, Bhana & DJ Victor Bravo
The $40.00 per person includes a $20.00 drinks ticket
Tickets will be on sale from 1 December, at Three Monkeys, Victoria Falls or online at www.hiddencultureonline.com
BUSHTRACKS EXPRESS CHRISTMAS DINNER RUN
Sunday 24th December, 2017 | Bushtracks Express Steam Train & Jafuta Siding | US$180 per person | 17h15 check-in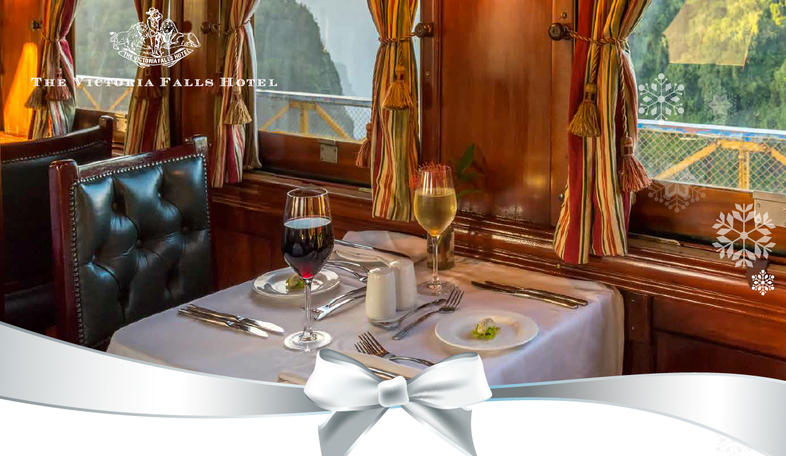 Experience a magical night aboard the Bushtracks Express (Zimbabwe), for a unique Christmas Eve experience. The Bushtracks Express is a luxurious steam train encapsulated in the air of romance and the beauty of a bygone era, harmoniously paired wit modern comfort and cuisine. Bushtracks Africa, in partnership with the Victoria Falls Hotel, will make your Christmas one to remember this festive season.
Enjoy the exquisite sights of the iconic waterfall from the train and disembark onto the bridge for sundowners. Once back aboard the train you will be ushered to the train's magnificent dining carriage as it chugs into the Jafuta Conservancy. You will then be treated to a five course gourmet Christmas Eve dinner. Please see the menu below provided by Victoria Falls Hotel.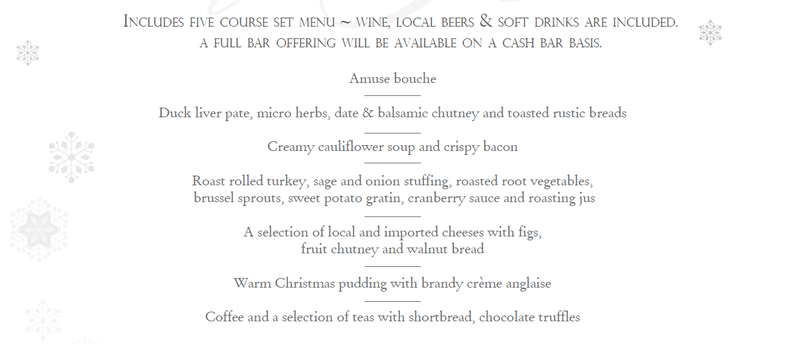 All visitors are welcome but reservations are essential. An early booking will ensure you experience your ideal Christmas Eve excursion.
For bookings, contact us
FESTIVE SEASON EVENTS @ THE PALM
Sunday 24th and Monday 25th December, 2017 | The Palm Restaurant, Ilala Lodge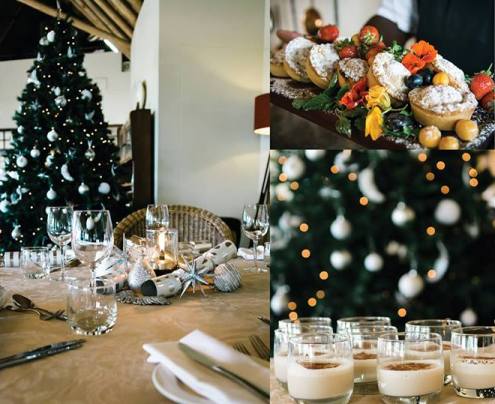 The Palm Restaurant at Ilala Lodge will be hosting a festive Christmas Eve Dinner, Christmas Day Lunch and Dinner and New Year's Eve Dinner. Mouth-watering Christmas and New Year menu includes gourmet pork terrine, turkey with all the trimmings and a decadent whiskey Christmas pudding!
24 December 2017 - Christmas Eve Dinner Menu @ $38 per person:
Pork Terrine or Cauliflower & Chestnut Soup
Roast Turkey with all the trimmings
Traditional Christmas Pudding with Whiskey Cream
(Vegetarian & Kids Menu available)
25 December 2017 - Christmas Day Brunch @ $23 per adult and $12 for children:
Have an especially relaxed Christmas and avoid the kitchen this year by having a festive brunch at The Palm.
Their full breakfast buffet and hot breakfast choices will be available in addition to a couple of jolly extras:
Honey glazed gammon
Turkey with sausage, sage and onion stuffing
AND delicious homemade traditional mince pies!
As well as cappuccinos, unlimited Eggnog, and our hugely popular berry mimosas!
For more information, email fnb@ilalalodge.co.zw or phone +263 (0)213 2844737/8/9
LIVE SUNDOWNER SESSIONS & POOL PARTY
Thursday 28th December 2017 | 3pm til late | In-Da-Belly, Rest Camp, Park Way Drive, Victoria Falls | US$5 per person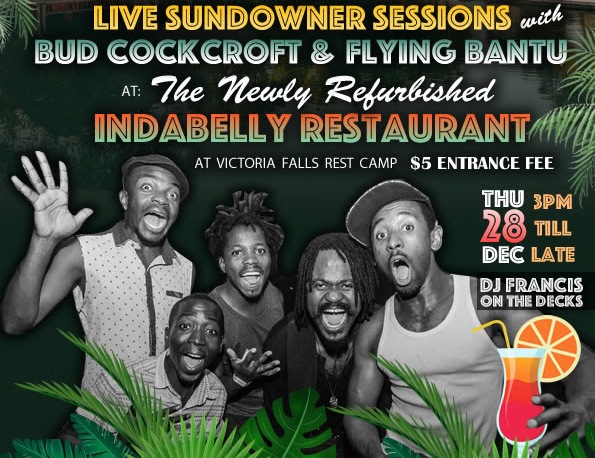 FULL MOON DINING AT THE LOOKOUT CAFE
Tuesday, 2nd January 2018 | 6pm to 10pm | The Lookout Cafe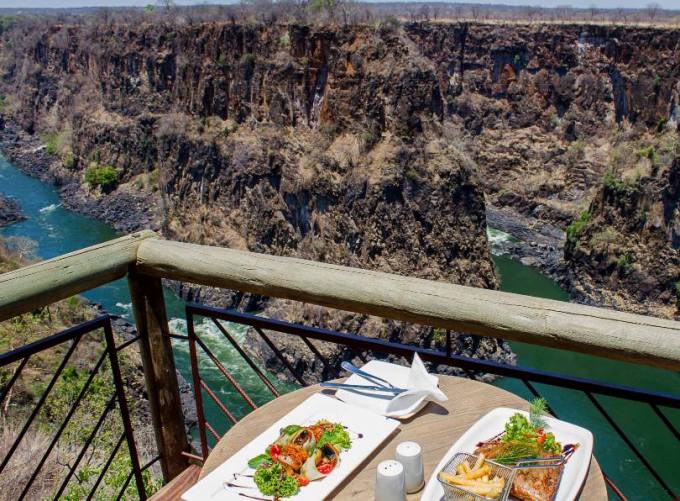 For a wonderful view accompanied with good food and a relaxed atmosphere, experience dinner and drinks under the moonlight at The Lookout Cafe.
Full Moon Dinner Dates for 2018
2 January
31 January
2 March
31 March
30 April
29 May
28 June
27 July
26 August
25 September
24 October
23 November
22 December
"The Lookout Cafe is perched 120m above the turbulent rapids of the Zambezi River, overhanging a giant chasm of the Batoka Gorge, just downriver of the iconic Victoria Falls Bridge, which forms part of it's spectacular backdrop. Wild Horizons looks forward to welcoming you to this completely new and uniquely positioned dining experience!" - Wild Horizons
Wi-Fi: Free \ Cuisine: A'la Carte menu \ Free Shuttle transfers: Please call +263 213-2842013 to arrange.
Follow us for more happenings
Don't forget to follow us on Facebook - anything happening will be posted there:-



For Annual Events in Victoria Falls click here.



Past Victoria Falls Events
PAINTING ON THE EDGE
4:15pm to 7pm | The Lookout Cafe, Victoria Falls
Express yourself on canvas while the sun sets and the full moon rises over the breathtaking Zambezi gorges.
Painting on the Edge is hosted by Art of Africa at the Lookout Cafe, perched right on the edge of the gorges, 120m above the Zambezi River!
Dates for 2017
6 August
5 September
4 October
3 November
2 December
Sunset, moonrise, wine and creativity await! Book an easel to unleash your artistic side, guided by a personal tutor, taking home your own masterpiece. Fun to do alone, or in pairs - limited spaces available. The art material and an hour long session with a private tutor is included.
For prices and to make your booking, email artofafricazimbabwe@gmail.com
BRUNCH AT THE PALM RESTAURANT
Sunday 26th November, 2017 | 10am to 12pm | The Palm Restaurant @ Ilala Lodge
| US$ 18 per adult, US$12 per child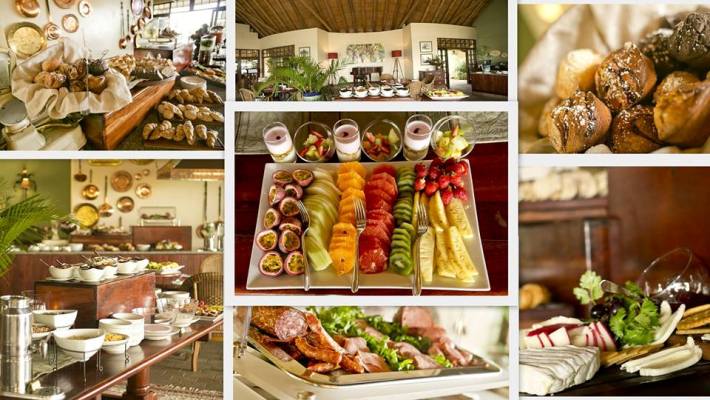 The Palm Restaurant at Ilala Lodge host a month-end brunch with their full buffet and hot breakfast collection, plus:
• Breakfast Burritos
• Spinach, bacon and egg salad
• A trio of egg cups with a spicy tomato salsa and a choice of the following fillings: Slow roast peppers and mushrooms; Pastrami and Cheddar; Salmon Chive and Spinach
As well as Cappuccinos, Bloody Mary's and Berry Mimosas
For more information and bookings, email fnb@ilalalodge.co.zw or call +263 213 2844737/9.
OUTDOOR CINEMA EVENT
Saturday 11th November, 2017 | 6:45pm | Rainbow Hotel, Victoria Falls | US$2 per person
Nitrus Outdoor Cinema will be showing the next movie at Rainbow Hotel - a cosy night under the African sky.
Join other movie lovers and bring the kids in to watch the animated comedy adventure - The Emoji Movie. The movie will begin screening at 6:45PM.
On sale will be popcorn, candy floss, burgers and hot dogs, ice cream and more!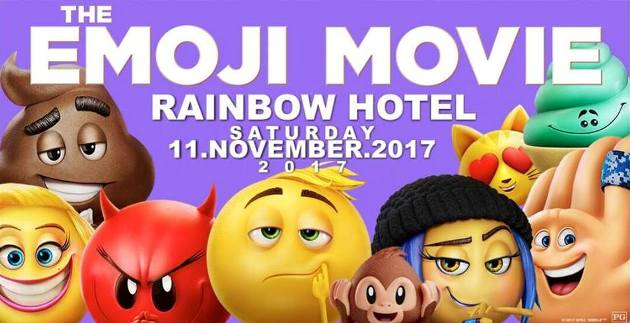 CINE CLUB
Friday 10th November, 2017 | 7pm | Alliance Francaise Annexe De Victoria Falls, 518 Reynard Road, Victoria Falls | Free Entry
Enjoy a French Film under the stars hosted by Alliance Francaise.
The next movie under the stars: L'EFFET AQUATIQUE (Aquatic Effect) will be held on Friday 10 November at the Alliance Française Annexe de Victoria Falls, 518 Reynard Road at 7:00pm. Its an excellent comedy fiction for all ages and is FREE! Bring your friends and family and enjoy a night out with them . You can bring your snacks and drinks. See you there!
Synopsis: Samir falls in love with Agathe, a swimming-instructor. To seduce her he pretends he doesn't know how to swim so she can teach him.
For more information, you may send an e-mail on annexvicfalls.bulawayo@afzim.org or phone on +263 774 850 049 (Whatsapp)
ZAMBEZI WHITE WATER FESTIVAL
9th to 11th November, 2017 | Livingstone, Zambia
Get ready for the best event on the adventure sports calendar in Livingstone this year!
From the 9th to the 11th of November 2017, Safari-Par-Excellence is hosting the inaugural "Zambezi White water Festival". Rafting Teams of six compete for the "Zambezi Champion" title in two days of class 5 white water mayhem and fun in the sun.
The Zambezi white water rafting is arguably the world's best one-day white water rafting section. A grade 5 pool drop river that is absolutely off the wall cranking in November, when the river is at it's lowest point.
Teams of 6 each compete in three main events, with a bonus carnage session. The three main events are:
1) A Timed downriver race between Rapid #1 "Against the Wall" and rapid #4 "Morning Glory".
2) A Le Mans-style sprint between rapids #5 "Stairway to Heaven" and #6 "the Devil's toilet bowl"
3) A timed slalom event with attainment areas, between rapids 12a, b and c "The three ugly sisters" and rapid 13 "The Mother".
Finishing off the day with a best surf/carnage spectacular in rapid #18 "Oblivion". There are some spectacular prizes and heaps happening around the race days on and off the river.
The event takes place over two days and our accommodation packages include three nights' accommodation and access to all the events around the river festival.
• Thursday the 09th of November registration opens 10 am Victoria Falls Waterfront
• Friday the 10th of November is Team practice/strategy day rapids 1-25
• Saturday the 11th of November is Race Day Rapids 1-25 and prize giving at the "MOTHER OF ALL PARTIES"
• Sunday the 12th of November is departure day
Zambezi White Water Festival Entry-USD 380pp
Includes: Cruise on registration day; Access to Festival events; Registration pack; Raft days' lunch and supper
Other packages are available. Contact Saf Par on zaminfo@safpar.com.
Get involved and celebrate the Zambezi!
POP UP DINNER - by the VICTORIA FALLS ANTI-POACHING UNIT
Saturday 7th October, 2017 | Secret Bush Location | US$60 per person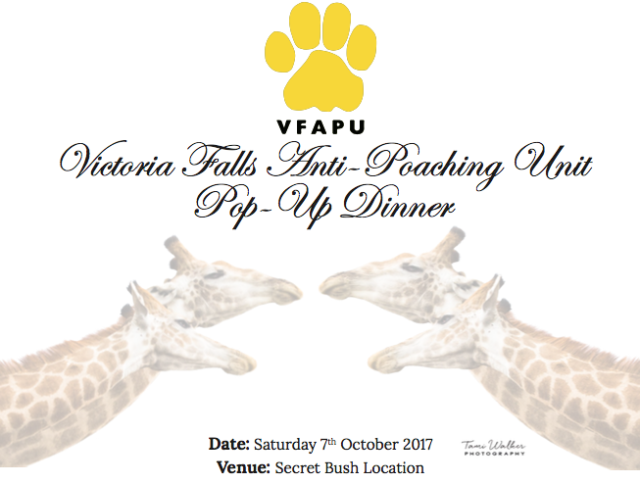 The Victoria Falls Anti Poaching Unit host an evening of culinary delight with a popup dinner at several fantastic Victoria Falls locations!
On arrival, you will be welcomed with a cocktail before a 5-course dinner where each course is prepared and served by the head chef at
Course 1 - Ilala Lodge
Course 2 - Zambezi Explorer
Course 3 - Wild Horizons
Course 4 - Masuwe Lodge
Course 5 - Bayete Lodge
Each course will be paired with wines! Cash bar thereafter
For bookings, email jonathan@zambeziexplorer.com
BLANKETS & WINE
Saturday 30th September, 2017 | 6pm til 9pm | Alliance Francaise Annexe De Victoria Falls, 518 Reynard Road, Victoria Falls | Free entry!
The Alliance Francaise Annexe de Victoria Falls will be hosting a social event filled with live music, spoken word, wine and treat!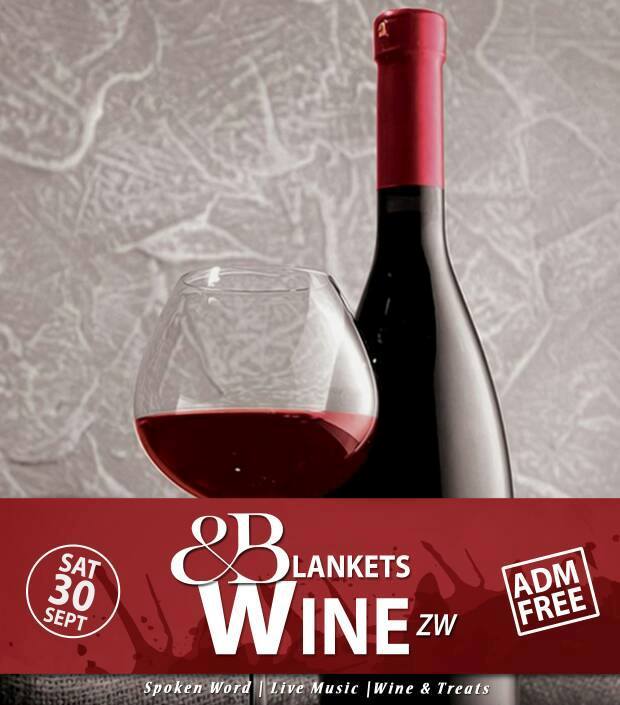 Entry is free, so gather for a few hours of fun and art at 518 Reynard Road.d.
For more information, phone +263 774 490 100
CARL JOSHUA NCUBE'S POP UP COMEDY CLUB
Wednesday 27th September to Sunday 1st October, 2017 | The Three Monkeys Restaurant, Victoria Falls | FREE ENTRY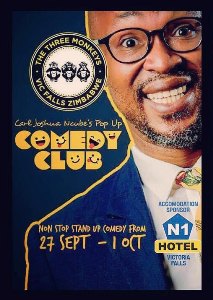 For 5 nights, Carl Joshua Ncube will be cracking ribs at The Three Monkeys Vic Falls from September 27th until October 1st, in the Vic Falls edition of Carl Joshua Ncube's Pop Up Comedy Club.
The Wednesday and Thursday night shows start at 6pm, and the Friday to Sunday shows start at 9:30pm.m.
Reserve your table at The Three Monkeys to get a good seat.
Email res@3monkeys.co.zw or phone +263 213 2847326
Check out the Three Monkeys Facebook page for more information.
FLYING BANTU @ THE THREE MONKEYS...THE SEND-OFF SHOW
with MOKOOMBA!
Saturday 23rd September, 2017 | From 8pm | The Three Monkeys Restaurant, Victoria Falls | FREE ENTRY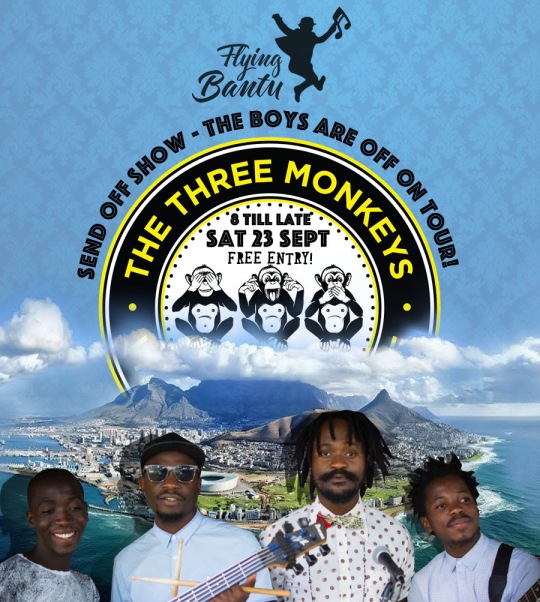 The boys are off for a 2 month tour in Cape Town, so come down to The 3 Monkeys for a send-off show. Who says goodbyes can't be fun??? Plus, they have a little surprise for you if you are attending this one.
Flying Bantu are an Afro-Fusion act right from underneath the magical spray of the mighty Victoria Falls in Zimbabwe. Their unique fusion of rock, reggae, funk and jazz along with a traditional African signature makes for an indulgent and meaningful listening experience.
THE FRENCH NATIONAL DAY
Friday 14th July, 2017 | 6:30pm til late | Alliance Francaise Annexe De Victoria Falls, 518 Reynard Road, Victoria Falls | US$10 per person
The Alliance Francaise Annexe de Victoria Falls will be hosting an event known as BASTILLE DAY (on the occasion of the celebration of the French national day).
Come and celebrate this event with us on Friday 14 July 2017 at Alliance Francaise Annexe de Victoria Falls, 518 Reynard Road. The event is $10 per person advance tickets are going for $5 and can be found at the Alliance Francaise Annexe from Tuesday 11 July 2017.
Also enjoy the live performance by the band Ecstasy with family and friends.
Enjoy Beef Bourguignon and a glass of red wine to keep you warm.
Tickets are limited so book yours soonest!
For more information, you may send an e-mail on annexvicfalls.bulawayo@afzim.org or phone on +263 774 850 049 (Whatsapp)
SECRET SUNRISE NOMADIC
Saturday 8th July, 2017 | 8am | The Lookout Cafe | US$10 minimum donation per person

The secret is out... The oh so groovy thing that is happening at 8am on July the 8th in Victoria Falls, at The Lookout Cafe… is Zimbabwe's first Secret Sunrise and we're dancing for a good cause... #ShareTheJoy.
This is the Nomadic version of the celebrated and very popular Cape Town birthed Secret Sunrise.....
he dance is full of a wonderful variety of music and great fun for all ages.
Note: as there are limited tickets - we encourage you to book immediately by completing this online form - https://goo.gl/forms/OMFljZ44hgnGxWgX2 and donating...
Ticket sales are officially donation driven - the suggested minimum donation is U$10 - and the proceeds go to GreenPop
INTERNATIONAL DAY OF YOGA (VICTORIA FALLS)
Sunday 25th June, 2017 | From 8:30am | Zambezi Explorer Jetty | Free Entry!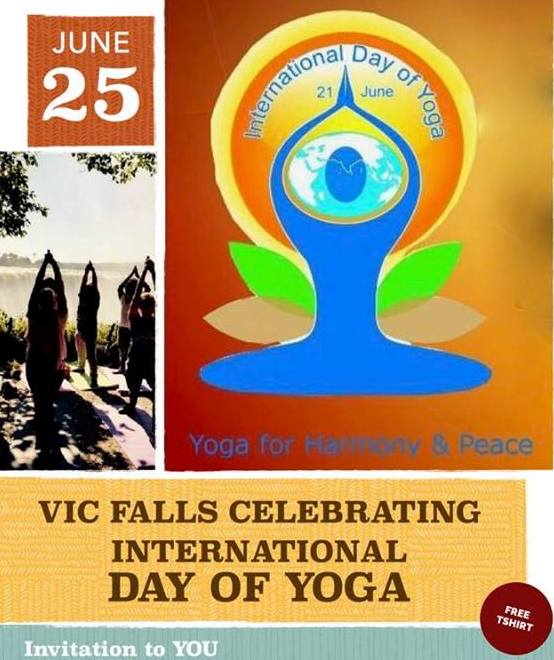 Come together for the third annual global celebration of yoga in Victoria Falls. All residents and visitors are warmly invited to take part in a fun, informative and practical introduction to yoga, at an event hosted by the Embassy if India (Harare), Art of Living and Brahma Kumaris, along with the Vic Falls yoga community.
Join people all over the world and from all walks of life, to learn a simple sequence of movement and breath, on the beautiful banks of the Zambezi, and experience a taste of the well-being that yoga delivers. Newcomers are most welcome. Tea and fruit refreshments to be served after, kindly sponsored by Seventh Heaven Foods.s.
There will be free transport to and from the event, with a bus leaving from Kingdom Hotel and from Sprayview hotel at 8am (kindly sponsored by Love of Africa).
Please bring an exercise mat if you have one, or a towel or blanket in case there aren't enough extras.
Wear comfortable clothing that allows you to move freely. Bring yourself, bring your friends, bring your good vibes.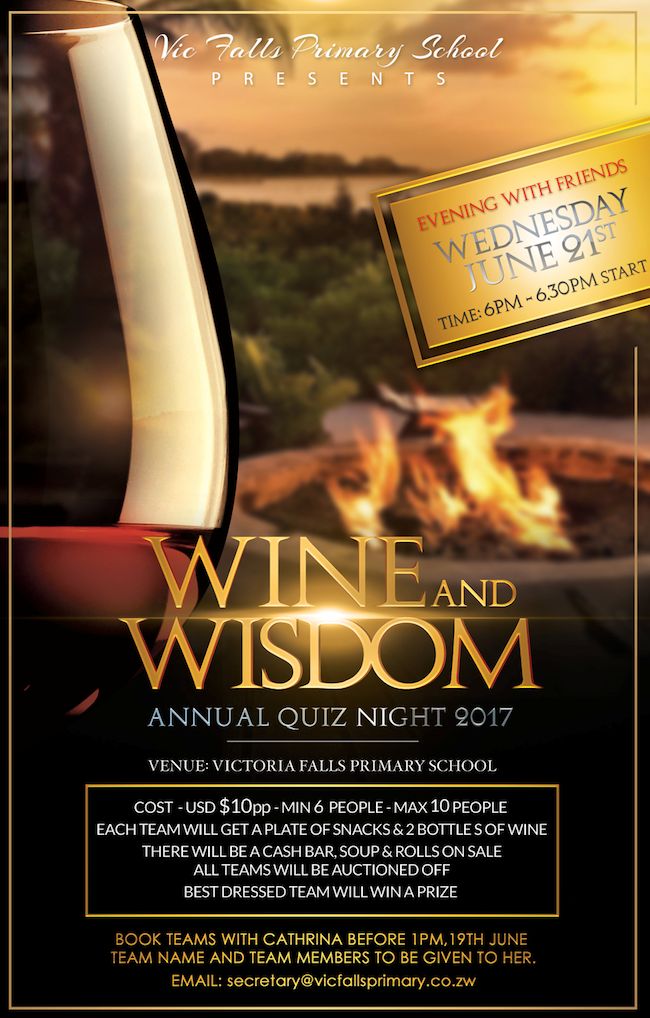 AN EVENING WITH FRIENDS - ANNUAL QUIZ NIGHT
Wednesday 21st June, 2017 | From 6pm | Victoria Falls Primary School | Free Entry!
The annual quiz night at Victoria Falls Primary School will be on June 21st this year. Join other teams battle it out in an entertaining fundraiser!
Each team will receive a plate of snacks plus 2 bottles of wine (to make things interesting)
There will also be a cash bar, soups and rolls on sale - winter is here so stay warm.
Dressing is important - there will be a prize for the Best Dressed Team!
To book your team name and members, contact Cathrina by the 19th of June, 1pm.
Email: secretary@vicfallsprimary.co.zw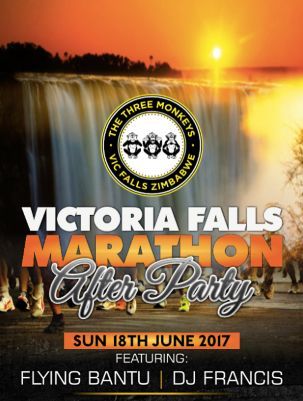 VICTORIA FALLS MARATHON AFTER PARTY
Sunday 18th June, 2017 | Music from 5pm | Three Monkeys, Victoria Falls
Join locals and other marathon runners for a party at Three Monkeys Restaurant, Victoria Falls.
It is promising to be fun night with great music with local talent Flying Bantu and the legendary DJ Francis on the decks!
FATHER'S DAY LUNCH
Sunday 18th June, 2017 | From 12pm to 4pm | The Palm Restaurant, Ilala Lodge
Spoil the dads this Father's day with a scrumptious meal at the fabulous Palm Restaurant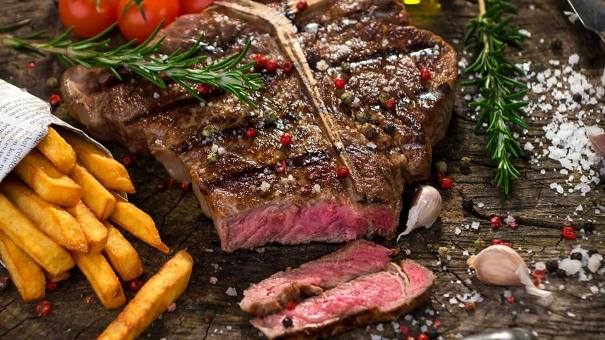 For more information, email fnb@ilalalodge.co.zw or phone 44737/8/9
BAOBAB TRAIL RUN
Saturday 3rd June, 2017 | From 7am | K100 (about US$10) per entry | United Air Charter, Livingstone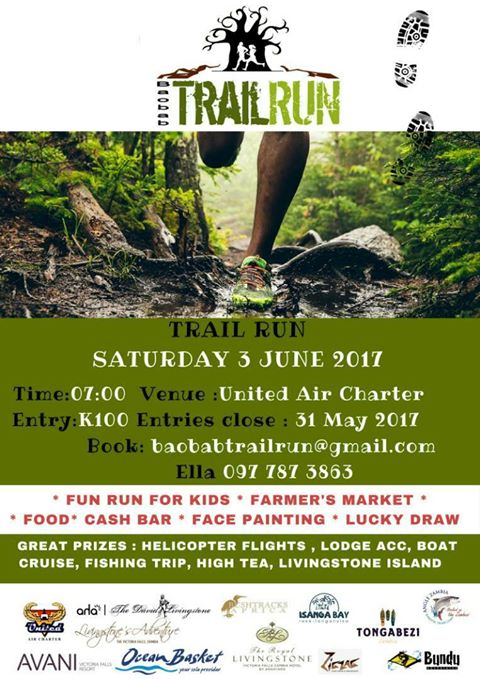 3.5kms, 7kms or 15kms? - A mild marathon in the wilderness (could be a warm-up for the big one across the bridge). It's fun either way!
It will be awesome for the kids - what a great way to get fit together! Face painting, lucky draw, food, cash bar, farmers market and great prizes for the winners in the form of activities or accommodation.
Entries close on May 31st 2017 - To make your booking, email baobabtrailrun@gmail.com or contact Ella on +260 (0)97 787 3863
FLYING BANTU EP LAUNCH PARTY
Friday 19th May, 2017 | From 7pm til late | Imvuvu Bar | Free Entry!
Pencil this one in! Free show on Fri 19th May at Invuvu Bar with Kweseka Zimbabwe & Chikenbus Band
Live broadcast on Breeze FM - 91.2
We wonder if the legendary DJ Francis is going to be making an appearance?? #CruisingAttitude
No booking required. Just be there!
Share with others!

Can't find what you are looking for? Use Google Search to search this website for any term you are looking for.


The Vic Falls Bush Telegraph
our Free Quarterly E-Newsletter

Each quarter there's loads of information about conservation and wildlife, a destination update, specials offers and discount packages, traveller tips and stories, book reviews, African folktales, environmental reports, bush recipes, best photo competitions and tons more....

"Your newsletter keeps me informed about new and old and is the best I've seen in a long while - informative, not commercial, just plain perfect!" I.Skliros

This Quarter we are also giving away a Free Screensaver to Every New Subscriber.
---
Return from What's on in Victoria Falls to our Victoria Falls home page