Home | What's on in Victoria Falls
What is on in Victoria Falls
Check out the listings below to see if anything interesting is happening while you are visiting Victoria Falls. These are mostly local events for the local community, but visitors are always welcome, so come along and meet some of the interesting folk who live in Victoria Falls...
Here's what is on in Victoria Falls

VICTORIA FALLS ANTI-POACHING FUNDRAISER
Friday 8th November, 2019 | From 5pm | US$ 75 per person | From Barclays Bank car park between Ilala Lodge and the Post Office, Victoria Falls
Join a fun event for a VERY GOOD CAUSE! The annual fundraiser begins in the middle of town and takes guests to SECRET LOCATIONS around town. Just bring your cash for the bar.
Limited tickets available.

For more information and bookings, contact Bernadette at +263 777 892 937


UPCOMING EVENTS @ THE BREWERY
From Friday 18th October, 2019 | From 8pm | No cover charge | The River Brewing Co, Elephant's Walk Mall, Victoria Falls
Follow us for more happenings
Don't forget to follow us on Facebook - anything happening will be posted there:-




For Annual Events in Victoria Falls click here.



Past Victoria Falls Events
ZAMBEZI WHITE WATER FESTIVAL
26th to 28th October, 2019 | Livingstone, Zambia
Open to all, this festival is a celebration of the magical River we call home!
From the 26th to the 28th of October 2019, Safari-Par-Excellence is hosting the THIRD "Zambezi White Water Festival". Rafting Teams of six compete for the "Zambezi Champion" title in two days of class 5 white water mayhem and fun in the sun - Big water, timed events, live music, delicious food and amazing views!
• Arrival day is for registration, kits, dinner and festivities.
• Day 2 is practice day where participants familiarise themselves with the Zambezi River and their team mates, plus some live music and festivities
• Competition Day! The race takes place from Rapid #1 – #25 and the format includes a 'Test of the Best', Zambezi Le Mans sprint and a slalom race with a fun 'Surf & Turf' competition for the best surf on the iconic Rapid 18, Oblivion. On Saturday evening we will screen the days events, have the prize-giving ceremony followed by THE MOTHER OF ALL PARTIES!
The event takes place over two days and our accommodation packages include three nights' accommodation and access to all the events around the river festival.
packages are available. Contact Safari Par on productions@safpar.com.
Get involved and celebrate the Zambezi!
LIVINGSTONE SPORTS FESTIVAL - MOUNTAIN BIKE CHALLENGE
Sunday 22nd September, 2019 | From 7am | K260 registration fee | Falls Park Shopping Centre, Livingstone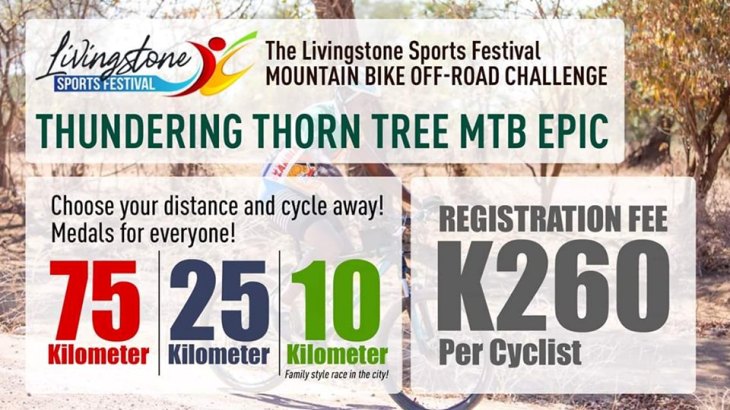 This will be the first-ever epic ride held in Livingstone. This is truly going to be EPIC. The ride will be hosted by Thorn Tree House starting at Falls Park Mall towards Batoka Gorge and finishing at Thorn Tree House. All the routes have been mapped out to give you and your bike a good test. We expect you to see a lot of what Livingstone is known for along the way. You are expected to see lots of villages and their good people, experience tremendous gorge passes, dense forest filled with indigenous tree, steep hills for a bit of a challenge, some harmless herbivores (don't worry, we have it covered) and much more. The ride will be a mountain bike style race with 75km, 25km and 10km distances. We highly recommend the 10km for a fun ride with family!
ZAMBIA VS ZIMBABWE RUGBY INVITATIONAL
Saturday 21st September, 2019 | From 8am | K20 Adults K5 Kids | Acacia School, Livingstone
Zambia and Zimbabwe will play an unofficial invitational match at the Acacia International School. The teams will be composed of current A team players and rising stars. Before the main game, there will be a series of tag rugby, touch rugby and 7s played by students from the local schools around Livingstone and Victoria Falls.
History: In 1949, a team composed of players from both sides of the Zambezi, beat the New Zealand All Blacks in a series. The Rhodesian team won the first match 10-8, and drew the second game 3-3, hence winning the series 1-0. On a historical basis therefore, a joint side of present-day Zambia and Zimbabwe remains the only non-test side in the world to win a game and a series against the All Blacks.
LIVINGSTONE SPORTS FESTIVAL - TRAIL RUN
Saturday 21st September, 2019 | From 8am to 11am | K250 (approx. US$20) participation fee | United Air Charter, Livingstone
Run or walk while you enjoy the natural beauty of Livingstone! The run is suitable for the whole family where you can accomplish your personal goals; whether you are running for a cause or simply keeping active. This isn't about Olympic level athletes charging about in record times, it's about mums with prams, dads with toddlers, groups running together, tourist groups, fancy dress and a fantastic fun mix. Are you getting a picture of something a little bit different? There really is something for everyone at The Livingstone Sports Festival Trail run!
There are awesome prizes to be won!
GUY @ THE BREWERY
Saturday 14th September, 2019 | From 8pm to 10pm | Free entry | The River Brewing Co, Victoria Falls
5TH ZAMBEZI INTERNATIONAL REGATTA
Saturday 14th September, 2019 | From 8am to 4pm | K100 for ticket | Zambezi Boat Club, Livingstone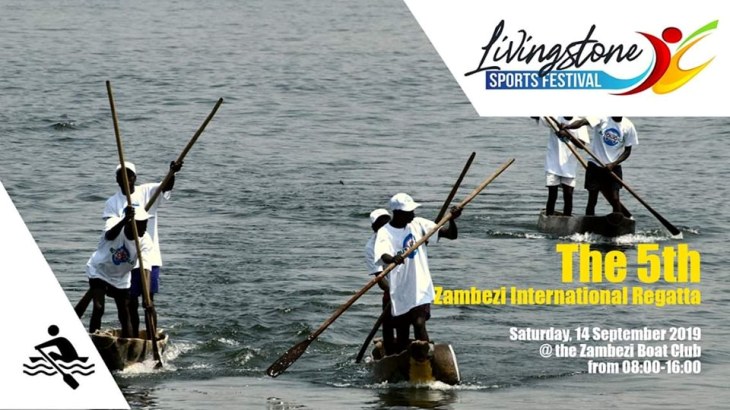 The town of Livingstone was founded in 1905, together with the Zambezi Boat Club and the first regatta. In 1910, Livingstone hosted the World Professional Sculling Championships between World Champion from New Zealand and the British champion.
The first modern Zambezi International Regatta took place in 2004, followed by 2005, 2007 and 2010. These regattas were all attended by Oxford and Cambridge alumni, and leading South African Universities, men and women, from Rhodes, University of Johannesburg and Cape Town, and once in 2007 by Brown University, USA.
2019 will see the fifth event take place, as the show piece of a week of sporting celebration to mark the Southern Province Investment EXPO.
THE TRAIN GANG @ THE BREWERY
Friday 13th September, 2019 | From 8pm to 10pm | Free entry | The River Brewing Co, Victoria Falls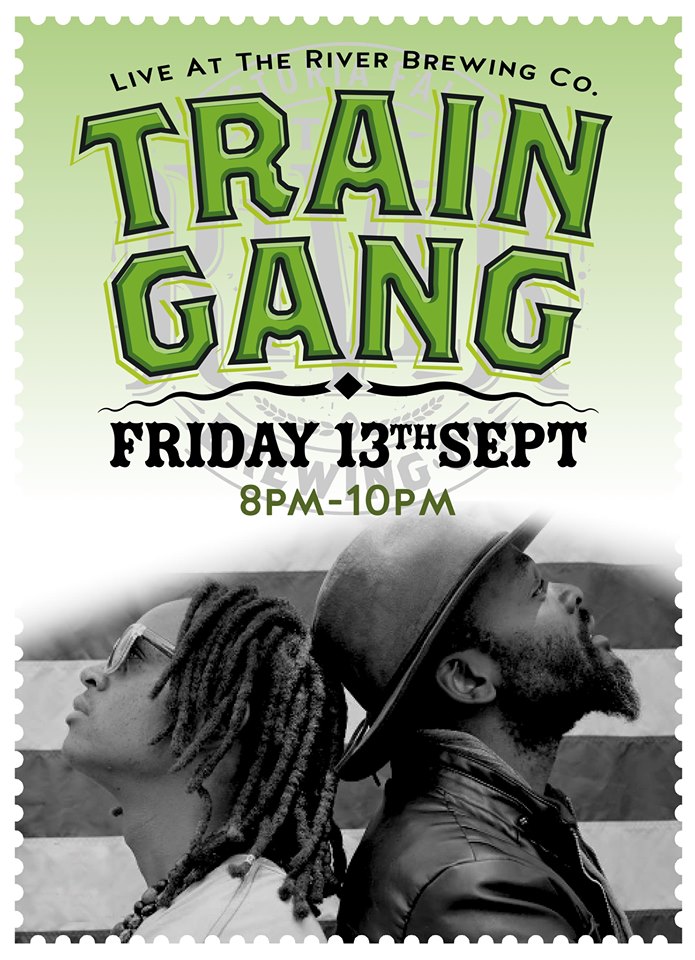 THE LITUNGA ROYAL VISIT TO LIVINGSTONE
Friday 13th September, 2019 | From 9:30am | US$30 for river cruise | Livingstone Town, Zambezi River and Victoria Falls Waterfront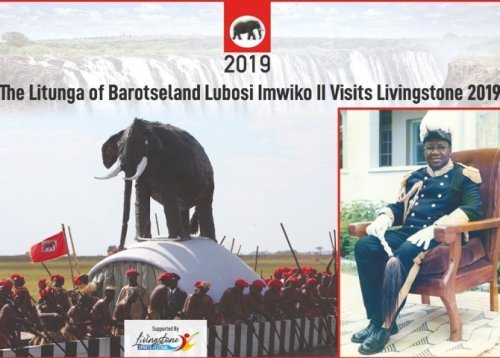 09h45 – 14h00 (board at 09h30) to witness the The Royal Visit to Livingstone! For the third time in history, His Majesty, the Litunga will be in Livingstone! The Litunga will grace the 5th International Zambezi Regatta, which will be held on Saturday 14th Sept. The Barotse Royal Establishment will come down the Zambezi with their boats for a flotilla on Friday morning.
Only USD 30.00 per person incl River Fees - BRING YOUR OWN snacks and drinks onboard
Don't miss out on a once in a lifetime opportunity to witness the Kupuwana ceremony!
https://www.lsf.co.zm/the-litunga-royal-visit/
DJ Claudous on decks back at The Victoria Falls Waterfront from 5pm til late. Happy Hour 17h30 – 18h30. It's going to be epic! Miss it, miss out
WINE & WISDOM QUIZ NIGHT
Wednesday 19th June, 2019 | From 6pm | US$100 per team (max 10 pax) | Victoria Falls Primary School
Join the fun residents of Victoria Falls in the annual Wine and Wisdom night at the Victoria Falls Primary School (Farm School), with your team (maximum of 10 pax for each team).
Your team will get two bottles of wine and a snack platter in the price.
There will be a full bar and cheese platters on sale.
Along with the fun quiz, there will also be prizes for the Best Dressed Team.
There are limited spaces available. Payment required at registration. Entries close on June 14th 2019
Contact sectretary@vicfallsprimary.co.zw
LIVINGSTONE COLOUR FESTIVAL
Saturday 1st June, 2019 | 10am | Kaazmein Lodge, Livingstone | K50 for adults K30 for children below the age of 12 (approx US$5 and US$3 respectively)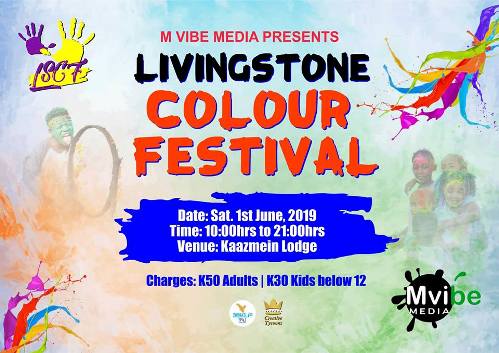 This will be yet another fun filled family event with lots of entertainment for all ages, come through and share in music, dance, culture, art & many more. Remember to bring out those white outfits because this year we are once again adding some colour to our tourist capital Livingstone. With great entertainment from the best Local and International DJ's not forgetting Music performances from amazing Livingstone and Country wide talents.
We got the best dancers in town doing their sophisticated entertaining dance moves and many more performing acts. For the kids we have a play area designed to perfection from Jumping Castles, Quad Bikes, Trampolines, Water Slides, Water Guns, Monkey Bars and many more fun filled activities to keep the young ones busy. Our great selection of music by the talented DJ's will keep you on your feet and definitely make you feel young again.
Alcohol/Drinks and Food will be sold on site. NOTE: Alcohol will only be sold to persons over the age of 18 and No Food & Drinks From Outside will be allowed into the premises.
Remember the Colour powder paint is harmless, environment friendly and very non toxic and it washes off from cloths, skin and hair easily. We recommend you wear cloths that you can dispose of or keep as a memory after the festival. However we recommend that persons with asthma are dissuaded from attending the festival.
For more details Contact: Victor Vergil Masamu Mwanza on +260 972 456 581, or M Vibe Sniper on +260 975 951 419.
For sponsorships call any of the above numbers or email: victormwanza@hotmail.com or mvibemedia@yahoo.com
ZAMBEZI DREAMING
Saturday 25th May, 2019 | 4pm til late | The Riverside Venue, Victoria Falls
Save the Date: Africa Day 2019! Zambezi Dreaming will be a family-friendly festival of music and fun with picnic hampers, live music and delicious food and drink starting in the afternoon and stretching into the evening. Visit the Facebook Page for more details - Zambezi Dreaming
VIC FALLS MINI-MARATHON
Saturday 25th May, 2019 | Start Kingdom Hotel, End Rest Camp
AFRICA EVE WITH FLYING BANTU
Friday 24th May, 2019 | From 8pm | Free entry | The River Brewing Co, Victoria Falls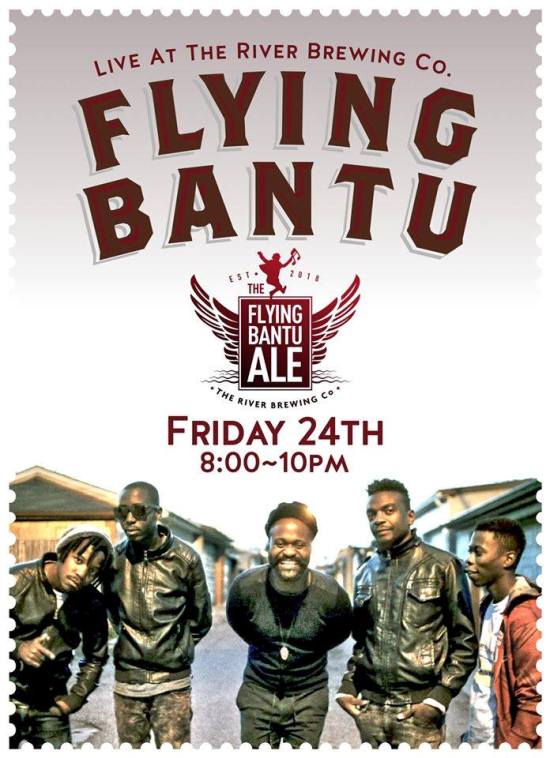 Bring on AFRICA DAY, next Saturday 25th May, back from Canada is Flying Bantu so come on down and share the love, and the ale!
BAOBAB TRAIL RUN
Saturday 4th May, 2019 | From 7am | K200 (about US$20) per entry | United Air Charter, Livingstone
The Baobab Trail Run is back and it promises to be even bigger and better. Taking place around pristine secure fenced in African bush bordering the Mosi-ao-Tunya National park in Livingstone.
The Baobab trail offers distances for all types of runners, whether you're new to running, a walker, casual runner, or a seasoned runner looking for a great trail run!
3.5kms, 7kms, 10kms or a kid's fun run? - A mild marathon in the wilderness (could be a warm-up for the big one across the bridge). It's fun either way!
It will be awesome for the kids - what a great way to get fit together! Face painting, lucky draw, food, cash bar, farmers market and great prizes for the winners in the form of activities or accommodation.
Entries close on April 20th 2019 - To register, email baobabtrailrun@gmail.com
'Egg-cellent' Easter Special!
Sunday 21at April, 2019 | From 1pm | The Palm, Ilala Lodge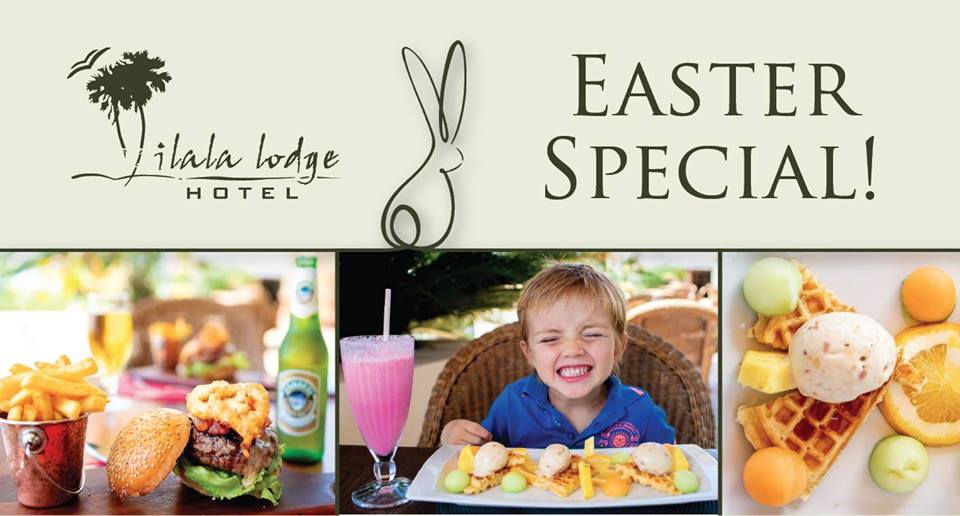 Bring the whole family and celebrate Easter Sunday at the new Ilala Lodge Hotel pool. We have some 'egg-cellent' Easter Specials on the menu! ✨
Treat the kids to a delicious waffle and milkshake for just US$9.00 per child. Or try the famous Ilala Burger, paired with a beer, cider or soft drink of your choice for just US$18.00 per person.
Have a fun-filled Sunday with the entire family!
For bookings, email fnb@ilalalodge.co.zw or call +263 (0) 83 2844737/8/9
EASTER EGG HUNT
Saturday 20th April, 2019 | 9:30am | Jungle Junction, Victoria Falls Hotel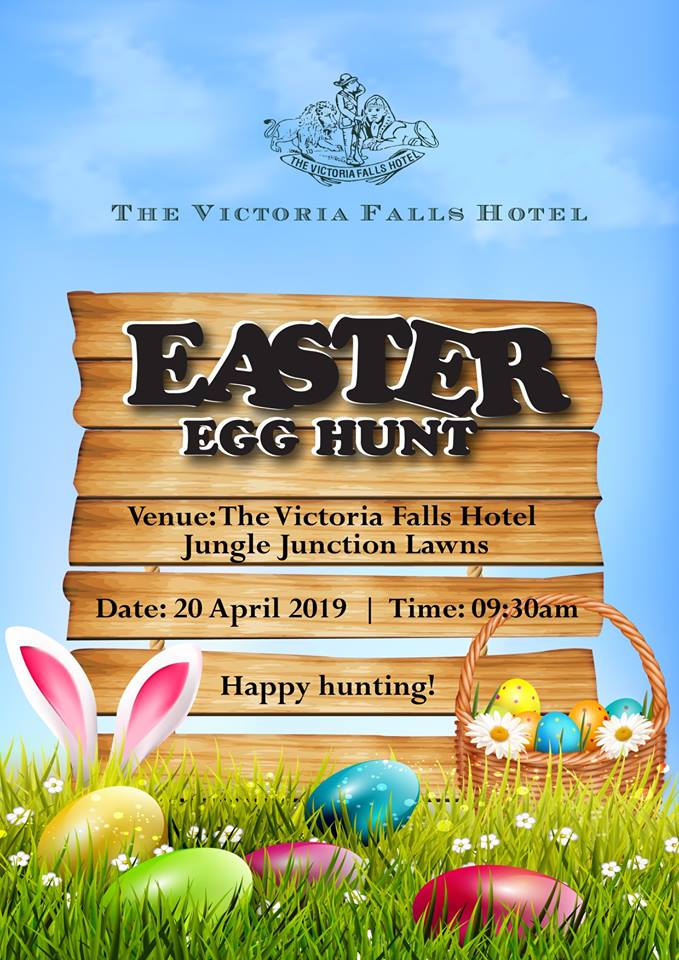 Celebrate Easter with the family at the iconic Victoria Falls Hotel. There's lots in store for the kids to have a fun-filled day.
Have a fun-filled Sunday with the entire family!
CINE CLUB
Friday 12th April, 2019 | 7pm | Alliance Francaise Annexe De Victoria Falls, 518 Reynard Road, Victoria Falls | Free Entry | With English Subtitles
Enjoy a French Film under the stars hosted by Alliance Francaise.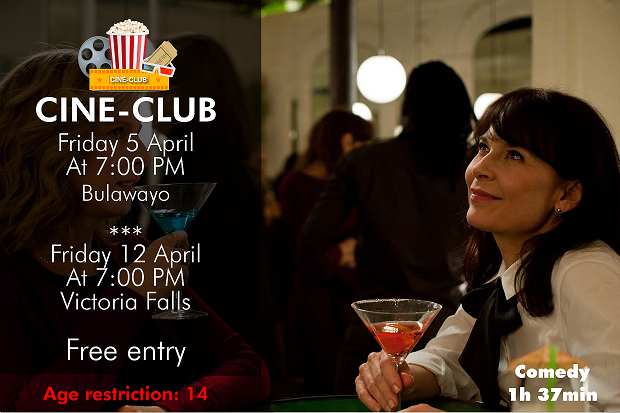 The next movie under the stars "JALOUSE" will be held on Friday 4th of April at the Alliance Francaise Annexe de Victoria Falls, 518 Reynard Road at 7pm. It is a French film - comedy with an age restriction of 14.
The movie is free and has English subtitles. Bring your chairs and snacks!
Storyline: A divorced teacher suddenly becomes jealous of everyone, including her daughter, friends and neighbours...
For more information, e-mail annexvicfalls.bulawayo@afzim.org or phone on +263 774 850 049 (Whatsapp)
CEASEFIRE ALBUM LAUNCH
Friday 8th March, 2019 | 8pm to 11pm | River Brewing Co

Flying Bantu are back at The River Brewing Co for a live show to celebrate the launch of their long-awaited album 'Ceasefire'. Dance to their music which is produced by Victoria Falls locals and celebrate their very first album.
Flying Bantu Ale - a new 'red' ale that was crafted by Lionel, Riley and the team behind the scenes at the Brewery will be flowing cold through the taps.
So joins others for an extra special event as Flying Bantu take you through the journey of how the album came to be where it is at now.
We cant wait to celebrate with you guys! Friday 8th of March is the date! Hope to see you there!
FULL MOON DINING AT THE LOOKOUT CAFE
Saturday, 22nd December 2018 | 6pm to 10pm | The Lookout Cafe
Please note that the Lookout Cafe will be closed until further notice. For more information about this, click here.
For a wonderful view accompanied with good food and a relaxed atmosphere, experience dinner and drinks under the moonlight at The Lookout Cafe.
Full Moon Dinner Dates for 2018
24 October
23 November
22 December

2019 Dates
21 January - Partial lunar eclipse + Super Full moon
19 February - Super full moon
21 March
19 April
18 May
17 June
16 July - Partial lunar eclipse
15 August
14 September
13 October
12 November
12 December
"The Lookout Cafe is perched 120m above the turbulent rapids of the Zambezi River, overhanging a giant chasm of the Batoka Gorge, just downriver of the iconic Victoria Falls Bridge, which forms part of it's spectacular backdrop. Wild Horizons looks forward to welcoming you to this completely new and uniquely positioned dining experience!" - Wild Horizons
Wi-Fi: Free \ Cuisine: A'la Carte menu \ Free Shuttle transfers: Please call +263 213-2842013 to arrange.
CINE CLUB
Friday 14th December, 2018 | 7pm | Alliance Francaise Annexe De Victoria Falls, 518 Reynard Road, Victoria Falls | Free Entry | With English Subtitles
Enjoy a French Film under the stars hosted by Alliance Francaise.
The next movie under the stars "COMME LES GARCONS" will be held on Friday 7 December at the Alliance Francaise Annexe de Victoria Falls, 518 Reynard Road at 7pm. It is for general audiences, but in some countries it has been discouraged for children under 14 years old.
Its a drama fiction for all ages and is FREE! Bring your friends and family and enjoy a night out with them.
The story of the first all-female soccer team in France, which started as a provocation but became a revolution
For more information, e-mail annexvicfalls.bulawayo@afzim.org or phone on +263 774 850 049 (Whatsapp)
AFRO - FUSION LIVE
Friday 9th November, 2018 | 8pm to 10pm | River Brewing Co, Adam Stander Road, Victoria Falls
Take a break this Friday and join locals for a night a good music from Afro-fusion band - Flying Bantu.
A Victoria Falls favourite, Flying Bantu perform their very own original compositions and each and every song will have you bobbing your head at the very least!
Original craft beer, delicious cocktails, awesome wine, and lots more to make your night a memorable one.
SUNDAY BRUNCH AT THE PALM RESTAURANT
Sunday 28th October, 2018 | 10am to 12pm | The Palm Restaurant @ Ilala Lodge
| US$ 22 per adult, US$12 per child
The Palm Restaurant at Ilala Lodge host a month-end brunch with their full continental buffet and hot breakfast collection, plus:
• Breakfast Burritos
• Spinach, bacon and egg salad
• A trio of egg cups with a spicy tomato salsa and a choice of the following fillings: Slow roast peppers and mushrooms; Pastrami and Cheddar; Salmon Chive and Spinach
As well as Cappuccinos, Bloody Mary's and Berry Mimosas
For more information and bookings, email fnb@ilalalodge.co.zw or call +263 213 2844737/9.
POP UP DINNER - by the VICTORIA FALLS ANTI-POACHING UNIT
Friday 19th October, 2018 | Secret Bush Location, starts at Barclays Car Park | US$70 per person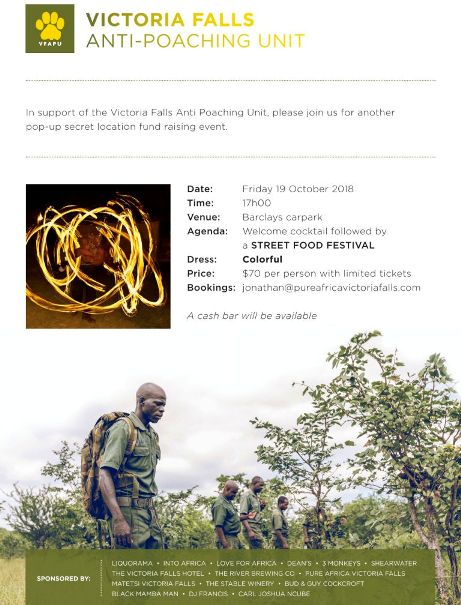 The Victoria Falls Anti Poaching Unit will host their second popup event at various secret locations around Victoria Falls town!
This year, the event has a colourful theme and includes a street food festival.
Cash bar will be available.
Come and support Victoria Falls Anti Poaching Unit in this fun and exciting fundraiser.
For bookings, email jonathan@pureafricavictoriafalls.com
PJ POWERS LIVE IN VICTORIA FALLS
Saturday 8th September, 2018 | 7pm til late | Elephant Hills Hotel | From US$ 35 per person
Join PJ as she hosts an intimate, personal, close-up cocktail evening, telling the story of her amazing life – her incredible ups and downs - through her music and song in the Kalundu Room at Elephant Hills Hotel on Saturday 8th September at 7.30pm.
PJ Powers is the Global Patron of The Miss Albinism Zimbabwe Trust (MAZT), and all proceeds from this event will be going to this worthy cause, in support of People With Albinism (PWA), and the many who are stigmatised and de-humanised by this condition. You can read more about MAZT here: https://www.albinismpageant.com/
The stage will be opened by local band Flying Bantu, who will kick off the show at 7.30pm sharp.
Tickets include light snacks, and there will be a cash bar.
Ticket prices are as follows: Gold Seating: $65 Silver Seating: $55 Bronze Seating: $45 General Admission: $35
TO PURCHASE TICKETS: Whatsapp Carrie on +263 77 347 3457 to place your ticket orders. Please allow some time for a response, and please indicate what ticket type and quantity you would like to purchase. As this is an intimate cocktail event, seats are limited. Ticket sales are by EcoCash only and are to be ordered beforehand on Whatsapp with Carrie in order to confirm availability, and she will then furnish you with the EcoCash details in order to purchase the tickets.
Join us for what promises to be an incredible evening of live music with PJ Powers, it's all for an awesome cause! See you there!
OUTDOOR CINEMA MOVIE NIGHT
Saturday 1St September, 2018 | 6:45pm | US$ 5 per person | In-da-Belly Restaurant, Victoria Falls Rest Camp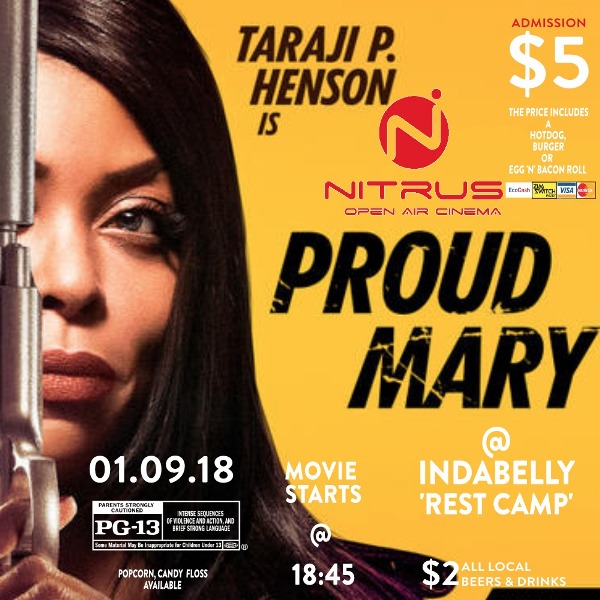 In-da-Belly will be hosting monthly movie nights on the first weekend of every month, and this month on the 1st of Sept movie showing is the thrilling and action packed Proud Mary (PG-13).
Movie starts at 6.45pm sharp so come on down a little early to grab a good spot in front of the big screen, bring along a blanket and make yourself at home.
Entry is $5 per person which includes a bacon 'n' egg roll, hotdog or burger.
VULTURE AWARENESS DAY
Saturday 1st September, 2018 | 12pm to 2:30pm | Victoria Falls Safari Lodge
This Saturday from 12 noon until 2.30pm, Victoria Falls Wildlife Trust are collaborating with Africa Albida Tourism's Victoria Falls Safari Lodge to hold an event for International Vulture Awareness Day (IVAD), and you are all invited!!
Event PROGRAM
- Lunch at Makuwa-Kuwa Restaurant ($1 from your meal cost is donated to VFWT's vulture conservation work)
- Vulture Culture Experience
- Presentation by Roger Parry on vulture conservation
- Kids vulture activity centre (Bring the whole family!)
- Meet 'Judge' our vulture Ambassador!
What is IVAD?? Held on the first Saturday of September every year, IVAD aims to create awareness about vultures, garner support among the public about the plight of vultures globally and highlight the work done by conservationists to protect these birds and their habitats. Find out more about IVAD here: https://www.vultureday.org/
We hope to SEE YOU ALL THERE for some vulture fun!
HEROES' WEEKEND JAM
Friday 10th August, 2018 | 6pm til late | Shoestrings Backpackers, West Road | US$ 3 per person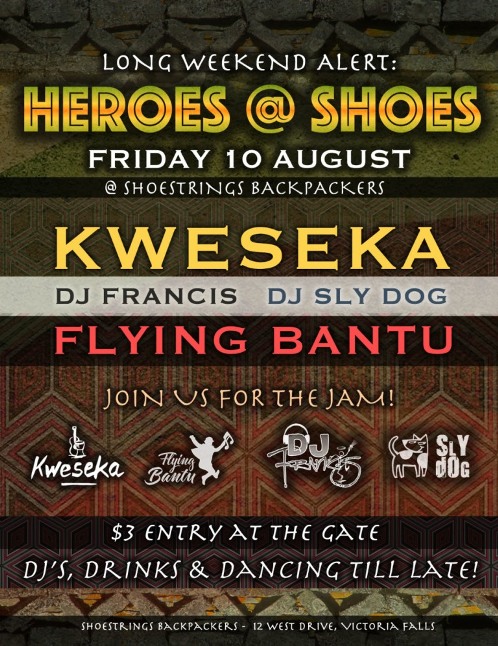 DJEMBE MONKS LIVE
Friday 29th June, 2018 | 9pm til late | River Brewing Co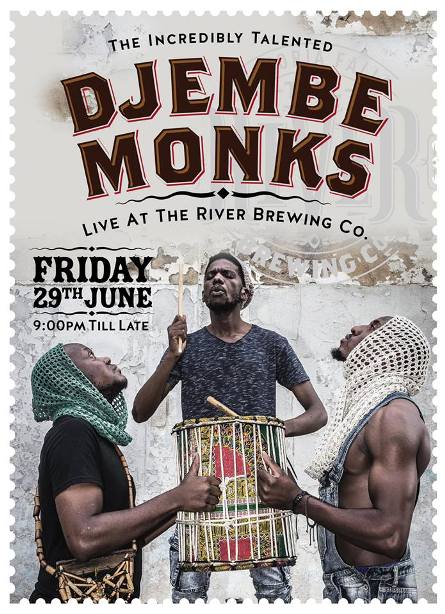 The awesomely talented Djembe Monks will be live at the River Brewing Co this Friday 29th June, performing their unique Tribal House music.
So take a break from the usual Victoria Falls scene for an inspiring night out with locals at the brewery. Enjoy original craft beer, delicious cocktails, awesome wine, and lots more to make your night a memorable one.
WINE & WISDOM ANNUAL QUIZ NIGHT
Wednesday 20th June, 2018 | 6pm | Victoria Falls Farm School | US$ 10 per person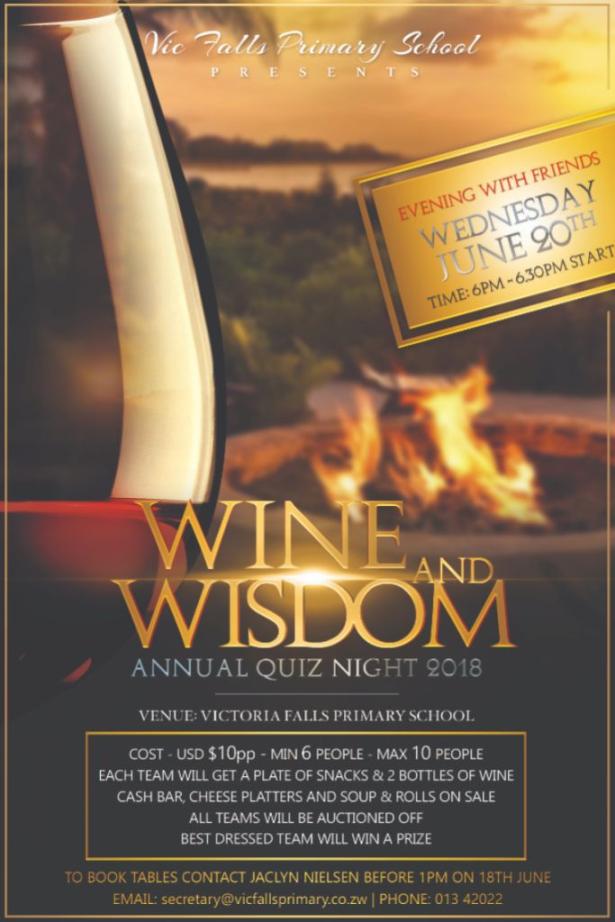 With cocktails and endless fun for the children, this is the perfect way to spend your Easter Holiday!
To book tables, contact Jaclyn by emailing secretary@vicfallsprimary.co.za or calling (+263) (0213) 2842022
AFRICA DAY FESTIVAL & NIGHT MARKET
Friday 25th May, 2018 | 1pm (Live music from 4pm) | Elephant's Walk Shopping Mall
| US$ 3 per person

This Africa Day will be a special one in Victoria Falls, with a local musical combination of traditional, afro-fusion, musical comedy, popping beats and indie rock, plus local creative arts and crafts, great food and drinks! What is Africa Day without a bit of fun?!...
Hosted at Elephant's Walk Mall, this musical festival and night market is accessible for only US $3.Get shopping from 1pm and the music begins at 4pm.
Arts and Crafts stalls are available for $10 and bookings are essential.
For more information and to book your stall, email elephantswalkfestival@gmail.com
Share with others!

Can't find what you are looking for? Use Google Search to search this website for any term you are looking for.


The Vic Falls Bush Telegraph
our Free Quarterly E-Newsletter

Each quarter there's loads of information about conservation and wildlife, a destination update, specials offers and discount packages, traveller tips and stories, book reviews, African folktales, environmental reports, bush recipes, best photo competitions and tons more....

"Your newsletter keeps me informed about new and old and is the best I've seen in a long while - informative, not commercial, just plain perfect!" I.Skliros

This Quarter we are also giving away a Free Screensaver to Every New Subscriber.
Return from What's on in Victoria Falls to our Victoria Falls home page