Facts on Zambia
Zambia is a land that is filled with diversity - from its people and cultures to varying landscape, Zambia offers its visitors fantastic new experiences.
Much like Zimbabwe, Zambia is a landlocked country. It is surrounded by 8 countries each with their own cultures and languages. Zambias history is very similar to that of Zimbabwe's - also a former British colony, and part of the Rhodesian and Nyasaland territory.
We have compiled a bit of information with facts on Zambia to give you s bit more insight. The content has been broken down into different sections for easy reading:
Quick Facts on Zambia
Location: Southern Africa between DRC and Zimbabwe
Geographic Coordinates: 13.1339° S, 27.8493° E
Map References: Africa
Area
Total: 752,618 sq km
Land: 743,398 sq km
Water: 9 220 sq km
Area Comparative: Larger that Texas and Maryland put together.
Land Boundaries
Total: 5 664 km
Border Countries: Angola 1,110 km, Democratic Republic of the Congo 1,930 km, Malawi 837 km, Mozambique 419 km, Namibia 233 km, Tanzania 338 km, Zimbabwe 797 km, and Botswana, less than 1 km
Climate: Tropical
Terrain: Zambia sits mostly on a plateau with an average height of between 1000m and 1360m above sea level.
Elevation Extremes
Lowest Point: Zambezi River, 329 m
Highest Point: Mafinga Central, Mafinga Hills 2,339 m
Natural Resources: copper, nickel, tin and uranium
Geography notes: landlocked

Zambia's Geography, Location & Time Zone
Zambia lies in a central position in southern Africa surrounded by quite a number of countries. It is a landlocked country between Angola in the west, Namibia, Botswana and Zimbabwe in the south, Mozambique, Malawi and Tanzania in the east, and the Democratic Republic of Congo in the north. Read more about facts on Zambia's geography and location...


Map showing the location of Zambia in southern Africa
Population of Zambia
According to the last Zambian census (2012), the population of Zambia was 14 309 466, while the 2015 estimate is at about 15 519 000.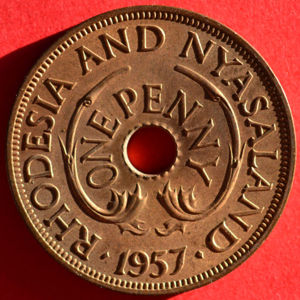 Coin used in Rhodesia and Nyasaland
Zambia's History
Long before European explorers ever set foot in Zambia, part of Zambia was occupied by the Khoisan people (modern day bushmen tribe found largely in Botswana). Around AD300, the Bantu migration slowly saw the filtering of the Tonga (from the east), Nkoya (from the north and north east - modern day DRC and Angola), Mbunda (from the west - Angola), Nsokolo, Ngoni and Sotho (from the south - present day South Africa) people into these areas. Follow this link for more on Zambia's History...
The People of Zambia
The people of Zambia are called Zambians. The majority of Zambians hail from the Bantu speaking ethnic groups which include the Nyanja, Bemba, Chewa, Tonga, Lunda, Nkoya, Lozi, Kaonde and Tumbuka. These groups make up about 54% of the total population. In Zambia there are small populations of Whites (1.1%), Indians (about 13 000), and Chinese (about 80 000). There are also those who have sought refuge in Zambia from different countries - Zimbabwean who fled xenophobic attacks in South Africa, White farmers who left Zimbabwe and were invited to work in Zambia, Congolese people who fled the turmoil in the Democratic Republic of Congo, and Angolans who fled the pre- and post colonial wars.
Language and Culture
In Zambia, traditional art was expressed in pottery, basketry, carvings and stools. More materials are being used nowadays, such as metal (copper or wire), plastic and fabrics. Recycled art can be seen especially in tourist markets and curio centres. Discover Zambian culture...
Facts on Zambia's Flag
Zambia has a brightly flag with orange (a symbol of Zambia's wealth in copper), black (a symbol of the people of Zambia), red (a symbol of the historical struggle of the Zambian people), and green (for Zambia's rich environment), as well as an eagle in flight (which represents the freedom of the Republic of Zambia).
Read more on Zambia's national flag...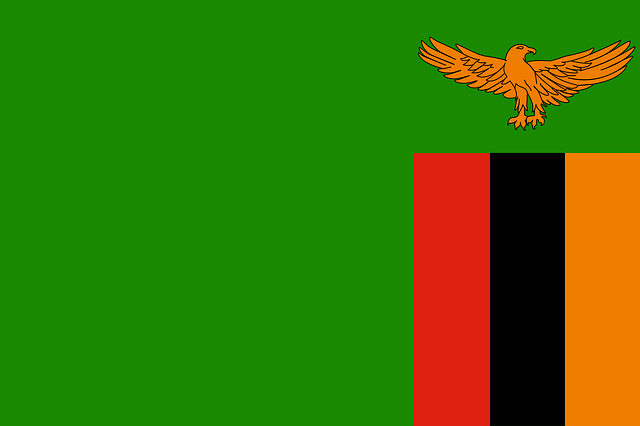 The flag of the Republic of Zambia, first flown on October 24th, 1964
THE VIC FALLS BUSH TELEGRAPH
our Bi-Monthly E-Newsletter

Each issue has a destination update, loads of information about conservation and wildlife, specials offers, traveller tips, community projects, website highlights and tons more...

Find out more about our Bush Telegraph

"Your newsletter keeps me informed about new and old and is the best I've seen in a long while - informative, not commercial, just plain perfect!" - I.Skliros

Don't worry. Your e-mail address is totally secure. I promise to use it only to send you The Vic Falls Bush Telegraph.