Victoria Falls Birding Safari
Home of the Specials, the Zambezi River offers birding enthusiasts a unique experience on a Victoria Falls birding safari
The 16 passenger Darter jet boat taking guests on a Zambezi River bird-watching safari in Victoria Falls
Both wildlife enthusiasts and birders will find a Victoria Falls birding safari on the Zambezi River a special experience. The Zambezi is a vast river which splits into various small water ways and islands, and the birding here is second to none. This mighty river supports a riverine habitat along it's banks, drawing many species of birds to it's life giving waters. Some of the more common species include Blacksmith lapwing, Goliath Heron, Sacred and Glossy Ibis, Egyptian and Spurwing Goose, Water Thick-knee, Pygmy, Giant and Pied Kingfishers, African Fish Eagle and a whole host of others.
What You Can Expect
What makes this area (and indeed this Victoria Falls activity) unique is it's "specials". These are bird species that are not only rare and elusive in other parts of Southern Africa but often only occur along the Zambezi River's mighty water course. Some of these specials include Rock Pratincole and African Skimmer both of which are seasonal migrants, nesting on the sandbanks and rocks along the river. Dickinson's Kestrel are often seen high in the Ilala Palms that line the banks. while the legendary Pel's Fishing Owl call the large dense Mahoganys that cluster the islands their home. The secretive Half-Collared Kingfishers, frequent the overhanging trees along the banks. These over hanging branches also home the even more secretive White-Backed Night Heron and rare African Finfoot. Seasonally, Osprey can be seen searching the waters for fish and the rare Grey-Headed Parrot can be heard screeching as they fly over head. As the night moves in Bat-Hawk can occasionally be seen hunting above the river.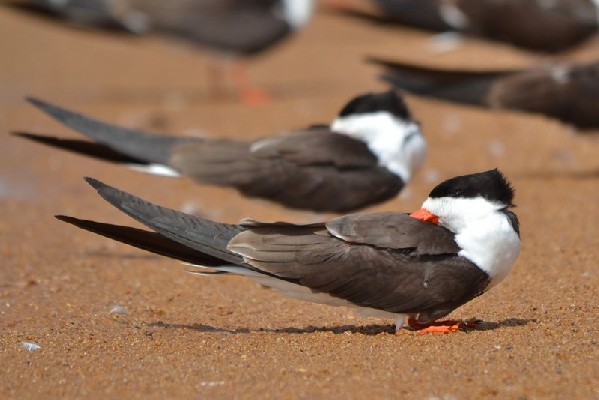 The African Skimmer
(source - africanbirdclub.org)
Specials
• Black Egret
• Rufous-Bellied Heron
• White-Backed Night Heron
• Little Bittern
• Western-Banded Snake Eagle
• Osprey
• African Finfoot
• White-Crowned Lapwing
• Half-collared Kingfisher
• Rock Pratincole
• African Skimmer
• Collared Palm Thrush
• Grey-Headed Parrot
• Bathawk
• Pel's Fishing Owl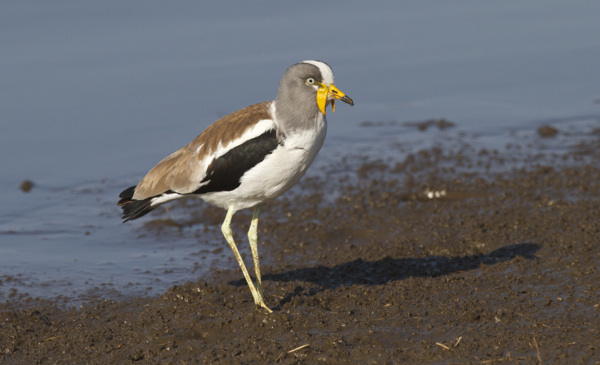 White-crowned lapwing
(source - buckhambirding.co.za
The Victoria Falls birding safari is offered on a small jetboat (the same one you would ride while on a Sunset Jet Boat Safari) on the Zambezi River. The boat has a maximum capacity of 16 people, ideal for small groups with a feeling of having your own private cruise. Return transfers from your hotel to the jetty are included. There is also a toilet on board.
The Itinerary
The trip is structured as follows:
• 06.00: Approximate pick up time from your hotel, and transfer to the Bushtracks jetty. The transport will pick up from various hotels before taking you to the jetty.
• 06.30: Departure- Welcome tea or coffee, while receiving a brief introduction to the boat cruise and the birding tour. Including a brief description of the surrounding area and the vegetation types along the river. Also outlined will be some of the more common species that are likely to be encountered and the rarer specials to look out of on the trip.
• 06.30 to 8:00: Cruise the Zambezi, viewing birds in their natural environment, taking advantage of local knowledge to visit certain areas where the more elusive species are known to frequent.
• 8:00- End of tour- A transfer vehicle will be waiting to take you back to your hotel. This trip includes tea, coffee, biscuits and muffins/rusks.
Additional Information
• Included in the trip is tea, coffee, biscuits and muffins/rusks.
• Be sure to bring your camera, sunhat and sunglasses, warm clothes during winter.
• You will not need any valuables for this trip - passport, jewellery, and anything expensive that you will not be using. Have the hotel lock your valuables in a safe.
• There are no age restrictions. Children under 12 pay 50% of the adult rate, and those under 2 cruise free of charge.








THE VIC FALLS BUSH TELEGRAPH
our Bi-Monthly E-Newsletter

Each issue has a destination update, loads of information about conservation and wildlife, specials offers, traveller tips, community projects, website highlights and tons more...

Find out more about our Bush Telegraph

"Your newsletter keeps me informed about new and old and is the best I've seen in a long while - informative, not commercial, just plain perfect!" - I.Skliros

Don't worry. Your e-mail address is totally secure. I promise to use it only to send you The Vic Falls Bush Telegraph.
Return from Victoria Falls Birding Safari to our Victoria Falls home page