Home | Victoria Falls Activities | Zambezi Explorer Cruises
Zambezi Explorer Cruises
A luxury cruise on the Zambezi River with awesome scenery and gourmet food
Aerial photo of the cruise boat on the Zambezi River (source - Zambezi Explorer)
The Zambezi Explorer Vessel
Launched in 2013, the custom designed five-star cruise vessel takes guests on a luxury trip on the Zambezi River. It has three decks and comes complete with gallery and electronics which are solar powered. It has wheelchair access and wheelchair-friendly facilities. The Zambezi Explorer Company caters for regular cruises, private functions, conferences and weddings too.
The Experience
The cruise boats pick up at the Zambezi River Cruise Terminal and takes guests around the islands of the upper section of the river. As with other cruise operators, the cruise boat stays well away from the Falls themselves, 4kms (2.49miles) away. The most popular of the trips has to be the sunset cruise. During this time, animals come from around to drink the water from the Zambezi River, and you may see elephants crossing the river to get to the vegetation on the islands or on the other side of the river. You will also see hippos and crocodiles. There are also lots of bird species which you will see. All this plus the gorgeous Zambezi sunset makes the evening cruise such an amazing experience which we highly recommend.
Zambezi Explorer Cruises
There are a few trips which the Zambezi Explorer Company runs, each taking about 2 hours. They have different boats depending on the trip: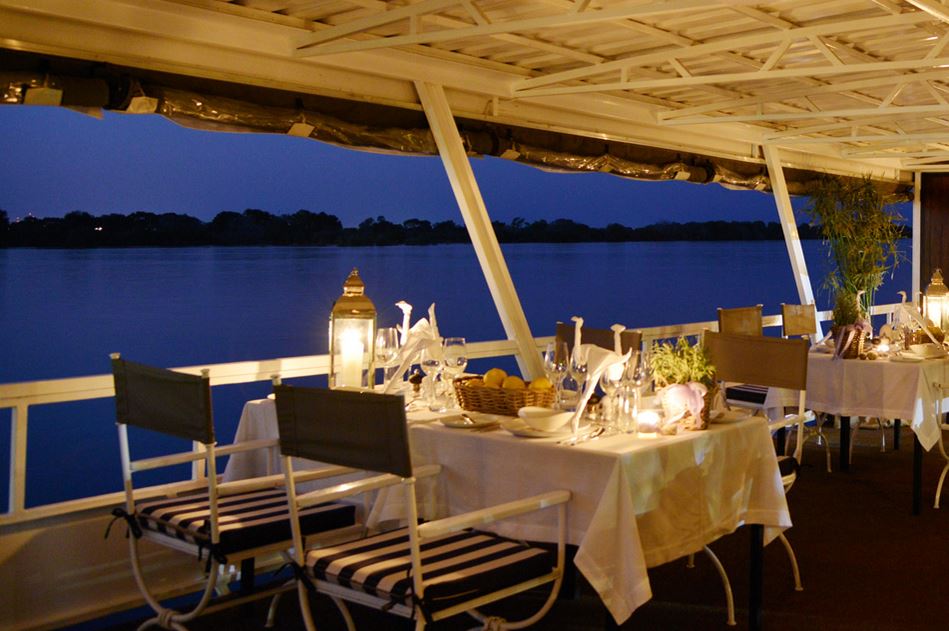 Sunset and dinner cruise on the Zambezi Reflections
(source - Zambezi Explorer)

• Sunset cruises are the most popular and they take place on the Zambezi Explorer vessel with a maximum capacity of 140 passengers. These start at 4:30pm in summer and 4pm in winter. Included are snacks and cocktails while you take in the animals, birds and scenery.
• Breakfast Cruises set off at 6am where you will see the wildlife and the sun rise on the Zambezi and the top of the Victoria Falls while you enjoy cereals, pastries, fruit, tea or coffee – the choice is yours. This cruise is one of the best for birdwatchers.
• Lunch Cruises start at noon. On this cruise, you may spot the large herbivores in the river and some crocs too. A gourmet lunch is served together with your choice of premium beverages.
• Dinner Cruises are done aboard the Zambezi Reflections vessel and have a 5pm start – the perfect time for sundowners and snacks. A four-course dinner is served – gourmet Mediterranean style dining in a luxurious and romantic setting. The Zambezi Reflections has a maximum occupancy of 34 people and is known as the floating restaurant. This trip is becoming a popular option because it is a combination of both a Sunset cruise and a Dinner cruise, and at reasonable prices.


VICTORIA FALLS DINNER CRUISE MENU
Starter Platter
Artisan of smoked and cured meats with a balsamic demi-glaze.
Soup
Chef's daily soup with freshly baked bread roll.
Main Course
The main course is served with seasonal vegetables and roast potatoes. You have a selection of the following: Fillet of beef with red wine jus; Bream fillet with lemon butter sauce; or Stuffed chicken breast.
Desert
Summer fridge cheesecake / Sliced fruit platter.


The Signature Lounge
More recently, the Zambezi Explorer company launched the Signature Lounge, which is at the topmost deck of the Zambezi Explorer vessel. It is a great alternative to the restaurants and bars around town as it is right on the Zambezi River. Guests can have cocktails and food after their sunset cruise if you feel like carrying on with your party. Also, if you have been in town and feel like drinks on the river, you can make your way to the decked Zambezi Explorer for drinks on the river. The Signature Lounge opens at 6:30pm and closes at 10:30pm (kitchen closes at 9pm).They offer a transfer service back into Victoria Falls town at 8:30pm. Thereafter, you may use their recommended taxi service.
The Signature Deck on the Zambezi Explorer (source - Zambezi Explorer)

ZAMBEZI EXPLORER SIGNATURE LOUNGE MENU
MAINS
CAESAR SALAD - Garden lettuce with anchovies, crisp bacon, croutons, parmesan and Caesar dressing
CAESAR SALAD SERVED WITH GRILLED CHICKEN - As above served with grilled chicken
HALOUMI CHEESE - Rolled in a spinach tortilla with basil aioli, plated with a garden salad
BEEF CUT OF THE DAY - Julienne of seasonal vegetables, fresh chilli and peppadew salsa with a red wine jus
SUPREME CHICKEN - Sautéed mushrooms and a butternut puree
FILLET OF SALMON - On a bed of Asian noodles with a zesty soy, ginger and chilli dressing
FILLET OF VENISON - Sautéed garden greens and a coffee marula sauce
PLATTERS FOR 2 OR 4
CHARCUTERIE BOARD - Artisan of cured and cooked meats including ostrich carpaccio, parma ham, salami, chorizo and chicken liver pate
FISH PLATTER - A combination of moules mariniere, calamari pan fried in chilli and garlic, cajun crumbed prawns and smoked salmon crostini
MEAT PLATTER - Beef fillet tsire kebab, honey and mustard glazed chicken wings and lamb tzatziki burger
CHEESE SLATE - Selection of fine cheese including soft brie, camembert, cheddar and an apricot boursin

DESSERTS
WHITE CHOCOLATE CRÈME BRULEE
MANGO AND BAOBAB CHEESECAKE
CHEF'S CREATION OF THE DAY

RED WINE
MERLOT - Man Vintners
CABERNET SAUVIGNON - Sauvignon.com, Man Vintners
PINOTAGE - Beyerskloof
ROSE
DE GRENDEL
WHITE WINE
CHENIN BLANC - Du toitskloof
CHARDONNAY - Excelsior
SAUVIGNON BLANC - La Motte, Excelsior, Iona Sophie Te'Blanche

CHAMPAGNE & SPARKLING
Villiera Traditional Brut, Villiera Traditional Rose, Veuve Cliquot, Moet & Chandon
SIGNATURE MOJITOS
THE CLASSIC - We'll start off with the one we're all comfortable with: the traditional mojito
THE TROPICAL - This one brings the pina colada flavor with a shot of Malibu, to the classic mojito
THE MEDITERRANEAN - If you like mango, this drink will get you all giddy. The mango pieces are muddled and added to the classic mojito
THE SUMMER JAM - It's like a strawberry daiquiri and a mojito spawned a wonderful booze child
THE DIRTY - Fresh chilli and grated ginger add that special kick one is after
COCKTAILS
TOM COLLINS - Gin, sugar syrup, soda and lemon juice
COSMOPOLITAN - Vodka, triple sec and berry juice
PIMMS (FOR 2 - Pimms, lemonade, ginger ale, cut fruit
MOSCOW MULE - Vodka with fresh ginger and ginger ale
PINA COLADA - Rum, coconut milk and pineapple juice
LONG ISLAND ICE TEA - Gin, vodka, rum, tequila, lemon juice, sugar syrup and coco-cola
MARGARETA - Tequila, triple sec and lemon juice
MARTINI - Either vodka or gin based with vermouth
WHISKEY SOUR - Whisky, lemon juice and sugar syrup
OLD FASHIONED - Bourbon, sugar and bitters


What you will need to bring

• Camera
• Binoculars

What you will need to know
Children are welcome on sunset cruises. See other Family Friendly Activities.
Share with others!

Can't find what you are looking for? Use Google Search to search this website for any term you are looking for.


The Vic Falls Bush Telegraph
our Free Quarterly E-Newsletter

Each quarter there's loads of information about conservation and wildlife, a destination update, specials offers and discount packages, traveller tips and stories, book reviews, African folktales, environmental reports, bush recipes, best photo competitions and tons more....

"Your newsletter keeps me informed about new and old and is the best I've seen in a long while - informative, not commercial, just plain perfect!" I.Skliros

This Quarter we are also giving away a Free Screensaver to Every New Subscriber.
---
Return from Zambezi Explorer to our Victoria Falls home page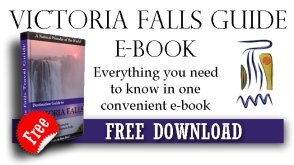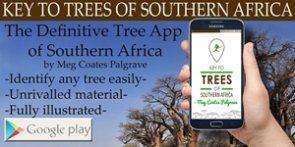 Client Testimonials
Perfect
by Kate (Zimbabwe)
Many thanks for all your assistance. You have probably been the most responsive and helpful tour organizers I have worked with- anywhere in the world. I'll be sure to recommend you to my colleagues and friends.
All the activities lived up to the hype!
by Alex (Swaziland)
Good Afternoon Boo,
Just wanted to let you know that we are now back in Swaziland and had an incredibly fun time enjoying Victoria Falls! All the activities lived up to the hype and I would like to thank you for all your help in organising a busy but full holiday for us! Everything went smoothly from the moment we arrived to the time we left.
Also wondering where you prefer to have your reviews written?
Thanks again!
All the best
Memory I will not forget
by Sunitha
Hi Jane
Hope you are keeping well.I must say a very big thank you for all your assistance and advice for my trip. I had the most amazing time at Vic Falls, a memory I will not forget.
Thanks a million once again.
Regards
Sunitha
Fantastic Itinerary
by Graham & Janet (United Kingdom)
Dear Boo
We would like to offer our thanks for sorting a fantastic itinerary for our all too short visit to Vic Falls. The cruise on the Zambesi at sunset was a delight and the helicopter flight breathtaking! The pick ups were punctual and staff members were all very smiley, friendly, helpful and good company. The whole experience of the actual Falls and the town itself was outstanding.
We will return! Your company will be our first port of call. Many thanks for a very efficient service.
Best wishes