Photographic Tour of the Falls
Capture the breathtaking Victoria Falls with the assistance of a seasoned photographer on this photographic tour of the falls
Red sunrise over the Victoria Falls
Victoria Falls is famous for being one of the Seven Wonders of the Natural World, attracting thousands of visitors a year. One of the great attractions is the almost permanent rainbows that the spray creates. Photographing these can be a challenge especially at certain times of the year. Sunrise and sunset is also a special time to photograph the falls. On a photographic tour of the falls, view the Victoria Falls with your own private photography guide who has spent many years learning the tricks and techniques that these unique conditions require. You will be tutored one-on-one throughout the whole tour and learn tips, techniques, be shown angles and viewpoints that suit your photograph as well as advise on camera settings and equipment. Helping you get the best possible photos you can.
Available Photographic Tours
There are two photographic tours - one is seasonal as the Victoria Falls tends to also change throughout the year.
The Sunrise Photographic Tour of the Falls - Available from February to Mid-September
Dates: 1st February to 15th September
Meeting Place: National Parks Entrance Gate
Start Time: 6am (Summer); 6:30am (Winter)
Duration: approx. 1.5 hours
Itinerary
• 06.00am: Meet at the National Parks entrance gate, this will allow just enough time to enter the rain forest and set up for the perfect shot
• 06.00am to 7.30am: Spent photographing sunrise over the falls, and various viewpoints that will allow for the best photographic opportunities
• 7.30am: End of the tour - breakfast at the Rainforest Cafe is optional. (extra)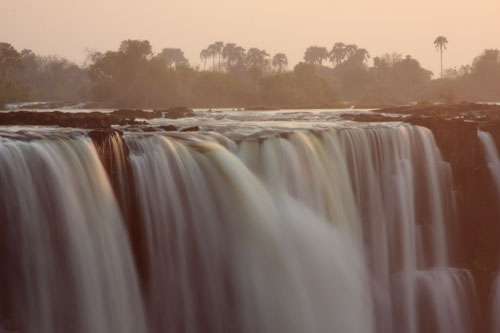 Rainbow Tour - Available all year round
This tour is focused on photographing the Victoria Falls and its famous Rainbows. As the spray (water vapour) rises out of the gorge below it catches the light and create beautiful rainbows. But this will only happen at certain times of day and only at certain viewpoints. In this tour you will be shown the best viewpoints to photograph the rainbows from.

Dates: All year round
Meeting Place: National Parks Entrance Gate
Start Time: 1pm
Duration: approx. 1.5 hours
Itinerary
• 1pm: Meet at the National Parks Entrance Gate, this will allow us enough time to view the falls and make our way to the best viewpoints.
• 1pm to 2:30pm: Spent photographing various viewpoints that have been picked out as the best to photograph rainbows from.
• 2:30pm: End of tour (a lunch at the Rainforest Cafe is optional).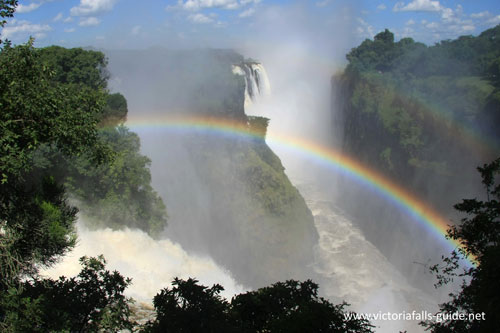 More Information
Before the tour, a brief one on one discussion with your tour guide covering what to bring, the camera equipment needed, times and itinerary, what to expect, and any questions you may have, regarding photography at and around the falls
During the tour, you can expect:
1. One on One tutorials throughout the entire Tour
2. Advice on Camera Settings
3. Advice on different Lighting Conditions
4. Advice on different Angles
5. Equipment, tutorials and proper usage
6. Advice on Camera Protection from Water Damage
7. Advice on the best Viewpoints
8. Advice on techniques and tips
9. Advice on photographing Rainbows, Sunrises and Sunsets

THE VIC FALLS BUSH TELEGRAPH
our Bi-Monthly E-Newsletter

Each issue has a destination update, loads of information about conservation and wildlife, specials offers, traveller tips, community projects, website highlights and tons more...

Find out more about our Bush Telegraph

"Your newsletter keeps me informed about new and old and is the best I've seen in a long while - informative, not commercial, just plain perfect!" - I.Skliros

Don't worry. Your e-mail address is totally secure. I promise to use it only to send you The Vic Falls Bush Telegraph.
Return from Photographic Tour of the Falls to our Victoria Falls home page