A Zambezi River Lodge!!! Fantastic!! May 2013
by Erleen West
(Port Elizabeth, South Africa)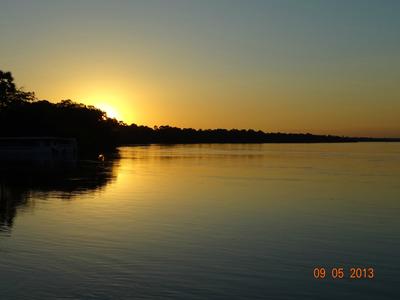 Sunset from the A Zambezi River Lodge
We celebrated my husbands 60th birthday with a 3 night package arranged by Boo.


A Zambezi River Lodge is on the banks of the mighty Zambezi River! Sunsets and sunrise over the river are absolutely stunning!
Rooms and bathroom are modern and well maintained.
The grounds are beautiful... warthogs and monkeys abound, and sweeping lawns onto the banks of the Zambezi. There are cruise boats anchored in front of the hotel which could be a downer as they do spoil the view a little..however.. they are great to sit on while sipping a sundowner and taking photos of the amazing sunsets and sunrise
The staff certainly went the extra mile to accommodate us!
Hubby wanted to watch a rugby match on a channel which wasn't programmed on the hotel system..they reprogrammed so that he could watch!
Our pillows were too high..they arranged softer pillows!
The GM presented hubby with a lovely home baked cake on his birthday!
Only 10 minutes to the falls on the free hotel shuttle.
The included sunset cruise was wonderful... we changed it to our last night which was a super end to a magnificent 3 night stay. Unlimited drinks and snacks (which were a meal) were included!
We only had one dinner at the hotel... Food was good although portions on the small side and the menu limited. Breakfasts were included and were great. After a big breakfast we usually had a late "lunch" in town and didn't feel like dinner at night.
Thank you Boo for arranging a really unforgettable holiday! It was everything that we hoped for and more.
The Zimbabwe people sure know how to make a tourist feel welcome!