Victoria Falls Property
Property in Victoria Falls has become highly sought after for various reason, find out why below...

Victoria Falls is a Natural Wonder of the World, and sits at the epicentre of vast and prime wildlife parks. Sunshine is plentiful, tourism is booming and the people are amongst the friendliest you will find on this planet, so it's no surprise that it has become a sought after destination.
The property market in Victoria Falls has changed quite dramatically over the last few years. This page has been completely rewritten in 2018 as the information detailed on it previously became obsolete.
Property Market on the Zimbabwean Side of Victoria Falls.
Overview
Scepticism over Zimbabwe's political situation kept most buyers away for years, only bold investors who had a strong belief that things would eventually change risked their money, that risk has now paid off for them.
Things started to accelerate when the new Victoria Falls International Airport was officially opened in November 2016. Victoria Falls was fast being seen as the hub for the entire region. Tourist numbers started to increase rapidly, but investors remained cautious because of Zimbabwe's then president; Robert Mugabe. A year later in November 2017 he was ousted and things dramatically changed.
With this renewed hope of a stable government and a rebounding economy, Victoria Falls became the focus of extreme interest and now it's not too dissimilar to a mini gold rush, as people clamber to get in, looking for houses, B&B's, vacant land both commercial and residential. You might also be looking for property which is possibly why you are reading this page.
Fuelling the problem is the acute shortage of supply. Victoria Falls is surrounded by national parks and communal land so at this stage, there is very little room for expansion. The town itself is relatively small and available properties are very limited, without people leaving and more people coming in the situation gets even more dire.
Are Victoria Falls properties expensive?
Over demand and under supply leads to inflated prices, which is exactly what has happened. The odd property that has changed hands has gone for what would be unimaginable figures a few years back. Whether that trend is sustainable remains to be seen, personally I think there is a limit and prices will level out.
What properties are available?
A glimmer of relief at the moment is a large block of land released by the town council back in 2016. There are over 200 undeveloped residential and a few commercial stands of varying sizes but mostly 2000sqm. As they were released they were immediately sold and even then were over-subscribed, but the chances are that some of these were speculatively bought and as the development progresses, the current owners will be happy to part with their stands for a handsome profit. There is also at least one housing development planned that I know of which will bring +/-40 small houses onto the market.
We are continually contacted regarding lodge or hotel sites with Zambezi River frontage. The fact is that on the Zimbabwean side 99% of the Zambezi river between Victoria Falls and the Kazangula border is National Parks and not zoned for development. There is a small section of river possibly only 2kms where development can take place, this section is mostly jetty sites for the sunset cruise boats but there is one hotel, a restaurant and the boat club. Another hotel is possibly being developed, but in short there is no land available. If you want river frontage it is best to look in Zambia... read more below.
There is no licensed estate agent based in Victoria Falls and so most properties change hands via word of mouth or through websites like ours. What I know of is advertised below.
Can I join a mailing list to get property updates?
If you would like to join our mailing list then please enter your details in the form at the bottom of this page. This is the quickest way to get notified of properties coming onto the market, be it a hotel, lodge site, housing development or residential property. When we know of something we will send you an email straightaway.
Property Market on the Zambian Side of Victoria Falls
Overview
The town of Livingstone on the Zambian side is much larger than that of Victoria Falls in Zimbabwe. It also seems to have less appeal for various reasons, so the critical supply and demand equation is not the same as Zimbabwe. I do not live in Livingstone, so unfortunately I am not close to hand to what becomes available in and around that town.
Zambezi River frontage properties
But one big differential between the two sides is that the Zambians have not kept their Zambezi River frontage as a National Park like the Zimbabweans. This means that river frontage properties are available, some of which we advertise below. These properties look across the river to Zimbabwe's prime National Park and pristine river frontage. However tourism opportunities differ substantially between the two countries and therefore it is important if you are considering investing to understand the markets of both fully.
I have a property for sale...can I advertise?
If you have a property for sale, then please contact us. We have a huge database of customers who are already looking for properties to buy and we are confident that if your property is correctly priced for what it is then we can find you a buyer quite quickly. We charge a small advertising fee and a 1% commission if there is a successful sale. All enquires will come directly to you.
Property for Sale In and Around Victoria Falls
Price:-- US$ 2 000 000 (neg) - Victoria Falls property Ref N0:- 0874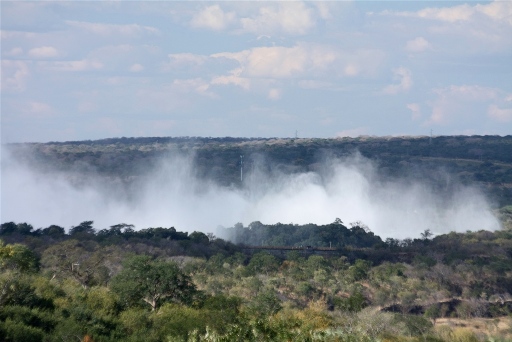 Land for Sale Victoria Falls - Zimbabwe
A superb opportunity exists at one of the Seven Natural Wonders of the World - The Victoria Falls, to develop a hotel or similar project on the last piece of land with views of the Victoria Falls and the Zambezi Gorges.
• 1.8 hectares in extent (4.45 acres)
• Magnificent views of the Victoria Falls, Batoka Gorge, hills in Zambia
• Zoned for hotel development
• 1.5km from Victoria Falls town
• Extensive plans for a 30 roomed 5 star Eco Lodge have already been designed and drawn up.
Lots more - Click here for full details on this property

Price:- Varies with size - Victoria Falls property Ref N0: - 0876 ***SUSPENDED***

Luxury Victoria Falls Villas - Zimbabwe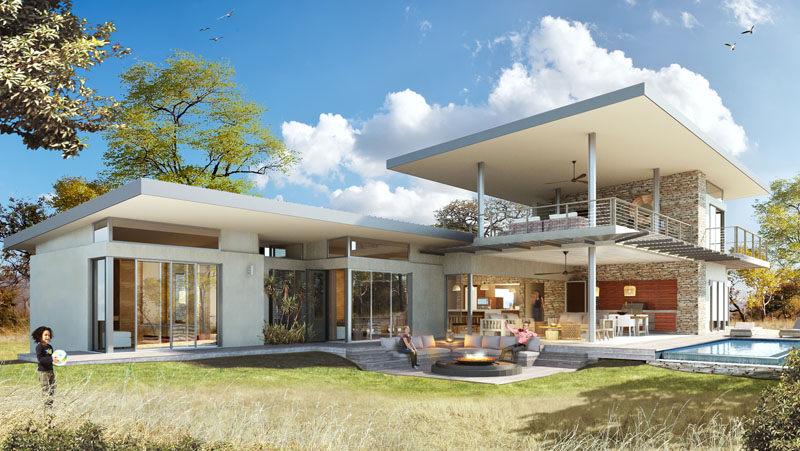 Bonamanzi ("See the Water" in the local siNdebele tongue) is a development of private holidays homes set on 17 400sqm of land situated just 4kms from the world renowned Victoria Falls. This gorgeous piece of virgin land borders the Zambezi National Park where the game roams freely and unhindered views over the National Park and the Zambezi River beyond are exquisite.
• Various plot sizes to choose from
• 2, 3, 4 and 5 bedroomed villas to choose from
• Luxury accommodation a quiet area
• Swimming Pool, Reception and other facilities on site
• 4km from Victoria Falls town
Lots more - Click here for full details on this property
ZAMBIAN PROPERTIES
Zambezi River Property Ref N0:- 0878
Price:- US$ 295 000.00 neg - Dramatically reduced for a quick sale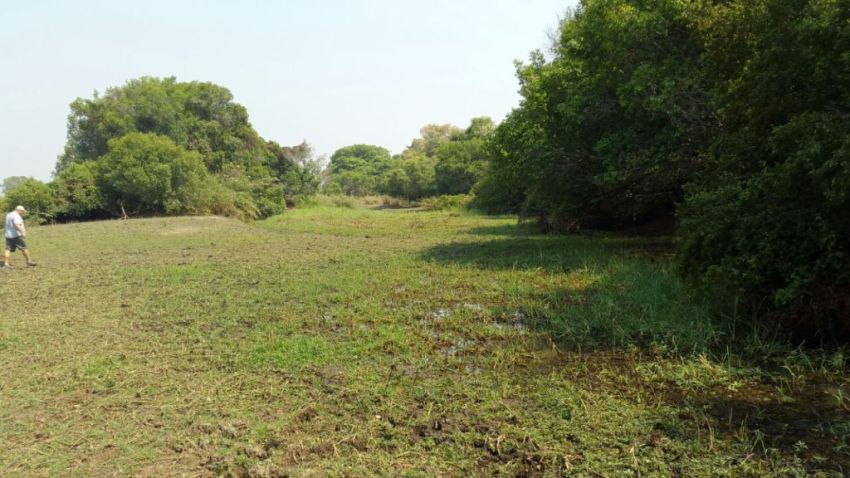 Upper Zambezi River Property on the banks of the river, facing the Zambezi National Park
A 6.6 hectare property situated right on the banks of the Upper Zambezi River (on the Zambian side), 35kms upstream from Livingstone with 210 m of Zambezi River frontage.
• 6.6 hectares of nicely wooded land
• 210m of Zambezi River frontage
• Approx 35 kms up river from Livingstone – Zambia
• Access 33kms tar road plus 11kms dirt
• 26kms to Chobe
• Pristine section of the Zambezi river away from the hustle and bustle of Livingstone
• Over 25kms navigable river
• Designated for Agricultural/Tourism
• 99 year lease from 2015
• Registered in a company name
• No current development
• Opposite the Zambezi National Park in Zimbabwe, full with wildlife.
Click here for more details on this riverfront property
Victoria Falls property reference:- 0878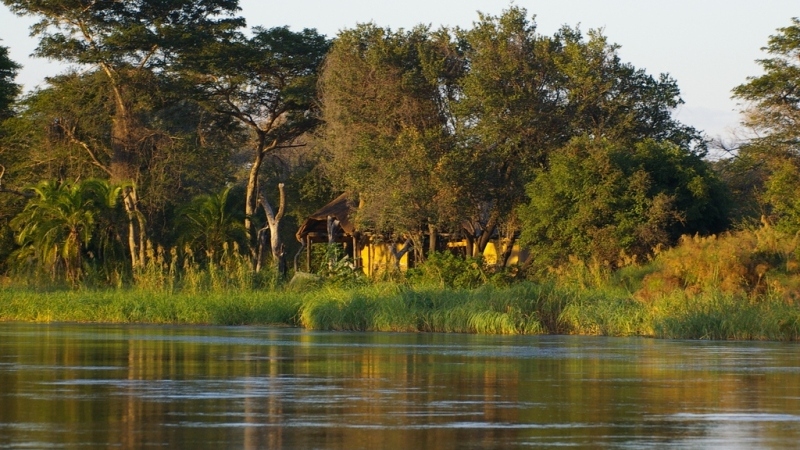 Situated on the banks of the Zambezi River, with easy access to Livingstone and Victoria Falls, this developed site is home to a lodge that has not been operational for a while.
The property is 9.9 hectares of land, with over 600 meters of Zambezi River frontage, located 16kms upstream from the Chobe-Zambezi confluence, and overlooking the Kasika Conservancy of Namibia.
Land only valuation of US $474,000
Click here for full details on this Zambezi Lodge
Victoria Falls property reference:- 0851

SOLD PROPERTIES
Price:- US220 000 neg - Victoria Falls property Ref N0:- 0867 ***SOLD***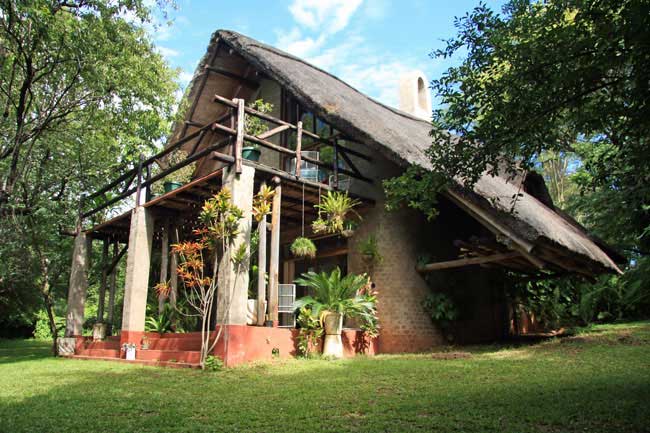 Charming unusual home under thatch with a large balcony. Double volume space in a split level design, comprising a small kitchen, three bedrooms, one bathroom and a guest cottage. Fabulous garden with soaring trees. A lovely property, ideal as a holiday home- well worth a viewing.
• 3 Bedrooms
• 1 Bathroom
• Small Cottage
• Established gardens
• Character Home
• Double storey
Price:- US$1 050 000 neg - Victoria Falls property Ref N0:- 0865 ***WITHDRAWN***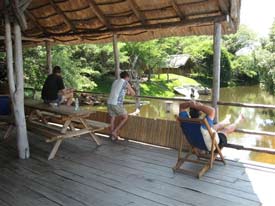 Zambezi River Farm- Zambia
This is everyone's dream!
Very rare opportunity to acquire a nice big piece of land right on the banks of the Zambezi River only 24kms upstream of Victoria falls.
Abundant birdlife and good fishing. Huge potential for all sorts of commercial or private enterprises.
• 300 acres of land
• 300 meters Zambezi River frontage
• Currently run as a Self catering Lodge
• Campsite area
• Restaurant, bar, braai area
Lots more - Click here for full details on this property
Price:- US$420 000 neg - Victoria Falls Property Ref N0:- 0860 ***SOLD***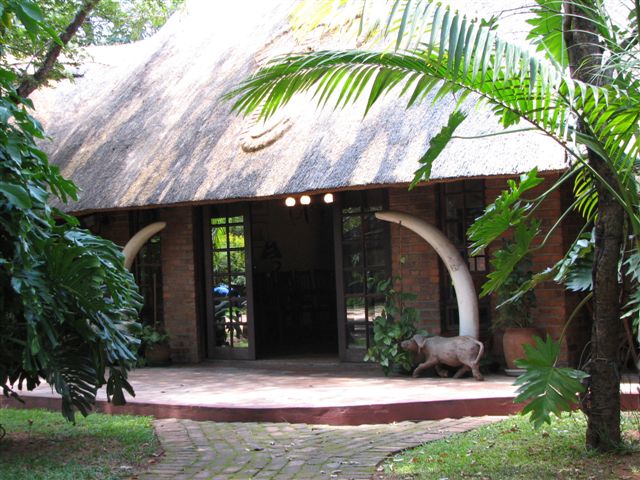 Excellent Guest Lodge For Sale in Victoria Falls - Zimbabwe
This lodge is located only 5 minutes from the Mighty Victoria Falls. It has been constructed in a classic style of red brick under a thatched roof with teak windows and doorframes.
• Sleeps 18 Guests
• Six en suite bed rooms
• Separate 2 bed roomed cottage
• Second self catering cottage
• Central living area furnished with designer buffalo and zebra hide lounge suites
• Land approximately 2000 square metres
• Buildings approximately 650 square metres.
This is a great opportunity for anyone wanting to get into the tourism industry in Victoria Falls, which in time will once again become the hub of the safari industry of Southern Africa.
Price:- US$450 000 - Victoria Falls Property reference No:- 0873 ***SOLD***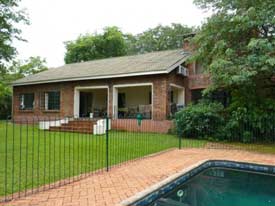 Victoria Falls - Two houses for the price of one!
Main house has 4 bedrooms, 3 bathrooms, 2 en suite, 2 lounges, open plan kitchen, scullery & pantry. Large family playroom with bay window. Main bedroom (upstairs) has a small balcony overlooking the front garden & pool. Low maintenance face brick, this house was extremely well built and has a super developed garden. Covered veranda, again overlooking the pool and garden lends itself to out door life. The side of the house also boasts a small veranda giving privacy and a quiet spot to escape to a secluded garden.
The 2nd house is 3 bedrooms, two bathrooms, open plan kitchen that is secured by it's own wall with a pretty garden. Conveniently, the domestic quarters have been converted to a functional office.
Receptions 2, Bedrooms 7, Bathrooms 5, Lot Size 3800 Sqm
Price:- US$249 000 - Victoria Falls property Ref N0:- 0877***SOLD***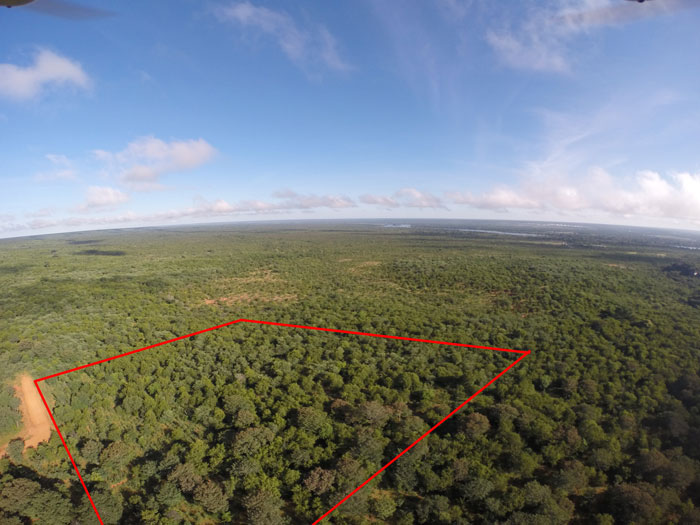 Undeveloped Land for sale - ideal for small lodge/hotel development
Price:- US$249 000.00 neg
• 4.3 Acres
• Undeveloped virgin land
• Title deeds
• Zoned for a lodge development
• Ideally situated only 4kms from town centre yet bordering the National park.
• Beautiful unhindered views across the National park
• Big Game roams freely throughout this area
• 3 boreholes have been sited on the property.
• All services located close by
• Positioned on the adjacent plot to the upcoming upmarket Bonamanzi Villa development
• Untouched natural bush with prolific birdlife
This is an ideal piece of land for anyone wanting to build their dream lodge in Victoria Falls Zimbabwe. It is situated in an elevated position on the edge of a ridge with outstanding views across the Zambezi National Park and Zambezi River beyond. Undeveloped stands are very rare let alone one that is of this size and in such a perfect location, so it is an opportunity not to be missed.
Lots more - Click here for full details on this property
Victoria Falls Property Reference No:- 0864 ***SOLD***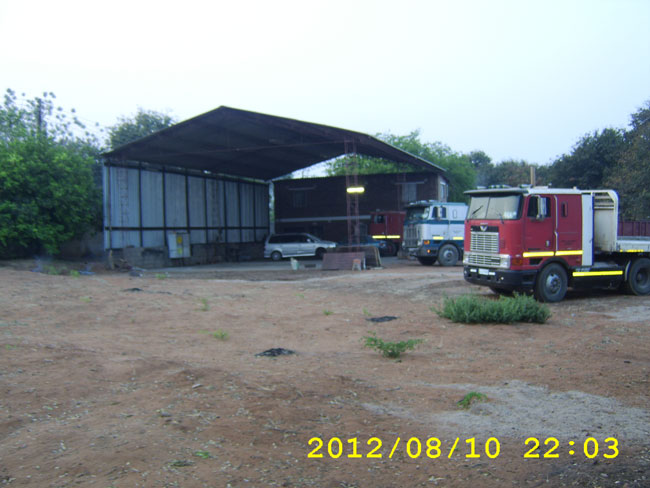 Victoria Falls Industrial Plot
• Property Size is 3748 sqm.
• Full title deeds available.
• Double storey office block.
• Open tore structure.
• Service pit for vehicle repair.
• The property has mains water and electricity supply.
#8226; The property is walled.
Open to offers - Urgent Sale
Price:- US$300 000 - Victoria Falls property Ref N0:- 0875 ***SOLD***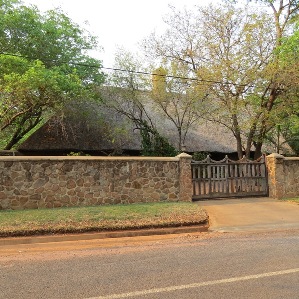 House for Sale Victoria Falls - Zimbabwe
A beautiful home built of dolomite rock, professionally laid and pointed, under a high thatch roof. This house is located in the quiet suburbs of Victoria Falls just 4km away from the mighty Falls themselves.
• Stand 2000 square meters in extent
• House is 300 square meters
• 2 Spacious bedrooms
• Swimming Pool
• 4km from Victoria Falls town
Lots more - Click here for full details on this property
Victoria Falls property reference No:- 0857 ***SOLD***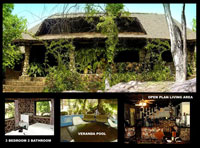 Kariba Lakeside House -Mlibizi
Acre property, large 168 sqm Kariba house, Right on the shores of Lake Kariba.
Complete household furniture including an 8 seater Kariba pontoon raft (with roof)
If you love Kariba and love nature at its best, consider making this property your holiday home escape, a BB fishing tour business, or one for retirement.
Livingstone Guest Lodge** SOLD**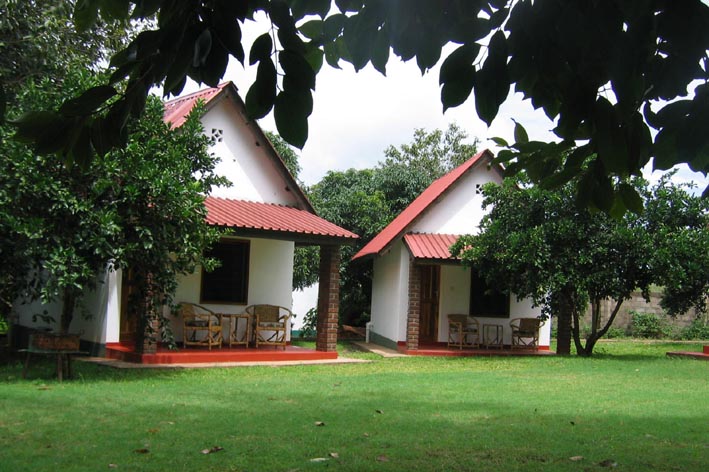 Green Tree Lodge is located in a peaceful suburb on the outskirts of Livingstone, 10 minutes drive from the airport while still only 3 minutes from the main town centre and 15 minutes to the Victoria Falls and the Mosi-oa-Tunya Game Park.
It is being sold as a going concern on a "walk in walk out" basis
• Sleeps total 16 Guests
• 5 on suite guest chalets
• Main house with 4 bedrooms and 2 bathrooms
• Dining terrace, swimming pool, ablution block, reception office, and staff quarters
• Land approximately 3120 square metres.
Click here for full details on this property
Price:- US$230 000 neg - Victoria Falls property Ref N0:- 0863
*** SOLD*** Please contact us for other similar properties
Prime Residential Property in Victoria Falls** Sold**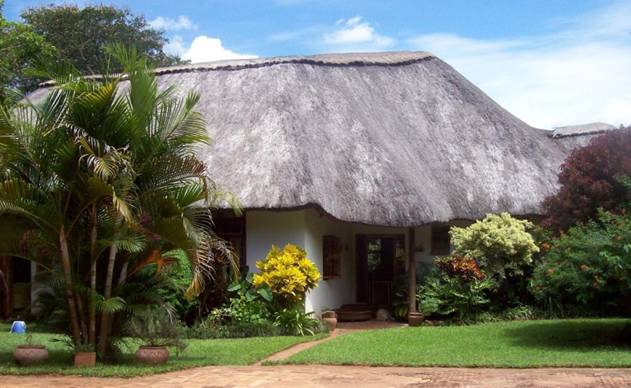 Beautiful family Home in Victoria Falls
• 4 bedrooms
• 4 reception rooms & veranda
• 2 bedroom cottage
• Large mature garden
• Swimming pool & gazebo
• Plot size: 3000m2
• Buildings Area: 440m2
This fantastic property has everything you could want and is situated is a very quiet road in the low density residential area of Victoria Falls, Zimbabwe, near the Town Centre and Victoria Falls waterfall.
Price:- US$ 340 000 neg - Victoria Falls Property reference:- 0859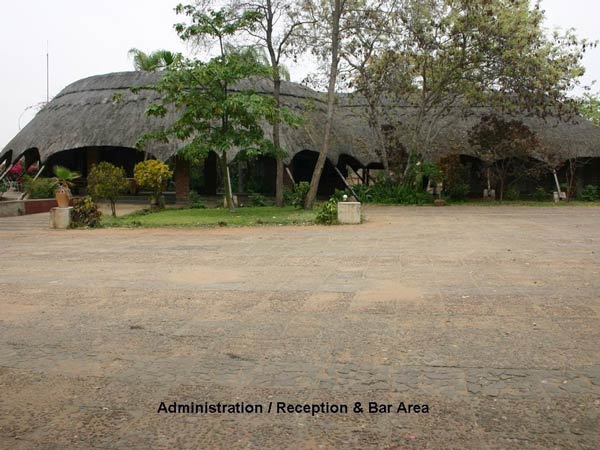 Prime Property for Sale
This sort of property rarely comes onto the market.
This Victoria Falls property is 4 hectares in extent, and has title deeds. It has potential for future tourist development and has commercial rights.
Click here for full details and photos on Inyathi Lodge
Victoria Falls property reference: -Inyathi Lodge
*** SOLD*** Please contact us for other similar properties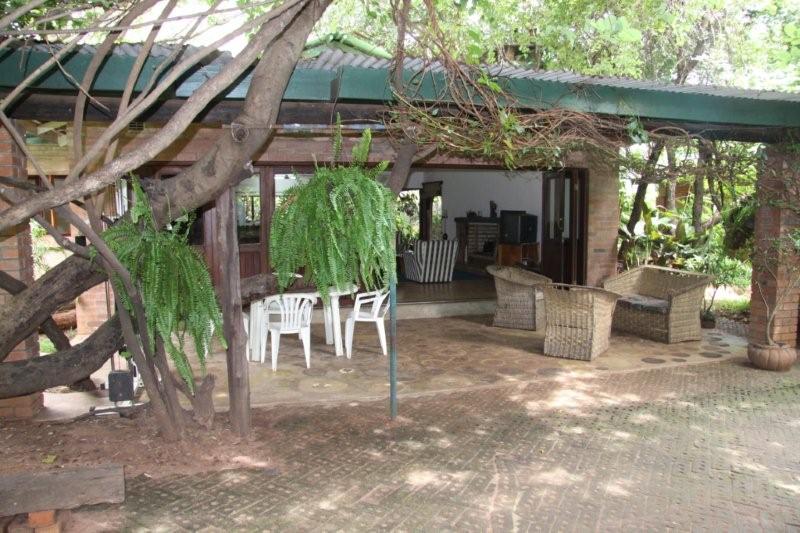 This lovely family home is a face brick under corrugated iron construction. The house is in good condition and needs very little doing to it.
The Victoria Falls property is set in the low density residential, only a 5 minute drive from the Falls themselves, in a beautiful tropical garden, full of bird and small animal life.
Price:- US$160 000 neg
Victoria Falls Property Ref N0:- 0861
*** SOLD*** Please contact us for other similar properties
Large Vacant Undeveloped Plot - Vic Falls Residential
This 1.4 hectare (3.5 acre) undeveloped plot has lovely indigenous trees and is ideally located onial area of Victoria Falls. The property benefits from being walled and has water services connected.
Originally it had planning permission for a townhouse complex, this permit has now expired but could be reapplied for. This property is about 5 times the size of an average Vic Falls Residential Plot. The property is in the name of a company, therefore transfer fees do not apply.
Price: US$250 000.00 neg
Victoria Falls Property reference - 08577
These are the only photos and details I have of this property. So if you would like to know how to get in touch with the owners please fill in the form below.
*** SOLD*** Please contact us for other similar properties
***SOLD***
Price:- US$360 000 neg - Victoria Falls property Ref N0:- 0868
Victoria Falls House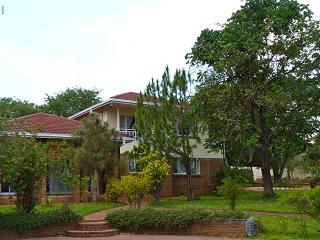 This double storey house under tile has two bedrooms upstairs (one ensuite). The ground floor has a third bedroom, a full bathroom, separate toilet and study. Spacious open plan lounge and dining room and a fitted kitchen. Behind the Main house there are four more rooms. Other outbuildings include a double lock up garage with tool room, a guard room (own ablution), a tennis court and a swimming pool. The whole house has a wall to wall carpet (except for the bathrooms and kitchen which are tilled). The property has a paved drive way and a well kept garden, walled all around, electric gate and an electric fence on top of the wall.
• 3 Bedrooms
• 2 Bathrooms
• Outbuildings, swimming pool and tennis court
• Full title deeds
• Property size 5600 m2
• Borehole
• Double storey
Click Here to see Victoria Falls properties that have been sold...
Share with others!

The Vic Falls Bush Telegraph
our Free Quarterly E-Newsletter

Each quarter there's loads of information about conservation and wildlife, a destination update, specials offers and discount packages, traveller tips and stories, book reviews, African folktales, environmental reports, bush recipes, best photo competitions and tons more....

"Your newsletter keeps me informed about new and old and is the best I've seen in a long while - informative, not commercial, just plain perfect!" I.Skliros

This Quarter we are also giving away a Free Screensaver to Every New Subscriber.
Return from Victoria Falls Property to our Victoria Falls home page