Lake Kariba Accommodation, Zimbabwe
Lake Kariba, Zimbabwe is blessed with breath-taking scenery, amazing bird and wildlife and some of the best fishing waters in Southern Africa. The weather, although extremely hot in some seasons is idyllic, so it's no wonder a variety of accommodation options have sprung up.
Lake Kariba is a vast wilderness area, with the lake extending for more than 280kms. So, it's not exactly over developed at this stage, which is part of the magic…its isolation.
What are the different Lake Kariba accommodation options?
For those unfamiliar with Kariba, it can be a bit confusing as to where to stay. We have outlined the options below and hope that this will make it clearer for you.
• Houseboats on the lake itself, based out of both Kariba town and Binga.
• Hotels, lodges, self-catering and camping in and around Kariba Town on the extreme eastern end of the Lake, by the Kariba dam wall.
• A handful of beautiful Safari lodges dotted around the eastern basin, on the islands and the mainland extending just past the Ume river.
• Minimal hotel options in Binga and Mlibizi at the western end of the lake.
• Matusadona National Parks chalets and camping.
Lake Kariba Accommodation - All PRICES displayed below are:-
1) Standard 2021 International prices - regional and local prices may differ.
2) Per person per night sharing (pppns)
3) Single supplements apply
4) Priced in US Dollars - All taxes and levies included
Filter by accommodation type
Lake Kariba Accommodation options
Kariba Hotels

Location: Kariba town, Zimbabwe.
Details: Kariba town hotels are used more by local Zimbabweans who have their own boats and come on holiday. International tourists generally stay at the more luxurious safari lodges detailed below, where there are more activities and they can enjoy a safari.

Caribbea Bay Resort is probably the most popular hotel, followed by Cutty Sark Hotel. Hornbill Lodge is a boutique lodge with stunning views, whilst Nzou Lodge, Cerruti and Wild Heritage offers affordable self-catering accommodation. Warthogs Bush Camp has backpacker accommodation with a great relaxed atmosphere and location, while Lomagundi Lakeside also has self-catering and camping options.

TBA

Per person sharing per night.
Bed & Breakfast.

Filter by
Lake Kariba accommodation options - 2021 Rates

Lake Kariba is a very noteworthy safari destination, although mistakenly often overlooked by international tourists. The safari lodges that have developed on the islands and mainland along the Matusadona shoreline offer some truly amazing safari opportunities.
The ones we recommend are Spurwing Island Lodge, Musango Island Camp, Bumi Hills, Changa Safari Camp and Rhino Safari Camp. Each one has its own uniqueness in some way, so please contact us for more information and details on each.
In this section but cheaper and on the more rustic side are Tiger Bay and Gache Gache Camp.
Location: Private concession in Matusadona National Park, Lake Kariba.
Size: 6 luxury tents, 2 family tents
Star Rating: *** (3)
Advantages: In a private concession within the Matusadona National Park; Great views of the hills and lake; Spacious luxury tents; Fully inclusive including Morning and afternoon game drives, Walking safaris, Boat cruises both scenic and game, Fishing; Bird watching, Scenic trips to Sanyati Gorge; Great packages with sister camp The Hide in Hwange National Park; Personalised service and good guiding.

$380

Per person sharing per night.
Fully Inclusive.
Low Season.
Location: Private concession just outside the Matusadona National Park boundary, Lake Kariba.
Size: 8 en-suite tents
Star Rating: *** (3)
Advantages: In a private concession just outside the Matusadona National Park and some of the activities are in the national park; Private owner-run camp and personalised experiences and a top guide; Family friendly safari lodge; Extensive range of activities including Games drives and walks, speedboat and pontoon boat cruises for both scenic and game-viewing / bird-watching, Fishing, Village visits, Specialised birding trips, Dinosaur fossil site visits, Crocodile Farm visits, Black rhino tracking, Early stone-age tool sites, Photography; Great savings with a pay stay special offered all year round.

$385

Per person sharing per night.
Fully Inclusive.
Low Season.
Bumi Hills
Location: Private concession in Bumi Hills, west of Matusadona National Park, Lake Kariba.
Size: 9 luxury rooms, 1 luxury villa
Star Rating: *** (4)
Advantages: Great location with breathtaking views and beautiful beaches; Comfortable spacious luxury rooms; Luxury facilities and good service; Fully inclusive activities including game drives on private concession, scenic boat excursions/cruises, fishing, cultural visits, birding; Close to Matusadona National Park.

$520

Per person sharing per night.
Fully Inclusive.
Low Season.
Lake Kariba accommodation options
Binga / Mlibizi

Location: Lake Kariba shore, Zimbabwe.
Details: This is going to be a very short paragraph as options are very limited indeed. This western end of the lake is remote, and tourism has never really taken off. It is very convenient if including Victoria Falls and Hwange in your holiday plans as it's a nice drivable little circuit. There are a few houseboats at this end which are popular and the accommodation available is really for a night on either side of a houseboat trip.

Masumu Lodge is top of the ranking here and is actually a very nice spot. Chilila Lodges also have a few nice chalets. These both serve the Chilila harbour where several of the houseboats are moored and Zambezi Cruise Safaris depart from. Kulizwe Lodge serves the Kulizwe harbour, where the other houseboats are moored.

Mlibizi is a bit further west and it is from here that the Kariba ferry starts and ends. Accommodation is limited to the basic Mlibizi resort, right by the ferry harbour.

Info coming soon, but feel free to send us an enquiry...

TBA

Per person sharing per night.

Lake Kariba accommodation options
Chalet / Campsite

Location: Lake Kariba shore, Zimbabwe.
Details: The once beautiful National Parks, Tashinga Campsite and chalets are today in a fairly dire state but are still open. Situated at the mouth of the Ume River in Matusadona National Park, access is very difficult and is either by boat or via a very arduous 4 x 4 road. Experienced 4x4 self-drivers attempt this, as the location is beautiful once you get there.

Bookings made direct with ZimParks
Lake Kariba accommodation options
Location: Lake Kariba, Zimbabwe.
Details: A very popular accommodation option on Lake Kariba is a houseboat holiday, and there are plenty of those to choose from. The majority of Houseboats are moored in Kariba with a much smaller selection based out of Binga. Houseboats moored in either Binga or Kariba vary in type and size, as well as quality, from luxury vessels to tubs. Most houseboats will offer different rates based on fully-catered or self-catered options. Houseboats on the whole are hired by groups in their entirety but there are some new additions like African Dream, and Zambezi Cruise Safaris, that are catering for singles, couples and small families on set departure dates. Two nights on a houseboat is absolute minimum but a week would be my recommendation. Gives you time to unwind completely and really get into the ambience of this idyllic place.

TBA

Per person sharing or per group.
Self catering or Fully Inclusive.

Combining Kariba/Matusadona with Mana Pools and Victoria Falls gives a fantastic experience of the different section of the Zambezi River, from the upper Zambezi (and perhaps Chobe), to the middle Zambezi and the lake, and the final section which is the Lower Zambezi in Mana Pools. Have a look at some Zimbabwe safari ideas taking you around different destinations in Zimbabwe.
The Vic Falls Bush Telegraph
our Free Quarterly E-Newsletter

Each quarter there's loads of information about conservation and wildlife, a destination update, specials offers and discount packages, traveller tips and stories, book reviews, African folktales, environmental reports, bush recipes, best photo competitions and tons more....

"Your newsletter keeps me informed about new and old and is the best I've seen in a long while - informative, not commercial, just plain perfect!" I.Skliros

This Quarter we are also giving away a Free Screensaver to Every New Subscriber.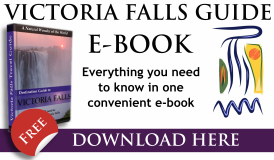 Customer Feedback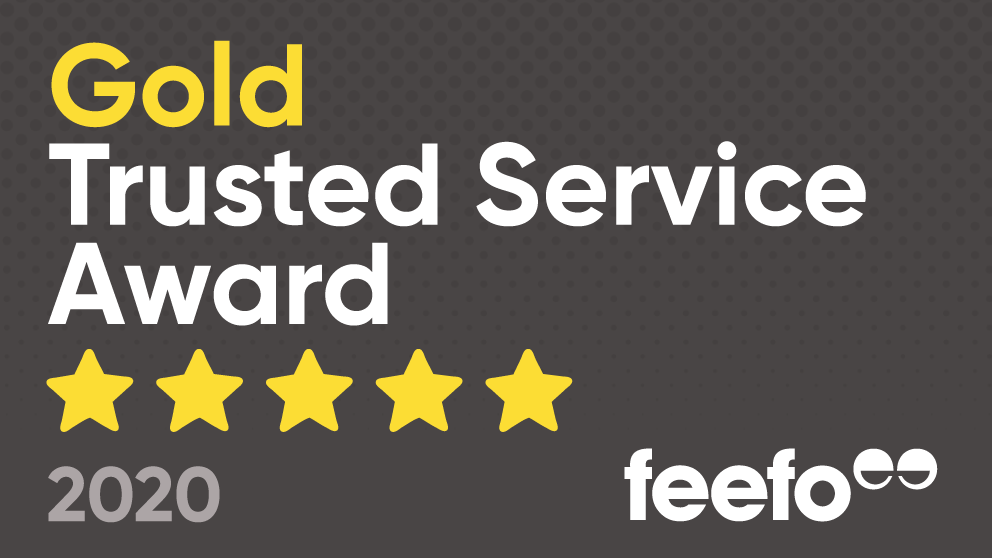 We are very proud to have received this GOLD Service award in recognition of the consistent positive feedback from our clients. Please click on the banner to read our reviews.
Brilliant service and so helpful
by Sally (Blisworth, U.K.)
I stumbled across Victoria Fall Guide by accident, but I am so glad I did. Tony and Boo were so helpful, advising us on the best activities for us as I have mobility issues, and arranging our itinerary and booking everything. I had no worries about using them, or sending a very large payment to someone I didn't know. Everything they booked for us was so well organised, pick ups on time, knowledgeable and friendly guides, clean transport. We did the walking tour of the falls, the sunset dinner cruise, full day at Chobe, the team, lion encounter and the helicopter and every single one was faultless. We were also due to do the lunar rainbow but unfortunately it was cancelled, however boo arranged the refund immediately. I wouldn't hesitate to recommend them to anyone. We are so grateful to them for making our special holiday even more so.