Classic River Safari and Zambezi River - UPDATED

(Victoria Falls)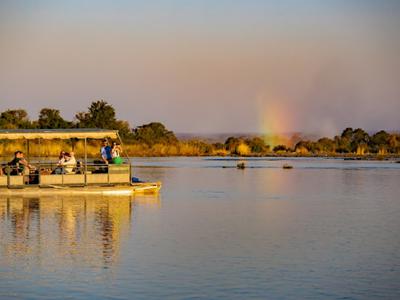 Classic river safari
UPDATE 20 December 2019


For a few weeks now the
Zambezi River
has started to rise again, slow and steady. And while reports have caused alarm over the
Victoria Falls
, the water levels are now slightly higher than they were this time last year (
click here
), and the Zambezi is still as impressive as ever.
The Classic River Safari vessels will now be using the regular route, turning right and leaving the other boats behind, and heading downstream towards the Victoria Falls.
The "jet propelled boats are able to navigate the shallow waters right above the Falls, meandering through the islands that no other vessels in the region can reach" - Bushtracks.
We will keep you posted on when
The Victoria
will be changing path.
17 October 2019
Due to the unusually low levels of the
Zambezi River
at this time, the
Classic River Safari
will be running upstream only from the 21st of October 2019.
The Victoria
River Safari has already changed route for the same reason (Read more
here
). This is a temporary situation as the river is expected to rise soon after the rainy season begins, as it always does.
"According to Zambezi River Authority the flow of the Zambezi river on 23rd September 2019 was 195m3/s. Last year on the same date, the flow was 386m3/s. This indicates a major drop in water levels and therefore water based activities will have to adapt accordingly." - Bushtracks
On a normal trip, the River safaris take you down the Zambezi just like the other sunset cruise vessels, but then break off into the smaller channels heading further downstream towards the Victoria Falls, leaving the other boats behind. The boats get as far as 600 meters from the edge of the Falls.
While the river safari boats may not be going much further downstream, these cruises still offer a bit of exclusivity being small pontoon boats. The Victoria offers more comfort and of-course, excellent food on board from the Victoria Falls Hotel.
We will keep you updated with any more changes.
Related Links
Classic River Safari
The Victoria
Victoria Falls activities
Zambezi River