Curio carvers, vendors get accreditation
Victoria Falls Reporter
THE Forestry Commission has started accrediting curio carvers and vendors in Victoria Falls, a move aimed at controlling the harvesting of timber in the forestry area.
The curio industry, which employs more than 1 500 people in the area has not been controlled leading to rampant poaching of timber, resulting in deforestation.
Speaking in an interview yesterday, the Forestry Commission co-ordinator for Hwange, Mr David Mandongwe, said they wanted timber harvesting to be done in a controllable manner to ensure sustainability of the forests. He said so far 10 co-operatives at Busy Island, a popular vending area where tourists buy curios in town and at curio stands along the Bulawayo-Victoria Falls Highway have been accredited.
"The Commission has started accrediting curio vendors and carvers in and around the resort town of Victoria Falls. So far 10 co-operatives with about 250 members each have been accredited in line with the new requirements of the Commission," he said.
Mr Mandongwe said the Commission had already done a stock take to ascertain the number of curio pieces that were in the vendors' and carvers' stocks. He said they have also ordered the carvers to stop timber logging until the curio stocks are cleared.
"We have since stopped timber logging. The logging will only commence after the stocks have been finished," he said.
Mr Mandongwe said the Commission had identified legal sources of timber logging with the hope of controlling the activity. "The natural resources were depleting at an alarming rate because of rampant poaching of timber for curios. So we want to control the Forestry logging so that we leave something for the future generations. We also want to reduce deforestation," he said.
Meanwhile, Mr Mandongwe said it was now illegal for anyone to export curios without a permit. "Anyone wanting to buy curios should first get a permit from the Commission," he said.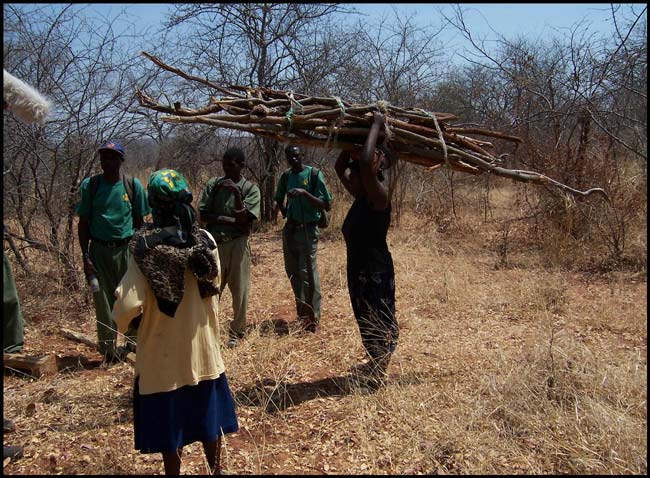 Wood Poachers are apprehended in the Zambezi National park
THE VIC FALLS BUSH TELEGRAPH
our Bi-Monthly E-Newsletter

Each issue has a destination update, loads of information about conservation and wildlife, specials offers, traveller tips, community projects, website highlights and tons more...

Find out more about our Bush Telegraph

"Your newsletter keeps me informed about new and old and is the best I've seen in a long while - informative, not commercial, just plain perfect!" - I.Skliros

Don't worry. Your e-mail address is totally secure. I promise to use it only to send you The Vic Falls Bush Telegraph.
Return from Curio Carvers to our home page