HWANGE NATIONAL PARK ANNUAL GAME COUNT 2013 part 2
by John and Judy Brebner
(27th September 2013)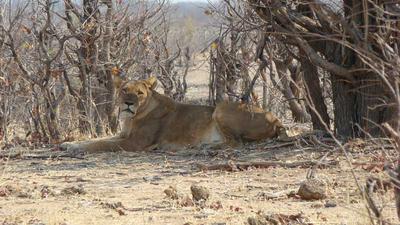 Masuma Lioness
Hwange Game Count Part 2


The following day, we went on down to Ngweshla, stopping off there for a late brunch before going right through to the Mangas to check on the water situation down that end of the park. Manga Three is holding good water, thanks to Somalisa of African Bush Camps and Manga One, just recently having been refurbished had only just started being pumped again so was battling to keep up with the huge numbers of elephant milling around. Having had a hot, dusty drive, we almost decided against an evening drive, but were very glad that we did go out. On our way to Balla Balla, we came across a lioness, sauntering down the road. It looked like she had been feeding as there was blood around her neck and face. She may also have been carrying a slight injury. On our way back into Main Camp a while later, very close to the boom, we suddenly saw a collared male lion and following his progress, we found eight other animals – another collared lion, six lionesses and a half grown cub. What an amazing sighting, watching them just walk along the side of the road and then onto the road, padding unconcernedly towards a safari vehicle!
Before leaving the following morning, we took a quick drive down to Guvelala as we wanted to check on the ablution renovations that are being done there. The Parks staff are doing the refurbishing of the facilities there and its all looking good. We just hope that it gets finished off properly. Unfortunately, the engine was not working so there was very little water in the pan.
Water supplies still remain an issue with the usual frustrations of limited or no fuel supplies and the water teams not having any transport, relying heavily on Gary in the Main Camp area particularly and Stephen Long at Sinamatella. Once again, we had a thoroughly enjoyable time, despite the heat and the whirlwinds billowing up great clouds of dust and as always, appreciated the privilege of being able to do the annual game count.


Click here to return to Hwange National Park.
Can't find what you are looking for? Use Google Search to search this website for any term you are looking for.


Share with others!

The Vic Falls Bush Telegraph
our Free Quarterly E-Newsletter

Each quarter there's loads of information about conservation and wildlife, a destination update, specials offers and discount packages, traveller tips and stories, book reviews, African folktales, environmental reports, bush recipes, best photo competitions and tons more....

"Your newsletter keeps me informed about new and old and is the best I've seen in a long while - informative, not commercial, just plain perfect!" I.Skliros

This Quarter we are also giving away a Free Screensaver to Every New Subscriber.