Our Wonderful Trip
by Marg and Colin
(Australia)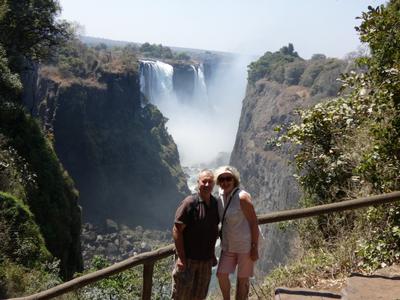 At the Victoria Falls
Hi Boo


Sorry that it has taken us so long to report back on our wonderful trip that you assisted us with.
Colin took a chance on a company that he found on the internet, not knowing you or your company at all, and we weren't disappointed.
We will be singing your praises to all who are going to wander your way.
We trust that you are well and yes we had a great Chobe day!!
I am writing this from both of us, but I am sure that Colin will add his bit before it is sent.
WOW how can we sum this up without boring you to tears!
I am sure that you have heard it all before from the many and varied travellers that you have helped.
Vic Falls
The time taken to purchase a Visa at the airport drove us mad – they need to sort this.
But hey what a wonderful town awaited which is not unlike an Australian outback town except for the animals that roam the streets.
We loved it.
Shearwater Village was fantastic and great location
The helicopter flight over Vic Falls was amazing and what a great introduction to a great night ahead at Dusty Roads. We just loved that restaurant and were lucky enough to experience a small group of young boys perform their first take on what may be an ongoing engagement. Sarah is an amazing lady and we told others about it and we know of another couple (who are from Seattle USA and we are keeping in contact with) enjoyed it immensely too.
We walked into Zambia with the abovementioned couple and after a long lunch at the Royal Livingstone Hotel the Sunset and Dinner Cruise was amazing and so relaxing with great food and wine and many a photo taken.
The last day was spent walking around the amazing falls ending with The Boma Dinner – Colin loved it and I enjoyed it but knew before I went that it wasn't going to be 'my cup of tea'
Chobe
Absolutely Awesome!! River and
Land.
We were the only ones camping at our site with Gabby, Richard, Quincey and M (something). Feel dreadful that I cant remember his name. What a great group of guys and they looked after us just so so well. Food amazing and so much volume and choice. Gabby was an amazing guide and it was easy to see that he just absolutely adored his work. Yes the mass wildlife in Chobe was better than expected. Just loved the zebra. It was pretty special that it was just Colin and I on safari.
Only disappointment was not seeing a Leopard – but that wasn't anybody's fault! Just the luck of the draw it seems for these elusive characters.
I now know what they mean about the African sunset – mind-blowing!
And sundowners – wonderful!
So glad we camped!
Hwange
Hwange was just so different but loved the Ivory Lodge and for the life of me I can't remember our guides name.
Three couples in our safari vehicle here – USA, Switzerland and us Aussies.
Just loved the rustic tree houses and all sitting around the one dining table created some pretty special discussions, laughter and memories. Loved the way the chef comes out and delivers the menu verbally – so unique.
The firepit was also a special place in front of the waterhole and all the staff just tremendous.
Not the mass of animals in Hwange compared to Chobe other than the elephants but we still had an awesome time. Only regret is not having enough time to hop in their inviting pool.
So as you can tell from the above we fell in love with Africa and it was just one adventure after another.
We felt safe, didn't get sick and didn't see one mosquito.
We will return – but likely to different countries next time.
We will be writing a review on TripAdvisor because our interaction with you was outstanding and your service was second to none.
Cheers and all the best Boo, may many more travellers continue to use your excellent services
Marg and Colin