Palm Restaurant, Ilala Lodge
by Inge Skliros
(Brandon, MB Canada)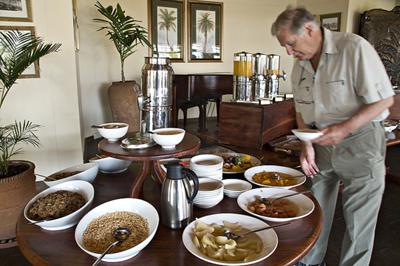 Breakfast buffet
I have stayed at Ilala Lodge on two separate occasions, the latest in October 2008, when things were pretty desperate in Zim. Still our stay was absolutely wonderful. The staff at the hotel could not be more friendly, the accommodation was clean and comfortable and the ambiance was more beautiful than one could imagine.
The restaurant, despite the dire conditions, was well stocked, the food was plentiful and beautifully presented. We had lunch served at the poolside bar - great to be able to sit in swimsuits, while dining under thatch. And that Castle beer went down really smoothly!
Both the hotel and the restaurant are highly recommended!


Click here to return to Victoria Falls Restaurant Review.