PART OF HISTORY, VICTORA FALLS
by DENYS CLARKE
(QUEENSLAND AUSTRALIA)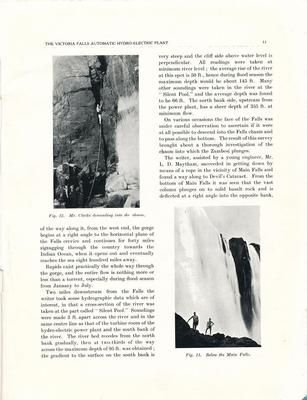 MY FATHERS EXPLOIT VICTORIA FALLS
To enlarge pictures to read please go to this page Denys Clark


DURING 1937/1938 MY FATHER C.G.T.CLARKE WHO WORKED FOR THE ENGLISH ELECTRIC COMPANY AS A HYDRO ELECTRICAL ENGINEER INSTALLED THE TURBINES AT THE VICTORIA FALLS POWER STATION, HE WAS AN ADVENTURESOME CHARACTER WHO DECIDED TO DESCEND INTO GORGE BELOW THE FALLS, TOGETHER WITH A YOUNG ENGINEER THEY TIED A ROPE TO A TREE AT THE TOP OF THE GORGE DOWNSTREAM FROM THE FALLS AND SCALED DOWN. WHEN THE NORTHERN RHODESIAN GOVERNMENT HEARD ABOUT MY FATHER'S EXPLOIT THEY ASKED HIM TO AGAIN GO DOWN THE CHASM BELOW THE FALLS SO THAT A SURVEY COULD BE CARRIED OUT REGARDING THE VARIOUS HEIGHTS OF THE GORGE, TOGETHER WITH A SURVEYOR WHOSE NAME WAS W. YOUNGER THIS WAS CARRIED OUT.
WHEN I WAS VERY YOUNG I RECALL SEEING A PHOTOGRAPH OF A PLAQUE WITH MY FATHER'S AND THE SURVEYOR'S NAME ON IT RECORDING THIS INCREDIBLE ACHIEVEMENT, AT THAT TIME MY FATHER WAS FORTY YEARS OLD, BORN IN NEW ZEALAND.
I HAVE ATTACHED PHOTO COPIES OF PAGES FROM A ENGLISH ELECTRIC COMPANY MAGAZINE DATED 1938 WHICH HOPEFULLY CAN BE READ BY ENLARGING VIA THE WINDOWS PICTURE AND FAX VIEWER OR BETTER STILL BY PRINTING THE PAGES, I AM SURE THAT WHOEVER READS THESE PAGES THEY WILL BE ENGROSSED BY MY FATHERS GRIPPING ACCOUNT.
YOURS SINCERELY,
DENYS CLARKE.
To enlarge pictures to read please go to this page
Denys Clark
THE VIC FALLS BUSH TELEGRAPH
our Bi-Monthly E-Newsletter

Each issue has a destination update, loads of information about conservation and wildlife, specials offers, traveller tips, community projects, website highlights and tons more...

Find out more about our Bush Telegraph

"Your newsletter keeps me informed about new and old and is the best I've seen in a long while - informative, not commercial, just plain perfect!" - I.Skliros

Don't worry. Your e-mail address is totally secure. I promise to use it only to send you The Vic Falls Bush Telegraph.