The Journey of the African Dream

(Victoria Falls)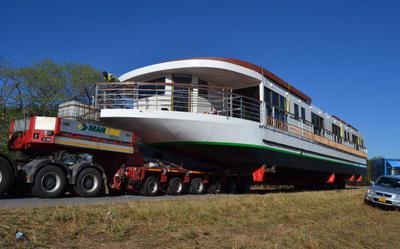 The African Drean en-route to Chobe
A few months ago, we heard of the start of the journey of a new houseboat that was about to make it's way from Harare (Zimbabwe), where it was built, to Chobe (Botswana). A few days ago, the luxury liner has passed it's 5-day mark on it's slow ride from the capital city to Masvingo.


The African Dream has already completed about a third of it's trip at 30 km/hour on the best roads, but averaging 10 km/hour. This slow pace is part of the reason why the powers that be saw it fit for the houseboat to take a longer than normal route to go from Harare to Bulawayo. The highway between Harare and Masvingo avoids major highway traffic, and the toll gates along the way through which the vessel would not fit.
Presently, the African Dream is in Bulawayo, having arrived from Masvingo today. From there, it will continue onto Victoria Falls, then pass Kazungula and on to the Chobe River. The Masvingo to Victoria Falls leg is estimated to take about 10 days, and during this time, drivers along this stretch of the highway, as well as the Kazungula Road are advised to exercise caution and patience. The convoy will make stops along the way to allow motorists to pass.
The African Dream is a 3-decked luxury houseboat operated by Croisi Europe, offering trips to the Chobe and Zambezi regions, beginning in December of this year. The 108 ft "ship" can accommodate up to 16 guests at a time in 8 cabins. Trips offered by Croisi Europe combine stays on the river with nights in one of their safari lodges.
According to the LA Times, "CroisiEurope is so confident its new African tour will be a success that a second boat is already being planned for 2018".


Click here to return to Victoria Falls News.
Can't find what you are looking for? Use Google Search to search this website for any term you are looking for.


Share with others!

The Vic Falls Bush Telegraph
our Free Quarterly E-Newsletter

Each quarter there's loads of information about conservation and wildlife, a destination update, specials offers and discount packages, traveller tips and stories, book reviews, African folktales, environmental reports, bush recipes, best photo competitions and tons more....

"Your newsletter keeps me informed about new and old and is the best I've seen in a long while - informative, not commercial, just plain perfect!" I.Skliros

This Quarter we are also giving away a Free Screensaver to Every New Subscriber.