The Victoria Falls Wildlife Trust
by Pete Roberts
(18th June 2013)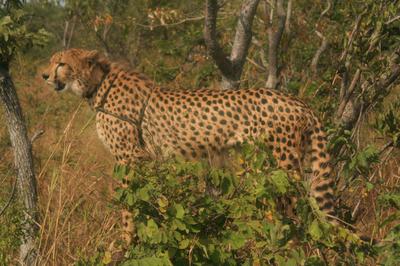 Sylvester the cheetah
The Victoria Falls Wildlife Trust (formerly the Wild Horizons Wildlife Trust) is dedicated to protecting the area's unique indigenous fauna and flora in collaboration with appropriate Authorities, local communities and other stakeholders. One of the core objectives of the Trust is the care and rehabilitation of injured wildlife and to support the treatment of snared and injured animals in the field the Trust has, with the help of a generous private donation, developed a state of the art Wildlife Laboratory and Clinic on the Wild Horizons Sanctuary.


First conceptualised in 2009, the Victoria Falls Trust's Wildlife Laboratory and Clinic is now complete, and will take in wildlife that is injured, abandoned, orphaned or maimed by human interference. The main objective will be for treatment of the animal and its release back into the wild once it has recovered. For wildlife that has injuries that are long-term or permanent the Trust aims to look after the animal with the hope of providing a soft-release into the Sanctuary where possible.
The Trust already looks after 'Sylvester', a young cheetah who as a cub was rescued in 2010 from Hwange National Park at the age of only two days. The sole survivor of a lion attack which killed his mother and four siblings, he was rescued by a game scout named Sylvester who had witnessed the attack and initially cared for by Norman and Penny English who became his surrogate parents. Against the odds Sylvester survived, and at six months old moved to the Sanctuary. Carers exercise him extensively, help with his feeding and are around for anything a growing cheetah might require (you can follow Sylvester on Facebook
click here
.
Sylvester also fulfils an important role at the Sanctuary, interacting with tourists and schoolchildren who visit the Elephant Wallow during other activities, is an 'ambassador' for his species, stimulating interest through close interactions and providing a platform for awareness and education on the conservation challenges facing this species in the wild.
In mid April this year the Trust took on another Hwange orphan, a young aardwolf, believed to have been injured by a vehicle. At the time the aardwolf had no feeling in its back legs, even though there were no broken bones. A week down the line and with daily care and attention, one leg has fully recovered and the other leg is slowly getting feeling back, and staff are hopeful that he will make a full recovery and can be released back into the wild.
The Trusts work, operation of the Laboratory and Clinic and care for injured and orphaned wildlife is dependant on support and donations. If you are interested in learning more about the Trust's work or donating, please visit their website
click here