Victoria Falls Vulture Restaurants Attract South African Clientele
by Pete Roberts
(Victoria Falls)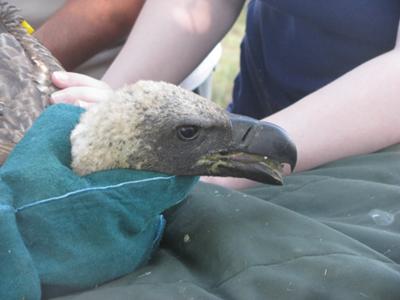 Courtesy of Mankwe Vulture Research project
In a story first published in the Zambezi Traveller, staff at the Victoria Falls Safari Lodge were very interested to discover that two of the White-backed Vultures (Gyps africanus) feeding at its Vulture feeding restaurant had been tagged by researchers in the Pilanesberg Northern Province in South Africa, 900 km south of the Falls. One had been tagged with a GPS tracking device, allowing researchers to pin-point its location at the Lodge's waterhole. Staff at the Lodge had recorded sightings of this vulture, with two noticeable yellow tags on its wings, and another vulture with a non-GPS tag, during June and July last year. The researchers did not realise that the Lodge ran a Vulture restaurant, and so this was important additional information for their research on the habits of this species. Tagged birds were also seen at a second Vulture feeding restaurant on the nearby Victoria Falls Private Game Reserve.


The vultures were caught and fitted with GPS-GSM trackers at Mankwe Wildlife Reserve, adjacent to Pilanesberg National Park, (NW Province, South Africa). Subsequent tracking showed two of the immature white-backed vultures travelled to the Victoria Falls area, and visited both the feeding sites. Louis Phipps, researcher with the vulture research project, describes their subsequent movements:
"The first, named Leverhulme, after the Leverhulme Trust who sponsor the project, travelled around the northern provinces of South Africa before heading into Zimbabwe. It crossed the width of country and into Bots in 2.5 days before heading north into Chobe National Park. It then went briefly to the feeding sites before a few trips into southern Zambia and the Caprivi strip. It then spent a month in Chobe NP before heading south again. It was re-sighted at another vulture restaurant in Thabazimbi, South Africa, (70 km north of where it was captured) a month after its tracker stopped transmitting data.
"The second vulture to head to the Falls area spent over 3 months basically travelling between the two feeding sites and an artificial water hole. This vulture travelled very little during this period and seemed to get most of its food from the Victoria Falls Private Game Reserve feeding site. It did however, have time to see some of the tourist hotspots: aside from spending time at the Victoria Falls Safari Lodge, and across the Zambezi in Livingstone itself, it even perched on a tree less than 100 meter from the 'Big Tree'. After a while it headed into the Caprivi Strip, briefly into southern Angola, and then back through Chobe NP to VFSL again. The last location received was from SW Zimbabwe, north of Tuli."
The African White-backed Vulture is widespread in southern Africa, especially Botswana, the eastern and northern areas of Namibia and parts of Zimbabwe. Although widespread, they have declined rapidly in certain parts of their range. Recent research has shown that vultures are highly mobile and can cover several 100 kilometres in a day in search of food. This makes the implementation of effective conservation measures a daunting task which conservationists and researchers propose is best approached from a regional perspective.
Vultures in the region are faced with a range of threats such as accidental poisoning, direct persecution, electrocution and collision with power-lines, road fatalities, loss of suitable wild habitat and shortage of suitable food supplies. Poisonings especially pose a major threat as hundreds of birds, which can all scavenge on the same carcasses, can be unintentionally killed in a single poisoning incident. Widespread and indiscriminate use of poison by small-stock farmers across vulture home ranges, to combat mammalian predators such as jackals, caracals and domestic dogs, is therefore a significant problem for conservationists.
Recent declines in Kenya have been attributed almost entirely to poisoning, where herdsmen are targeting hyena and lion in an attempt to reduce livestock losses. Poisoning cases are reportedly on the increase in Botswana also. The recent collapse of the Asian vulture population from widespread poisoning, has seen the increase of diseases which threaten human health, such as anthrax and rabies, since the vital scavenging service provided (for free) by vultures is eliminated. In order to prevent a similar catastrophe from occurring in Africa, conservationists are calling for a cross-border conservation effort as soon as possible, and it is hoped that the tracking research will provide information to assist this conservation work.
'Vulture Restaurants' – feeding posts where fresh meat is regularly provided - can become a useful source of food and help support vulture populations. They also provide great opportunities to educate tourists and others about vulture conservation. Louis continues:
"Feeding sites such as the ones in the Victoria Falls area provide supplementary food for vultures, especially immature individuals, which can be vital for their survival in the face of diminishing populations of wild animals on which they would normally feed, and improved animal husbandry meaning that livestock carcasses are rarely left in the veld. These sites also provide an excellent opportunity to monitor the numbers of vultures and to detect any sudden declines that might indicate poisoning events or other threats. The re-sightings of the wing-tagged vultures provided valuable information about the ranging activity of the vultures, and it is hoped that more re-sightings will come from the feeding sites at Falls."
If vultures are seen with wing tags, the tag code, colour, species, location (GPS if possible), and birds activity should all be recorded. If the number isn't visible the colour is fine - any info helps.
Contact Louis direct with vulture sightings wlphipps@zoology.up.ac.za