Who Let The Dogs Out !
by Shearwater Adventures
(Victoria Falls -15th July 2011)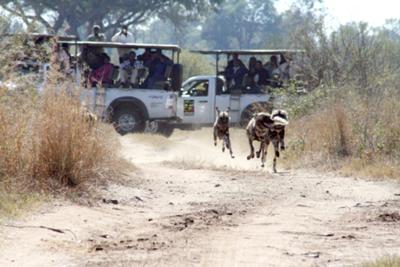 The Ukusuta Pack Run Wild on the Victoria Falls Private Game Reserve
Shearwater Adventures and Rani Africa are proud to announce that The Ukusuta Painted Dog pack has recently been released into the bush on the Victoria Falls Private Game Reserve.


Recent figures published by African Geographic Magazine site only 374 Painted Dog remaining in the wild in South Africa so any project that stimulates their numbers in the African wild is of vital importance to the survival of these incredible animal.
The Ukusuta Pack is made up of five pups (Dutchie, Aurora, Inhlanhla, Nyeza and Gaia). These siblings were rescued from a den in Hwange National Park after it is believed their parents were killed by Lion. They are led by an older male, Sithule, who was also found abandoned and introduced as the Alpha Male to the reformed pack.
They were given refuge at the Painted Dog Rehabilitation Centre in Hwange from 2009 until earlier this year when they were moved to an enclosure on the Victoria Falls Private Game Reserve for a period of acclimatization before being released back into the wild.
It is expected that The Ukusuta Pack will only be temporary residents on the Reserve with the property acting as a "staging post". If the dogs are able to achieve self-sufficiency in this relatively controlled environment, it is hoped that ultimately they will be released back into Hwange or Mana Pools
National Park and the process can be repeated to re-establish other viable packs.
Before this is possible however, there are many daunting challenges that face the Dogs such as learning to hunt successfully, avoiding other predators (particularly Lion) and responding to other Painted Dog that inhabit the area.
Whatever their future holds, valuable insights and lessons will be learnt from this pioneering conservation project thus bettering the chances of these critically endangered predators in their fight against extinction,
and the organisations dedicated to their preservation.
Please take the opportunity to meet the Ukusuta Pack by joining one of Shearwater's various safari activities on the
Victoria Falls Private Game Reserve.
The 4,000 ha "Big 5" Reserve has over a thousand head of game including six black Rhino - the successful result of another bold conservation initiative by Shearwater Adventures and Rani Africa on the property.
We will keep you posted on the progress of the the Ukusuta Pack.
To learn more about the Ukusuta Pack and the incredible work conducted by the Hwange-based Painted Dog Conservation visit
www.painteddog.org.
---
If you would like to receive similar updates on everything that happens in the Victoria Falls Private Game Reserve - why not sign up for our FREE newsletter, for full details and back issues
Click Here.
You can also join us on
Facebook
and receive all the latest information.