Home | Victoria Falls Events | Jameson Vic Falls Carnival
Jameson Vic Falls Carnival

The Jameson Victoria Falls Carnival is the biggest party of the year in Africa.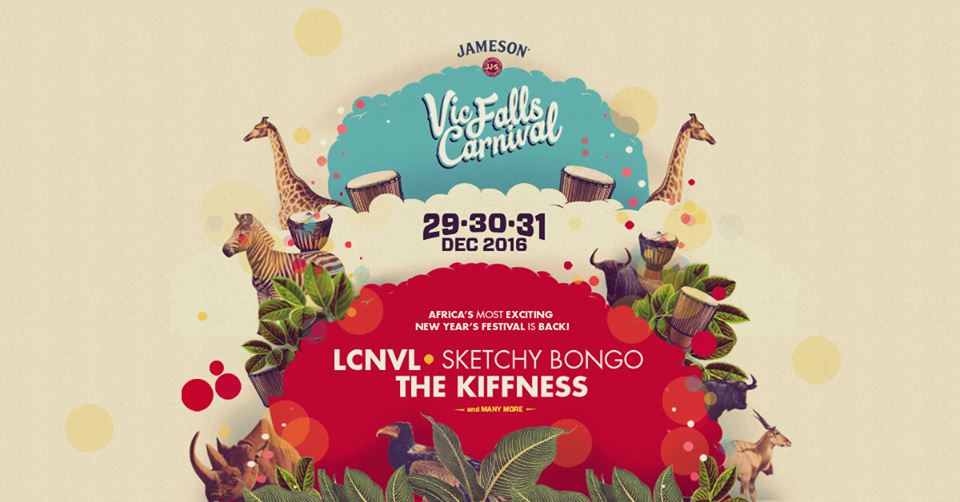 In December 2015, Victoria Falls (Zimbabwe) hosts thousands of party goers for the Jameson Victoria Falls Carnival. The festival is a colourful three day affair with activities and music galore on the 29th, 30th and 31st of December. Visitors from all over Africa and the world will come to Victoria Falls and party into the New Year. This year, however, things have changed a little, with the exclusion of the colour party, but a much bigger bush party!
Local and international artists this year will include:
Charma Gal (Botswana)
Mango Groove (South Africa)
GoodLuck(South Africa)
Monark (South Africa)
Makoomba (Zimbabwe)
Bhana (Zimbabwe)
Zyon Black (Zimbabwe)
Jason le Roux (Zimbabwe)
DJ Rax (Zimbabwe)
Ryan Koriya (Zimbabwe)
Judgement Yard (Zimbabwe)
Diloxclusive (Zimbabwe)
DJ Francis (Zimbabwe)
The Steam Train & Bush Party will be even bigger this year, with multiple trips taking a maximum of 1500 partiers into the bush. Still on 29th December, the party train will take guests on a ride of a lifetime through the wilderness to a secret bush party. The ticket for this day is US$60.
There is no colour party on the schedule for 2015, but several small parties at different venues (which are still to be announced). Carnival ticket holders get into any of them at no additional charge.
At the Victoria Falls Farm School, the big New Year's eve event will commence with the top acts giving you the best New Years event in Africa. Shuttle buses will be ferrying people to and from the event, an the ticket will be US$65.
Tickets are available online for the various days and packages available too. However, some packages have already sold out so hurry to get tickets before you lose out on this spectacular event. See the Jameson Vic Falls Carnival tickets link for options and to make your purchase online. Tickets are available for sale in Harare, Bulawayo and Victoria Falls (Zimbabwe), Gaborone (Botswana), Johannesburg (South Africa) and Lusaka (Zambia). Follow the tickets link to see the locations.
For up-to-date information and special offers and prizes, log on and like the Vic Falls Carnival Facebook page.
Share with others!
Can't find what you are looking for? Use Google Search to search this site for any term you are looking for..


The Vic Falls Bush Telegraph
our Free Quarterly E-Newsletter

Each quarter there's loads of information about conservation and wildlife, a destination update, specials offers and discount packages, traveller tips and stories, book reviews, African folktales, environmental reports, bush recipes, best photo competitions and tons more....

"Your newsletter keeps me informed about new and old and is the best I've seen in a long while - informative, not commercial, just plain perfect!" I.Skliros

This Quarter we are also giving away a Free Screensaver to Every New Subscriber.
---
Return from Jameson Vic Falls Carnival to our Victoria Falls home page