Rovos Rail
A Luxury Train Journey is the Ultimate way to get to Victoria Falls Traversing Mountain Ranges and Game Parks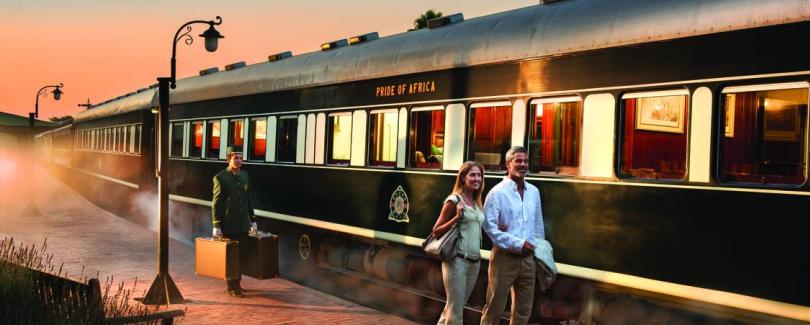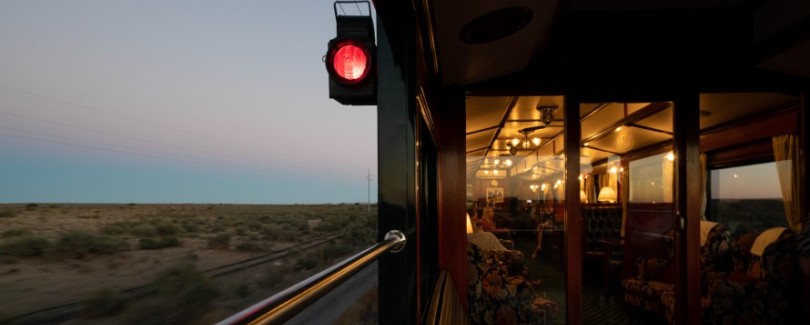 Introduction
Rovos Rail is a privately owned South African company, established in 1989. Their luxury trains take passengers through the wonderfully diverse countryside, towns and cities of South Africa, Zimbabwe, Botswana, Namibia, Tanzania, and Egypt and passengers get the chance to experience world class rail travel.
It really is the definitive way to travel. So take a tour with a difference from Pretoria to Victoria Falls and/or the other way. This Victoria Falls - Pretoria trip with Rovos Rail is great as a send-off from Victoria Falls into South Africa, or as an awesome start to a Victoria Falls holiday from South Africa, if you are going one way. Experience the romance of a by gone era as a couple on a honeymoon, celebrating an anniversary, or as a family wanting to explore the beautiful African landscape.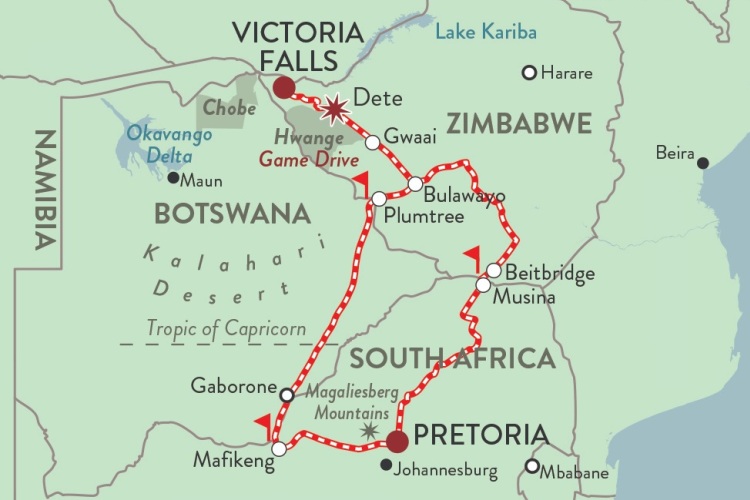 "1,000 miles of unforgettable African
scenery from Pretoria to Victoria Falls."
The Rovos Rail itinerary (described below) has to be one of the most iconic, as it travels its way through some 1 600 kilometres of Southern African scenery from Pretoria to the town of Victoria Falls, home to one of the seven wonders of the world. Your luxurious journey takes you through Bela Bela (formerly Warmbaths) and Modimolle (formerly Nylstroom) before crossing the Tropic of Capricorn. The train continues its stately pace heading up to Beitbridge for the border crossing with Zimbabwe. Here you complete the usual border formalities and then you are in Zimbabwe, where you continue through some beautiful landscape en route to Bulawayo; then it's on to Kennedy Siding, and the vast Hwange National Park – where you have the chance to do some game viewing with a notable safari camp. The last leg of this fascinating itinerary takes you to Victoria Falls, where the station is adjacent to the wonderful Edwardian building that is the Victoria Falls Hotel (it was original built as a railway hotel in 1904).
Victoria Falls has a lot to offer the visitor, with Victoria Falls activities such as tours of he largest waterfall in the world, to Sunset Cruises, and the more adrenalin pumping activities such as white water rafting on the Zambezi River; as well as some excellent game viewing in the Zambezi National Park. A visit to Victoria Falls is full of photographic opportunities!
The Journey
The adventure of the Rovos Rail train between Pretoria and Victoria Falls goes as follows:
Pretoria to Victoria Falls
Victoria Falls to Pretoria
Day 1
The trains departs the private Rovos Rail Station towards Warmbath and Nylstroom. Lunch is served during this leg, and then dinner is served en-route to the Beitbridge border.
Day 1
The Rovos Rail train leaves Victoria Falls in the late afternoon (17:00) towards Hwange National Park, and makes an overnight stop at Kennedy Siding. Dinner is served along the way to Hwange.
Day 2
This day starts with the border crossing and then the train makes it's way towards Bulawayo through Rutenga and Somabhula. The train makes an overnight stop in Mpopoma.
Day 2
The day starts early with a 5am wake up call for guests to take a game drive at The Hide. Guests return for brunch and the journey continues on a long stretch towards the Beitbridge border.
Day 3
The train departs Mpopoma towards Hwange and makes a stop at The Hide after lunch for a game drive. After that, the train heads to Thompsons Junction for an overnight stop. Dinner is served en-route.
Day 3
The journey continues out of baobab country and lunch is served as the train makes its way towards Warmbath and Nylstroom. Dinner is served before the overnight destination.
Day 4
After breakfast, the train departs from Thompsons Junction towards Victoria Falls where it makes its final stop in the morning.
Day 4
The train makes its last leg to Pretoria where it arrives in the morning.
Note: 4 Night Itineraries are available, with an additional day spent exploring The Ranch Conservancy and Nylstroom.
There is an option to ride the Rovos Rail train between Victoria Falls and Durban or Cape Town, South Africa - a longer affair of luxury accommodation in the Rovos hotels and the Pride of Africa train.
The Rovos Rail train is made up of different sections/cars: Lounge cars are air conditioned non-smoking areas furnished with sofas and comfortable chairs and a small gift shop; Observation cars are refurbished from dining cars with large windows and a balconies, best for sight seeing; Club cars, with large glass walls on both sides of the train, are an extension of the Observation cars and the only smoking areas allowed on the train; Dining cars date back to the 1940's but have been restored to maintain quality. Breakfast, lunch and dinner are served in the dining cars, while afternoon tea is served in the lounge and observation cars.
Accommodation
Luxury suites with a maximum capacity of 72 passengers

• Royal Suites are top of the range with private lounge and full bathroom




• Deluxe Suites are either twin (L shaped) or double, have been refurbished


• Pullman Suites are entry level, either twin or double and also have been refurbished




All rooms have:

• Air conditioning
• En-suite bathroom with shower and sink (plus bathtub in Royal Suites only)
• Hair dryer and shaver plugs
• Telephone
• Safe
• 220V power supply
• Mini bar
Other Facilities
• 24 hour room service
• Limited laundry service
• Lounge with board games, playing cards and books
• Dining car serving breakfast, lunch and dinner
• Observation car serving tea
Rate Includes
• Accommodation (on and off train)
• Limited laundry service
• 24 room service and bar
• Planned excursions
• 3 meals plus beverages, and meals, water and wines taken off the train
• Entrance fees to various places of interest along the journey
• Government tax
Rate Excludes
• Telephone calls
• Gift/curio purchases
• Off-train laundry
3 Night Travel Dates

Pretoria to Victoria Falls

Victoria Falls to Pretoria

2024
Jan
25
21
Feb
1, 22, 29
4, 11, 18, 25
Mar
14
3, 10, 17, 24
Apr
7
Jul
28
Aug
22
18
Sep
19, 26
7, 8, 15, 22, 29
Oct
10, 17, 31
6, 13, 20, 27
Nov
3
Dec
2025
Jan
23
19
Feb
6, 20, 27
9, 16, 23
Mar
13
2, 9, 16, 23, 25
Apr
3
6, 22
May
Jun
17
Jul
Aug
28
5, 31
Sep
18, 25
7, 14, 16, 21, 28
4 Night Travel Dates

Pretoria to Victoria Falls

Victoria Falls to Pretoria

2024
Jan
10, 17
14, 28
Feb
14
Mar
6, 20, 27
31
Apr
10, 17, 24
14, 21, 28
May
1, 15, 29
5, 19
Jun
12
2, 16, 20
Jul
10, 17, 24, 30
14, 21
Aug
7, 14
11, 25
Sep
4, 11
Oct
2, 23
Nov
6, 13, 20, 27
10, 17, 24
Dec
23
1, 27
2025
Jan
8, 15
12, 26
Feb
12
Mar
5, 19, 26
30
Apr
9, 16, 23, 30
13, 20, 27
May
14, 28
4, 18
Jun
11, 27
1, 15
Jul
9, 16, 23
13, 20, 27
Aug
6, 13, 20
10, 17, 24
Sep
3, 10
Stuff to Bring
• In the spirit and in going along with the ambience of class and sophistication aboard the Rovos Rail train, guests are to dress smart casual during the day, and formally in the evening. However, when taking trips off the train, guests are encouraged to wear comfortable walking shoes, sunglasses, sunscreen and a hat for the outside activities. Warm clothing is essential for the games drives as those are conducted early in the morning when it is still quite cold.
• Make sure that you have your valid passport with you with a valid visa (if applicable). Be sure to check your itineraries so that you know which countries you will pass through, and arrange for visas as required. Make sure that you have at least 3 blank visa pages in your passport for border stamps, and that your passport will be valid for at least six months from your return-home date.
• Anti-malarial preventions medication is recommended if you are travelling to Swaziland, Kruger Park, Northern Botswana, Zimbabwe (especially Victoria Falls and Hwange), Zambia and Tanzania and yellow fever vaccinations may be required if you are coming from Zambia and Tanzania (See list of countries that are required to have Yellow Fever vaccinations when travelling to/through Botswana).
Don't expect to get full mobile phone coverage, especially while the train is in motion or stopped in the remote game parks. Children are admissible for this Rovos Rail trip, but parents are asked to keep them close and well disciplined.
Video
Here's a sneak peak of the Victoria Falls journey:
Other Epic Train Journeys to Victoria Falls
For a longer four country journey through southern Africa to Victoria Falls by train, try the Shongololo Express!







THE VIC FALLS BUSH TELEGRAPH
our Bi-Monthly E-Newsletter

Each issue has a destination update, loads of information about conservation and wildlife, specials offers, traveller tips, community projects, website highlights and tons more...

Find out more about our Bush Telegraph

"Your newsletter keeps me informed about new and old and is the best I've seen in a long while - informative, not commercial, just plain perfect!" - I.Skliros

Don't worry. Your e-mail address is totally secure. I promise to use it only to send you The Vic Falls Bush Telegraph.
Customer Feedback
Brilliant service and so helpful
by Sally (Blisworth, U.K.)
I stumbled across Victoria Fall Guide by accident, but I am so glad I did. Tony and Boo were so helpful, advising us on the best activities for us as I have mobility issues, and arranging our itinerary and booking everything. I had no worries about using them, or sending a very large payment to someone I didn't know. Everything they booked for us was so well organised, pick ups on time, knowledgeable and friendly guides, clean transport. We did the walking tour of the falls, the sunset dinner cruise, full day at Chobe, the team, lion encounter and the helicopter and every single one was faultless. We were also due to do the lunar rainbow but unfortunately it was cancelled, however boo arranged the refund immediately. I wouldn't hesitate to recommend them to anyone. We are so grateful to them for making our special holiday even more so.