Cape Town Peninsula Scenic Tour
Discover the Beauty of Cape Town's Peninsula: Scenic Tour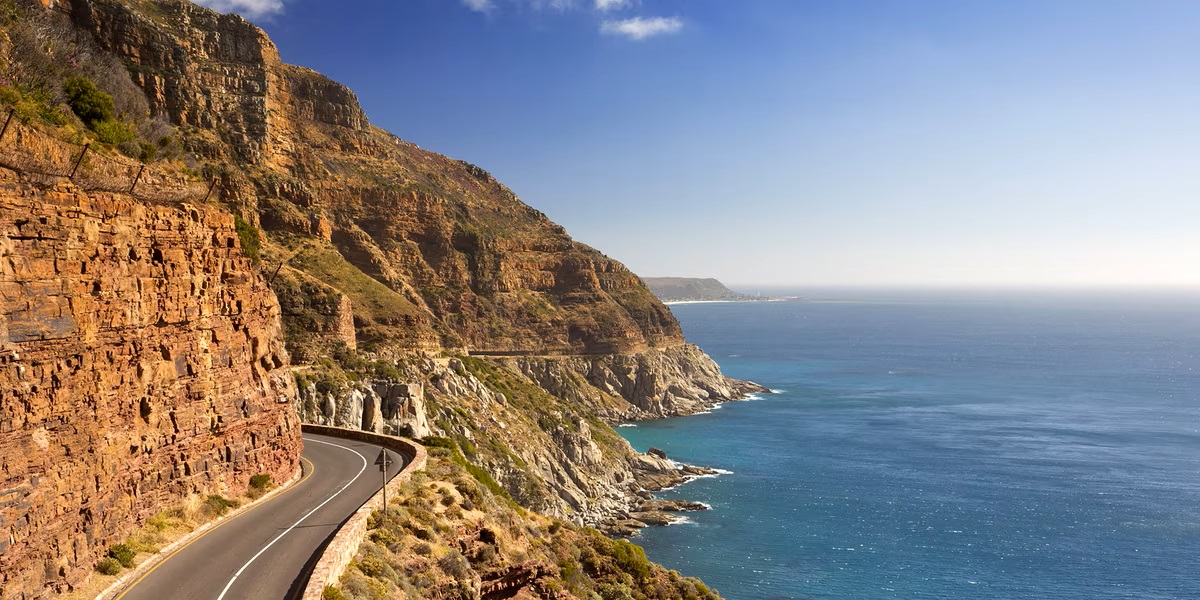 Immerse yourself in the natural splendor of Cape Town with this full-day private Peninsula Scenic Tour, where you'll be treated to breathtaking coastal views, encounter fascinating wildlife, and explore rare and enchanting flora.
The Tour
Prepare to embark on a captivating journey through some of Cape Town's most stunning scenic attractions. This itinerary includes a picturesque coastal drive, visiting a charming penguin colony, exploring South Africa's largest naval base, embracing the vibrant ambiance of Hout Bay, and experiencing the timeless beauty of Kirstenbosch Botanical Gardens.
Cape Town Peninsula Scenic Tour Route
Chapman's Peak Drive
Your adventure begins with a drive along the world-renowned Chapman's Peak Drive, a 9km route meandering along the coastline. Revel in the awe-inspiring views of sandy bays below and the vastness of the Atlantic Ocean. The drive, which spans from Hout Bay to Nordhoek Bay, offers multiple stopping points at elevations of up to 593m above sea level. Keep an eye out for playful whales and dolphins in the ocean, while curious baboon troops might observe you as you pass by.
Cape Point
One of the highlights of the Peninsula Scenic Tour is reaching Cape Point, where you'll stand 200m above sea level on a rugged hill. You can either hike up or take the funicular to the old lighthouse and indulge in panoramic vistas. Enjoy the facilities of a restaurant, food shop, and souvenir stores while immersing yourself in the diverse flora and fauna that call Cape Point their home. This area is not only a visual wonder but also holds historical significance as the south-western point of the African continent.
Boulders African Penguin Encounter
Next, you get to visit Boulders, renowned for its endangered African Penguin colony. Explore three charming beaches, a penguin viewing area, and traverse along three thoughtfully constructed boardwalks. These boardwalks provide a safe vantage point for observing these fascinating birds without disturbing their habitat. The colony was established in 1983 to support the penguin population, although environmental challenges still pose a threat to their numbers.
Simons Town
You'll then head to Simon's Town, a coastal gem that has served as a naval base and harbor for over two centuries. Uncover its rich historic and strategic heritage while appreciating the well-preserved buildings and landmarks. Explore the Simon's Town Museum, the South African Naval Museum, and the Simon's Town Heritage Museum, all contributing to the town's vibrant community.
Hout Bay
As you head towards Hout Bay on the north-western side of Chapman's Peak, you'll be captivated by its striking surroundings, nestled between mountains and the Atlantic Ocean. Once a quaint fishing village, Hout Bay has transformed into a thriving community, complete with a bustling commercial fishing harbor. Admire its long, sandy beach framed by majestic mountains, and catch a glimpse of the charming Cape seals in the harbor.
Kirstenbosch Botanical Gardens
The final destination is the world-renowned Kirstenbosch Botanical Gardens, founded in 1913 to preserve South Africa's native flora. Wander through the conservatory, housing plants from various regions, and bask in the beauty of the outside garden, which primarily features indigenous Cape region plants. With an impressive area of 528 hectares set against the eastern slope of Table Mountain, Kirstenbosch Botanical Gardens is a truly exceptional horticultural wonder.

This Cape Town Peninsula Scenic Tour is a truly unforgettable experience that combines the best of what South Africa has to offer. From the awe-inspiring views of Chapman's Peak Drive to the charming penguins of Boulders Beach, there is something for everyone on this tour. Whether you are a nature lover, a history buff, or simply looking for a unique and memorable experience, this tour is sure to exceed your expectations.
Don't miss this captivating excursion, as it promises a memorable encounter with the city's most captivating landscapes, wildlife, and botanical treasures. Book your adventure now and create cherished memories in the heart of nature's splendor.
What's Included in This Cape Town Peninsula Scenic Tour
• Full day day guided tour exploring Chapman's Peak Drive, Cape Point; Boulders Beach; Penguin colony; Simons town historical naval base; Hout Bay and Kirstenbosch Botanical Gardens
• Hotel pick-up and drop-off
• English-speaking driver/guide
• Specified entrance fees
What's Not Included
• Lunch
• Optional extras: Boat trip to a seal colony in Hout Bay; Camel rides; Peninsula cycling; Cape Point funicular; Horse riding; Kayaking; Ostrich farm; Sidecar tour; Snake park; World of Birds
What you Need to Know
• Tour Times: 09:00 – 18:00
• This tour is subject to change due to traffic, availability, weather and time constraints
• The itinerary can be tailor-made upon request, provided it remains within the cost and time frame of this tour
THE VIC FALLS BUSH TELEGRAPH
our Bi-Monthly E-Newsletter

Each issue has a destination update, loads of information about conservation and wildlife, specials offers, traveller tips, community projects, website highlights and tons more...

Find out more about our Bush Telegraph

"Your newsletter keeps me informed about new and old and is the best I've seen in a long while - informative, not commercial, just plain perfect!" - I.Skliros

Don't worry. Your e-mail address is totally secure. I promise to use it only to send you The Vic Falls Bush Telegraph.

Return from Cape Town Peninsula Scenic Tour to our Home Page