Why Kayaking Is One Of The Best Sports For Stress Relief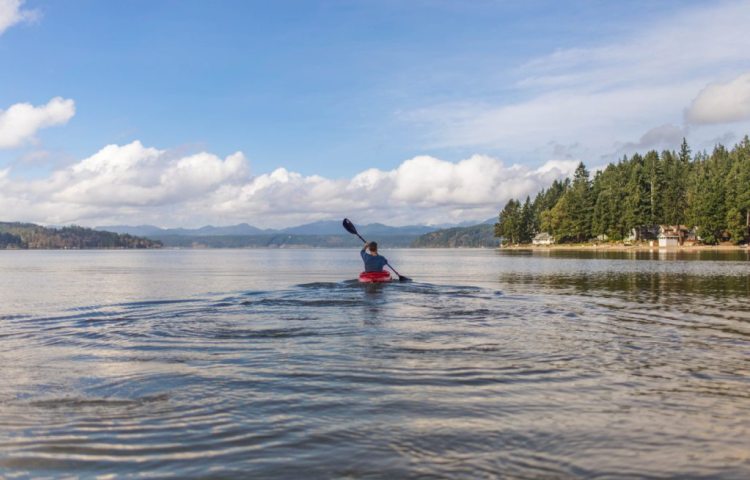 Kayaking is good for your health
Kayaking is a common water sport among tourists and travelers. While some find it appealing to the heart; some refer to it as a source for adrenaline rushing through their bodies. It's an all new perspective of looking at the world. Whether you want a peaceful moment alone with your thoughts or you want a thrilling experience of floating in the waters, Kayaking is always an option. It has been proven to be a fulfilling and rewarding sport activity for kayakers of all ages. Kayaking can also be regarded as a form of meditation that allows you to focus your attention solely on your movements. In addition to all the enthusiasm, Kayaking is also known for its stress bursting pros. It's a great enriching experience that nourishes the mind, body and soul. Below is a list of reasons why people find Kayaking as one of the best sports for stress relief.
Improves Physical Fitness
A healthy mind resides in a healthy body. With kayaking, you get to exercise the muscles of your arms, legs and core. When you paddle against the tough waves, circulation of blood improves through your body and helps you remain fit. Vacationing usually becomes tiring by the end of it, but when you kayak, you relax your body. Thus, it leaves an everlasting impact of positivity on kayakers and gives you a reason to kayak every travel journey take.
Strengthens Family Bonding
These days, during everyday hustle as head of the family, you often miss out on quality time with your family. Kayaking is such an escape for taking out the time to strengthen family bonding. And family makes you forget about all the worries and relieves all the stress of life. No matter where you go, there are always rivers, lakes or oceans to offer you the opportunity for kayaking. Here are a few tips that should be following to make your kayaking trip much more enjoyable:
• Do a deep study of the tides and current before heading into the waters.
• Choose a destination where your children can take frequent bathroom breaks if they feel the need.
• Choose a kayak or a canoe based upon the appropriate age of your children.
• One adult per child should be planned to balance the paddles of the kayak.
• Make sure you get a great tandem kayak or even one that's tandem and with pedals so you can go fishing or just cruising around with the family, some great buyer options can be found here https://www.kayakerguide.com/pedal-kayak-ultimate-guide.
Lets You Explore Nature
During the evening, watching the sunset on the lap of nature is one of the most heavenly experiences one can ever have. Spending those couple of hours while floating above the water can be magical. Kayaking is such a beautiful sport that it offers you the chance to explore nature while admiring its beauty. It heals all stress and makes you feel fresh and energized.
Form New Relationships
Kayaking is a great way to bond with people. There are several groups of Kayakers who plan kayaking trips frequently to free themselves from stress. Even when you plan a trip independently and have very little or no knowledge at all about kayaking, there are always people who are ready to lend a hand. This is a great way to form new relationships and build up a healthy friendship
Focuses Your Attention
When you paddle through the water, focus all your attention to the rhythm of your strides. You coordinate the movement of your legs and arms with the course of the water. This helps you to channelise all your energy and use it for better concentration. The rowing motion increases strength of core and leg muscles. Also, it helps your breathing technique which proves to be very meditative. There are numerous benefits of effective breathing such as:
• It increases energy with each inhalation of more filtered oxygen.
• It builds immunity when blood is more oxygenated, the body is able to absorb more nutrients from food.
• It also relieves pain by releasing endorphins.
• Deep breathing also helps correct posture.
Promotes Mental Health
In kayaking, all body parts work as a single entity to navigate through the current. This offers you to deviate your mind from negative thoughts and think about positive ones. Consequently, the brain heals itself and improves mental health. Also, kayaking induces the release of chemicals in the body that lift confidence and self worth, thereby helping in lightening the mood. Kayaking under the moonlit sky with stars shimmering above is a heavenly experience that should be enjoyed at least once in a lifetime to release all the burden of stress. This a fairly a good reason to make kayaking the essential activity to do on all your trips.
Releases Anxiety
Being out in the waters has a very soothing effect on the muscles of the brain, it helps reduce anxiety. Paddling helps you boost up the mood and lower levels of anxiety and depression. By setting paddling goals, one can easily free oneself from all troubles that cause the mind to be anxious. It is one of the best reasons to treat yourself to a journey kayaking, as not just a sport activity but a way to improve your mental wellness and relieve stress.
THE VIC FALLS BUSH TELEGRAPH
our Bi-Monthly E-Newsletter

Each issue has a destination update, loads of information about conservation and wildlife, specials offers, traveller tips, community projects, website highlights and tons more...

Find out more about our Bush Telegraph

"Your newsletter keeps me informed about new and old and is the best I've seen in a long while - informative, not commercial, just plain perfect!" - I.Skliros

Don't worry. Your e-mail address is totally secure. I promise to use it only to send you The Vic Falls Bush Telegraph.
Return from Why Kayaking Is One Of The Best Sports For Stress Relief to our home page