Zambezi Whitewater Festival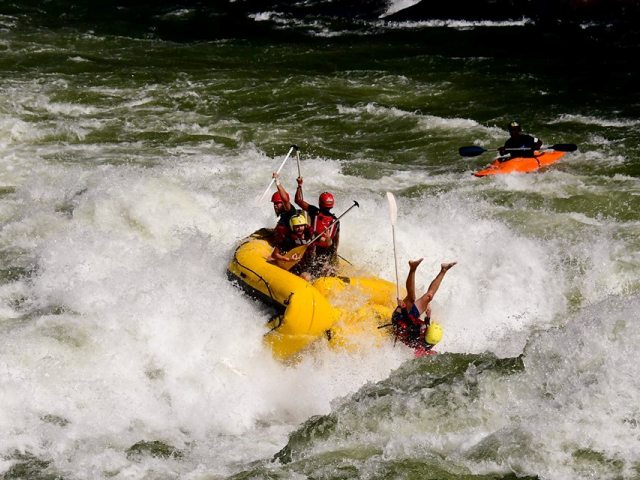 White water rafting festival on the Zambezi River
(source: SafPar)
The Event
The Zambezi White water festival is an annual celebration of the wild Zambezi River below the Victoria Falls. Rafting in the area is a very popular activity, drawing visitors from all around the world for exhilarating world-class rafting trips. The two-day event is hosted on the Livingstone side of the river (Zambia), packed with big water and timed tasks, accompanied by live entertainment in the evenings, craft stalls, great food and drinks - fun, fun, fun.
Teams of six skippered by an International Rafting Federation accredited guide will battle it out for the grand title and some rather grand prizes
Day 1 – Arrival Day
Team registration will be open at The Waterfront, Livingstone, Zambia where teams will get kitted out for the next 2 days, followed by a complimentary dinner and evening festivities for participants.
Day 2 – Competition Day 1
The race takes place from Rapid #1 – #10. A Zambezi Test of the Best - a timed race from the Boiling Pot below Victoria Falls to the eddy below rapid #4 "Morning Glory". Rafts set off at one minute intervals, times are converted into points - Race water distance: 2300m. A Zambezi Le Mans sprint - mass start from the pool below Rapid # 5 to the pool above rapid #7. One team member to touch attainment point on river bank at finish. There is a strong element of moving on the rocks here to reach attainment point. Team finishing positions and times accrue points. Race water distance: 700m. A kayak slalom race at rapid #7 - One raft at a time down the course with attainment areas, start at Rapid #12 pool. Finish-jailhouse eddy Rapid #13. A timed race with time penalties for missing attainment targets, team positions and times accrue points. Race water distance: 900m with attainments excluded.
Day 3 – Competition Day
The race takes place from rapid #10 to #25 with the "Zambezi Slalom" event taking place at rapids #12a to #13. This also includes a fun 'Surf & Turf' competition for the best surf on the iconic Rapid 18, Oblivion. On Saturday evening is quite the party, with screenings of the day's events, the prize-giving ceremony followed by THE MOTHER OF ALL PARTIES with artists from Zambia, Zimbabwe and South Africa, all at The Waterfront.
Costs
Participants get special treatment on accommodation - free camping, and discounted accommodation at the Waterfront and David Livingstone Safari Lodge.
2020 Registration
Registration has already begun for the 2020 event, which begins on 21 till 23 October. To register for the event and to get more information, email productions@safpar.com.
2018 Highlights
THE VIC FALLS BUSH TELEGRAPH
our Bi-Monthly E-Newsletter

Each issue has a destination update, loads of information about conservation and wildlife, specials offers, traveller tips, community projects, website highlights and tons more...

Find our more about our Bush Telegraph

"Your newsletter keeps me informed about new and old and is the best I've seen in a long while - informative, not commercial, just plain perfect!" - I.Skliros

Don't worry. Your e-mail address is totally secure. I promise to use it only to send you The Vic Falls Bush Telegraph.
Return from Zambezi Whitewater Festival to our home page