Home | Victoria Falls Packages | 14 Day Fishing Package
14 Day Fishing Package
14 day fully inclusive fly fishing package incorporating Botswana and Zimbabwe, targeting some of the best waters available and over 72 species of fish in some of the most exotic locations
Top quality accommodation
Your own private guide to accompany the group
Itinerary

DAY 01
• Arrive OR Tambo airport (Johannesburg) and transfer to your Hotel. Free evening to do as you wish in Johannesburg.

DAY 02
• Transfer to OR Tambo airport (Johannesburg) at 09h00.Flight to Maun in Botswana departs at 11h40.Flying time approximately 1 hour 40 minutes.
• In Maun Mac Air will transfer you by charter plane to Nxamaseri River Lodge. Flight takes about 60minutes and will be one of the highlights of your journey as you get to fly over entire length of the Okavango Delta a marvel of nature and a spectacular sight to see. Land at approximately 15h30 at Nxamaseri airstrip.
• 10 minute boat transfer takes you to the Lodge.
• Settle into your lodge and hopefully have time to get a line into the water before sunset.
Nxamaseri River Lodge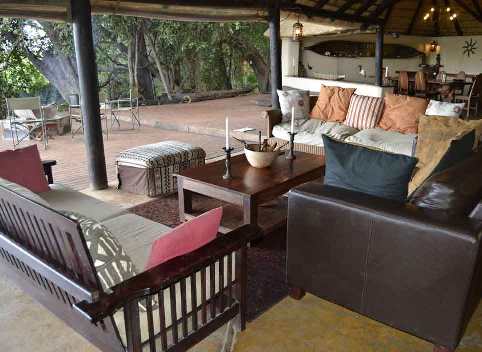 Nxamaseri Island Lodge is a unique African experience on an island in the permanent waters of Botswana's Okavango Delta. A small, exclusive lodge, and one of the oldest in the delta, it has seven double en-suite chalets, each secluded in indigenous forest and each with a private deck overlooking the water. Teak walkways link the rooms to the main area of the lodge.
Fly-fishing
Nxamaseri Island Lodge prides itself on being the premier fly fishing destination in Botswana. It is featured in several specialist books including "Fly fishing in Southern Africa", "The longest Cast" and "A fly Fishing Safari in Africa". The prize catch at Nxamaseri is the tigerfish , but this is only one of eight separate species in the area.

The optimum time to fish for tigerfish is during the annual catfish (barbel) runs. The exact time of these runs differs from year to year but generally lasts from early September to the end of October. During March trough to August, although there are no catfish runs, the tigerfish are still in abundance, and these are also excellent months for fly-fishing for species diversity, as the water level is low and the fish are concentrated in the permanent channels.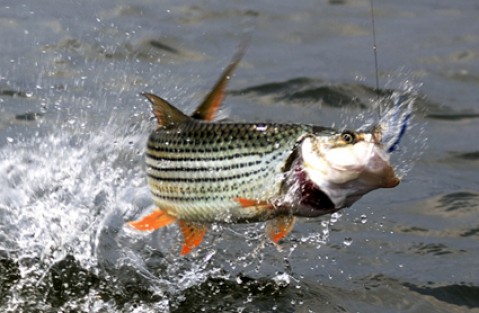 We have specialist fly-fishing guides available. (This service must be requested in advance upon making the reservation). Special arrangements at an additional charge can be made for private boats for fly-fishing, if required. The lodge carries standard lure fishing equipment but for fly fishing we suggest you bring your own equipment, although there are tigerfish flies available for purchase at the lodge as they are fairly specific.
Lure Fishing
Nxamaseri Island Lodge is a prime destination for lure fishing from March - December. Tigerfish are indigenous to the area, and as one of the world's most dramatic freshwater game fish it provides thrilling angling for both experienced and novice fishermen. In addition to tigerfish, up to eight other species are generally caught on line, creating eventful and memorable fishing at Nxamaseri. Our lodge has boats made for fishing and carries all the necessary equipment.

DAY 03
• Early Breakfast
• Morning fishing trip with private boat and guide.
• Return to lodge for brunch/lunch.
• During the heat of the day you can have a Siesta or do bird walk around Nxamaseri Island.
• Tea
• Afternoon private, guided boat trip for fishing
• Dinner

DAY 04
• Breakfast
• Morning fishing trip with private boat and guide or alternatively take a private mokoro ride.
• Brunch/lunch
• Siesta/bird walk around Nxamaseri Island/
• begin afternoon fishing trip early
• Tea
• Afternoon private, guided boat trip for fishing
• Dinner

DAY 05
• Breakfast
• Morning fishing trip with private boat and guide/alternative private mokoro ride.
• Brunch/Lunch
• 10 minute boat transfer to the airstrip to catch the charter flight to Kasane departing at approx 10h30. Flying time approximately 1 hour 30 min. Once again this will be an awesome flight over some true wilderness areas.
• From Kasane airport transfer to the Kasane immigration office on the banks of the Chobe River in Botswana at 12h30.
• Crew from the Ichobezi Safariboats will meet you there and assist you in exiting out of Botswana and then take you by tender boat across the Chobe River to Impalila Island (about ten minutes) where you will enter into Namibia. Both of these border controls merely entails filling out a form and getting a stamp in your passport.
• Once you have entered into Namibia it is a short boat ride to the Ichobezi Safariboat. Once you are on board you will be shown to your cabins, given a welcome briefing by the Captain and then while you are enjoying a light lunch the Safariboat will begin to cruise to its first docking site in the Kasai Channel.
• Once you arrive at your docking site on the Kasai Channel late in the afternoon you will be able to utilise the tender boats to get your first taste of fishing in this magnificent waterway that dissects the Caprivi floodplain. The position of the Safariboat will also allow for very easy access by tender boat onto the Zambezi River where fishing in the Mambova rapids is a real treat for fly fishermen.
• Pre-dinner drinks will be served back on the Safariboat at 18h30 and then dinner at 20h00
Ichobezi Safari Boat
The Ichobezi Safariboat is a luxury houseboat that offers 4 en-suite double cabins with large sliding windows that allow you to experience the rivers and its surrounds in absolute comfort. A crew of 5 including a manager and chef will take care of you and ensure a first class experience. The Safariboat also has a minimum of 3 smaller tender boats with 60hp motors for guests to use for their daily activities.


DAY 06
• During breakfast the Safariboat will begin its cruise back to its original docking site at the confluence of the Chobe River and the Kasai Channel. You are welcome to utilise the tender boats for fishing in the Zambezi or Kasai during this trip or you can simply relax on board. Once you reach the docking site you will be transferred to Ichingo Chobe River Lodge.
• On arrival you will be shown to your rooms and then served a light lunch on the deck of the lodge. You will have a few hours to unwind and then in the afternoon you will have the option of either doing a game cruise into the Chobe National Park to see the stunning wildlife that this area has to offer or you will be able to start exploring the wonderful Chobe rapids. This part of the river system offers up some superb fishing areas as well as some fantastic scenery.
• Pre drinks are served from 18h30 at the bar and then dinner is served at 20h00.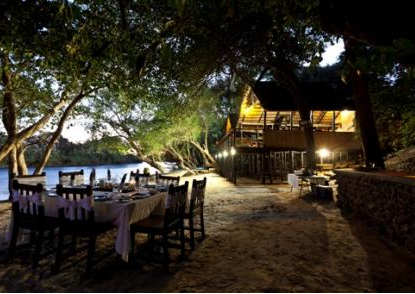 Ichingo Chobe River Lodge
Ichingo Chobe River Lodge is a beautiful, owner managed lodge situated on Impalila Island on the Chobe rapids. It is ideally suited for fly fishermen in that it has over 100kms of water to fish, including some prime areas that are exclusive to themselves. A riverine canopy provides plenty of shade and seclusion and the luxury Meru Safari Tents ensure outstanding accommodation.

DAY 07
• Meals and fishing tailored to suit your requirements
• Generally breakfast is at 08h00 and lunch at 13h00 but if you would prefer a later brunch at around 11h00 this is easily arranged.


DAY 08
• Transfer by tender boat from Ichingo Chobe River Lodge at 08h30 to the customs office on Impalila Island to exit out of Namibia. From there you will again cross the Chobe River to enter into Botswana at the Kasane immigration.
• Your Zimbabwean transfer guide will meet you at the Zimbabwean border post once you have exited Botswana. The journey to Victoria Falls is approximately 80kms and takes an hour on good tar road through the Zambezi National Park. Game of all varieties including the endangered Painted Dog is often encountered along this road.
• Check into your deluxe room at the Victoria Falls Safari Lodge and have a relaxing afternoon around the hotel which has a fantastic view over its own waterhole and the Zambezi National Park.
• Pick up at 16h45 for the afternoon sunset cruise on the Zambezi River, snacks and as many drinks as you like are included. Returning to the Victoria Falls Safari Lodge at about 18h45.
• Dinner is served at the renowned Makuwa-Kuwa restaurant.
Victoria Falls Safari Lodge
Victoria Falls Safari Lodge is set on a high plateau, westward facing towards the Zambezi River and over looking a waterhole and the natural bush of the Zambezi National Park. It is without doubt one of the most popular places to stay in Victoria Falls, Zimbabwe. A waterhole, well frequented by wildlife is situated directly below the lodge which can been viewed from most of the bedrooms, the bars, the pool deck, restaurants and lounges.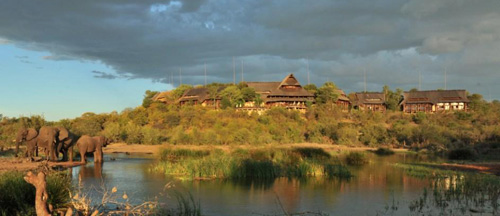 A constant stream of animals coming down to drink provides 24hr entertainment (the waterhole is floodlit at night). MaKuwa-Kuwa Restaurant (a la carte) is situated overlooking the waterhole on the open balcony. Internationally styled cuisine, with a hint of African and game dishes thrown in. The Boma – "The Place of Eating" – Set in the nearby Gusu Forest, just 500 metres from the Safari Lodge. The restaurant offers a unique African experience including traditional dancers and mouth watering local dishes.

DAY 09
Today there is a break from fishing giving you the opportunity to see and experience the magnificent Victoria Falls one of the seven natural wonder of the world.
• Breakfast
• Pick Up 09h00 for the Zambezi Spectacular 25 minute helicopter flight over Victoria Falls and the Zambezi River.
• Pickup 13h30 for the guided tour of the Falls which will last approximately 3hrs.
• Return to Victoria Falls Safari Lodge for sundowners on the viewing platform.
• Dinner is served at the Boma Restaurant (Place of Eating) which is an unforgettable African experience infused with Zimbabwean cuisine. Ndebele performances, African drumming and traditional storytelling. This restaurant has firmly established itself as a "Must Do" activity for visitors to Victoria Falls. Specializing in a superb selection of Traditional Zimbabwean dishes served on cast iron plats. The Boma's four course meal combines a choice of starters with a barbeque buffet.

DAY 10
• Packed breakfast from Victoria Falls Safari Lodge.
• Pick up 07h00 for a full day's fishing on the Zambezi River just upstream of Victoria Falls.
• Return to Victoria Falls Safari Lodge at approximately 17h30
• Dinner is open and can either be at the safari lodge or one of the other good restaurants in town.

DAY 11
• Breakfast at Victoria Falls Safari Lodge
• Pickup at 11h00 for your transfer to Sundowner Zambezi Lodge at the confluence of the Deka and Zambezi rivers. The journey is 145kms on tar road and takes about 1 hour 45 minutes.
• Settle in to your lodge and then enjoy and afternoons fishing.
Sundowner Zambezi Lodge
Set on the banks of the mighty Zambezi River at Deka, Sundowner Lodge makes full use of one of the most beautiful parts of this magnificent area. Nature provides the entertainment and we encourage guests to make the most of the relaxing and peaceful ambience. Fishermen have access to the middle Zambezi rapid waters (known as Tiger mile), which are ideal for art-lure and fly fisher man.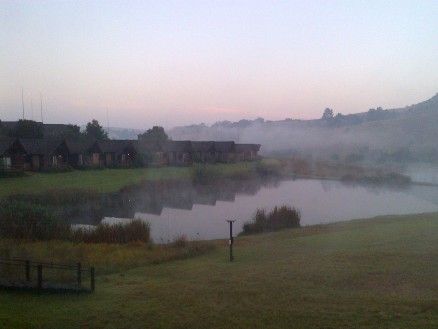 This Deka area is famous for Tiger fishing, and also holds the world record for Nkupe and Chessa. With the current high water level, the fishing is explosive in this region with a variety of freshwater sport fish to keep anglers on the edge of their seats. Over 100 varieties have been recorded. Boats are available with experienced guides who are able to navigate the river and provide both fishing techniques and recommended spots.

The ultimate technique for catching Tiger fish is the newly experimented dry-fly fishing. You see the mighty teeth stirring the water up all around your fly, then it is attacked and the water explodes in a foaming mass as the striped water-dog tries to escape the offending fly. In our experience this technique results in 80 % of fish hooked being landed. Restricted to still (no wind) early mornings.

DAY 12
• Meals and fishing tailored to suit your requirements

DAY 13
• Meals and fishing tailored to suit your requirements

DAY 14
• Possible short early morning fishing trip and breakfast.
• Depart Sundowner Lodge at 09h30 for the 1 hour 30minute drive to Victoria Falls airport in time to catch your scheduled flight to Johannesburg at approximately 13h00 arriving in Johannesburg at 15h35.
• Catch connecting flight back home.

Rate Includes:
• Return flights from Johannesburg to Maun/Victoria Falls
• All accommodation - 13 nights
• All activities as detailed in above itinerary
• Meals as stated below per Lodge
• Drinks as stated below per lodge
• All transfers road and air
• Personal tour guide/leader on entire trip
• Park fees, government taxes and levies
Rate Excludes:
Visa fees
Inclusions/exclusions per lodge
Nxamaseri River Lodge
Includes: Full board, laundry, soft drinks, private boat and guide for fishing activities(2 trips per day, including fuel), mokoro trips
Excludes: alcoholic beverages, lost fishing tackle, curio purchases and gratuities. These must be settled at the lodge
Ichobezi Safariboat and Ichingo River lodge
Includes: All meals, all house wines, beers, soft drinks and water, all activities (including fly fishing, game viewing by boat, birding or guided walks), all equipment hire including rods and flies, outstanding tender boats staffed with knowledgeable guides, all fuel, a vehicle based game drive through the Chobe National Park on the day of departure, all transfers between Kasane Airport and Kasane Immigration.
Excludes: Premium brand drinks and spirits, gratuities, a voluntary $5.00 per person, per stay Community Development Levy
Victoria Falls Safari Lodge
Includes: Bed and Breakfast, dinner at Makuwa-Kuwa restaurant, Boma dinner.
Excludes: Lunches, 3rd night's dinner
Sundowner Zambezi Lodge
Includes: Meals, drinks, boats, boat skippers and fuel.
Excludes: Zim National Parks fees, Tips and gratuities

Share with others!

Can't find what you are looking for? Use Google Search to search this website for any term you are looking for.


The Vic Falls Bush Telegraph
our Free Quarterly E-Newsletter

Each quarter there's loads of information about conservation and wildlife, a destination update, specials offers and discount packages, traveller tips and stories, book reviews, African folktales, environmental reports, bush recipes, best photo competitions and tons more....

"Your newsletter keeps me informed about new and old and is the best I've seen in a long while - informative, not commercial, just plain perfect!" I.Skliros

This Quarter we are also giving away a Free Screensaver to Every New Subscriber.
---
Return from 14 Day Fishing Package to our Victoria Falls home pagee