More about these Ancient Zimbabwe Ruins
The centre of the ancient Kingdom of Zimbabwe was Great Zimbabwe
Conical tower of the Great Enclosure
The Economy of Ancient Zimbabwe
The power and wealth of these ancient Zimbabwe Ruins were partly founded on its strategic position on the edge of the Central Plateau. Grain and other crops were produced on the middle and high velds that were relatively well favoured by the often-unpredictable rains, while large cattle herds were tended in the low veldt grasslands and mopane woodlands.
During and after the formative period of the Great Zimbabwe state it was primarily dependent on these two farming activities. Great Zimbabwe was also well positioned to control trade routes to the Indian Ocean coast for the export of gold and other resources of the southern plateau.
Long distance trade contacts were therefore made through the Indian Ocean Coast with Asia and the Middle East, and also land routes were opened to enter ports on the East African coast. Arab and Swahili merchants plied these routes with merchandise such as glass beads, cloth, Chinese celadon and blue-on-white porcelain vessels.
More often the Swahili relied on local African middlemen known as vashambadzi who took their goods far into the interior. These goods were bartered with gold, ivory and animal skins. The state exacted tribute for goods sold or passing through its territory.
Datable imported goods are important in archaeological studies in determining the antiquity of this monument by cross dating. A copper coin minted at Kilwa on the coast of Tanzania in 14th Century was also found at these ancient Zimbabwe ruins.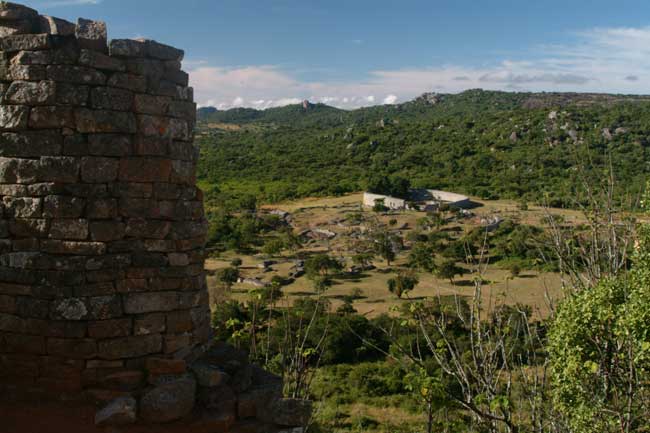 View from the Kings Hill complex looking down to the great enclosure and the valley complex
Great Zimbabwe: Religion
Religion played a very important role in the rise, development and expansion of Great Zimbabwe as a political centre. Religion was a unifying force in the state and the rulers were believed to be divine beings with divine powers. (Read More about Zimbabwe Religion)
At Great Zimbabwe this point is clearly illustrated by the location of the sacred enclosure on the Hill Complex, which is also the location of the king's residence. The king surrounded himself with diviners and traditional doctors who created the most frightening myths and legends about the king's extraordinary powers.
The king also patronized clan and territorial spirit mediums who lent spiritual legitimacy to the state. The people believed in a supreme God called Mwari who had powers over rainmaking, agricultural fertility and illness and everything. This communication with God was through a medium, which in most cases was a chosen person.
The generally wet microclimate at Great Zimbabwe and its surroundings was attributed to the powers of Mwari. Great Zimbabwe continued to be an important religious centre after its collapse in the 15th century. In the 18th -19th centuries religious performances including rainmaking ceremonies were undertaken here. Rainmakers have always thronged to the place, a practice that has survived to this day.
It's quite eerie to stand in the sacred enclosure and imagine the rituals that have taken place on the very ground you're standing on.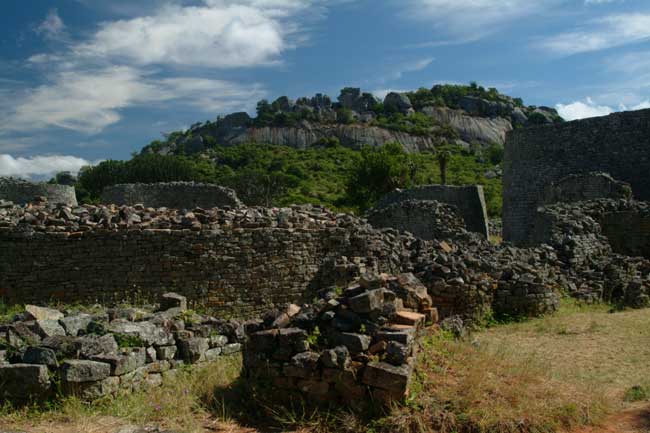 Great Zimbabwe Ruins - Past and Present
Great Zimbabwe is a clear testimony to the cultural richness of southern Africa's past and is celebrated as an African contribution to world civilization. This ancient Zimbabwe site is of tremendous cultural, political, and scientific significance.
To most Zimbabweans Great Zimbabwe is a reminder of the tremendous achievements of their forbears – and as such a rich source of inspiration. For this reason it was proclaimed a national monument in 1937.
During the struggle for freedom from colonial rule, nationalists saw Great Zimbabwe as a symbolic pillar of resistance. In 1961 an African Nationalist political party adopted the name Zimbabwe (Zimbabwe National Party). Subsequently several nationalist groups adopted the name.
The site gave its name to the country, formerly called Rhodesia, at the attainment of independence in 1980. In 1986 the site was inscribed on the UNESCO World Heritage list, implying that it is of outstanding universal value.
Can't find what you are looking for? Use Google Search to search this website for any term you are looking for.


Share with others!

The Vic Falls Bush Telegraph
our Free Quarterly E-Newsletter

Each quarter there's loads of information about conservation and wildlife, a destination update, specials offers and discount packages, traveller tips and stories, book reviews, African folktales, environmental reports, bush recipes, best photo competitions and tons more....

"Your newsletter keeps me informed about new and old and is the best I've seen in a long while - informative, not commercial, just plain perfect!" I.Skliros

This Quarter we are also giving away a Free Screensaver to Every New Subscriber.
Return from Ancient Zimbabwe to our Victoria Falls home page