New Zambezi Picnic Safari in Victoria Falls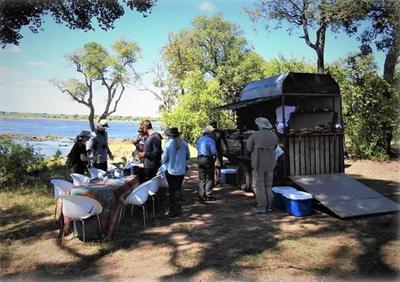 Picnic spot by the Zambezi River
21 June 2019
For those who would like a special lunch time picnic by the serene
Zambezi River
after a short game drive in the
Zambezi National Park
, a new activity has been made for you - the Zambezi Lunch Safari.
Starting off at 11am, you take a ride into the park with a
professional safari guide
for a much shorter game drive than the half-day one. Afterwards, you will be brought to a nice shaded spot along the banks of the mighty Zambezi, where you will be welcomed by
The Safari Butler
.
The Rugged Kitchen is a horse box converted into a fully equipped mobile kitchen, complete with running water and cooking equipment - enough to feed up to 20 people. A 4-course meal is prepared from the kitchen and onto the picnic table.
The menu may vary according to the season, but typically as below:
1 Black Forest Ham, cottage cheese ad drizzled pesto on Bruschetta
2 Red Thai Curried chicken wraps with homemade mayonnaise and salad
3 Slow Cooked Zimbabwe Beef in
Flying Bantu Ale
with mash potato and pan fried garlic vegetables of the day OR Lightly Battered Kariba Bream (Tilapia) in garlic, butter and lemon, with chunky chips and pan fried vegetable of the day
4 Dusted Chocolate brownies combined with a cheese board and grapes
Also included are coffee, tea, soft drinks, beer, white wine and mineral water
After lunch, you are taken back to your hotel at about 2:30pm.
This activity is perfect for one of your lunch time breaks between major
activities
while you are in
Victoria Falls
, and as an alternative to the longer game drives which are either in the morning or afternoon.
For assistance in arranging your itinerary and/or this Zambezi Picnic Safari, please
contact us
.
Related Links
Zambezi National Park
Zambezi River
Guided Game Drives
Victoria Falls Activities
The Safari Butler