Professionally Guided Photographic Safaris
Discover safaris is a top quality company offering professionally guided photographic safaris, walking trails, bird-watching safaris and game drives into the Zambezi National Park, Victoria Falls.
The owner of the company, Charles Brightman, is a Zimbabwe Professional Guide. He specialises in walking and birding safaris and is extremely knowledgeable about the African bush.
Charles has been in the safari industry for over 35 years and has extensive knowledge of this area and its flora and fauna.
We are old school friends and if you really want to experience what the wild life of this area has to offer, I would thoroughly recommend him.
Charles is also Operations Coordinator of the Victoria Falls Anti Poaching Unit, working in close co-operation with National Parks and Wildlife Management Authority of Zimbabwe.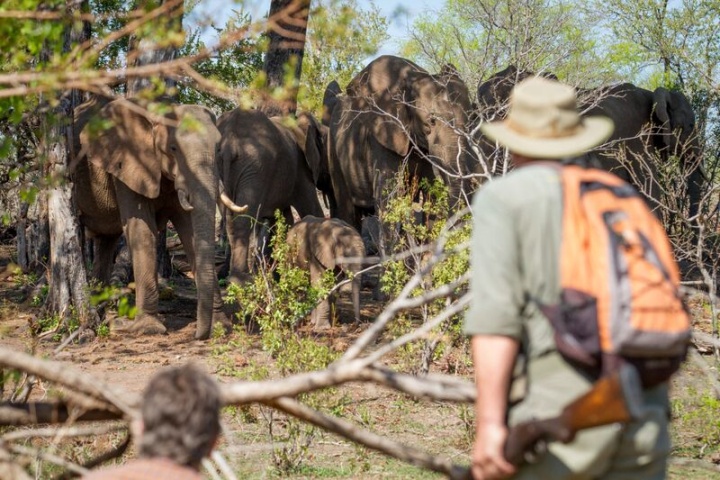 Walking safari in the Zambezi National Park
Safari Activities - Professionally Guided Photographic Safaris "for the wildlife enthusiast"
Half Day Walking Safari
Venturing further into the Zambezi National Park, this walk is combined with a game drive to a suitable walking area of the park. Whilst following in the footsteps of elephants, guests are able to learn about a variety of aspects of the wildlife in the area, as the Professional Guide shares his/her knowledge and experiences with them.
Departure times: 06:15hrs and 14:30hrs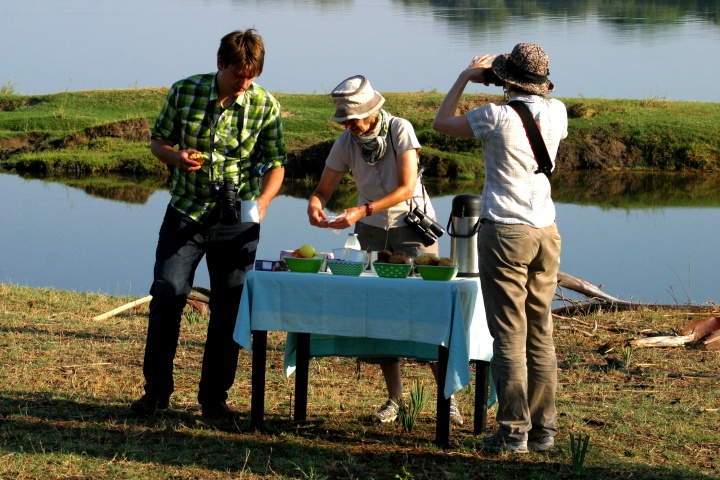 Breakfast break along the banks of the Zambezi
Morning or Afternoon Game Drive
Visiting the 57 000 ha Zambezi National Park, these drives set off either in the early morning or mid-afternoon. Using an open four-wheel drive vehicle, the game drive allows the guests to discover many interpretations of the bush, related to them by our suitable trained and qualified guides.

Bird-watching Safaris
Catering for the keen bird-watcher, our safaris offer tailor-made trips depending on which species are needed to be found.
Either by open safari vehicle, by foot or by boat we search for an array of species through a variety of habitats such as Teak and Mopane woodlands, grassland and riverine forest.
Depending on seasonal conditions, species that can be seen include African Skimmer, Collared Palm-thrush, Rock Pratincole, Raquet-tailed Roller, Western-banded Snake Eagle, Kori Bustard, African Finfoot and others.
Please contact us to discuss safari options.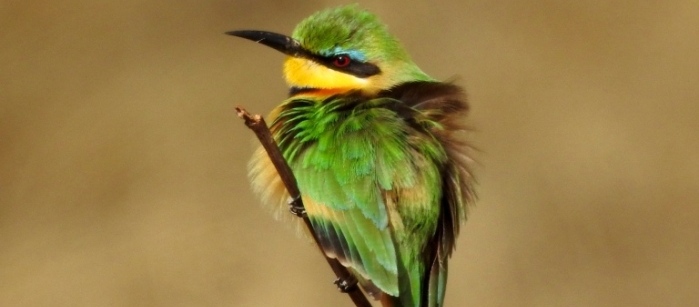 Fantastic birding in the park

If you are trying to decide between doing a safari in Chobe National Park, Hwange National Park or the Zambezi National Park. I would recommend clicking on the button below and reading that article.


Return from Professionally Guided Photographic Safaris to our Victoria Falls Home Page