Home | How to get there | Pathfinder Bus
Pathfinder Bus Company Zimbabwe
The Pathfinder bus company operates from Harare to Victoria Falls, via Bulawayo and Hwange also stopping at Chegutu, Kadoma, KweKwe and Gweru
Intercape Pathfinder contact details:
Harare Office
+263 772 383 902
Bulawayo Office
+263 29 883131
Victoria Falls Bookings
+263 213 28 44424 / 28 42051
PLEASE DO NOT CONTACT THIS WEBSITE FOR BUS INFORMATION OR BOOKINGS. CALL THE NUMBERS ABOVE TO GET IN TOUCH WITH INTERCAPE-PATHFINDER BUS COMPANY DIRECTLY.
UPDATE 28 Aug 2018: The bus service has resumed, connecting Windhoek, Katima, Livingstone, Victoria Falls, Bulawayo, and Harare
UPDATE Feb 2018: Please note that the Intercape-Pathfinder bus servicing Bulawayo - Victoria Falls route is no longer running. For information about their other routes, please read the information below, or contact them directly using the numbers that below.
Read alternative Victoria Falls Bus services
From Harare, the Intercape Pathfinder bus leaves at 11:00pm from the Roadport Intercape Terminal and arrives in Victoria Falls at around 12:30pm the next day, dropping off at the Total Garage, which is across the street from the Kingdom Hotel. The also operate a service going the other way from Victoria Falls to Harare, leaving Victoria Falls at 1:30pm and arrives in Harare at 1:05am.
They will also stop in the smaller towns - Chegutu, Kadoma, Kwekwe, Gweru and Hwange town.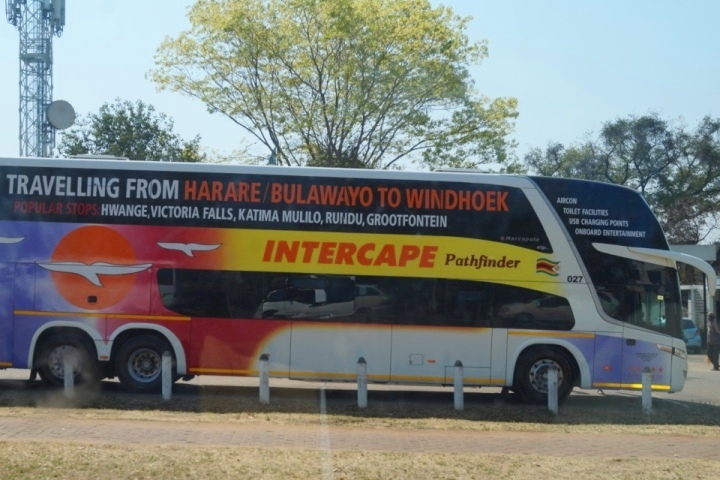 This service no longer goes to Hwange Safari Lodge and Halfway House - for those stops, read about other Victoria Falls bus services.
The Intercape Pathfinder buses are modern, air-conditioned and comfortable, and there are toilets and televisions on board.
The bus also connects from Windhoek (Namibia), through Katima and Livingstone, to Victoria Falls, Bulawayo and finally to Harare. The complete trip takes about one and a half days. They go both ways 3 times a week (see the timetable below). The trips are much cheaper than flying.
From Johannesburg, you can also connect by taking the Intercape Pathfinder bus to Bulawayo. This goes daily. However, you will need to time it so that you can catch the next available bus that goes to Victoria Falls, and you will need to spend at least one night in Bulawayo - 18:00 to 08:00, then 06:55 to 12:30 the next leg.
Intercape Pathfinder Bus Rates
| | |
| --- | --- |
| Route | Rate ZAR | US$ |
| Harare - Bulawayo | 215 | 15 |
| Bulawayo - Victoria Falls | 215 | 15 |
| Harare - Victoria Falls | 359 | 25 |
| Windhoek - Victoria Falls | 550 | 39 |
| Johannesburg - Bulawayo | 500 | 35 |
*The prices in the table above are the minimum prices you can get for that route. There are different ticket options which will cost more, and the closer you book to your travel date, the more you will have to pay. Prices are in South African Rand (ZAR). US$ rate equivalent is for approximation purposes only.

Making a booking can be done online on Intercape's booking page. Payment can be made by credit card (Visa or Mastercard) or internet banking (with Standard Bank, FNB, ABSA, Capitec or Nedbank Internet Banking account holders). You will receive your ticket via email. So you will need to print it and then present it when checking in.
Alternatively, you can call one of the contact numbers detailed above which include Zimbabwe's country code (263) and make an arrangement with them.
Bus Schedule
Monday
Tuesday
Wednesday
Thursday
Friday
Saturday
Sunday

HARARE - BULAWAYO - HARARE

HARARE - BULAWAYO
7:30
23:00
7:30 & 23:00
7:30
23:00
7:30
BULAWAYO - HARARE
7:30
19:10
19:10
07:30
19:10
7:30
BULAWAYO - VICTORIA FALLS - BULAWAYO
BULAWAYO - VICTORIA FALLS
6:55
6:55
6:55
VICTORIA FALLS - BULAWAYO
13:20
13:20
13:20
HARARE - VICTORIA FALLS - HARARE
HARARE - VICTORIA FALLS
23:00
23:00
23:00
VICTORIA FALLS - HARARE
13:20
13:20
13:20
WINDHOEK - VICTORIA FALLS - WINDHOEK
WINDHOEK - VICTORIA FALLS
13:00
13:00
13:00
VICTORIA FALLS - WINDHOEK
12:50
12:50
12:50
JOHANNESBURG - BULAWAYO - JOHANNESBURG
JOHANNESBURG - BULAWAYO
18:00
18:00
18:00
18:00
18:00
18:00
18:00
BULAWAYO - JOHANNESBURG
16:00
16:00
16:00
16:00
16:00
16:00
16:00
Intercape Pathfinder Bus Schedule (updated 28 Aug 2018)
Share with others!

Can't find what you are looking for? Use Google Search to search this website for any term you are looking for.


The Vic Falls Bush Telegraph
our Free Quarterly E-Newsletter

Each quarter there's loads of information about conservation and wildlife, a destination update, specials offers and discount packages, traveller tips and stories, book reviews, African folktales, environmental reports, bush recipes, best photo competitions and tons more....

"Your newsletter keeps me informed about new and old and is the best I've seen in a long while - informative, not commercial, just plain perfect!" I.Skliros

This Quarter we are also giving away a Free Screensaver to Every New Subscriber.
Return from Pathfinder Bus Company to our Victoria Falls home page